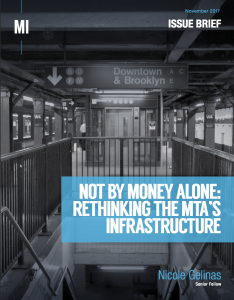 A new issue brief from my Manhattan Institute and City Journal colleague Nicole Gelinas takes a look at New York's transit problems. The media focus has been on money, which she agrees is needed. But critical reforms are also required if things are to improve.
The report is called "Not by Money Alone." Here's an excerpt:
The answer to the MTA's current woes, then, is not to cut back on the financial resources that it devotes to capital investment. In fact, under the right conditions, the MTA should increase such investments.

[But] is the MTA investing in the right projects?

The answer to this question, unfortunately, is no. The MTA is investing its money in the wrong projects relative to ridership and population growth. The current five-year capital plan devotes 71% of its expansion budget to the region's two commuter railroads (Figure 4), 10 times the commuter railroad's 7% share of MTA ridership (Figure 5). Under this plan, the MTA will invest a further $2.4 billion in the $10.2 billion East Side Access project to connect LIRR trains to Grand Central Terminal rather than to Penn Station, as well as $2 billion in building a third track on the LIRR's main line, for example.
Click through to read the whole thing.