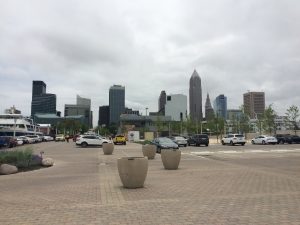 Yesterday's post about the Midwest playing a game it can't win hit a nerve. Some folks liked it. Others disagreed. John Austin posted a tweetstorm about it.
Firstly, Midwest places very much can focus on attracting a greater share of the nation's immigrants or spending more on universities. That might do some places some good – as it's already doing for college towns and state capitals – but isn't a general purpose turnaround plan.
Secondly, there is a place for small ball thinking. A lot of my work is about what cities or states can do for themselves. Often they are weak actors who are market takers, not market makers. So trying to adapt is all they can realistically do. However, that's probably not sufficient for a region wide turnaround, though it make work in individual places.
Third, as Pete Saunders pointed out, the South already did the game change. They started dealing with internal problems, or at least had change imposed on them (civil rights). They benefitted from infrastructure development (TVA, for example). A disruptive technology in widespread air conditioning helped them. And they deployed a new model of the sprawlburg city. This model has problems to be sure, but then again, so does the coastal city model.
Fourth, the coasts benefitted enormously from federal policy around globalization, a rollback of anti-trust, bank bailouts, decisions not to prosecute the people who caused the crash (a decision that continues to the present – just ask Wells Fargo). They helped design a system that benefitted themselves. We used to prohibit economic centralization. Today we essentially encourage it.
Fifth, the idea of breaking up the federal government was just meant to be a starter example. Not a solution. But I'm not surprised to see a chorus of Midwestern nay-sayers who think that couldn't possible work.
So again, imagine you are the person in charge of revitalizing the Midwest, and you have carte blanche to re-write federal policy. What would you do? I haven't really heard any thinking out of the Midwest on this, at least not in terms of designing policies that might be pro-Midwestern.
Here then are some starter ideas. I'm not saying I endorse these. I'm just throwing them out there as examples to stimulate your thinking. What would you do if you could change federal policy to be whatever you wanted?
Student loans for vacant homes. Why not solve the student loan debt crisis and the Midwest depopulation crisis at the same time? Design a program to allow college grads to get debt relief/forgiveness if they move into a distressed or middle neighborhood in a Rust Belt city and live in it for five years. (We already do this for doctors who practice in rural areas, etc).
Rollback the changes to federal policy that promoted economic concentration in the coasts. One could start with the New Markets anti-trust approach. (See Brian Feldman's piece on St. Louis). What if we really did break up the banks, for example, and go back to community banking like we had as recently as the 1980s.?
I don't know a single community development person who thinks our HUD programs are working well. They are basically a nightmare in fact. The main reason community developers support these programs is that they are the only tools around. Could we blow this up and start over? (See: student loans for vacant home).
Revoke Silicon Valley's exemption from the business practices expected of all other industries (e.g., immunity from liability under Section 230 of the Communications Decency Act). Regulate the monopoly platforms like Facebook using a utility/common carrier type paradigm.
Cap the percentage of federal appointees who can have degrees from Ivy League institutions, say at 10-15%.
A commenter in the previous thread suggested mandatory military/national service. Put everyone through two years of this, which is targeted at addressing core human capital challenges facing Midwest cities (obesity, lack of job "soft skills", etc).
A Midwest bailout to zero out many legacy costs. Federalize pension deficits and rebuild the crumbling infrastructure of Rust Belt cities.
Again, I don't endorse all of these. I'm just giving examples of ideas that could shake things up. What would you do if you were in charge, in terms of federal policy or otherwise?