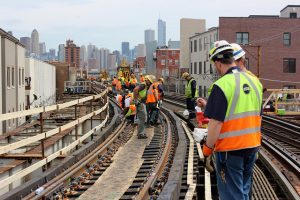 President Trump is out today with his awaited infrastructure proposal. I have an initial overview and analysis over at City Journal.
President Trump's proposed $1.5 trillion infrastructure program takes a page out of his playbook as a real estate developer, leveraging other people's money to build things. Trump is proposing a $200 billion federal contribution, about 13 percent of his hoped-for investment total; the idea is that the initial federal investment will encourage states, localities, and private investors to contribute the remaining 87 percent.

The program's centerpiece is a $100 billion federal matching fund that will provide up to 20 percent of the cost of a project—a ratio that reverses historical practice. Often, Washington puts up as much as 80 percent of the cost of highway projects, with localities contributing the rest. Trump's plan makes "new revenue"—for example, tolls on currently free interstates—the biggest determinant of which projects will qualify for the federal match. A big question mark is whether a 20 percent federal contribution will be enough of a carrot to induce states to invest. And while the plan is billed as empowering states, the federal government will determine which projects get funded through the match program—so Washington will maintain control, perhaps even more so than today.
Click through to read the whole thing.