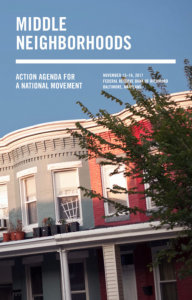 First, if you aren't following it yet, you should go over to my post about the diverging fortunes of colleges and check out the comments. Because there is a lot of excellent commentary and insight to be found there.
I recently wrote about the fate of middle neighborhoods, those classic traditional middle class neighborhoods in cities that are increasingly under threat of tipping into distress (or, more rarely, becoming gentrified).
Last November I attended a conference in Baltimore convened by the American Assembly and the Federal Reserve Bank of Richmond devoted to middle neighborhoods. A summary of this was written up and published as an action agenda for middle neighborhoods. If you are somebody living in or working in community development in one of these neighborhoods, you should check it out.
There's also more information available at the home page for the American Assembly's middle neighborhoods project.