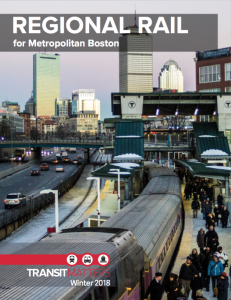 Transit Matters just released a new report on reinventing regional rail in Boston. This was mostly authored by Alon Levy of Pedestrian Observations fame.
It's a great report that proposes electrification, high platform loading, and increased frequency to transform Boston's clunky commuter rail system. Today, the MBTA commuter rail uses put-put diesel engines and unpowered coaches, even on the Providence Line which is electrified and where Amtrak runs trains at 150 MPH. The existing system also has terrible frequencies, not just vs. New York but vs. a peer city like Philadelphia.
There's not much prospect for building new urban subways in Boston. But the commuter rail system could be radically transformed at cost less than New York spent to construct a single mile of its Second Ave. Subway.
Click over to read the whole report.