In the wake of the Great Recession, there was some curtailment of the trend of suburbanization along with stronger population growth in central cities. But as the economy starts to rev up, sprawl has made a comeback.
First an analysis from William Frey at Brookings.
Using a Brookings classification of counties associated with urban cores and suburban counties within large metropolitan areas, we see a continued rise in both outer exurban areas and low-density emerging suburban counties at growth levels not registered since 2008. The double whammy of the Great Recession and a mortgage meltdown seemed to have put the brakes on suburban growth, which trended downward through 2012—the peak year of the "back to the city" movement—when outer suburbs grew more slowly than urban cores. Since then, the growth of urban cores has halved and exurban county growth has quadrupled.
His chart says it all: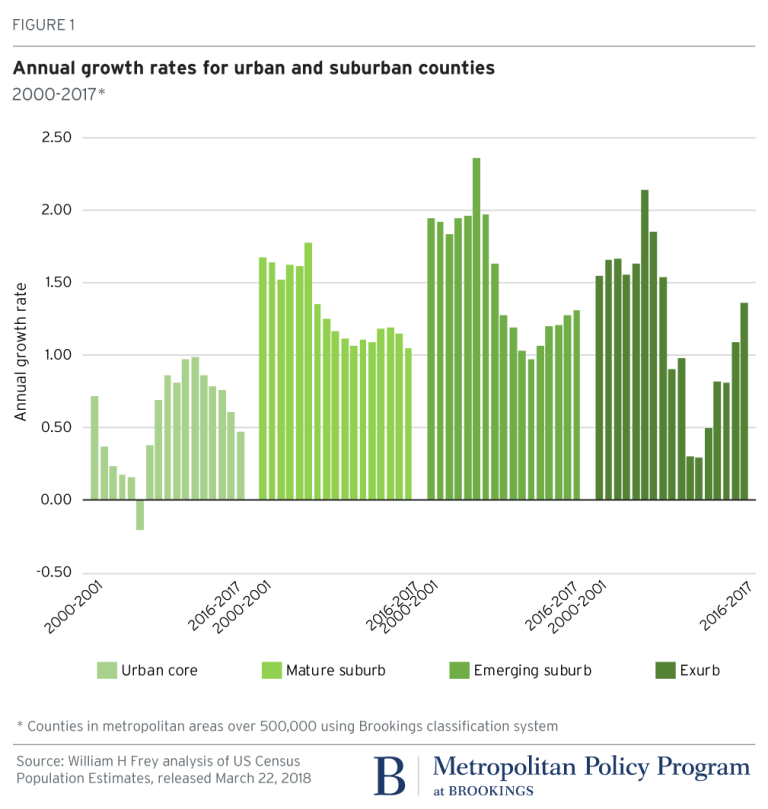 He also notes a population shift away from larger metros towards smaller and medium sized ones:
The lifting of mobility constraints applies to another aspect of population dispersal that was put on hold during the early part of this decade: the shift toward smaller metropolitan areas and counties outside metropolitan areas. As shown in Figure 2, non-metropolitan counties, in the aggregate, register positive population growth in 2016-2017 for the first time since 2010, and small metropolitan areas—those below half a million population—increased their rate of growth for the third straight year. At the same time, large metropolitan areas showed reduced rates of growth for two years in a row to a level of only 0.86 percent, the lowest since at least 1990.
Wendell Cox at New Geography looks at the same trends, but examines them from a domestic migration perspective. He buckets out net domestic migration rates by metro area size:
He also tracks the accelerating sprawl within metro areas:
These demographic trends are probably an additional headwind being faced by America's transit systems, which have seen declining ridership in the last couple of years, something Human Transit publisher Jarrett Walker recently labeled "an emergency."