Tuesday, May 26th, 2015
Last week I linked to an article by Kris Hartley about a Chicago model for global cities. I wasn't planning to analyze it, but Greg Hinz over at Crain's did a short writeup, so I decided to share a few thoughts.
Where I'd disagree with Hartley is that I don't think Chicago is in fact pursuing industry dominance. What's I'd say is that it's acting like it already has it. That's part of the roots of its financial challenges as Chicago's spending big without the economic base to support it.
Where I agree with Hartley is that industry dominance is only one aspect of global cities. Another crucial part is what economic and other networks a city participates in. I think this network based view is pretty aligned with Sassen too. The idea in Hartley's piece is that Chicago should identify and cultivate the global networks in which it competes, and build a model based on that. I think Hartley offers a pretty pretty positive take on the city, saying that Chicago doesn't need to dominate an industry to thrive. In any event, I agree that Chicago should built its own model since it is a different kind of city. Less Big Spend, more networks.
On another topic, Ted Nesi from Providence's WPRI-TV wrote a two-part online series on the badly botched ridership estimates for the commuter rail extension to Wickford Jct. The first part covers the ridership gap (and how project champion Sen. Jack Reed is still defending this white elephant). The second part is about the high and going losses that will need to be subsidized in perpetuity to keep this thing going. Not only did Rhode Island build an expensive line to a sprawly/ruralish area, it also built a huge parking garage that will cost a ton of money to operate.
Back in 2013 I wrote a piece at Greater City Providence challenging the philosophy of expanding rail to far flung areas where there is no market, and instead said that the state should focus on improving connectivity from Providence and the urbanized north of the state to Boston.
Thursday, May 21st, 2015
Here we are once again with a roundup of a few highlights from places where I'm a contributor.
First the Guardian, which published a longish interview of Ed Glaeser by Simon Jenkins. Here's an excerpt:
"You can't stand in the way of progress" is indeed a really crappy argument – there are times when you can, and you must. But let's go back to our friend Jane Jacobs, who I actually admire enormously. She was certainly right that Greenwich Village was a magical space, but think of her chapter in Death and Life about how cities need old buildings because they need cheap space … Well, now those townhouses in Greenwich Village start at $8m. Which shows there are real dangers in shutting off the supply valve everywhere.
They also posted a look at the bad old days in New York.
City Journal
Myron Magnet rebuts bus drivers' demands to be exempt from a crackdown on driver who kill pedestrian in "You Work For Me, Mac!" An excerpt:
Never was there so perfect an emblem of public employees' public-be-damned attitude than the outrage of New York's Transport Workers Union over the February arrest of veteran bus driver Francisco DeJesus for running down a 15-year-old girl legally crossing the street in a crosswalk. The seriously injured girl, who had the "walk" sign in her favor, was on her way to school. Bus drivers, the union whined, are being treated like "criminals." Henceforth, the union demanded, cops must exempt its members from arrest for failure to yield to pedestrians in crosswalks. After all, why should they be treated like other motorists under Mayor Bill de Blasio's Vision Zero program to reduce pedestrian traffic fatalities and injuries? How can anyone expect them to be "perfect"?
Paul Beston also wrote about the state of boxing in the context of the Mayweather-Pacquiao fight.
Governing
Scott Beyer talks about how to make pedestrian malls that work.
A look at the tough challenges facing Rhode Island Gov. Gina Raimondo.
New Geography
Wendell Cox takes at look at Central Business District employment. There was very strong growth in select cities, with NYC, Chicago, SF, and Boston combined accounting for 2/3 of national job growth. Here's the not unsurprising chart: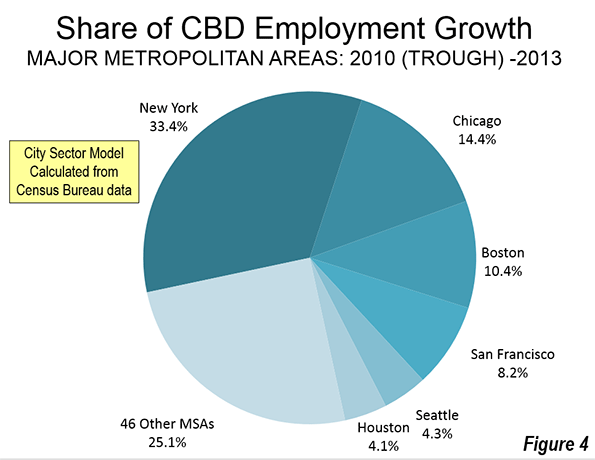 And Kris Hartley talks about a Chicago model for global cities.
Friday, May 15th, 2015
One unique aspect of Baltimore is that it is a so-called "independent city" that is not part of any county. Because of this, migration data from the IRS allows us to look specifically at the city of Baltimore. So I wanted to take a quick look at migration between Baltimore and its suburbs.
As you might expect, there's been a net outflow of people from the city for quite some time. From 1990 to 2011 (the most recent year the IRS has released), Baltimore lost almost 151,000 people on a net basis to its suburbs. Here's the chart: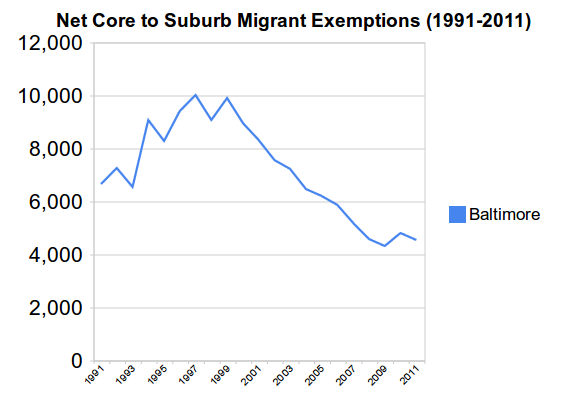 You see here that Baltimore had an accelerating net loss of people, but then showed a steep drop in net loss through the 2000s. This is consistent with county level migration I've seen in other regions.
When people leave, they take their money with them. Baltimore's cumulative net loss of annual income to its own suburbs from departing residents is about $2.75 billion from 1992 to 2011. (Income data isn't available for 90-91 and 91-92 movers). That's annual income, so this loss in effect recurs every single year. That's a lot of money. Here's the chart on adjusted gross income loss (in thousands of dollars):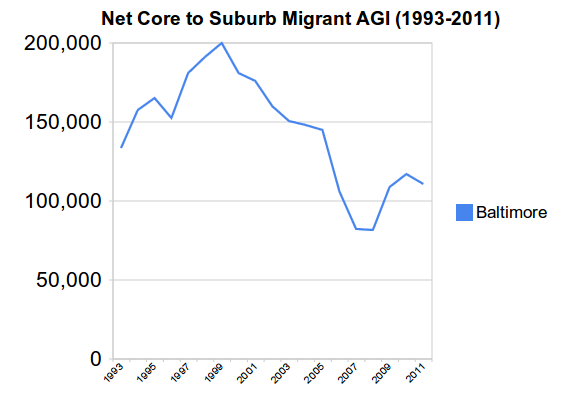 What was a small post-recession bump in the people numbers is a more sizable one in the money figures.
Since we can, let's also look at the individual flows of people leaving and people coming in. Here are people moving from Baltimore to the suburbs: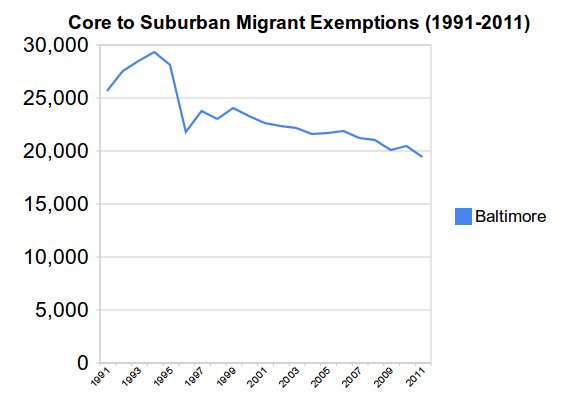 And here are people moving from the suburbs to the city of Balitmore – and yes, lots of people do that: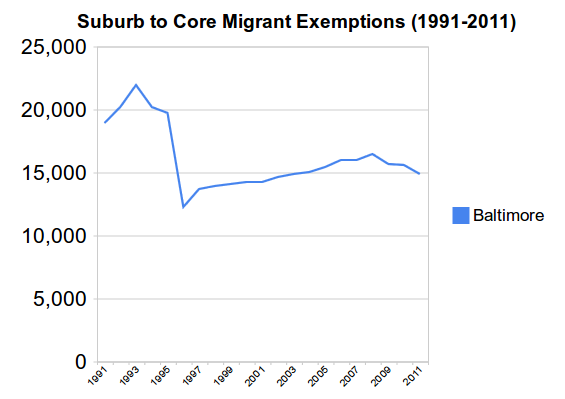 Here we see that the decline in Baltimore's net loss was driven both by a decline in the number of people leaving and by an increase in the number of people coming in. This is similar to what I've seen in other similar places. The uptick in the recession is due to a drop off in the number of in movers.
There are some pretty dramatic movements in the early 90s, which were an interesting time in urban America to put it mildly. I'm not familiar with the specifics of Baltimore in that era. Some other regions I looked at – including St. Louis, which is also an independent city – show higher early 90's migration, but nothing like the swing in Baltimore.
We will have to see what happens in post-2011 years. The IRS is delayed in issuing data, and has been trying to kill off this data program entirely, so who knows when more data will be available. 2012 data should in theory be out right about now, but we are some years away at best from finding out what impact this year's riots might have had.
I should caveat this data by noting that it is based on tax returns that can be matched from year to year, so there are some movers who aren't captured. As you can see, this is a pretty large data set, however.
Monday, May 11th, 2015
My latest piece is online at City Journal and is called "Libertarians of Convenience." It's a pretty tough take on too many progressive urbanists' highly selective approach to deregulation. Many take a pretty radical libertarian view when it comes to things like blowing away zoning codes to permit more building. But in too many other areas urban progressives are calling for ever more regulation. Here's an excerpt:
Left urbanists also decry zoning that requires city developers or businesses to include a minimum number of parking spaces before moving forward on a building or an opening, rather than leaving that decision to the market. Streetsblog decried parking-space mandates as "absurd." The Walking Bostonian commented on high minimum parking requirements at, of all places, bars: "It's almost as if there's a kind of sickness which seems to get into city planners' heads whenever the topic of parking comes up, and it causes all common sense to fly out the window." Greater Greater Washington sarcastically observes that Steve Jobs, by founding Apple in a garage, "broke the law by building computers in required parking spaces." As liberal urbanist Payton Chung sums up, "A parking minimum demands that the rest of us subsidize one economically infeasible land use above all others."

Other aspects of housing regulation have also come under scrutiny, including minimum unit size: "The fanaticism of neighborhood groups opposed to microhousing is hard to fathom," says the Stranger, a Seattle alternative weekly. On height limits, "It seems like a no-brainer for D.C. to at least ease the Height Act to promote some growth," says the Next City website. Even historic districts seem to have gone too far for some liberals, becoming a kind of "neutron bomb zoning—preserving the buildings but driving out the working class communities," according to MoreNYC.
The immediate critique I've already gotten of course, is that there's no inconsistency. The call is to regulate things that cause harm and deregulate things that don't. But virtually every activity harms someone somewhere, or has some risk. The question is always what risk is acceptable to take on, and what externalities to attempt to control. In these cases it's clear the posture is really not about the appropriate response to harms or risks or externalities, but rather the principle is whether the underlying activity in question is one urbanists like or don't like.
I should note that SF bookstore Borderlands apparently got a one year reprieve on closing thanks to a successful crowdfunding campaign they completed after we went to press. This is hardly a viable model generally, however.
Tuesday, May 5th, 2015
Privatization done right can be a great boon. Done poorly, it can harm the public for decades. We see another example of the latter ongoing in North Carolina (h/t @mihirpshah). The Charlotte Observer reports:
The N.C. Department of Transportation's contract with a private developer to build toll lanes on Interstate 77 includes a controversial noncompete clause that could hinder plans to build new free lanes on the highway for 50 years.

The clause has long been part of the proposed contract. But it was changed in late 2013 or early 2014 to also include two new free lanes around Lake Norman – an important $431 million project supported by local transportation planners.

Some area officials were surprised that under the contract with I-77 Mobility Partners, the developer would likely collect damages if the state added two new general-purpose lanes from Exit 28 to Exit 36 at the lake.
Many of these long term privatization contracts are loaded with "submarine" clauses like non-competes that lurk underwater ready to rise up torpedo the public without warning. Did the people of North Carolina know that they were signing away their right to make public policy for the next 50 years when they did this deal?
What raises serious a red flag is that the clause that incorporated the I-77 added lanes project was added late in the game, which suggests that the current impact were not an accident:
Bill Coxe, a transportation planner with Huntersville, said he doesn't know who lobbied for the revision. The new language wasn't part of the draft contract from 2013, but it was added before the final deal was signed in June. "We saw that late in the game," he said. "We aren't sure who modified that."
…
Mooresville's representative on an advisory committee that helps make transportation recommendations said she didn't know about the change to the contract with the developer. Neither did Andrew Grant, a Cornelius assistant town manager who helps shape regional transportation policy.
So many of these deals have less to do with bringing in private capital to finance infrastructure improvements than they do contractually creating a decades long stream of monopoly rents for the contractor.
Chicago got burned when an arbitrator ruled it owed $58 million to the group that leased the city's lakefront parking garages. The city had promised it would not allow anyone else to build a garage open to the public to compete with the lessee. But it did anyway and they had to pay damages.
Contra the claim in the article that these clauses are necessary to attract investment, simply look around and see that businesses take huge investment risks every single day in markets with no barriers to entry for competitors. You don't see Walgreens going to city governments and telling them they won't open a store unless the city promises not to approve a CVS within a two mile radius, for example. We often see retail competitors right across the street from each other
But why invest in the actual marketplace when you can sign a sweetheart deal that grants you a five decade monopoly?
In this case, it appears to be free lanes and toll lanes side by side on the same facility. So there's some justification for some sort of agreement on the state's plans for the free lanes. But given that the free lane expansion was already on the books and supported by transportation planners, to have the project de facto killed through a clause slipped into a private contract in a way that does not appear to have been vetted by the public is dubious. If the residents of the area had known the free lane project they were banking on would be basically taken off the table for 50 years, it might have created protests that could potentially derail the contract. So by simply adding a non-compete clause, the state and contractor could do the same thing without stirring up the public until it was too late. It's all the more reason why there needs to be much, much more scrutiny on the terms of these deals.
Thursday, April 30th, 2015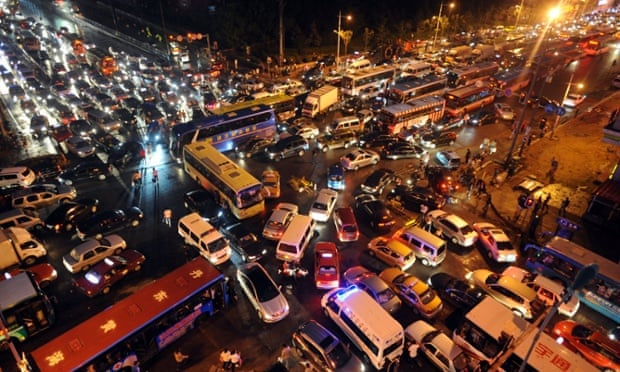 My latest piece is online over at the Guardian. It's called "Have we actually reached peak car?"
My piece is quite different from the typical US consumer preference change story. Rather, it draws on research from the UK that's not widely publicized here in which traffic experts going back as far as the 50s and 60s predicted a saturation in demand for driving. In short, while total driving levels may grow with increasing population, individual (per capita) demand for driving may be at or close to its peak.
Here's an excerpt:
What's frequently lost in the debate is that traffic experts themselves predicted a driving peak long ago. Models developed as far back as the 1950s and 60s anticipated that at some point the demand for driving would reach saturation point. A 1974 report in the UK predicted that point would be reached in 2010, a remarkably prescient view. As Goodwin points out: "In fact, the 1970s predictions were official government forecasts by its own research laboratory … The institutional memory collapsed and the generation who remembered or were involved in those forecasts is now only a few elderly specialists, like me. I was as surprised as anybody when I re-examined the old reports: I had no idea that the forecasts were turning out so accurate 30 to 40 years later. Mind you, that does not prove the method is right, of course, but it is food for thought and certainly demonstrates that the idea of eventual saturation is not alien."

UCL's David Metz, formerly chief scientist of the UK Department for Transport and author of Peak Car: The Future of Travel, has taken up the saturation theme. "Saturation of daily travel demand is to be expected and is a likely explanation for the observed cessation of per capita growth of personal travel."
There's a lot in this piece, so click through to read the whole thing.
Wednesday, April 29th, 2015
My latest column is out in the May issue of Governing Magazine. It's called "The Other Digital Divide" and talks about the potential gap between how larger cities can be better positioned to take advantage of civic technology than smaller ones. It's an emerging area I think we should keep an eye on. Here's an excerpt:
Harvard professor Stephen Goldsmith co-wrote a book titled The Responsive City to highlight the promise of data- and tech-enabled innovation to improve government service delivery and citizen engagement. He sees the potential for new tech to actually reduce the large-small city digital divide. "There definitely was a danger just a few years ago where cities with resources could buy expensive technology and then use their scale to rationalize the purchase," he says. "I think in the next few years that will shift dramatically. Cloud computing allows mid-sized and small cities to purchase the best computing with a new pricing system."

Santiago Garces, chief innovation officer of the mid-sized city of South Bend, Ind. (population around 100,000), agrees on the potential of cloud computing. "Tech is being commoditized," he says. With today's cloud offerings, there's less need for cities to roll out their own in many areas. What he worries about, however, is talent. "It's a 'who,' not a 'what' issue," Garces says. Small cities have to work hard to ensure they get access to the talent to implement this technology.
Click through to read the whole thing.
Thursday, April 23rd, 2015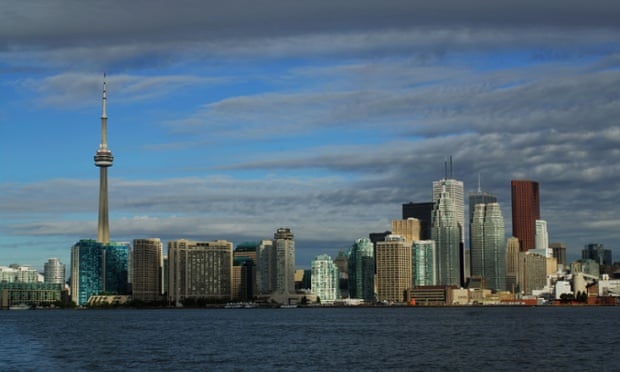 My latest post is online over at The Guardian. It's called "What's the perfect size for a city?" It is an expanded look at the right scale of regional governance – small box cities, large regional governments, etc. This goes beyond the United States to take a more expanded global view, incorporating some recent findings from the OECD and World Bank. Here's an excerpt:
"Often, administrative boundaries between municipalities are based on centuries-old borders that do not correspond to contemporary patterns of human settlement and economic activity," the OECD observed in a recent report. The thinktank argued that governance structures failed to reflect modern realities of metropolitan life into account.

Behind the report's dry prose lies a real problem. Fragmentation affects a whole range of things, including the economy. The OECD estimates that for regions of equal population, doubling the number of governments reduces productivity by 6%. It recommends reducing this effect with a regional coordinating body, which can also reduce sprawl, increase public transport satisfaction (by 14 percentage points, apparently) and improve air quality.

The World Bank, meanwhile, is worried about the way rapid growth in developing cities has created fragmentation there, too. Metropolises often sprawl well beyond government boundaries: Jakarta, for example, has spread into three separate provinces. The World Bank calls fragmentation "a significant challenge in the East Asia region".
Click through to read the whole thing.
Friday, April 10th, 2015
Awareness of Chicago's massive financial hole seems to dawned on the public fairly recently. Crain's did a story on the debt 2010. The Tribune did a big series on Chicago's recently. There's been a ton of national analysis of it. But a hole this big didn't get dug overnight. Were there any events or signs along the way that could have tipped off Chicagoans that something was fundamentally awry?
I believe there was.
Years back I remember reading an article talking about a Taubman mall that was going to open without a Gap in it. Google pulled up this one from 2001, so this may be it. At the time, Gap was a juggernaut. They could basically dictate terms to mall owners, so important was a Gap to any mall's success. Here's what the linked article has to say:
The two largest mall developers–Simon Property Group Inc. and General Growth Properties Inc.–have already capitulated to some of the retailer's [Gap's] demands…Taubman could have more to lose by not having Gap stores in its malls than Gap would lose by not being there, said Steven Greenberg, head of Greenberg Group, a real estate consultant to retailers. "It is extremely difficult to have a successful retail center today without a Gap," he said.
The article is illuminating and I recommend reading the whole thing. Because as it turns out, this event was really signalling that the end was nigh for Gap. The retailer ended up going into a tailspin from which it never recovered its position. Had a shrewd investor seeing how this lease dispute played out shorted Gap, he would have made a mint.
I believe a similar signalling event occurred in Chicago on the night of March 30, 2003. That was the night that Mayor Daley sent in the bulldozers to dig big X's into the runway at Meig's Field airport, to make happen its closure via fait accompli when he could not get it through the political process.
While some were outraged at the time, few appreciated the significance of the event. It was a big signal that something had gone seriously wrong with Daley and Chicago. While some dubious tactics such as using long term bonds to pay for litigation settlements began a bit earlier, 2003 is where the wheels started to come off the city. It just took another 5-7 years before people realized it.
Kristi Culpepper recently posted an eye-opening look at Chicago's disturbing finances. (Don't let the fact that this is on Tumblr deceive you – she's legit). She notes that: "There has been a structural gap in Chicago's Corporate Fund budget since at least 2003."
For pensions, Chicago had underfunding by 2003 but wasn't in a terrible position in terms of making its annual required contribution. But the contribution gap soared after that year 2003, creating a crisis. Here's a chart out of a Nuveen report showing this.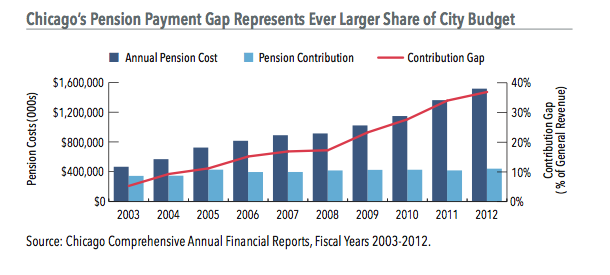 In retrospect, Daley's bulldozing of Meig's Field was telling us (in line with the Cockroach Theory) that something was up. Had the media and public started connecting the dots back then, things might have been different. Unfortunately, Daley had just been re-elected to his fourth term, so the city would have had to wait another four years to change course. But if residents had done so in 2007, some of the terrible decisions like the parking meter lease could have potentially been avoided and maybe things would have been different.
It can be hard to tell which events are signal and which are noise, but when disaster strikes, it can be useful to go back and take a look at what might have been missed. In retrospect, Meig's Field was a sign that Daley had lost his mojo and there were troubled waters ahead for the city.
Thursday, April 9th, 2015
As you know by now, Rahm Emanuel won his re-election bid. I've got an article up with some thoughts over at City Journal called "Rahm's Reprieve" that looks beyond the importance of the mayor to Chicago's condition and future, and suggests the community's broader leadership, not just Rahm, need to change their ways. Here's an excerpt:
And yet, the focus on Emanuel, in keeping with Chicago's "great man" political tradition, obscures the role of other players in the current mess. Chicago's vaunted business community has fallen in line with Emanuel, rarely if ever challenging him. It was equally supine before Daley, even as he signed bad union deals, foolishly pursued the Olympics, and racked up huge debts. What were the Commercial Club and the rest of the city's business elite doing while this was going on? Feting Daley, the same way they now sing Emanuel's praises.
Click through to read the whole thing.