Tuesday, August 28th, 2012
[ Bill Testa is a vice president and director of regional research in the economic research department at the Federal Reserve Bank of Chicago. He's arguably the best voice writing about the Midwest economy, even though the Chicago Fed district covers only part of it. He has a low posting volume but high impact blog called Midwest Economy that's a must read for anyone in the region.
The article below originally appeared there and he graciously gave me permission to repost it. I'm including it as part of my "State of Chicago" series, but should be clear that Testa did not write it originally as that and this article's appearance here should not be viewed as an endorsement by him of my own opinions.
Chicago remains heavily tied to the Midwest and national manufacturing cycle. This doesn't necessarily vitiate the global city angle as some of its global city functions relate to these industries. But clearly the narrative of transformed Chicago transcending its past and its failed region needs some revising - Aaron. ]
For Chicago (and the U.S.), no one would argue that economic conditions have approached a state of full recovery. Almost three years into the expansionary phase of recovery from the 2008–09 recession, Chicago's unemployment rate remains lodged near 9 percent. Yet, these three years of expansion may be telling in other ways. That is, comparing Chicago's current experience with its past recovery experiences can provide insights into the structure and outlook for Chicago's economy.
As seen in the chart, the Chicago area's unemployment rate is typically slower to recover from recessions than the U.S. overall. This is somewhat to be expected, since Chicago and Midwest recessions are typically sharp and deep owing to the region's preponderance of manufacturing companies. Following steep recessionary declines, it takes a while for these and other companies to re-engage the work force.
A further glance at the chart reveals that the Chicago area's economy was especially tardy in its labor market recovery following the short and shallow recession that ended in the fourth quarter of 2001. The Chicago area's unemployment rate did not converge with the national rate until very late in 2006. Today, by contrast, ten or more quarters past the end of the national recession, the Chicago area's unemployment rate seems to be making substantial progress toward convergence with the rest of the U.S.
One of the underlying reasons for this difference in experience is probably the different behavior of the manufacturing sector in these two periods. In the current period, manufacturing has been growing since the end of the recession both in the nation and the Midwest. In contrast, the period surrounding the 2001 recession saw manufacturing declining markedly. From 2000- 2003, the Great Lakes states surrounding Chicago lost almost 700,000 manufacturing jobs on net—representing about one-fourth of all U.S. manufacturing jobs lost in that period.
To be sure, the Chicago economy does not have the deep manufacturing orientation that it once had—at least not directly. Once "hog butcher to the world," Chicago is now more of a provider of high end business and financial services. Today, Chicago is the capital of the risk product financial exchanges and a center of vibrant job opportunities in accounting, law, management consulting, business meeting/travel, and corporate headquarters operations. Nonetheless, looks can be deceiving, in that these service operations are often vitally linked to goods-producing service customers. That is, the Chicago economy continues to sell its business services to Midwest and national goods producers, both in agriculture and especially in manufacturing. Accordingly, regional and national trends in goods production continue to matter to Chicago's economic performance and well-being.
The table lays out the Chicago area's job performance during the ten quarters following each of the past two recessions. To begin with, as measured by total private sector job growth, we see that Chicago's overall performance following the 2001 recession was abysmal. During the national recovery, the Chicago metropolitan area (CMA) experienced a jobs decline of –2.6 percent or over 100,000 jobs. In contrast, so far in the current recovery, private sector payroll jobs in the CMA have expanded by 1.2 percent.
Which particular industry sector differences explain this overall performance? In the recent period, the CMA shares some important trends with the national economy. In the aftermath of the housing market collapse, for example, job growth in the construction sector is much weaker. State and local governments also continue to downsize today, unlike the post-2001 expansionary period. So too, financial activities such as banking and real estate continue to shrink during this expansion. The latter presents a challenge for Chicago, as its economy is more concentrated in financial activities than the nation (column 6).
But perhaps the most concentrated industry for Chicago is "professional and business services." In this sector, and unlike the earlier experience, the region has achieved net job growth of 7 percent this time around, versus a loss of 2 percent at this point in the post-2001 expansion.

(click to enlarge)
A look at the past behavior of this industry reveals that, during the last expansion, CMA employment in business and professional services did not bottom out until almost 2004 (Figure 3 below). Nationally, the sector also performed poorly. However, the national business services sector outperformed Chicago's business service sector, hitting bottom nationally several quarters ahead of the CMA trough.
To understand Chicago's business services performance, we must look to trends in manufacturing. Chicago remains a major wholesaler, transporter, and warehouser of goods that are produced in the broader Midwest region. It is here in Chicago that all six major North American railroads come together and the largest North American intermodal freight operations (i.e., between truck and rail car) take place. As shown in the table, employment in the CMA's "transportation and warehousing (and utility)" sector has expanded by 5 percent over the past ten quarters, versus a decline of 5 percent during the post-2001 expansion.
It is likely that Chicago's vaunted business and professional services sectors are also being led by demand from the surrounding goods-producing customers. The final chart shows a strong correlation (0.88 out of 1.0) between Chicago's business/professional service job growth and manufacturing job growth in the Great Lakes states that look to Chicago as a regional business hub. The correlation in job growth between Chicago's own professional services and manufacturing sectors is similarly high, at 0.86).
Midwestern policy leaders need to understand these correlations in order to influence the CMA's job prospects and economic conditions. Certainly, the CMA economy has an important footprint as a global city that is tied to services and travel around the world. But its economic base remains strongly tied to goods production in the nation and the nation's mid-section.
This post originally appeared in Bill Testa on the Midwest Economy on April 6, 2012.
Telestrian Data Terminal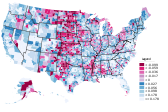 A production of the Urbanophile, Telestrian is the fastest, easiest, and best way to access public data about cities and regions, with totally unique features like the ability to create thematic maps with no technical knowledge and easy to use place to place migration data. It's a great way to support the Urbanophile, but more importantly it can save you tons of time and deliver huge value and capabilities to you and your organization.
About the Urbanophile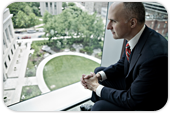 Aaron M. Renn is an opinion-leading urban analyst, consultant, speaker, and writer on a mission to help America's cities thrive and find sustainable success in the 21st century.
Contact
Please email before connecting with me on LinkedIn if we don't already know each other.
Twitter Feed
World Blogroll
Non-English Blogroll