Tuesday, February 4th, 2014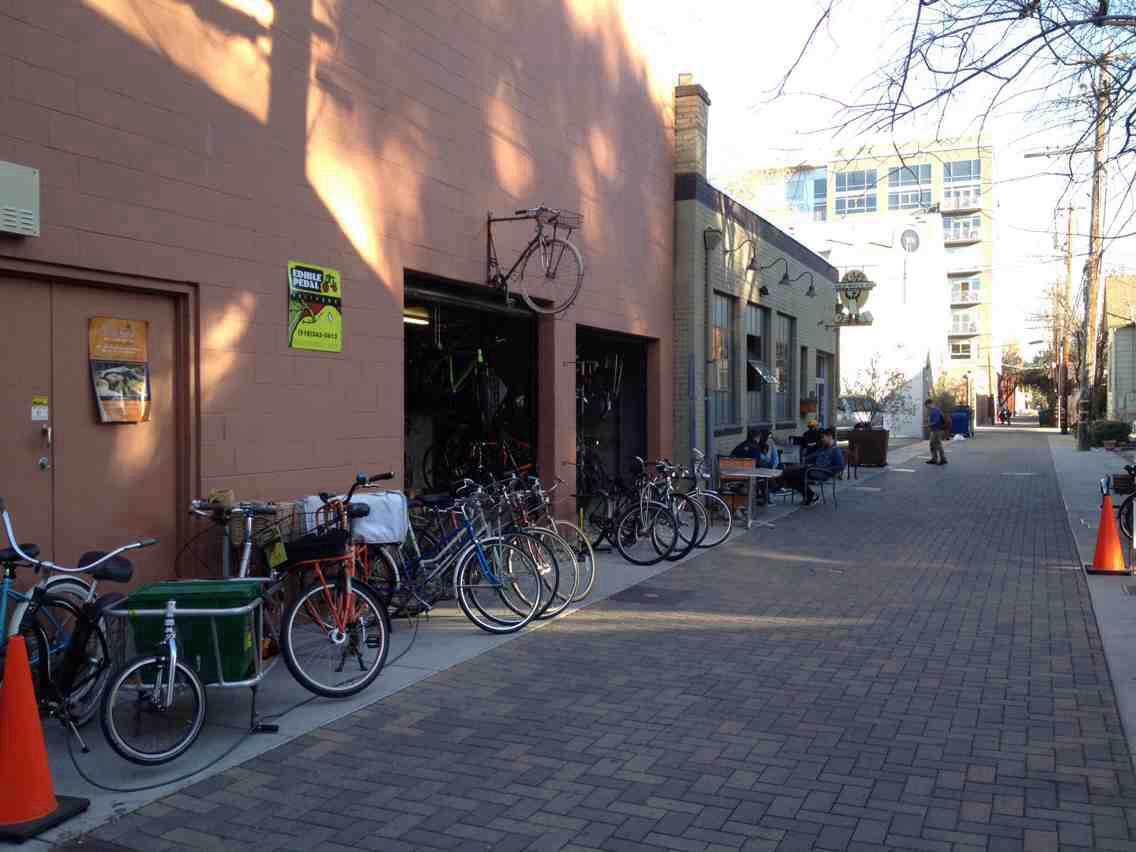 Liestal Alley in Sacramento
It's the early morning of January 20th and I'm being driven around Sacramento by a friend of mine in hopes of finding my stop for the day, a popular coffeehouse in Midtown called Old Soul Coffee. Having navigated a series of one-way streets for nearly 30 minutes, it became apparent that this place was more than a bit tricky to find. We stopped on a side street to reorient ourselves, and discovered a clue that provided the insight our struggle needed: the coffeehouse is actually located in an alleyway adjoining the listed physical address.
Old Soul Coffee is a Sacramento gem that requires some urban savvy to locate. Nestled in an unpretentious alley connecting 17th and 18th streets, this gathering place resides in a loft-like warehouse space brimming with an eclectic mix of independent workers, casual readers and wandering bohemians.
In many historic European cities, alleys have long been an integral part of urban landscapes, revered as epicenters of cultural and civic activity. In the U.S., they have traditionally been seen as unappealing service corridors between buildings, synonymous with crime, vice, and bottle-toting street vagrants, not for public use.
Cities like Sacramento are refreshingly reversing these perceptions, recognizing alleys as assets to their social landscape. Transcending their traditional role as corridors of commercial delivery and trash collection, many alleys are being repurposed in pedestrian-friendly, economically viable public spaces that promote walkability and community. Cities like Seattle, Indianapolis and San Francisco have embraced the redesign of urban alleyways, using them to drive economic development by igniting street activity that draws people to local businesses and the cultural arts scene.
From a broader perspective, alley revitalization efforts that support the efficient use of urban space are being increasingly seen as a key strategic piece in the overall branding identity of a city. This is particularly true as local governments seek ways to boost declining revenues during our nation's economic recovery. Many alleys because they are too narrow for a steady flow of vehicular traffic, are primed to serve as walkable thoroughfares, fueling consumer spending and commerce. Other benefits include bike storage and recycling, among other functional possibilities.
Alley rebranding projects taking place in U.S. cities often have a grassroots, organic feel to them. In the eclectic Midtown District of Sacramento, citizen-infused momentum is building around efforts to revamp these small urban spaces. The alley where Old Soul Coffee is planted is just one example of how aesthetic improvements can spur creative use of space for nearby businesses and homes. The story behind Old Soul Coffee and the rogue arterial it used to be is similar to that of a band finding an off-the-beaten-path garage space to practice in. I spoke to Jason Griest, one of the founders Old Soul, to get his take on the evolution of the alleyway as a destination point for local residents.
"My business partner and co-founder Tim [Jordan] and I wanted to open our business in an alley, but we were broke," said Griest, who had owned area coffeehouses before. "We desired a space where we could practice our respective crafts, which, for Tim was cooking and baking, and for me, coffee."
What the duo couldn't know is that their coffeehouse dream would evolve into the diamond in the rough that it is today. "We opened in 2006, strictly as a wholesale coffee business. This was a pretty beat-up alley building with no plumbing, lights or dishwasher. There was no air conditioning or heating, so when it was 100 degrees outside in August, the month we opened, it was often 114 degrees or more inside. Outside, the structure was spewed with graffiti and the alleyway was littered with potholes. And to make matters worse, I started sleeping on the floor of this place because I had just lost my house. In one sense, it wasn't a pretty picture. But I was thrilled to be working with my friend and business partner Tim in making the business better every day."
The business was unexpectedly shut down in late 2006 after an unexpected visit from state regulators who cited them for running a business without the proper permits and licenses. After this setback, Old Soul began to forge a different vision for the business when it rebooted in early 2007. Griest credits the alley as being the ideal ecosystem for his business's growth. "People would just wander down the alley and smell the coffee roasting."
This activity spurred Griest and Jordan to diversify their business and move from their original wholesale model to one that could cater to the growing number of walk-ins patronizing Old Soul. "We priced every purchase at two bucks. Our motto became 'grab what you want and throw your money in the jar.'"
Old Soul's home, Liestal Alley, is one of the pilot projects being facilitated by the City of Sacramento. Improvements to make the thoroughfare more bike and pedestrian-friendly were funded through a public/private partnership. Lights were installed for safety, and big planter pots were strategically placed to calm the flowing traffic. Griest has heard reports that nearly 40% of Sacramento is composed of alleys. "If this is true, think of all the great things Sacramento could do for urban infill by fostering these alley projects," he said.
Now that the alley has been beautified, Griest says that there is a great deal of pride had in keeping it neat and clean. "With anyone frequenting the alley, we stress the importance of picking up trash and not letting it sit. If you see trash along an alley and don't pick it up, it's a subtle sign for others to engage in that behavior."
Dovetailing off of the Old Soul example, urban design is gaining prominence as a tool for transforming gritty alleyways into attractive, functional spaces. In the end, the hope is to attract pedestrian activity and turn what are otherwise seen as dark and dangerous passages into catalysts for civic and economic vibrancy. Models using alley regeneration as a branding strategy can be found in many North American cities. Some of the most notable are Seattle's Nord Alley, San Jose's Paseo de San Antonio, and San Francisco's Belden Place.
Alley activation projects are also taking place in smaller, less recognized cities across the nation. Ferndale, Michigan, a Detroit metro area city with a population of around 22,000 features a downtown alley that provides public space for local events, as well as outdoor restaurant seating for eateries that back up to the alleyway. Acquired by the City of Ferndale in a land swap, the reconstituted alley has been landscaped with trees and flowers, giving it an attractive feel, amenable to foot traffic.
Despite the advantages resulting from the repurposing of alleyways, efforts undertaken to pursue the rebranding of these thoroughfares have met with varying levels of success. One big roadblock often is the logistics of converting what has been a vehicular arterial into a path amenable to foot traffic. As is the norm in dense environments, local drivers use alleys as cut-throughs to avoid traffic. In commercial districts, alleys are an access point for trash haulers or trucks making deliveries to merchants whose stores back up to the alley.
To facilitate the pedestrian-friendly quality of alleys, commercial districts must either restrict delivery and trash removal access to designated hours, or close the passageway down completely. Pasadena represents one model where delivery access is strictly controlled and enforced. Deliveries in the Mercantile Ally of the Old Pasadena Management District are restricted to designated hours. This flow is managed with retractable bollards, which are wooden or iron posts that open and close during the designated hours. Trucks that need to make deliveries outside these hours must call the municipality management to obtain special permission to reopen the bollards.
In addition to the economic and community development benefits associated with alley revitalization, cities are striving to incorporate environmental practices into their framework. Chicago's Green Alley program, launched under former mayor Richard Daley, is perhaps the best example of this sort of initiative. Considered the alley capital of the U.S., Chicago boasts more than 13,000 of these passageways, encompassing more than 1900 total miles. The city's ongoing repurposing efforts have slowly converted alleyways into green, permeable thoroughfares that absorb storm water and improve local water quality.
Fostering clean, environmentally sustainable alleys represents a fundamental shift from the trash-encumbered, grimy repute that these spaces are too often known for. In response, many downtown business districts are exploring trash management practices that incorporate new forms of collections and recycling. One of the most popular trends has been to exchange unsightly collection dumpsters for enclosures that accommodate commercial trash compactors and recycling containers. This offers a number of benefits over traditional trash collection methods: fewer hauler pickups, which means lower collection costs, better management of waste volumes, odors and rodent associated problems, and more efficient use of alley space.
The city of Boulder, Colorado has underway some of the most progressive efforts in support of the "greening" of its alleyways. The city currently offers a merchant program to incentivize environmentally sustainable waste reduction activities such as recycling and composting. City subsidization of composting provides merchants with a $2.50 per-cubic-yard reduction on their composting invoice when they elect this service through their designated waste hauler. Boulder has also moved toward the adoption of a "single stream" recycling system, enabling merchants to mix all recyclables together, with the goal of reducing trash collections to weekly.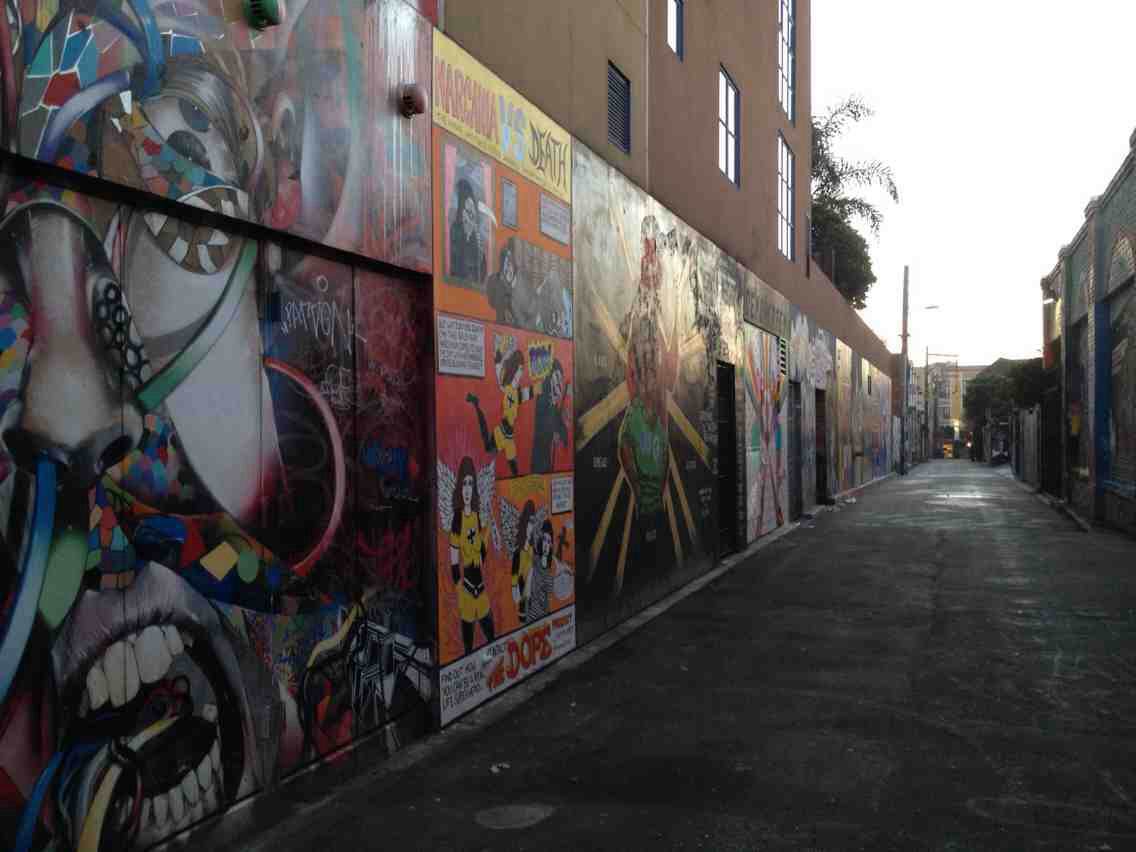 Alley in the Mission, San Francisco
During my most recent study tour stop in San Francisco's lively Mission District, I discovered, still another creative use of alleyways: as graffiti-infused art designed to add flair to an area heavily frequented by young millennials and hipsters.
Despite their history as dark, abandoned corridors decorated by graffiti-stricken dumpsters, unsavory characters and delivery trucks, alleys are now finding value as nodes of public vitality and economic activity. These long underused passageways now represent key avenues of community connectivity and civic pride, a major component of urban rebranding efforts.
Michael Scott is the Editor of UrbanWebcity, an online community examining the intersection between people and the urban environments in which they live. Michael can be reached at urbanwebcity@gmail.com.
Tuesday, January 19th, 2010
[ This post by Michael Scott is the first of two that will appear this week in honor of Martin Luther King Day. – Aaron ]
Surprisingly few Americans have heard of Robert Clifton Weaver. His name, in fact, was foreign to me until I stumbled across his biography at the infamous Powell's Book in downtown Portland. Entitled Robert Clifton Weaver and the American City: The Life and Times of an Urban Reformer, this book offers a fascinating look at Weaver's work as economist, academic and civil rights advocate under the backdrop of the New Deal movement prevalent in the 1930s and 1940s. His claim to fame though came in 1965 when he was selected by then president Lyndon Johnson to lead the recently formed Housing and Urban Development agency (HUD)—a distinction which made him the the first black presidential cabinet official in American history.
In his public service work Weaver courageously walked a fine line between the white power structure prevalent at that time and a dispirited African-American community whose lives he devoted his career to improving. His brand of "Radical Liberalism"—an approach which attempted to minimize the focus on race in resolving disputes—made him the go-to person at the federal level in terms of mediating divisive issues commonplace during the Jim Crow era. Weaver was most notably a staunch advocate of urban revitalization and its role in replacing segregated ghettos with integrated communities. He believed that public housing integration could serve as the catalyst for dismantling the myths of prejudice, leading to greater racial harmony.
Weaver's steadfastness in remaining true to the belief that government action could ameliorate the segregation of our nations cities is to be admired. Unfortunately, it could be argued that the urban environments to which he dedicated his life remain as deeply divided today by race and poverty as they were during his time.
It pains me deeply that this division continues to exist in a nation as great as ours. The city of Chicago, where I resided for many years, offers just one example of the systemic nature of this problem as it remains one of the most segregated cities in North America. It currently has a segregation index of around 81, which means that in order for every Chicago neighborhood and suburb to have a racial mix commensurate with the overall racial demographics of metropolitan Chicago, an astounding 81 percent of the residents would have to move. Oakland, California paints a picture much the same: Colleagues of mine living in this area talk of the racial tension and class segregation serving as a barrier to meaningful progress for the city. And in my own community, a suburban enclave just outside of Sacramento, the lack of resident diversity has been cause for my only African-American neighbor up the street to refer to the two of us as the "only flies in the buttermilk."
Despite his rising stature Weaver himself had problems securing middle-class housing in segregated Chicago when he was selected chairman of the city's Committee on Race Relations in 1944. With no other options afforded to him outside of the predominantly black areas on the south side of Chicago, he eventually found respite at the famed Hull House, the settlement founded by progressive leader Jane Addams.
Interestingly enough, Weaver's experience mirrors that of a colleague of mine during a career move of his in the mid-nineties. During the process of looking for a new residence he and his wife became puzzled as to why the real estate professional kept steering them to exclusively black neighborhoods on Chicago's South Side when their stated desire was to live in one of the city's more integrated communities. Having come from Washington D.C. where they raised a family in a diverse setting, they were dumbfound to find that this was still an accepted, albeit illegal practice among a fair number of real estate agents in the Chicago metro region.
The vestiges of these housing practices are historically rooted in what are known as restrictive covenants—laws from back in Weaver's day that barred homeowners from selling or leasing their properties to people of color. While segregationist proponents argued that these practices were necessary to protect property values—the proverbial "there goes the neighborhood" argument—Weaver claimed that there was no factual evidence to support this contention, noting that the ghettoized areas that blacks lived were economic rather than racial in their cause.
In the 50s and 60s Weaver initially attempted to bridge these gaps by advocating for public housing as a mechanism for creating integrated neighborhoods and overcoming the barriers to prejudice. While the development of public housing projects such as Chicago's Robert Taylor Homes and Cabrini-Green were a noble attempt to move our nation beyond "single class", racially restricted neighborhoods, they actually fueled the very exclusionary practices that Weaver had hope to overcome.
Weaver deserves a great deal of credit for fostering dialogue around housing integration and the role that it plays towards achieving a color blind society. Yet his efforts are arguably still a work in progress—likely to gain traction only when the barriers that which continue to perpetuate this divide are brought out into the open.
Michael Scott is the president of Visions for Downtown America, Inc, an economic development firm supporting the growth and sustainability of downtown central-cities. He can be reached at michael@vdowntownamerica.com
This post originally appeared at Urban Engagement Webcity. Reprinted with permission of the author.
Related: Chicago Is America's Most Segregated City
Also by Michael Scott: Is Sacramento an Indianapolis Wannabe?
Extra: Robert F. Kennedy in Indianapolis
The day Martin Luther King was assassinated, Robert F. Kennedy was visiting Indianapolis. On being told the news, he decided to move forward with his planned speech to an audience that included a large number of blacks. His words on that day were credited with averting violence in Indianapolis when it struck so many other cities.
Here is a film of RFK delivering the message that night. If you don't see the embedded video, click here.
I previously noted what we would consider today very unusual in a speech to any audience: references to the tragedian Aeschylus. I previously wrote about this in a post called "An Odd Occurrence."
Thursday, August 13th, 2009
[ A few months ago, one of my readers, Michael Scott, a Columbus, Ohio native who has spent time in several cities, including Indianapolis and now Sacramento, pinged me to talk about the parallels he saw between Indy and Sacto. I told him to write them up and maybe I'd post them. Well, he did, so I am. His take was more positive on Indy than I thought. Which made me think. I've never been to Sacramento, and only know it from occasional articles in the newspaper. Yet, I just assume it must be far better than a Midwest city to the point that it almost doesn't seem possible to be otherwise. I guess that just goes to show the inferiority complex even those of us like me who firmly believe the Midwest can compete we sometimes labor under. I hope you enjoy and I'm interested to see your reactions – Aaron ]

Indianapolis has a national reputation for its downtown revitalization and civic rebound from post-war decline. Four years ago, the Sacramento Metro Chamber of Commerce sent a delegation of 95 local leaders to study Indianapolis. The team's follow-up report praised Indy as the consummate "land of milk and honey"– a noted model for Sacramento to emulate in hopes of elevating itself from being a bathroom stop between San Francisco and Lake Tahoe. Indianapolis, the team said, demonstrated great vision and purpose in its redevelopment efforts, its creation of tourist attractions, development of a modern downtown mall, and the construction of two new sports facilities. The main question these local leaders posed was which of Indianapolis's practices would best fit Sacramento's special brand of west coast culture? Unfortunately, many Sacramento city leaders are still pondering this question today.

As a former Indianapolis resident now living in the Sacramento area, I can attest to interesting parallels between the two cities. For instance, both are state capitals with respective populations of around two million; both are consummate Midwestern cities in terms of mindset and landscape; and both have major rivers running through them, creating barriers and portending flood risks.

Demographically, a TIME magazine article reported that Sacramento is one of the most racially integrated cities in the nation, as determined by Harvard University's Civil Rights Project. Notably, Indianapolis has a significantly larger African-American population–nearly double that of Sacramento–which factors into Indy's long-standing reputation as one of our nation's most progressive black communities.

Both cities also sit at the nexus of major highways. Indianapolis has been crowned the Crossroads of America to denote its status as the hub of several major interstate highways that connect it with the rest of the U.S. Sacramento serves as a major connection point for Interstate 80, the primary east-west artery across the nation to the eastern seaboard, ending in Ocean City, Maryland, 3073 miles away.

While there are numerous commonalities between the two cities, the road diverges when the conversation turns to big-picture issues such as vision, branding, and identity—key elements for a city's vitality and sustainability. Here, Indianapolis arguably edges out Sacramento.

Sacramento's glass ceiling is a dearth of cohesive identity; the city needs a distinct brand beyond its current calling card– the home of pro basketball's Sacramento Kings. In a nutshell, the city is still pondering what it wants to be when it grows up. Is it strictly a conservative government town defined by the State of California and Governor Arnold Schwarzenegger? Or is it on the cusp of a metamorphosis into a hip, urban sideshow of San Francisco, featuring arts, entertainment and music centered on an emerging Midtown neighborhood? Maybe it truly is seeking to be distinguished by the Kings. Or maybe its claim to fame will continue to be a "fluid-adjustment break" for San Francisco travelers en route to Lake Tahoe.

What irks newly elected Mayor Kevin Johnson is Sacramento's reputation as nothing more than a stopping point between cities. Voted into office largely on his credibility as a local community leader and former pro basketball star, Johnson minces no words on his desire to see "Sac Town" succeed. But the road ahead is a long haul. With Sacramento being the state capital, California's legislative process and budget are a constant distraction, and the tepid local economy is due largely to state budget cuts and high rates of housing foreclosures. Unemployment is also at a historic high.

Johnson's biggest challenge, though, may be keeping the Sacramento Kings in town until plans for a new sports arena can be thrashed out. Voters soundly rejected building an arena as part of a redevelopment project involving an abandoned brownfield railyard adjacent to downtown. The talk now has turned to reconstituting the current California State fairgrounds site into a sports facility—a controversial idea that concerns area residents.

So what perspective can Indianapolis offer relative to Sacramento's future? For starters, Indy has effectively forged an identity by branding itself as a multi-dimensional sports and events town. The city is a haven for sports junkies attracted to everything from auto racing to college basketball. The downtown corridor is particularly impressive with its array of first-class sporting venues—sites that attract foot traffic and vibrancy to the central-city core. Sacramento would be wise to follow suit with its own unique niche, positioning itself as a destination of choice for both residents and visitors. Putting aside the chatter about the Kings' plans for a new arena and entertainment district, Sacramento's identity may be emerging organically via its Midtown neighborhood. Home to a growing number of chic restaurants, coffee houses, and retail shops, as well as a vibrant art scene, this area is rapidly building a reputation for spirited civic and social connection. Many city leaders are banking on this surge continuing, creating much-needed tax revenues and spurring further growth and development.

Sacramento should also take heed of Indianapolis's government structure, which allows Indy to effectively move forward on progressive civic projects. In many respects the mythological Sisyphus's unending attempts to push a boulder up a hill symbolizes Sacramento's myriad failed attempts to gain traction with their development efforts. In stark contrast, Indianapolis hums along with a consolidated city/county system referred to as Uni-Gov—a model that would provide a much more collaborative and simpler political environment for Sacramento. Indianapolis also doesn't require a two-thirds majority to support a tax for new development, something that seems to be a foreign concept amid California's anti-tax culture.

Despite its deficiencies, Sacramento is still in the game. The weather is relatively temperate year-round, with clear skies and low humidity–the envy of many central-Indiana residents who loathe unbearable heat and blustery winters; San Francisco and Lake Tahoe are top-notch destinations to the west and east, respectively; and the regions' cultural and ethnic makeup allows for a broad diversity of creative talent for the 21st century.

Sacramento also received recent praise by noted urbanist and former Indianapolis mayor William Hudnut III. In a speech to the Sacramento chapter of the Urban Land Institute, Hudnut cited the Sacramento Area Council of Government's 2050 Regional Blueprint for Higher Density Growth as a model for the nation.

So, is Sacramento an Indianapolis wannabe? Maybe. Or maybe not. Perhaps the reverse is true—Indy has a hidden desire to model itself after Sacramento. What is true is that these sorts of collaborative exchanges can prove valuable to cities in their quest for world-class status, definable identities and strong central-city cores.

Michael Scott is a Northern California urban journalist, demographic researcher and technical writer. He can be reached at michael@vdowntownamerica.com. His web site is www.vdowntownamerica.com.

-->