Thursday, November 20th, 2014
My latest column is now available in the November issue of Governing magazine. It's called "Lessons from Kokomo on How to Spend Responsibly" and takes another look, obviously, at Kokomo. But my focus here is the intersection of fiscal responsibility and investment. I highlight not just Kokomo, where getting a handle on the budget enabled investment, but also Los Angeles, where losing control of it has resulted in serious infrastructure problems. Here's an excerpt:
Kokomo can spend money on these items because it took care of fiscal business. Not all debt is bad, but in this case, by mostly resisting the urge to borrow, Kokomo will retain the ability to invest well into the future by not encumbering future cash flow. As a small industrial city, Kokomo still has challenges to be sure, but it appears to be on the right track.

Other cities are in different stages of this process. Consider Los Angeles, which is also making national news, this time for its crumbling infrastructure. The New York Times reported that it faces more than $8 billion in needed repairs just to bring its worst roads, sidewalks and water lines up to par.

Why can't Los Angeles afford to invest in infrastructure? Because it allowed its budget to get out of control. Some blame this on the city's fear of raising taxes, but L.A. is hardly a low-tax haven. Instead, as a report issued earlier by City Administrative Officer Miguel Santana notes, while revenues are anticipated to grow 4.4 percent — faster than national GDP — expenditures have been growing at an even faster rate.
Read the whole thing.
Wednesday, October 15th, 2014
Time for another round of videos that I've had in my to-post list for a while.
The first is a short documentary piece on two skyscrapers in New York that were built specifically a telco switching points: the AT&T Long Lines Building and the Western Union Building. They are still in use today. If the video doesn't display for you click over to Vimeo. h/t BLDGBLOG
The next is another installment in the "Time-LAX" series of LA timelapses. If the video doesn't display for you, click over to Vimeo.
Lastly a TV news segment in Indianapolis from 1978. It's a look back at a 25-year futuristic vision of the city from 1953 that was featured in the Indianapolis Star. Lets just say the vision didn't quite come true. If the video doesn't display for you, click over to YouTube. h/t We Are City
Wednesday, July 16th, 2014
This week back to the timelapse with a gorgeous high definition look at Las Vegas by Keith Kiska. This is one for full screen high def to be sure. If the embed doesn't display for you, watch on You Tube. h/t Likecool
As a bonus, here's another timelapse of Los Angeles called "Above LA." If this embed doesn't display for you, watch at Vimeo. h/t Likecool
Tuesday, June 17th, 2014
This is part of the series North America's Train Stations: What Makes Them Sustainable or Not?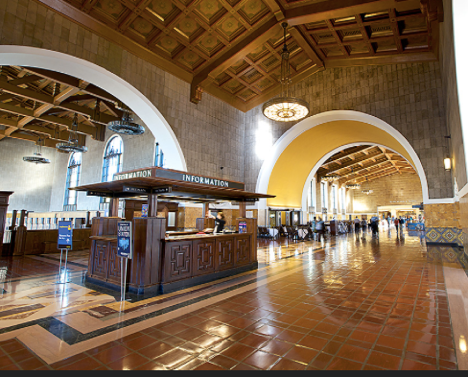 Photo of welcome desk looking into the grand waiting room on the right and the former ticketing hall on the left; courtesy of Wikimedia Commons
Let me recap the theme of this series: to compete against the car and win over commuters, stations must ease connections between modes. How LA does this matters, nationwide, for it helps build a strategy that breaks transit out of today's trap of red ink and taxpayer dissatisfaction. Transit's case ultimately is economic… and often too technical for the public. LA proves this. To solve both challenges strategically, let me sketch the big picture and put station planning in the economic perspective of there being no money; so, it must be earned.
Enhancements for passengers also should give taxpayers value.
Taxes are leveraged if car usage fees also are raised to help pay for enhancements.
This starts to level the field for overall transportation subsidies and makes transit choices rational in each commuter's time-cost equation.
Each commuter's rational choice of transit also increases farebox which bumps the public's investment in transit toward fiscal (operating) sustainability.
This creates the positive cycle that eventually earns sufficient public investment for transit systems.
This June 6th, revisions to LA Union Station's (LAUS) long-term plan were released. On balance, they improve what is already quite good. The flurry of questions about the Plan need some quick transcendence so LA can refocus on its startling transportation transformation whose plot-line is really about reducing the car's role as the culture's pig. LA Union Station's plans are an important supporting role.
Score: 70 (click for full scorecard)
Category: Environmentals Only (click for all currently reviewed stations)
The Sizzle: Why Good Looks Really Matter
What is most important about LAUS is it reminds me that good looks help… particularly when competing with the allure of cars.
Graced with good makeup on an elegant frame, LAUS is perched in the 4th spot on my list of America's best-looking grand stations. (For the record… the others are Grand Central, Philly's 30th Street, and DC's Union Station.) Their good looks correlate to their having this series' best scorecards for functionality and integrating different modes.
And if you doubt the value of good looks, consider Manhattan's Penn and Chicago's Union stations…and how they got ugly. As policy came to favor cars, these stations' owner (the nation's largest railroad) entered bankruptcy and creditors forced a hasty sale of both stations' air rights. This resulted in demolishing their good-looking, spacious concourses in the 1960s. Both stations since have functioned poorly; unable to expand as ridership grew. Both have the worst scorecards in this series.
LAUS fortunately learned the lesson. Now owned by the LA County Metropolitan Transportation Authority, LAUS has started improving its looks. And its functionality correlates well with the best stations.
Those previously-mentioned neo-classical piles were finished by the 1920s. LAUS opened in a different era in 1939. LAUS signaled that railroads had transitioned their trademark to Moderne design. Yet the beauty of LAUS blossoms by blending this early modernism with the region's historic native and Mission accents. If you search out the refined and exotic, LAUS gives you this eye candy.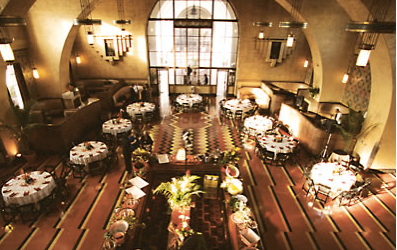 Attached to LAUS, the formerly famous Fred Harvey restaurant was a destination for star-gazing. While underutilized today only for banquets and occasional film and photo shoots, this hall is being renovated as a first step to making the station a destination again. Photo via herecomestheguide.com
To complement the above serene scene, the LAUS waiting room manages to be both grand and intimate; welcoming all to the nation's capital of entertainment, glamour, sun worship, and, even, mid-century modernism. In visiting over five dozen central stations throughout the world, I have yet to find a waiting room that I prefer more to sit and contemplate different cultures as the reason why I travel. It helps to sit in a great chair.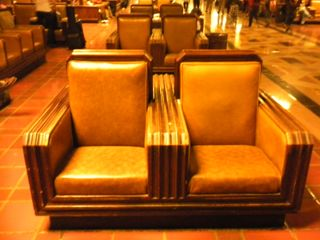 Great waiting rooms welcome and make good-byes better. In sum, this waiting room glorifies train travel.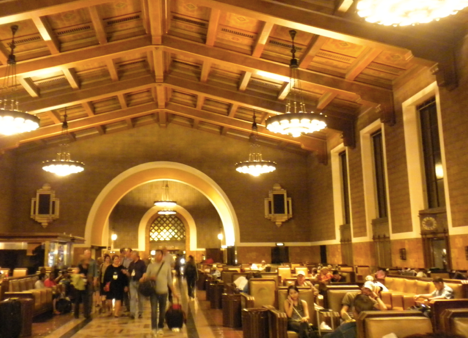 Waiting room. Photo by the author
Seventy-five years later and countless appearances as a film backdrop to tell personal stories, LAUS endures as cool, yet intimate, highlighting memories and marking milestones. Perhaps this explains why America's most-populated county chooses this station as a primary destination for wedding photos.
Photo via Furious Photographers Blog. See Furious Photographers main web page.
This photo emotes me several ways. At a transit point of entry, we see two former immigrant families having arrived at America's larger destination: adding dynamism, owning a piece of the pie and, we can imagine, prosperously so as small entrepreneurs. Better yet, we are achieving the transition from the industrial era's melting pot to President Carter's vision of "a beautiful mosaic." This photo celebrates LA's diversity and exuberance… at a train station… in the city that celebrated cars like nowhere else. Consider this photo as a metaphor for the metamorphosis to sustainable transportation.
And this point is worth remembering: these people — and ten million like them — will pay taxes to LA's transit resurgence and are helping exceed ridership goals on many of its lines.
The Steak: How LAUS Works Well
For integrating transit modes, LAUS coordinates well eight transit modes well within two portals connected by a passageway, albeit long. All playing nice are inter-city rail and bus, suburban rail and bus, urban bus and BRT, and urban light rail and a subway. As an example of how good Angelenos have inter-connectivity, consider where it is worst. Chicago's Union Station makes its customers walk three blocks (add bitter cold four months a year) to enter the nation's second largest rapid transit system, while urban buses add to the chaos of the station's streets, creating a hostile environment for the station's most used mode, walking – often with luggage.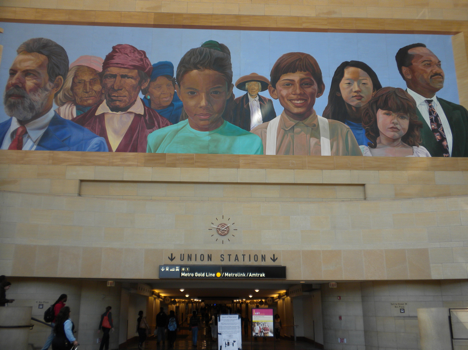 Happy to be back in LA, the author took this photo from the East Portal that looks into the central passageway connecting, after 180 paces past 12 tracks, to the light rail and, then, 120 more to the historic station.
While the above mural pays homage to those people who will pay taxes and fares for generations, this central view also captures how efficiently LAUS integrates transit's modes. If this were part of my daily grind, I'd enjoy passing through this glorious sunlit space. Built in 1995, the East Portal is becoming one of my favorite post-modern pieces anywhere.
Behind where I stood for this photo, there are 9 urban and suburban bus berths in an efficient circular pattern that is outdoors. (Unusual environmentals for a bus station.) Passengers are guided from the passageway through the portal's lobby and under the bus circular via a garden-like arroyo; complete with fountains to climb stairs into the circular's center to wait at one of the nine berths.
Ten paces to my left is an artsy entrance to the subway terminus for the Red and Purple lines. (A second entrance is in the historic station). LA's most-travelled Red Line starts here and runs through Hollywood while the Purple Line serves close-in parts of Wilshire Boulevard, LA's chief commercial corridor.
Straight ahead in the photo are 12 tracks; 3 are for Amtrak trains, 7 more tracks terminate six Metrolink lines and 2 through-route Metro's Gold light rail line.
Four hundred feet to the left is the El Monte Busway station that serves as a center for LA's growing Bus Rapid Transit ridership.
So roughly within an average of about 100 paces, an overwhelming majority of commuters can connect to the next mode in their commute.
Moving LAUS Forward
I've described modal connections briefly so you see my summary: LAUS works well now. While there are claims of passageway congestion at rush hour or minor problems in bus operations that drive the Plan's grand changes, LAUS's most important goal is to get on a fiscally sustainable path.
For example, Metro's data (page 13) project a mere increase in LAUS bus traffic of 1.5% per decade through 2040. Despite conventional buses being marginal to transit's growth, the revised Plan wants to build a consolidated bus terminal within a decade.
For now, I suggest setting aside mid-term plans and get the short-term right. Staring at the mid-term gloom of insolvent governments, LAUS should do the small things that get the short-term right. I propose four tactics:
Better utilize the current building
Make through-routing more economical than where it's heading
Propose that Amtrak build its own station in the longer term
Create a redevelopment structure for the station and its surrounds
1. LAUS should show it can "walk" (utilize the current building) before it tries to "run" (invest in a new building.)
LAUS is the last successful major station built in North America. Seventy-five years later, we have forgotten how to build these. Besides, we are broke. It is too early — and perilous for taxpayers — to dream too big right now. Here are three simple steps to show taxpayers that cost-effective improvements will help LAUS passengers enjoy their experience so they want to return.
a. Make a public campaign around improvements and use it to explore themes for LAUS as LA's latest, best urban center.
Comments about the revised Plan indicate the public's skeptics are on the offensive. In part, this is because capital proposals — in general — are suspected of being tax hikes. But, the larger part is LACTMA has narrow marketing goals.
Among recurring weak marketing, an example was during my third study visit (March 12, 2014.) Workers were restoring two of the three large public spaces: the former Fred Harvey restaurant and the former ticketing room. Done by May 3, the station's official 75th birthday celebration, the restorations are first steps in the spiff-up so LAUS can evolve toward a destination. Yet, I saw no sign telling this to passengers. Because I like rooting around, I did find a list of cosmetic improvements on Metro's website.
Since this involves public monies, there should be a prominent Schedule Of Future Improvements that gives passengers a clear picture of the changes. Put posters wherever relevant. Assume people want to know what is happening to their station. And instead of the 75th Anniversary being weighted toward the past, the PR team missed an opportunity to test themes for future campaigns.
To compete with the best, the global center of LA could learn from London. Read this message to patrons of a Underground station in a poor neighborhood. A simple sign can make Angelenos believe their temporary inconveniences are part of something big.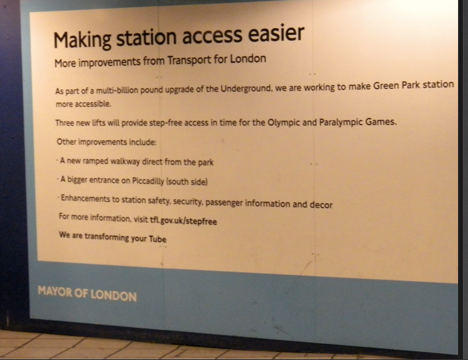 Photo by the author
If the Mayor of London (a Conservative) can show concern to the inconveniences of poor people, then LA's adoption of a better customer attitude can be an early stepping stone to transit economics that work as well as London's.  
b. Make a suitable Light Rail entrance.
The conversion of the platform closest to the historic station to light rail should give reason to pause. The Gold Line light rail is projected to have 47% more riders by 2040. This is one-third more growth than LAUS will get from the far more expensive and capital-intensive subway extensions. So if the Gold Line is so economical and important to the future, why does it have such an un-inviting entrance below?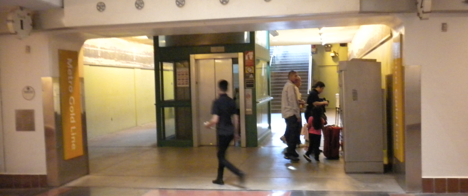 Only two signs indicate the Gold Line entrance/exit before ascending to the platform. Note how the lightly-used elevator dominates the station. Author's photo.
Instead of almost hiding the entrance, why not announce it with anticipation by using a gold signage theme starting at both ends of the passageway? And where are the signs indicating when the next Gold line train leaves? Metrolink lines have them.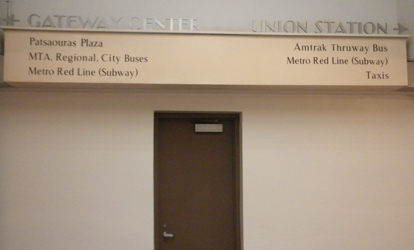 Why not put a second Gold Line entrance/exit here? All other platforms have two. Photo by the author
To counter the impression that I am a LAUS partisan, these two photos capture one of LAUS' few design botches. All train platforms were designed in the 1930s to have two entrance/exits that flow passengers into this passageway. Instead of a second ramp to the passageway, the Gold Line got the above wall. The Gold Line station is the only major addition to LAUS in this Century and it is a botch. I'd like to know why this wall can't be broken and the platforms above re-extended to make a second, better entrance/exit to the light rail system.
Once they get this correct, I'd feel better about LACTMA using tax money to convert the passageway into a spacious concourse as now proposed in its long-range Plan. In fact, use the remake of the Gold Line station as a way to prove to the public that a new concourse will end up as a good investment.
c. Upgrade the passageway and install moving walkways.
LAUS rush hour crowding is laid-back compared to Manhattan's Penn or Chicago's Union stations. Nonetheless, increasing traffic at LAUS could crowd the passageway within two decades. Instead of the proposed concourse, consider a cost-effective solution: within a year, a moving walkway could help handle rush-hour capacity. Prominent in sprawled airports, moving walkways would tell rail passengers they've got status.
I propose putting the moving walkway between The Gold Line and historic station. Visualize this using the Signage Plan photo for improvements proposed (below.)
Don't forget marketing…. Imagine this passageway with some simple cost-effective decorating (with color-coded signage based on modes) indicate that LAUS is a unified station serving all modes better? This type of strategic decorating also can start testing LAUS themes as a daily urban destination that people want to go to.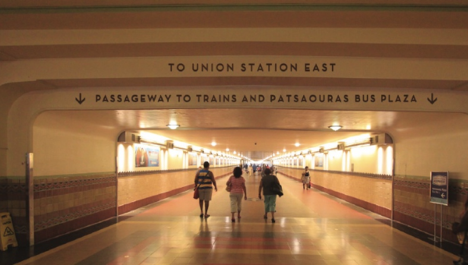 Photoshopped, this is the proposed decoration of the passageway that should be completed soon. For details of
Metro's Wayfinding and Signage project
, find this photo on page 21.
As it gets the small things right, LACMTA's Board should get a healthier fiscal perspective on long-term proposals to enlarge the passageway into a concourse. For sustainable transportation, better trumps bigger.
2. Make through-routing more economic than where it is heading
While suburban trains mostly support suburban lifestyles, greater efficiencies are key to accelerating cures for suburbia's auto-dependency. Suburban rail Metrolink's six lines terminate at LAUS. Along with Amtrak's Surfliner, they are projected to double their LAUS passengers by 2040; making it the best mode to bring in suburbanites to show-off LA's burgeoning urbanism. Run-through tracks (LACMTA's phrase) claim to improve efficiency by 40% and shorten average travel times by 8 minutes and much more for transfers. Through-routes are absolutely essential infrastructure that is long overdue.
Last year, LACMTA proposed a comprehensive Southern California Regional Interconnect Project (SCRIP) that called for eight run-through tracks. They wanted to start construction by 2017 with budgets of $350M. But, initial bids came in high. Today, the revised Plan acknowledges only 4 tracks for the same price. This must be explained.
Despite its power and competence, LACTMA is not in a strong position to through-route completely. LACTMA's focus is to expand LA County's Metro, instead of distractions from the awkward 6 county collaboration running MetroLink. With no strong authority for regional collaboration and SCRIP's scope halved, strategic marketing helps LACTMA here, too. If it rewards those lines that generate the most revenue by through-routing them first, LACTMA turns a blundering cost-overrun into a viable plan to maximize public monies while eventually completing the original eight through-routes.
This creates a dynamic in which suburbs compete to plan for more Transit-Oriented Development. The necessity to through-route — and its expense — can be turned into a contest to redevelop more compact TODs. This principle of faster pay-back seemingly exists already in LACTMA's investments to improve train stations and TOD within LA.
Instead of trying to bury the sourness of half as many through-routes, shifting to principles of economic and fiscal sustainability could win the metropolis its biggest long-term victory against the car.
3. Propose that Amtrak build its own station.
LAUS will evolve better if it has fewer requirements imposed on it by Amtrak. Those of us who see how Amtrak shares central stations know it is not the best collaborator. Amtrak has different needs than commuters and this often creates unnecessary problems. Many examples at LAUS and especially elsewhere prove Amtrak adds unnecessarily to the complexity and costs of busy stations.
The most visible example that LAUS commuters grasp is Amtrak vehicles create flow problems for the other 99% who do not need a truck to carry their luggage.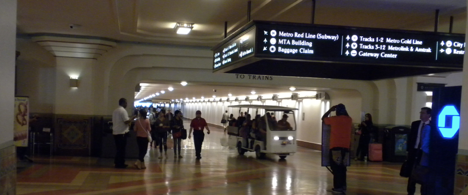 Commonly two or more of these trucks meet Amtrak trains. This is not altogether an invasion of pedestrian space, but does not show much respect for it either. Photo by the author.
Amtrak complicates the confusion in the mixing concourse between the tunnel and historic waiting room. Amtrak parks its luggage trucks there so they can shoot down the tunnel. These trucks show, in little ways, how Amtrak throws its weight around.
To avoid sticking LAUS updates with Amtrak-related costs and delays, I suggest that enough of LAUS's large site be given over to Amtrak to build a station to its specs. Even though Amtrak's role in the highly contentious High Speed Rail is not known, the revised Plan puts the High Speed Rail station to the east of the East Portal; establishing that inter-city service, at least, can be separate. Good start.
If I were on LACTMA's Board, I'd move that Amtrak decide where it wants to build its concourse based on the latest plan. If Amtrak demurs, at least it might play nice in someone else's house.
4. Create a redevelopment structure for the station and its surrounds.
Easier said than done! It will take a decade for a suitable development organization to finance its first deals evolving LAUS from an isolated transit center into LA's newest urban center. LAUS' extreme isolation is unique among major stations.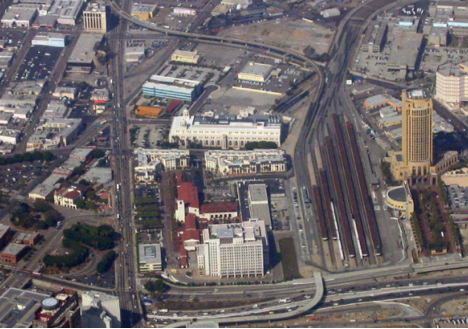 The red-tiled roof is the land-marked LAUS with its exquisite Waiting Room running left to right. To its right starts the 270 pace passageway; tunneled under the north-south building (probably demolished for a bus station) and continues under the tracks to the semi-circular East Portal (currently the main bus station and larger subway entrance.) The tall building lording over the complex is the HQ for LAUS's owner, LACMTA, the Los Angeles County Metropolitan Transportation Authority.   Photo via WikiMedia Commons.
LAUS is quasi-barricaded from its surrounds. Foremost is the ten lane Highway 101 as its southern border. Further complicating the 1/4 mile pedestrian shed is large swaths of urban desolation. Almost half of it is warehouses, train yards and a cemented river. Much of the rest has a few government buildings, seemingly plopped without more purpose than filling up land given a bad reputation by its former industrial uses. The only residential was built recently on LACMTA's site, and many of those units will be sacrificed to the proposed bus station.
The 1/2 mile radius continues this limited mix. As a positive, this larger ped-shed includes City Hall. Its civic center park remake indicates LA is understanding how to make walkable urban areas. Also boosting its fledgling urbanity are the destinations of Chinatown to the north and Little Tokyo to the south; each being the next stop on Metro's Gold Line. The dashed green line below is the 1/2 mile radius.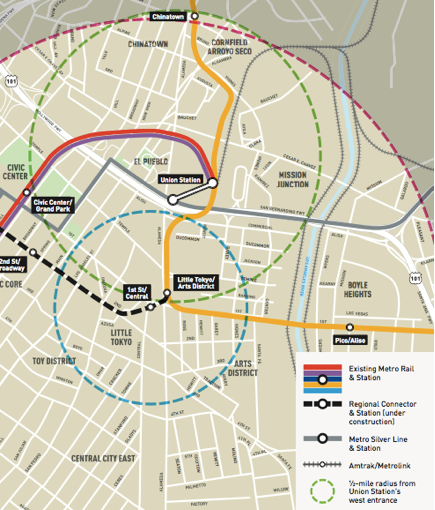 Map from Metro's Community Linkages Study for Little Tokyo
The mile radius has more of the same: warehouses, rail yards and cemented river. Walkable grids get mangled by merger ramps from two Interstates. Residential redevelopment gets complicated by public housing projects and other under-served neighborhoods.
But adding an important positive, employment (other than government) is provided by two medical centers. More important is how Central City East (just south of Little Tokyo) is quickly gentrifying with young people who are active participants in the first generation to use transit more. Information Age workers are replacing the winos on the former Skid Row. But in sum, urbanity still is not yet healthy in the surrounds of LAUS.
Integrating LAUS can be sped-up because LA's land use laws are changing. To improve transit ridership, Mayor Villaraigosa started experiments with ordinances to make LA more compact, particularly along corridors. He seems to have done a good enough job that the momentum of a comprehensive corridor code probably can continue without his leadership. While important in remaking LA's picture of itself, these ordinances still only have produced more leaps of imagination than bounds into sustainable urban redevelopment. The surrounds of LAUS may be LA's key test of its ability to leap.
Even if physical and land use obstacles are overcome, another strategic obstacle is organizational: transit agencies are cumbersome partners to private redevelopers. Despite its strengths, Metro still proves the rule and its parent, LACMTA, seems to avoid solutions. Two years ago, a Public-Private Partnership and the fad-ish "value capture" scheme were proposed during LAUS' initial long term planning. But, both were dropped from the 2013 Master Plan. This is inauspicious… and hard to understand since LACMTA owns 45 acres — plus air rights — and influences much more that could produce a great urban center. LACMTA must set-up a practical process to develop effective public-private ventures if it expects LAUS to evolve into an urban center. If as great a businessman as Mayor Bloomberg has to face failure at Penn Station, LA's chances seem slim without innovation.
Amidst the abundant efforts nationwide to revive central stations, integrating them into an urban fabric is a common challenge to many Sunbelt municipalities. Most know that if they do this right, other factors for transit can more easily sync. A workable framework for redeveloping economically around LAUS does much to enhance LA's example for Sunbelt cities. But, that leadership also must develop fiscal responsibility. Maximizing the assets it has — its current station in particular — is key to minimize operating costs in a new, fiscally sustainable regime.
Wednesday, February 12th, 2014
Here's yet another time lapse of LA, this one by Russian videographer Vadim Tereshchenko. It's short and pretty cool. Best seen in full screen high definition, which it looks like you'll need to click over to Vimeo to get. To do that, or if the video doesn't display for you, click here.
Friday, February 7th, 2014
I've been saying a while now that Los Angeles is a sick man economy. It never really recovered from the peace dividend, and the metro area has fewer jobs now than in 1990, though in fairness that's in part only because its exurbs are considered a separate MSA. Los Angeles used to have bigtime corporate strength in not just entertainment, but also aerospace and defense, energy, automotive, financial services, and more, all of which have withered apart from entertainment. Even foreign migration to the region is weakening. New York draws two and half times as many immigrants. LA retains a spectacular economy, a powerful immigrant-fueled small business sector, has the ports, etc. and is even still the largest manufacturing center in the country, but it's pretty clear there are big time problems. This is particularly obvious in contrast to the booming Bay Area.
A recent report called "A Time For Truth" put out by a group called the Los Angeles 2020 Commission lays out some of the grim facts. Though focused on the city and not the region, and thus likely overstating problems on a regional basis, it highlights a lot of the issues. Here are a few sample:
Los Angeles is barely treading water while the rest of the world is moving forward. We risk falling further behind in adapting to the realities of the 21st century and becoming a City in decline.
…
Activity in most of our key economic sectors is flat or in decline. We have repeat- edly ignored or fumbled opportunities in one of this era's major growth industries, the intersection of science and engineering — a field where our university-based intellectual capital ought to make us a leader. With the closure of Boeing's plant in Long Beach, there is no longer a large-scale aircraft, space vehicle fabrication or assembly facility left in the area.

Three decades ago, LA was home to 12 Fortune 500 headquarters. Today, there are 4. New York, in contrast, has 43 and has continued to add major employers in the last decade.

We have developed a "barbell" economy more typical of developing world cities, like São Paulo, rather than a major American urban area. We are experiencing growth at the top of the income ladder and at the bottom, while the middle class shrinks year after year.
The report includes a lot of unpleasant truths that have been written about before by others like Joel Kotkin. Maybe a fancy pants commission will be listened to, however. In any case, it's worth a read to get a local take on the city. There's more to come as this report focused on conditions rather than recommendations, though for that reason perhaps it will be less controversial.
Wednesday, January 29th, 2014
Today a couple of time lapses of Los Angeles. First, up, one called "Time-LAX." If the video doesn't display for you, click here.
This next one is called "City Lights." If the video doesn't display for you, click here.
Lastly a little political humor. When I was a kid I loved the cartoon Battle of the Planets, home of the original G-Force. (The show was an American edited and re-dubbed version of the anime series Science Nijna Team Gatchman). Well somebody channeled the spirit of those old cheesy 70s and 80s superhero series to create this funny spoof called "The Kronies." Buy your action figures today. If the video doesn't display for you, click here.
Welcome to the Hall of Injustice….
Thursday, January 9th, 2014
After yesterday's post, I thought I'd throw up some additional comparisons, this time at the metro level. County and metro per capita incomes only go back to 1969, not 1929, but there are still interesting things to see. I'll post these without analysis for you to ponder on your own. Again, all data from the Bureau of Economic Analysis, with charts via Telestrian.
The five boroughs of New York City (Manhattan=New York County, Brooklyn=Kings County, Staten Island=Richmond County). In the case of Manhattan, it's worth noting that this is a mean not a median value.
New York vs. Los Angeles. Keep in mind, the exurbs of LA are technically considered a separate metro area (Riverside-San Bernardino) and so aren't included in the LA metro figures:
Chicago vs. Indianapolis:
Denver vs. the Twin Cities vs. Seattle:
Atlanta vs. Dallas-Ft. Worth vs. Houston:
Memphis vs. Nashville:
Cincinnati vs. Cleveland vs. Columbus:
Thursday, December 19th, 2013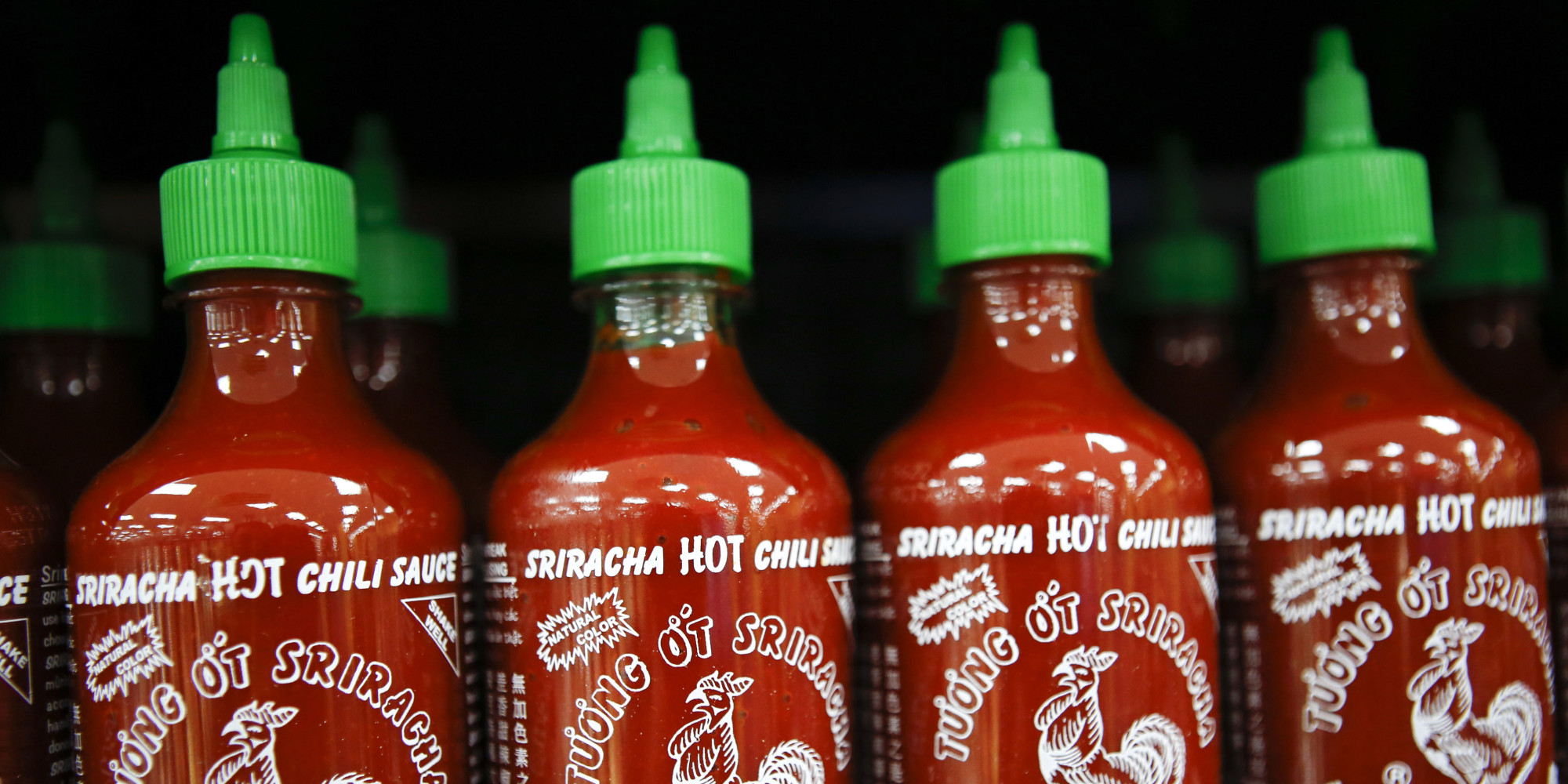 Sriracha Sauce. Image via Huffington Post
I love Huy Fong Foods' Sriracha sauce as much as the next guy, which is to say a lot. The red hot sauce with the rooster on the bottle has a cult following across the nation. So unsurprisingly it made national news when the city of Irwindale, CA sued to shut down production at the company's processing plant there. The processing of the hot peppers, done during only a limited time of year because Huy Fong only uses fresh peppers, was alleged to be causing a noxious odor in the town.
This looks like a pretty garden variety dispute between neighbors and an industrial business. Clearly industrial odors can be a problem. I don't know how long they've been in Irwindale, but Sriracha has been around a long time so I'm a bit skeptical something changed just this year. Regardless, I don't think odor complaints are necessarily evidence of a bad business climate as there could be a legitimate problem.
Then came the state order to stop shipping the product for 30 days. The state of California decided that to reduce the risk of food borne illnesses, the sauce had to sit for 30 days before it can be shipped. Keep in mind, this is for a product that has never had a complaint against it for making someone sick.
How many businesses can afford to halt shipments for a month and survive? Sriracha has a cult following and so they'll likely overcome it. But many businesses wouldn't have this luxury. When their customers can't get product, they lose the business. Indeed, I wouldn't be surprised if restaurants do turn to alternative suppliers. At a minimum, Huy Fong is going to lose a lot of sales.
Who in their right mind would want to do business in a state like this? And this is far from the worst case. It just so happens that because this is such a popular consumer product, it's visible. If even these types of companies get shut down, how much more so a firm where this wouldn't create an avalanche of bad publicity?
Urbanists put way too little thought into business climate, which can sound like such a shady way of saying cut services and taxes. But taxes are often the least part of it. It's the regulatory apparatus that makes doing business in many places too painful to contemplate. This even affects city-suburb investment patterns. I've observed that in many places, the urban core is a flat out terrible place to do business, unless you're very politically wired up.
This doesn't usually bother urbanists all that much until a trendy business they like gets affected. For example, an urban farming supply shop in Providence called Cluck got sued when they tried to open. The beautiful and the bearded were outraged and the shop was ultimately approved. But there's no similar visibility or outrage when a Latino immigrant runs into the red-tape buzzsaw when he tries to open a muffler shop.
If we want to promote investments in our cities and states, we need to be focused on basics like an objective, predictable regulatory framework that operates in the timely fashion and in which arbitrary denials, rule changes, and such are minimized. This is way more important to attracting capital investment than sexier items like streetcar lines.
Tuesday, December 10th, 2013
[ Believe it or not, metro LA has fewer jobs today than it did in 1990, making it the only metro in America's top ten that can make that "boast." Today Joel Kotkin shares some of his thoughts on rebuilding – Aaron. ]
If the prospects for the United States remain relatively bright – despite two failed administrations – how about Southern California? Once a region that epitomized our country's promise, the area still maintains enormous competitive advantages, if it ever gathers the wits to take advantage of them.
We are going to have to play catch-up. I have been doing regional rankings on such things as jobs, opportunities and family-friendliness for publications such as Forbes and the Daily Beast. In most of the surveys, Los Angeles-Orange County does very poorly, often even worse than much-maligned Riverside and San Bernardino. For example, in a list looking at "aspirational cities" – that is places to move to for better opportunities – L.A.-Orange County ranked dead last, scoring well below average in everything from unemployment to job creation, congestion and housing costs relative to incomes.
Yet, Southern California possesses unique advantages that include, but don't end at, our still-formidable climatic and scenic advantages. The region is home to the country's strongest ethnic economy, a still-potent industrial-technological complex and the largest culture industry in North America, if not the world.
In identifying these assets, we have to understand what we are not: Silicon Valley-San Francisco, or New York, where a relative cadre of the ultrarich, fueled by tech IPOs or Wall Street can sustain the local economy. Unlike the Bay Area, in particular, our economy must accommodate a much larger proportion of poorly educated people – almost a quarter of our adult population lacks a high school degree. This means our economy has to provide opportunities for a broader range of skills.
Nor are we a corporate center such as New York, Houston, Dallas or Chicago. We remain fundamentally a hub for small and ethnic businesses, home to a vast cadre of independent craftspeople and skilled workers, many of whom work for themselves. In fact, our region – L.A.-Orange and Riverside-San Bernardino – boasts the highest percentage of self-employed people of any major metropolitan area in the country, well ahead of the Bay Area, New York and Chicago.
Policy from Washington has not been favorable to this grass-roots economy. The "free money for the rich" policy of the Bernanke Federal Reserve has proven a huge boom to stock-jobbers and venture firms but has not done much to increase capital for small-scale firms. Yet it is to these small firms – dispersed, highly diverse and stubbornly individualistic – that remain our key long-term asset, and they need to become the primary focus on regional policy-makers.
Ethnic Networks
Immigration has slowed in recent years but the decades-long surge of migration, largely from Asia and Mexico, has transformed the area into one of the most diverse in the world. More to the point, Southern California has what one can call diversity in depth, that is, huge concentrations of key immigrant populations – Korean, Chinese, Mexican, Salvadoran, Filipino, Israeli, Russian – that are as large or larger than anywhere outside the respective homelands. Foreigners also account for many of our richest people, with five of 11 of L.A.'s wealthiest being born abroad.
These networks are critical in a place lacking a strong corporate presence. Our international connections come largely as the result of both the ethnic communities as well as our status as the largest port center in North America, which creates a market for everything from assembly of foreign-made parts to trade finance and real estate investment. Southern California may be a bit of a desert when it comes to big money-center banks, but it's home to scores of ethnic banks, mainly Korean and Chinese, but also those serving Israeli, Armenian and other groups.
For the immigrants, what appeals about Southern California is that we offer a diverse, and dispersed, array of single-family neighborhoods. Both national and local data finds immigrants increasingly flocking to suburbs. Places like the San Gabriel Valley's 626 area, Cerritos, Westminster, Garden Grove, Fullerton and, more recently, Irvine, have expanded the region's geography of ethnic enclaves.
These enclaves drive whole economies, such as Mexicans in the wholesale produce industry or the development of electronics assembly and other trade-related industry by migrants largely from Taiwan. Global ties are critical here. Korean-Americans started largely in ethnic middleman businesses, but have been moving upscale, as their children acquire education. They, in turn, have helped attract investment from South Korea's rising global corporations, including a new $200 million headquarters for Hyundai in Fountain Valley, as well as a $1 billion, 73-story new tower being built by Korean Air in downtown Los Angeles.
Tech Industrial Base
During the Cold War, Southern California sported one of the largest concentrations of scientists and engineers in the world. The end of the Cold War, at the beginning of the 1990s, severely reduced the region's technical workforce, a process further accelerated by the movement out of the region of such large aerospace firms as Lockheed and Northrop. The region has roughly 300,000 fewer manufacturing jobs than it had a decade ago, largely due to losses in aerospace as well as in the garment industry.
Yet, despite the decades-long erosion, Southern California still enjoys the largest engineering workforce – some 70,000 people – in the country. It also graduates the most new engineers, although the vast majority of them appear to leave for greener pastures. One looming problem: a paucity of venture capital, where the region lags behind not just the Bay Area, but also San Diego and New York. This can be seen in the relative dearth of high-profile start-ups, particularly in fields like social media, now dominated by the Bay Area.
But the process of recovery in Southern California does not require imitating Silicon Valley. Instead we need to leverage our existing talent base – and recent graduates – and focus on the region's traditional strength in the application of technology. A recent analysis of manufacturing by the economic modeling firm EMSI found strong growth in some very promising sectors, including the manufacturing of surgical and medical equipment, space vehicles and a wide array of food processing, an industry tied closely to the immigrant networks.
Cultural Complex
For most Americans, and even more so among foreigners, the image of Southern California is shaped by its cultural exports, not only in film and television but in fashion and design. This third sector epitomizes the uniqueness of the region, and provides an economic allure that can withstand both the generally poor business climate and the incentives offered by other regions.
After a period of some stagnation, Hollywood again is increasing employment. Roughly 130,000 people work in film-related industries in Los Angeles, which is now headed back to levels last seen a decade earlier but still well below the 146,000 jobs that existed in 1999.
At the same time, the sportswear and jeans business in Los Angeles, and the surfwear industry in Orange County, remain national leaders. Overall, the area's fashion industry has retained a skilled production base – over twice that of rival New York's – and has been aided, in part, by access to Hollywood, lower rents and labor costs than in New York.
Taken together, these sectors – ethnic business, sophisticated manufacturing and culture – could provide the basis for a renaissance in the local economy. The smaller firms in these fields, in particular, need a friendlier business climate, a more evolved skills-training program from local schools and a better-maintained infrastructure. More than anything, though, they require an understanding on the part of both government and business that their success remains the best means to reverse decades of relative decline.
Joel Kotkin is executive editor of NewGeography.com and Distinguished Presidential Fellow in Urban Futures at Chapman University, and a member of the editorial board of the Orange County Register. He is author of The City: A Global History and The Next Hundred Million: America in 2050. His most recent study, The Rise of Postfamilialism, has been widely discussed and distributed internationally. He lives in Los Angeles, CA.
This piece originally appeared at The Orange County Register.