Tuesday, February 7th, 2012
[ Joe Baur is a 20-something resident of downtown Cleveland. He also puts out series of video shorts of political comedy called Mildly Relevant News that you might want to check out. Some of them include musing on various urbanists topics. He recently paid a visit to much-maligned Youngtown, Ohio and was kind enough to file this report for us here – Aaron. ]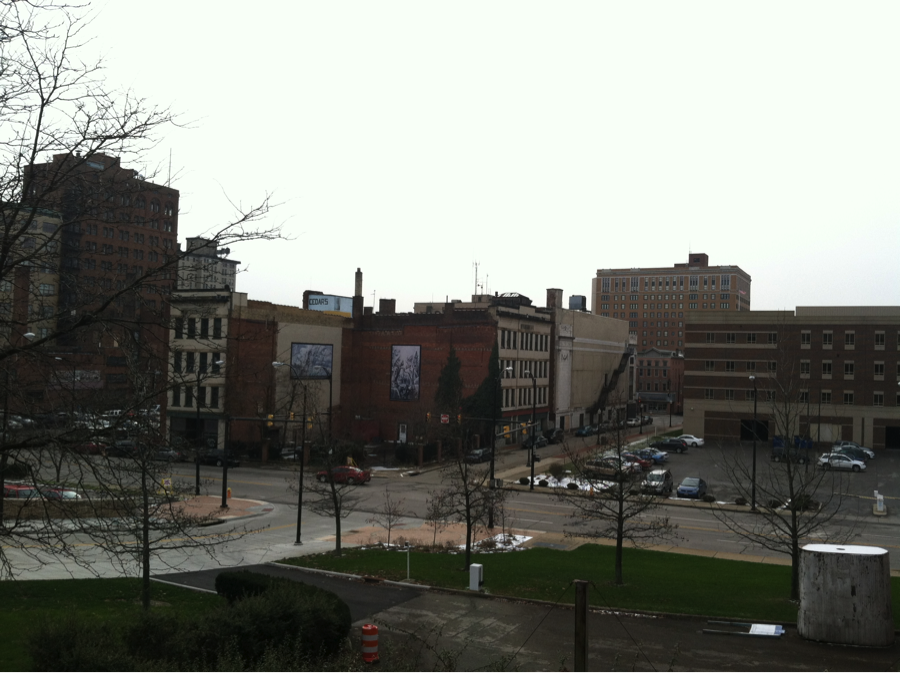 Hard up for a depressing, Rust Belt story? Come to Youngstown, Ohio, where the steel mills packed up and left years ago, taking much of their population and quality of life with them. At least, that's the theme national media has clutched onto ever since Bruce Springsteen acknowledged its sad reality with his morose ballad, "Youngstown." But rumors of redevelopment and pockets of young professionals determined to rebuild this once great steel empire reached me up in Cleveland. As a Rust Belt junkie myself, I had to check it out.
"A dangerous shithole," is how David Jason, a former Youngstown area resident, described the city. "Wish I could say something nicer." To be fair, he had been car jacked there. Twice. The freakin' Dalai Lama himself would struggle to look back fondly on a city after a couple of brushes with death. And it's not just David. Crime and poverty are tremendous problems in Youngstown. The steel industry was the city's golden goose. Without it, the city has struggled to find itself and adapt to the new economy. But before I continue this 20/20, gloom and doom exposé, there was a time when Youngstown was booming. And there's no better place for a glimpse at its once prosperous hour than The Museum of Labor and Industry located downtown in the Youngstown Historical Center.
My Aunt Barb, a fellow Northeast Ohioan who will travel to just about anywhere with me, drove us straight to the museum after a quick breakfast in Cleveland. We were both legitimately excited to take a walk through steel history. But first we were greeted with the harsh realities of the steel mills of today, an appropriate mix with the day's cold temperatures and gray skies. Shortly after passing the "Welcome to Youngstown" sign on I-680, we were surrounded by ruins of the city's former economic powerhouses. There were a plethora of dilapidated buildings that make the Coliseum look in business.
Shortly after our haunting ride around the mills of yore, we made it to the museum. Sadly, locked doors met us and a taped sign that read, "CLOSED." I had the hours right, but apparently missed the bit about being closed the week between Christmas and New Years. Crap.
Barb went to warm up in the car while I wandered around for a bit, snapping a few photos of what looked to be downtown Youngstown down the hill. I also stumbled upon an Ohio Historical Marker statue recognizing the Little Steel Strike. It was through their efforts that gave their union recognition and the right to collectively bargain with steel companies.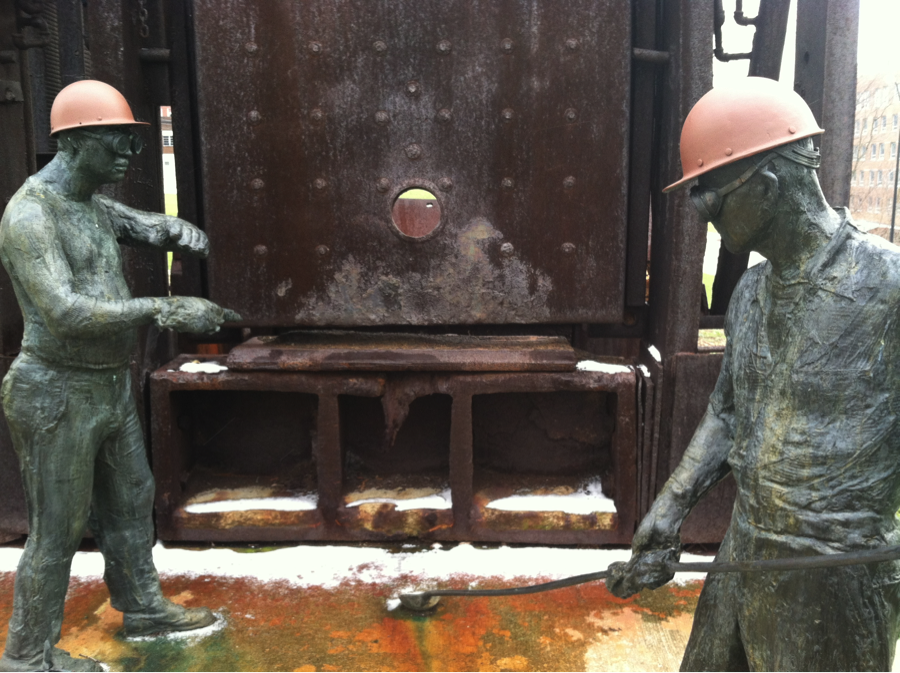 While I was busy impersonating Ansel Adams, a white van pulled up in front of the museum. Campus security for nearby Youngstown State University, perhaps? Getting cold, I hopped back into the car and we slowly pulled away, stopping briefly to wave down the woman in the van and explain why we were the lone vehicle in the parking lot.
We gave a brief sob story about how we came out from Cleveland to see this museum and were sad to see it closed. Well good thing we stopped, because turns out this lovely lady was waiting for security to let her in and finish a painting project she had been working on as a volunteer. "I'd be happy to let you in," she said. Score! Labor and industry was a go.
Shortly thereafter, security arrived and let us all in. I quickly began making my way around the museum. Wow, to put it lightly. Granted I'm a nerd for history and particularly Rust Belt lore, but even the most jaded field trip traveler would have to admit the museum was put together beautifully. Relics of the steel industry were positioned perfectly, with actual equipment left in tact to give you a vague sense of what it was like to work in those Hellish conditions.
The displays described life as a worker in the steel mills before and after unionization. They shared stories of racism experienced by black folks who moved up from the South for work and the prejudices immigrants had to deal with on a daily basis from so-called "natives." Evidently natives weren't too keen about folks moving in to work thankless jobs for less money. Sound familiar?
It's odd how a museum can take something so unromantic and romanticize the lifestyle and time period to the point where you wish you could live the life for just one day. When in reality, there's not a chance in Hell I'd last a day in those mills. And neither would you. Hell, I'd love to send Kim Kardashian and Donald Trump to their reality TV show death down there. Suffice it to say, The Museum of Labor and Industry is must stop for any history and/or Rust Belt buffs.
As we approached the final room, we stopped to chat with Doreen Moore, the incredibly kind painter who made our museum visit possible. We were lucky enough to hear her version of a mid-life crisis – a story worthy of its own documentary or feature article. Surprisingly enough, Doreen hails from Northern California near the Oregon border. She described her corner of the Golden State as a foggy area that never gets colder than 40 or warmer than 70-degrees. Like most Americans, Doreen was stuck in a job that simply wasn't for her in a state she didn't feel she belonged in. "I never felt like a Californian," she told us.
Years before her eventual move from California, Doreen found a program at a small Voc-Tech in St. Clairsville (Belmont Technical College) that offered degrees in Building Preservation/Restoration. After years of being looked down on because she didn't have a college degree, she decided enough was enough and put her house on the market. It sold it for over $250K in just four hours. Not a bad profit, considering what she paid for it. Within two years, she was ready to move onward and upward and enrolled at Youngstown State University in a city she had never so much as driven by. With cash in hand, she bought her Victorian dream house, spending about as much as you'd spend on a good used car.
Now Doreen finds herself happier than ever, chasing after her masters and "madly, hopelessly" in love with a man who found Youngstown under similar circumstances from Seattle. With the crap Hollywood continues to churn out, her story is one that at least deserves some consideration from the studio bigwigs.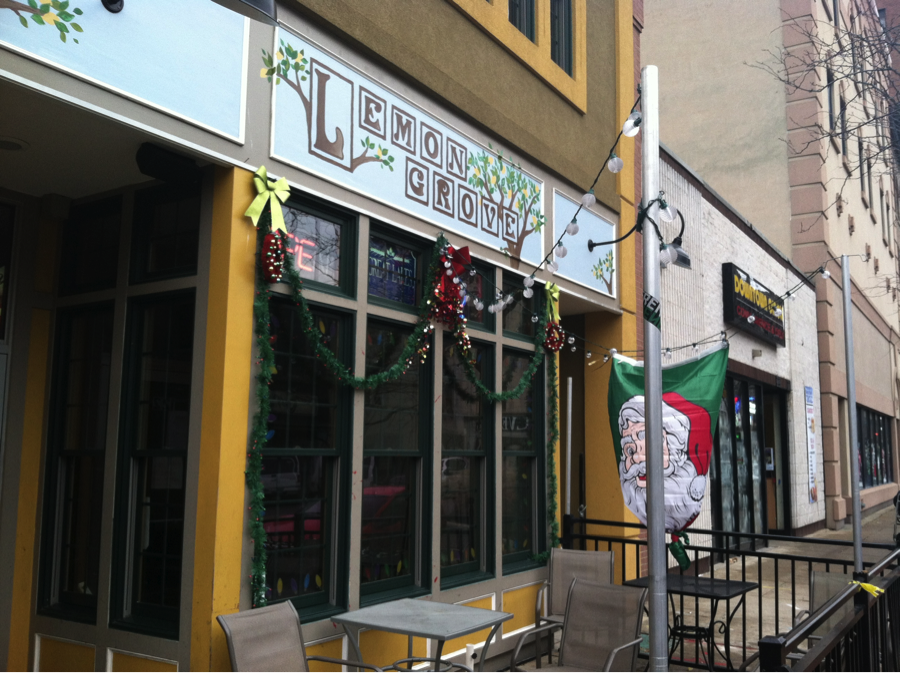 Our next stop was the Lemon Grove Café, a spot I had heard of from Youngstown transplants as the heart of their rebuilding downtown on West Federal Street. They advertise themselves as a "café, art gallery and organization devoted to the economic and cultural Renaissance of Youngstown, OH." Admirable aspirations, but I honestly expected a tiny café with some basic drink selections and a few pastries to choose from. I was wrong. So wrong, it's laughable.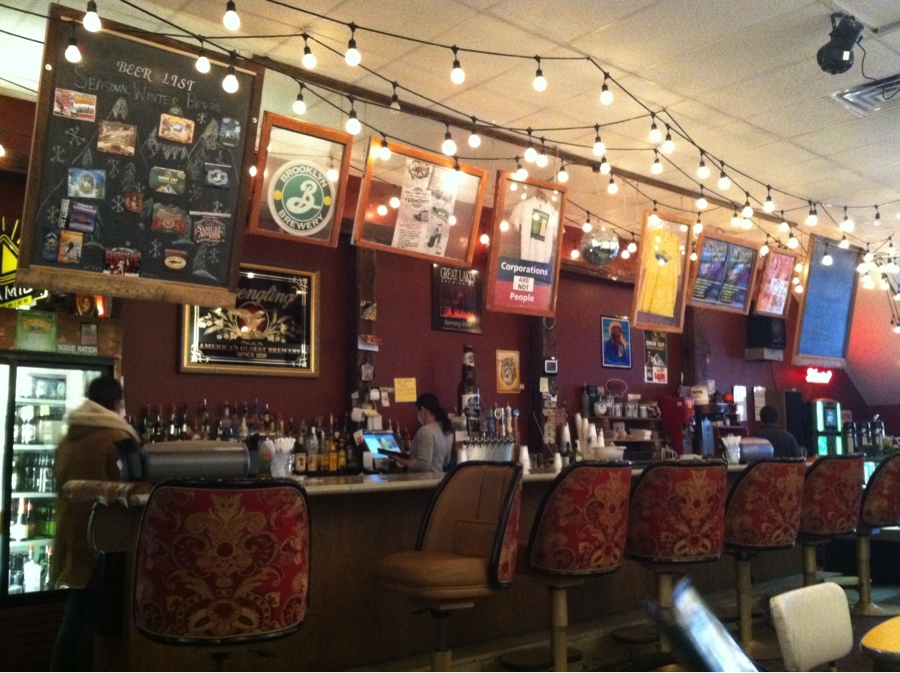 This was not just some café that would be lost in a sea of yuppie joints in New York City. This was an establishment like nothing I had seen before in any city I've lived in or throughout all of my travels. And anyone was welcomed! Young and old mixed with different ethnicities, giving the place an incredibly welcoming feel. Surrounded by what I imagine was local art, Lemon Grove is the mecca for any creative type or simply anyone who enjoys the fruits of creativity. And the place is open until 2am, seven days a week! They serve breakfast, lunch and dinner throughout the day and are always hosting live musical acts for their late night patrons. Did I mention they also sell booze? Yes. Yes they do. It's a place you never have to leave. Have breakfast, work on your computer throughout the day, have lunch and dinner, then stay for drinks with friends and rocking out with local tunes. I dare call this place… Heaven. And that's no hyperbole, my friend.
After leaving the Lemon Grove, I paused to look around Federal Street. No, it's not currently a street that would rival a thriving big city or a successful small town, like Traverse City. But the pieces are there. Studying the surroundings, I had what I'm going to call A Beautiful Mind moment. It wasn't difficult to see what this place can become in the foreseeable future, thanks in large part to the success of the Lemon Grove. And they weren't just voices in my head. Local business owners and investors are working hand-in-hand to make the dream a reality. In fact, the latest addition to downtown will be the partial demolition and restoration of the Liberty-Paramount Theater. Closed in 1976, the building quickly fell into disrepair, but was saved when the property was listed on the National Register of Historic Places in 1984. The restored building will be a music venue with a restaurant and cabaret bar in the basement and two movie theaters in the balcony. Clearly the city is making an effort to save the unique architecture featured in their buildings and restore them for the 21st Century. It's hard to find a city whose suffered tremendous population losses willing to reinvent their past. My beloved Cleveland has fallen into the trap of demolishing history in favor of something new and shiny (Columbia Building, anyone?). Hats off to the leaders making it happen in Youngstown.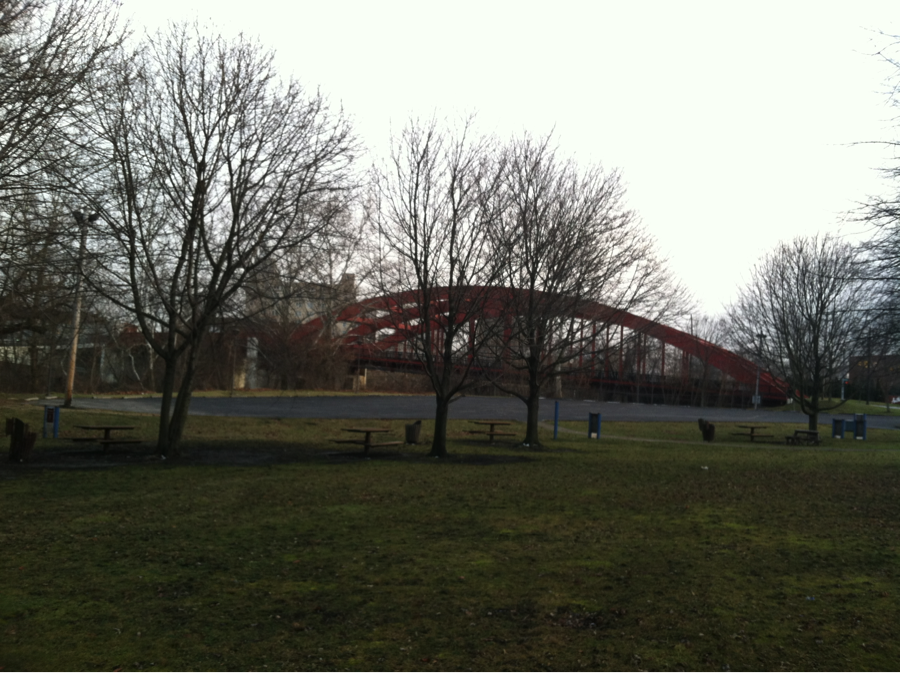 Less than a mile from downtown and over the Mahoning River is Rust Belt Brewing Company. Usually when I travel (okay, not usually), the first thing I do is look for local breweries. This is Youngstown's.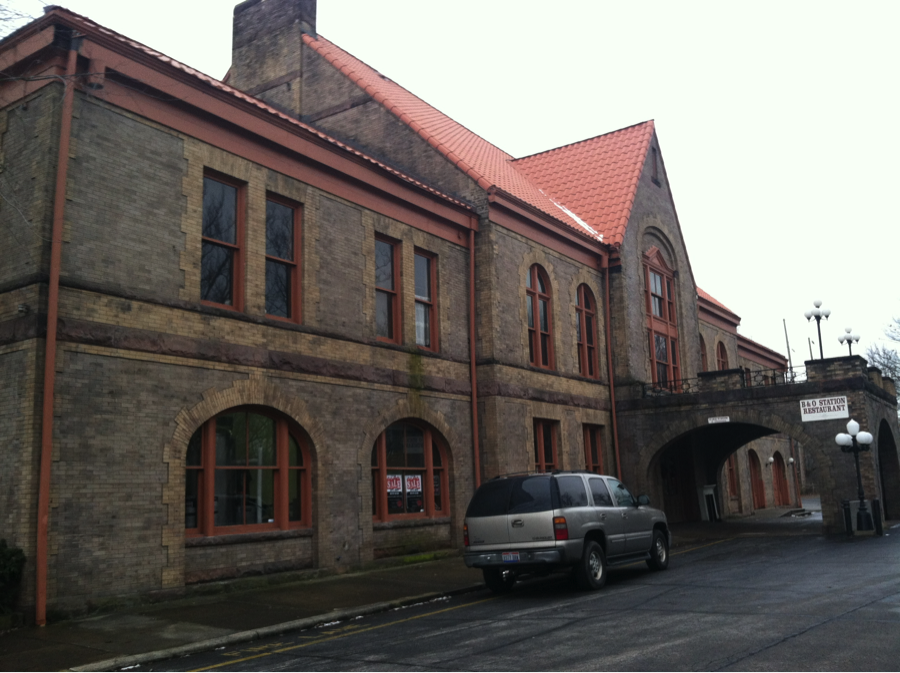 Rust Belt is a small operation catering to nearby Rust Belt towns, most notably Pittsburgh, although I've seen and enjoyed their brew in Cleveland, too. The crew was busy bottling when we popped in and were nice enough to give me generous samples of all their brews before making a final decision on a purchase. While tasting, they explained they're a young brewery, but continue to see 40% growth on a yearly basis with grand aspirations for the future. But in Youngstown, success comes with frustration.
You see, Youngstown, like most cities in Ohio, has been pulverized by suburban sprawl. With that suburban sprawl comes a more often than not irrational fear of the city. So much so, Rust Belt's brew crew laments the cold reception nearby suburbs have given their humble operation. They simply refuse to come out and work with them, hiding behind their preconceptions of the city from the comfort of their big-box home. There's no doubt Youngstown has its problems with crime and poverty. I don't think I met anyone who has tried to hide that. But refusing to work with the urban core that made the suburbs successful in the first place is pretty damn criminal if you ask me. It's heartless at the very least and a problem all Rust Belt cities are faced with. I can't tell you how many times I personally have been told, "Hope you don't get shot" for living in downtown Cleveland, an arguably safer area statistically than many suburbs. Hell, someone told me they hope I don't get shot when I said I was going to Youngstown. The sooner Youngstown's suburbs wise up and work with the city, the better for all parties involved.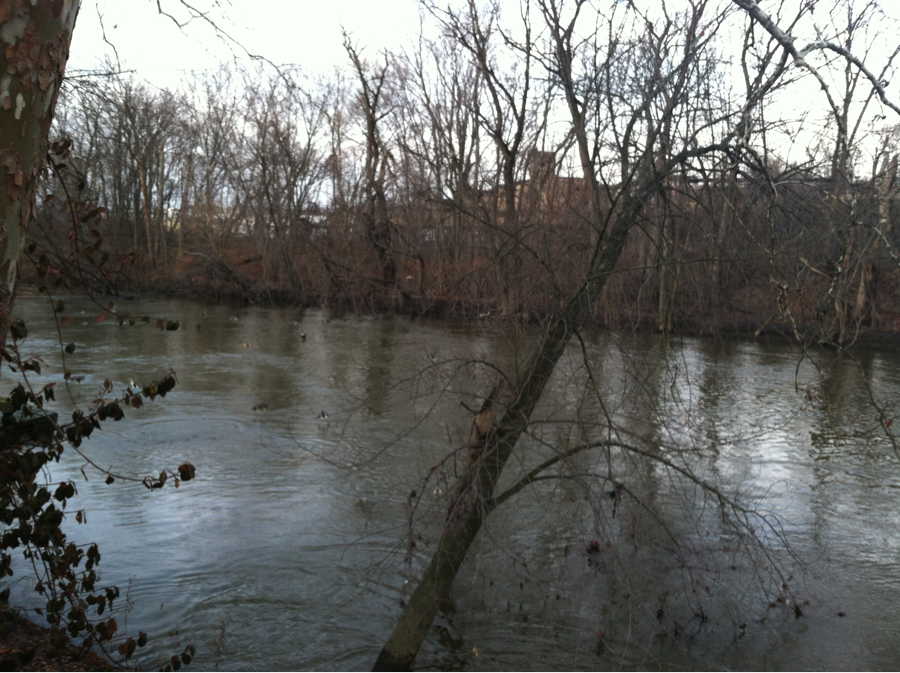 After a nice conversation and tasty samples that left me with a bit of a buzz, I ordered a growler of the Rusted River Irish Red Ale. But I honestly couldn't have gone wrong with any of the beers. Great stuff all around. I then went outside to take in the view of the Mahoning River, accidently scaring the crap out of a flock of ducks in the process. It's a sight I'm sure Rust Belt's brewers wish they could show suburban leaders as they talk distributing their beer. I guarantee it's a view they wouldn't expect to see in the heart of the city. Don't get me wrong, it's not the Alps or anything, but it's a peaceful sight in its own right.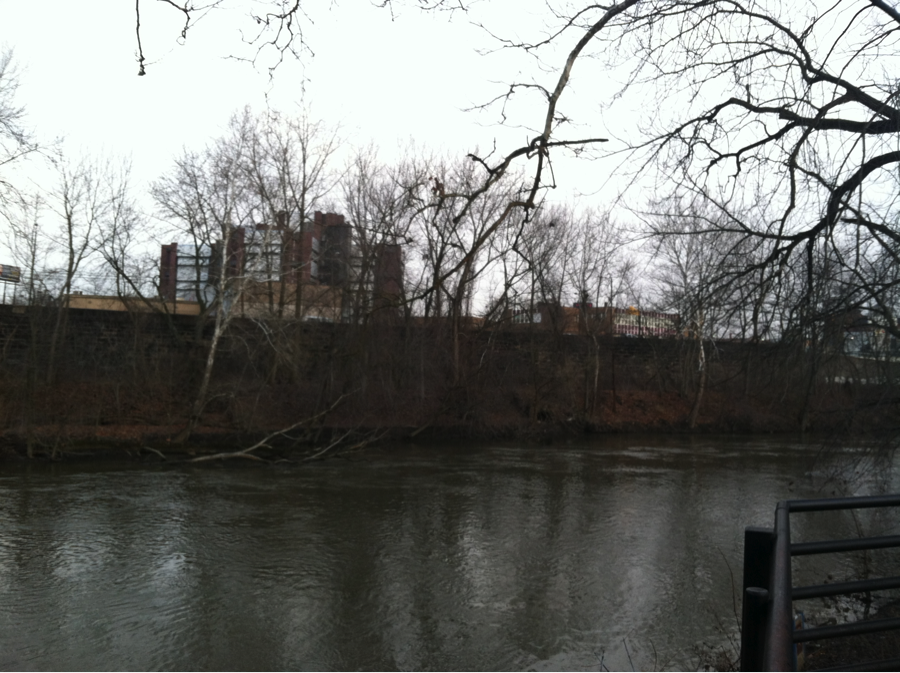 We then hopped back into the car, onto Mahoning Ave. and on our way out of town. On the way out, we swung through Idora neighborhood along Mill Creek Park – a sprawling beauty many say rivals some of the nation's national parks. But driving through Idora, it was clear how much the neighborhoods were struggling. Abandoned, dilapidated homes were as prevalent as foreclosure signs. A few gems stuck out, though, along the park which is how Barb remembered the area from when she went to Idora Park as a kid for family get-togethers.
Our last neighborhood was on the north side, where it was clear old homes were demolished with new properties rising in their ashes. Every little bit helps, but it's the work being done downtown and with Rust Belt Brewing that proves most inspiring, giving hope to the locals both young and old who have stuck their flag in the ground, dedicating their lives to the economic and cultural Renaissance of Youngstown.
The optimist in me can see a day where Youngstown becomes a cheap, small-city alternative to Cleveland and Pittsburgh much like how Akron has rebuilt its downtown and some nearby neighborhoods as destinations for young professionals. Slowly but surely, the pieces are coming together. Who knows; perhaps one day the Boss will write a follow up song noting the cultural Renaissance of Youngstown, where the people have left the fiery furnaces of Hell and are doing Heaven's work well.
Friday, August 7th, 2009
The Rise and Rise of the Chicago Loop
There's been a string of big good news items about the Chicago Loop economy recently. Willis Group moved into the Sears Tower and dared to claim the naming rights for themselves. Then United Airlines announced it was also relocating to the Sears Tower. This one is huge news because it is a relocation from the suburbs of 2,800 employees and is a full scale traditional HQ, not just a small executive HQ. Greg Hinz over at Crain's Chicago Business discusses the implications.
The steady flow of businesses into the Loop – companies like Boeing and MillerCoors among others – shows that the Loop is back as the premier business address in Chicagoland, period. No longer is it just for finance, law, banking, government, and tourism. It's a full service business location.
This is fueled by many factors but among them is the flow of professionals back to the city. These people do not want to spend their lives in cars reverse commuting the burbs. I personally know people who have quit jobs specifically because they did not want to reverse commute. Also, given the spread out region and horrible congestion, the Loop is one of the only areas you can get to from anywhere.
The growth of business in the Loop looks likely to only continue growing over time.
Cincy Streetcar Follow-Up
My post on Cincinnati streetcars got a lot of attention and many hits. Thanks to everyone who passed it around, and also to the Business Courier of Cincinnati for linking it.
While the Cincinnati Enquirer editorialized against the street car, the Business Courier supports it.
Also, the Enquirer has a long article that talks in depth about the matter.

Entrepreneur Mag Best Cities for Startups – Youngstown!
Entrepreneur Magazine named its ten best cities to start a business. Two Midwest cities made the list. One of them, Madison, Wisconsin, would come as a surprise to no one. But the other was Youngstown, Ohio. Yes, Youngstown.
Ordinarily I'd be skeptical about something like this. Youngstown is obviously a troubled city. For example, its metro area is experiencing the steepest population decline of any metro area over 500,000 in the Midwest.
But despite this, or perhaps because of it, Youngstown is a cauldron of creativity. They are famous for their planned shrinkage movement, for example, making them one of the few Midwest cities to face up to their diminished standing the world. But there is more to it than this. The challenges facing Youngstown are so huge, and the traditional approaches failed so badly, that leaders were open to innovative, even radical ideas from elsewhere. As Jim Cossler puts it in the article:


"Youngstown fell so far, traditional community leaders threw up their hands and told the younger generation, 'You guys try,'" Cossler says. "The new generation is envisioning things we wouldn't have talked about 10 years ago." Cossler points to the work of the area's dynamic congressman and energetic young mayor as examples. "They said, 'Let's clean the slate and start over again,'" he says. "There's a radical transformation going on here right now."
In city after city across the Midwest, enthusiastic young leaders find themselves frozen out by strong power structures who are not that interested in new ideas. But not in Youngstown. For example, it should come as no surprise that it was Youngstown, not Pittsburgh, that stepped up and not only adopted but funded Jim Russell's ideas about a diaspora based economic development effort.
Youngstown has a small but enthusiastic community of activists, bloggers, etc., such as I Will Shout Youngstown. You might say, "Big deal, so does every Midwest city." True, but in Youngstown they are helping to actually drive civic policy and development.
Defend Youngstown has a roundup of the buzz around this.
Another Indy Econdev Winner
This week we learned of another economic development winner in Indianapolis as the city decided to pull a repeat on some past successes and start targeting life sciences conventions:

The Indianapolis Convention and Visitors Association is putting together an all-star corporate consortium to make the city a hub for medical and life sciences conventions, meetings and trade shows.

The ICVA began running the initiative full-speed this year and already has signed deals to bring 40 medical meetings to Indianapolis through 2015, including annual meetings for the American Association of Diabetes Educators in 2012 and the American College of Sports Medicine and American Chemical Society in 2013.
This is a great example of trying to find synergies between the different strategies Indy is pursuing. Not only are these conventions good in their own right, but it gives the city an opportunity to showcase itself to companies and people in a key target industry. I would not be surprised if, as with amateur sports and music business, Indy isn't also targeting selected non-profit businesses associated with these conventions to relocate.

The Midwest Character and Geography
Jim Russell points us at a blog post at The Pitch in Kansas City complaining about a description of the Midwest by author Jonathan Franzen. I don't know the reason this guy doesn't like it, because I thought it was pretty good, so thought I'd repeat it here:

If you ask what the Midwest means to me, it's that myth of an innocence prolonged and then abruptly lost. … And somehow this dynamic seems more like a Midwestern thing than a Lower East Side thing or a South Boston thing. I'm not enough of a social historian to have a good theory of why exactly this is true. I do know that, for a long time, you really were isolated in Gopher Prairie, Minnesota, or Webster Groves, Missouri, or Oak Park, Illinois — it really was a long way from the Lower East Side. This is all rapidly changing with our new technologies, and our homogenized exurbs and suburbs, but some of the social and mental habits that grew out of isolation may persist in succeeding generations, leaving vestiges of a "Midwestern" character …
……
[On what counts as the Midwest:] Indiana is a special case. Evansville is the South. Fort Wayne is still Rust Belt, Valparaiso is definitely Midwest. That's actually an interesting way to approach it–to define where my boundaries of the Midwest run. I think it begins around Columbus, Ohio — Thurberville — and stretches west. Anything below I-70 is basically southern. And that's true right across Missouri. My Midwest is bounded on the south by I-70. It stretches all the way to about an hour east of Denver and includes pretty much all of the Great Plains states north of I-70. … You can take all of Kansas, some of Oklahoma, too. But not, for example, downstate Illinois. You start hearing the South in people's voices. They don't sound like Tom Brokaw anymore.
High Speed Rail
High speed rail isn't just a point of debate in the US, it's also being fiercely argued in the UK. Guardian columnist Will Hutton is a passionate supporter:

Economic growth and development are driven by what innovation theorists call general purpose technologies. A general purpose technology is one that transforms economies and societies. The wheel was a general purpose technology. So was the Portuguese invention of the three-masted caravel in the 15th century that allowed ships to become ocean- going, leading to European long-distance trade, colonisation and the emergence of a rich European merchant class. So was the printing press. And so was the railway in the 19th century.

Railways did not just get passengers from A to B faster than horses. The railway consolidated nations and national markets. It created new cities and city suburbs. It allowed the European powers to open up their colonies. Rail transformed the military geography of the world. For the first time, people en masse began to move away from their home towns and villages, massively enlarging the gene pool. Railways, like the internet and biotechnology today, were a genuine general purpose technology.

The intriguing question is whether high-speed rail will be as transformative. My hunch is that it will.
…..

It has been obvious for the last 20 years that cities and city regions are emerging as the new drivers of economic growth, especially if their hinterland has a high proportion of industries requiring a lot of brainpower. These fast-growing "ideopolises" tend, as research at the Work Foundation underlines, to trade with each other rather than poorer, less creative cities.

What the European high-speed network will do is to create a network of fast-growing ideopolises, breaking down borders and exponentially opening up traffic. You need to be on the line…What is needed is political leadership, some dynamism and willingness to take risks.
India's View on "Brain Drain" and Talent Attraction
Jim Russell points us to a great article on how India looks at the matter of talent and people leaving. While they are keen to attract talent, they take a much more sophisticated look at this than most Midwest cities and states – and have done so for 20 years. It explains a lot about the success of India:

A little over two decades ago, when the then prime minister Rajiv Gandhi — during a visit to the United States to meet with President Ronald Reagan — was asked about the flight of top professional talent from India to the US, he said it was not a 'brain drain' as it was being dubbed, but a 'brain bank' for India to draw upon whenever necessary.

Indian Ambassador Meera Shankar was asked the very same question by the members of The Indus Entrepreneurs, Washington, DC chapter during an interaction.

She, too, like the former prime minister said, it was not a brain drain, but rather "brain circulation". "What goes around, comes around, and I have seen that movement of Indians to other countries has had a very positive impact back in India."

Expanding on this point Shankar said, once Andhra Pradesh was one of the most backward states in India. But now it is one of the most developed, thanks to the engineers, technical experts and scientists who came to the US, gathered useful knowledge and then exported that to their home state.

Shankar also pointed out that thanks to globalisation and connectivity, "no one is completely cut off. There is a two-way flow of ideas, knowledge, and investments, and all that helps to circulate rather than act as a brain drain."
National and International Roundup
Tammi Jones has a great synopsis of the perspective on civic success put forward by CEO's for Cities. It's a report on a speech by Carol Coletta. Definitely worth a great. Good stuff in there about the talent dividend, etc.
City Journal reviews a couple of books discussing the legacy of Jane Jacobs (via @GenslerOnCities)
World Changing contemplates the future of the suburb (via @GenslerOnCities)
A columnist in the LA Times suggests public transit improvements will be tough sell in the US (via @OtisWhite)
An interesting look at some of the latest research on global cities. Hong Kong is coming on strong.
You've heard of the Internet Movie Database. Well, now there is the Internet Bike Database, with over 30,000 bicycle pictures. (via @ig_fahrrad)
The economy is derailing mixed use projects in Atlanta. (via @OtisWhite)

More Midwest
A moving story of one Elkhart family's struggle with unemployment in this economy (via @jwalkersmith)
Can anyone run this place? – An article from Slate on the race for mayor in Flint, Michigan. For the record, Walling won. Via Politics and Place
Chicago
Illinoisans ticketed more often in Wisconsin (Tribune) – Film at 11.
Railroad projects gain steam across Chicago (Tribune)
Cincinnati
Cincinnati hub is shrinking (AJC) – via Nullspace
Columbus
City voters approve income tax increase (Columbus Underground)
Teenagers build affordable LEED Platinum home (Green Building Advisor)
Detroit
Detroit's culture of corruption springs from the grass roots (Nolan Finley @ Detroit News)
Michigan loses if other states rebound (Nolan Finley @ Detroit News)
Indianapolis
Toll road lease tumbles in value (IBJ)
Louisville
Bon Appetit! America's top restaurant cities (Forbes) – Louisville gets a mention (via @PossibilityCity)
Twin Cities
Cracks develop in support for Central Corridor LRT (Star Tribune)

Post Script
Here's a nice video on the Miller House and Gardens, the Eero Saarinen designed house in Columubs, Indiana recently acquired by the Indianapolis Museum of Art. This is one of only two houses ever designed by Saarinen (via Atomic Indy)

-->