Sunday, June 29th, 2014
This is the last of my entries prompted by my recent trip to Columbus. I've noted before that Columbus and Indianapolis are twin cities in many ways, though with some important differences.
One of those differences is that the civic discussion in Indianapolis today is heavily driven by the urgency of reversing the decline of Marion County as the city of Indianapolis increasingly loses out demographically and economically to its suburbs. In Columbus, by contrast, I didn't sense nearly the same concern about suburban competition. While again I only have limited data points to go by, what conversations I did have if anything suggested to me that the city of Columbus thinks it's holding most of the cards in the region. I suggest letting Indianapolis be a cautionary tale, and that Columbus should be much more focused on how to manage future suburban competition than it presently seems to be.
By the late 1960s Indianapolis had, like most cities, been steadily losing ground to suburban development. The response was a city-county merger called Unigov* that in effect annexed all important contemporary suburbs are well as most of the empty land that would be urbanized in the next two decades. This allowed Indianapolis to capture that suburban tax base and avoid many of the problems that plagued other older cities during the 1970s.
Fast forward to the present and it's clear that the Unigov model is out of gas. Marion County is now largely full apart from some areas in the southern parts, and has a fairly flat growth curve in population. Most the growth is now in the collar counties. What's more, there's been a huge employment shift as well, with the city losing 41,000 jobs since 2000 and the suburbs gaining 78,000. I gave an overview of the dynamics in a previous post.
Today Indianapolis has a serious problem on its hand. How did this happen? It's pretty simple. Unigov bought he city 40 years. But what did it do with that time? It built up its downtown to one of America's best, a legitimately impressive and important accomplishment. But beyond that it was basically business as usual. Unfortunately, the 5.5 square miles of downtown can't carry the rest of the city's nearly 400. The city should have been aggressively preparing for the day when Unigov would reach exhaustion. But it did not.
Columbus utilized a similar technique to Unigov by aggressively annexing suburban development. And it had fairly similar results, doing well and avoiding the problems. But it seems to be widely accepted in Columbus that the city is nearing the end of its growth by annexation phase. While unlike in Indiana, Ohio makes it fairly easy to annex across county lines, and Columbus extends into multiple counties already, annexation has slowed to a crawl. In part I'm told that they are now reaching into territories that have other sources of water than the city of Columbus water utility, and thus the city has less leverage to annex than before. While technically not hemmed in, Columbus has less room for growth than before. This raises the question of when the dynamics of decline will set in within the newly stagnant city.
Columbus appears to be in better shape than Indy right now. I'd say this is for a few reasons. First, Franklin County, Columbus' home base, is geographically bigger than Indy's Marion County, giving Columbus a larger area of natural historic dominance. Columbus is also home to newer office/retail suburban development than Indianapolis. For example, Indy's Keystone Crossing area is based on edge city and power center templates that are dated, while the corresponding Easton area in Columbus is newer and built to a lifestyle center type template that's a bit more up to date. Columbus similarly has the relatively new Polaris area inside its borders.
What's more, Columbus' suburbs are comparatively underdeveloped and thus aren't rivals as of yet. Indianapolis has five suburbs with more than 50,000 people – two of them with more than 80,000. Columbus has none. Only Dublin, which has 43,000 people, 9.5 million square feet of office space, and major downtown development ambitions, appears to be a full scale competitor at this point. Most other suburban municipalities are much smaller (e.g., New Albany has less than 10,000 people) and/or enclosed by the city of Columbus and thus limited in growth. Favored quarter suburban Delaware County has 185,000 people (some of which are in the city of Columbus) vs. nearly 300,000 for analogous Hamilton County, IN. What's more, Hamilton County is far ahead in infrastructure vs. Delaware County. Delaware County has next to no upgraded east-west or "crosstown" arterials. Two reservoirs there make developing them difficult, with one of them separating I-71 from the developed parts of the county. Thus the county is even lacking in north-south "radial" movements.
These factors and others have essentially kept Columbus from facing any significant suburban competition. But unless the city wants to somehow double down on annexation and try to restart that engine, at some point these dynamics will change and the city of Columbus will find itself physically constrained and competitively disadvantaged vs. newer and now more powerfully developed suburban entities. Dublin is likely a preview of coming attractions.
I don't have any particular policy suggestion in mind here, nor am I saying that anything the city is doing is necessarily wrong. But given what has happened in Indianapolis, I would certainly encourage the future prospect of suburban competition to be top of mind. The city of Columbus should be aggressively scenario planning for how this will play out, and use the runway that it has left to be preparing for the era of more intense intra-regional competition to come. Better to err on the side of paranoia, because the risks of waiting until you've got a serious problem on your hands are too high to ignore.
* Unigov also ensured a white majority in the city
Sunday, June 22nd, 2014
Dallas Skyline. Source: Wikipedia
I was in Dallas this past week for the New Cities Summit, so it's a good time to post an update on the city.
I don't think many of us realize the scale to which Sunbelt mega-boomtowns like Dallas have grown. The Dallas-Ft. Worth metro area is now the fourth largest in the United States with 6.8 million people, and it continues to pile on people and jobs at a fiendish clip.
Many urbanists are not fans of DFW, and it's easy to understand why. But I think it's unfair to judge the quality of a city without considering where it is at in its lifecycle. Dallas has been around since the 1800s, but the metroplex is only just now starting to come into its own as a region. It is still in the hypergrowth and wealth building stage, similar to where a place like Chicago was back in the late 19th century. Unsurprisingly, filthy, crass, money-grubbing, unsophisticated Chicago did not appeal to the sophisticates of its day either. But once Chicago got rich, it decided to get classy. Its business booster class endowed first rate cultural institutions like the Art Institute, and tremendous efforts were made to upgrade the quality of the city and deal with the congestion, pollution, substandard housing, and fallout from rapid growth, which threatened to choke off the city's future success. At some point in its journey, Chicago reached an inflection point where it transitioned to a more mature state. One can perhaps see the 1909 Burnham Plan as the best symbol of this. In addition to addressing practical concerns like street congestion, the Burnham Plan also sought to create a city that could hold its own among the world's elite. And you'd have to argue the city largely succeeded in that vision.
The DFW area is now at that transition point. They realize that as a city they need to be about more than just growth and money making. They need to have quality and they need to address issues in the system. Much like Burnham Plan era Chicago, this perhaps makes DFW a potentially very exciting place to be. It's not everyday when you can be part of building a new aspirational future for a city that's already been a successful boomtown. The locals I talked to were pretty pumped about their city and where it's going.
How true this is I don't know, but some people have attributed a change in mindset to the loss in the competition to land Boeing's headquarters. Boeing ended up choosing Chicago over Dallas. In part this was because Chicago bought the business with lavish subsidies that far outclassed what Dallas put on the table. But it was also because Boeing saw Chicago as a more congenial environment for global company C-suite and other top executives to be, both from a lifestyle perspective and that of access to other globally elite firms and workers available in Chicago.
Meanwhile, the cracks in the DFW growth model were becoming apparent, especially in the core city of Dallas. Ten years ago the Dallas Morning News ran a series called "Dallas at a Tipping Point: A Roadmap For Renewal." This series was underpinned by a report prepared by the consulting firm Booz Allen. This report is well worth reading by almost anyone today as it is a rare example of a city that was able to get insight and recommendations from the type of tier one strategy firm used by major corporations. Booz Allen was direct in their findings, though perhaps with a bit of hyperbole in the Detroit comparison:
Dallas stands at the verge of entering a cycle of decline…On its current path, Dallas will, in the next 20 years, go the way of declining cities like Detroit – a hollow core abandoned by the middle class and surrounded by suburbs that outperform the city but inevitably are dragged down by it.
….
If the City of Dallas were a corporate client, we would note that it has fallen significantly behind its competitors. We would warn that its product offering is becoming less and less compelling to its core group of target customers…We would further caution the management that they are in an especially dangerous position because overall growth in the market…is masking the depth of its underlying problems. We would explain that in our experience, companies in fast growing markets are often those most at risk because they frequently do not realize they are falling behind until the situation is irreversible.

Put into the language of business, we would note that Dallas is under-investing in its core product, has not embraced best practices throughout its management or operations, and is fast becoming burdened by long term liabilities that could bankrupt the company if the market takes a downturn.
The city responded in a number of ways, some of which were similar to Chicago at its inflection point. Many of these involve various urbanist "best practices" or conventional wisdom type trends.
By far the most important of these was adopting modern statistically driven policing approaches. As crime plummeted in places like New York during the 1990s, Dallas did not see a decline of its own. But with the expansion of police headcount and adoption of new strategies by new police chief David Kunkle in 2004 – and no doubt some help from national trends – crime fell steeply during the 2000s. The Dallas Morning News says that the city's violent and property crime rates fell by a greater percentage than any other city with over one million residents over the last decade. In 2013, Dallas had its overall lowest crime rate in 47 years.
This is critical because nothing else matters without safe streets. I've had many a jousting match with other urbanists on discussion boards about where crime falls on the list of priorities. In my view it's clearly #1 – even more so than education. It's simply a prerequisite to almost any other systemic good happening in your cities. Students can't learn effectively if they live and attend school in dangerous environments, for example. NYU economist Paul Romer made this point forcefully in his New Cities keynote, saying that fighting crime is the most important function of government and that if you don't deliver on crime control your city will go into decline. Fortunately, Dallas seems to have gotten the message.
But there's been attention to physical infrastructure as well. The area has built America's largest light rail system (which was in the works since the early 1980s).
Dallas Area Rapid Transit (DART) light rail train. Source: Wikipedia
Both the city and region remain fundamentally auto-centric, however, and this is unlikely to change.
There's been a significant investment in quality green spaces. A major initiative called the Trinity River Project is designed to reclaim the Trinity River corridor through the city as a recreational amenity. This is underway but proceeding slowing. Among the aspects of the project is a series of three planned signature bridges designed by Santiago Calatrava. The only one completed is the Margaret Hunt Hill Bridge.
The Margaret Hunt Hill Bridge in Downtown Dallas. Designed by Santiago Calatrava. Source: Wikipedia
The single bridge tower is quite an imposing presence on the skyline. However, the size of the bridge creates an awkward contrast with the glorified creek that is the Trinity River. It looks to me like they significantly over-engineered what should have been a fairly straightforward flood plain to span just so they could create a major structure.
Another green space project – and the best thing I saw in my trip to Dallas – is Klyde Warren Park, which is built on a freeway cap. About half the cost came from $50 million donations. I'll be going into more detail on this in my next installment, but here's a teaser photo:
Klyde Warren Park. Source: Wikipedia
The Calatrava bridge shows that Dallas has embraced the starchitect trend. This was also on display in the creation of the Dallas Arts District. Complementing the Dallas Museum of Art are a billion dollars worth of starchitect designed facilities including Renzo Piano's Nasher Sculpture Center, IM Pei's symphony center, Norman Foster's Winspear Opera House, and OMA's Wyly Theatre.
Dee and Charles Wyly Theatre. Designed by OMA's Joshua Prince-Ramus (partner in charge) and Rem Koolhaas
This arts district – which naturally Dallas boasts is the world's largest – along with the other major investments that were funded with significant private contributions show a major advantage Texas metros like DFW and Houston have: philanthropy. These are new money towns on their way up and local billionaires are willing to open their wallets bigtime in an attempt to realize world class ambitions, exactly the way Chicago's did all those decades back.
By contrast many northern tier cities are dependent on legacy philanthropy, such as foundations set up in an era when they were industrial power houses. This is a dwindling inheritance. What's more, what wealthy residents they do have are as likely to be taking money out of their cities through cash for cronies projects than they are to be putting it in. Thus they can be a negative not positive influence.
This shows the importance of wealth building in cities. Commercial endeavors can appear crass or greedy at times, and deservedly so. But without wealth, you can't afford to do anything. There's a reason Dallas could build America's largest light rail system – it had the money to do so. Similarly with this performing arts district. To be a city of ambition requires that a place also be an engine of wealth generation.
I'm sure that Dallas' moneyed elite are well taken care of locally and exert outsized influence on decision making. I don't want to make them out to be puristic altruists. But they've shown they are willing to open their wallets in a serious way, something that's not true everywhere.
This is a flavor of what Dallas has been up to. It's too early to say whether the city will make the same transition Chicago did. Its greatest challenge also awaits some time in the future. When DFW's hypergrowth phase ends and the city must, like New York and Chicago before it, reinvent itself for a new age, that's when we will find out if DFW has what it takes to join the world's elite, or whether it will fade like a flower as Detroit and so many other places did.
Toyota did just announce it's moving 3,500 jobs to north suburban Plano. But corporations have long seen Dallas a place for large white collar operations. Boeing was what I call an "executive headquarters" – a fairly small operation consisting of only the most senior people. I haven't seen Dallas win any of these as of yet.
The Dallas Morning News takes a somewhat mixed view on the city itself. They just did a special section called "Future Dallas: Making Strides, Facing Challenges," the title of which sums it up. Dallas has put a lot of pieces on the board and made major progress on areas like crime, but it's failed to make a dent in others, such as Booz Allen's call to make the city more attractive to middle class families. Poverty is actually up since then, and the city is increasingly unequal in its income distribution. Dallas is not unique in that, but that's cold comfort.
Despite gigantic regional growth, the city's population has been nearly flat. Despite the vaunted Texas and DFW jobs engine, Dallas County has lost about 100,000 jobs since 2000. The core is clearly continuing in relative decline, and the Dallas County job losses are particularly troubling. I'm no believer in this idea that everybody is going to abandon the suburbs and head back to the city. But as former Indianapolis Mayor Bill Hudnut put it, you can't be a suburb of nowhere. If the core loses economic vitality, the entire DFW regional will take a hit to its growth.
I highlighted some of what Dallas has accomplished recently, as well as continued areas of concern. On Thursday I'll be back with another installment taking at look at downtown and the visitor experience.
Sunday, June 15th, 2014
Not long ago, Brazil was riding high. It was feted as one of the "BRIC" nations destined to be the next world economic powers. The commodities boom had its natural resources and agricultural sectors humming. The press – for example, Monocle magazine's swooning over Brazil's push to boost its diplomatic presence – was adoring. And Rio was awarded the 2014 World Cup and the 2016 Olympics, two events that were intended to both serve as a catalyst for further development, and also as a coming out party of sorts for the country.
The World Cup is underway, but otherwise things haven't quite worked out as Brazil thought they would. The average citizen of the country is upset at the vast sums being spent on international events that don't benefit them. The last two years have featured riots, strikes, and various other expressions of unrest. Economic growth in the country has collapsed. In a special section last September, the Economist asked, "Has Brazil Blown It?"
Late last month the McKinsey Global Institute issued a major report on the country called "Connecting Brazil to the World: A Path to Inclusive Growth." At 104 pages, it's massive, but a must read for anybody interested in South America's giant.
And it's a somewhat depressing read as well. Though there are immense strengths and opportunities for the future, Brazil has big problems too, most of them longstanding, and which hobble its aspirations.
Brazil is the 7th largest economy in the world and the 7th leading destination for foreign direct investment. But it's 95th in per capita GDP, 114th in the quality of its infrastructure, and 124th in its level of ease in trading across borders. Its export sector is also heavily commodity dependent, particularly oil. Ranked only 43rd in global connectedness on McKinsey's index, they estimate a potential boost of 1.25% (presumably percentage points) to annual GDP growth from improvements on that measure alone.
Three particular items jumped out at me from the study. One is the "custo Brasil" – the Brazil cost, so notorious it gets its own Wikipedia entry. A variety of factors from bureaucracy to the tax regime to an uncertain legal climate, poor infrastructure, crime, and corruption make the cost of doing business in Brazil very pricey indeed.
The second is the very low rate of investment in the economy. Brazil's gross investment rate as a percentage of GDP is 18%, compared with 26% in Chile, 29% in Mexico, 40% in India, and 49% in China. Conversely, government consumption is at 22% in Brazil vs. 12% in Chile and Mexico, 13% in India, and 14% in China. Private consumption is similar in the countries except for China, which is notably lower. This probably helps explain the poor state of the infrastructure in the country.
The third is something I have personal experience with, namely protectionist trade barriers designed to create and sustain domestic industries in sectors like autos and computers. I suspect these rules were modeled on Japan, and more lately China, which used rules and business practices to build successful local champions. But in Brazil this has rendered its industry sclerotic. In effect, cars sold in Brazil have to be made in Brazil, ditto for computers, etc. This is where my personal experience comes in. When we were doing global PC procurement, Brazil was always a special case and our vendors had to have special Brazil made PCs for domestic use. This may not be an actual rule, but tariffs produce a de facto barrier. While this technique may have worked in Japan, it's clear that it failed in Brazil. As the exception that proves the rule, McKinsey uses the example of regional jet manufacturer Embraer as a counterfactual. That company was privatized and opened to global competition. The result is that its got tough itself and is now an industrial champion for Brazil.
There are tons of statistics in the study that are worth scanning just to see. Brazil is consistently benchmarked against Chile and Mexico in Latin America, as well as fellow BRICs India and China. The comparisons aren't pretty.
Reading a lot about the country in the last year, I put its problems into three categories: poor governance, geographic disadvantage, and scale disadvantage.
1. Poor Governance
Most of the issues pointed out by McKinsey fall squarely under the heading of poor governance. The contrast with nearby Chile could not be more plain across every dimension: corruption, the rule of law, investment, public sector debt, tax burden, infrastructure, regulation, etc.
Latin America seems to prefer two sorts of governments these days. One is a right wing nationalist heir to the military juntas of the past, best exemplified by the Kirchner regime in Argentina. The other are left wing populist-nationalist movements like Venezuela that tend to feature a streak of anti-Americanism. Both of these have produced pitiful results.
Brazil is a sort of lite version of the latter. Lula da Silva was a charismatic labor activist who led strikes and was jailed by the previous military dictatorship in his youth. Post-democratization, he went into politics. After moderating some of his more radical views, he was elected president on a reform agenda. While he had some success and was arguably and improvement on his predecessors, he ultimately failed to deliver on material changes in governance. His hand picked successor Dilma Rousseff has not been as effective and is in an electoral struggle for another term.
In line with the nationalist streak of this governing type, one of Da Silva's primary concerns was Brazil's amour-propre. As one of the world's largest countries, he found it self-evident that Brazil should be treated as a great power. He lobbied for Brazil to have a permanent seat on the UN Security Council. He and others responded in kind to any affront to the nation's pride, such as requiring American and only American visitors to be finger printed after the US imposed a fingerprinting requirement on foreign visitors. He sought out diplomatic coups where ever he could find them, which included cozying up to unsavory characters like Mahmoud Ahmadinejad who thinks Israel should be destroyed and that Iran has no gays (presumably because he has them executed when he can find them).
Da Silva forgot that there's more to being a great power than being a big country – you've got to earn it. And as a very popular politician he did not seize his moment of opportunity to truly grasp the nettle of reform.
Meanwhile nearby Chile is one of the Latin American governments that's followed a different model. It's been run by center-left governments more or less the entire time since the restoration of democracy, and they've delivered on a good governance model that has taken them to effectively developed country status. Chile is now even a member of the OECD. Chile is basically the Minnesota of Latin America, and the results demonstrate it. This should show Brazil the size of the prize if the get their act together.
2. Geographic Disadvantage
Brazil is simply a long way from major developed markets. This puts it at a geographic disadvantage versus many other countries. Current airplanes cannot make a non-stop flight from Brazil to East Asia, arguably the most important emerging part of the world. It's even a long haul from the United States, with relatively few gateway cities vs. say major European capitals. Brazil is time-zone advantaged with the US, however. It also speaks Portuguese instead of Spanish, which imposes a linguistic handicap.
3. Scale Disadvantage
Brazil is a big country, geographically and in population. Size can be an advantage, but it also makes reform difficult as it's hard to turn a battleship. Brazil's population of 200 million is more than ten times that of Chile.
Brazil's two principal cities, São Paulo and Rio de Janeiro, are also megacities. São Paulo in particular is huge, and at north of 20 million people (more than the entire country of Chile) is the 10th largest city in the world. I recently wrote that it's unlikely the world's emerging megacities will turn the corner in eliminating dysfunction. Their problems are just too huge and their national growth rate too low. Though I'd consider this more hypothesis than conclusion at this point, my rule of thumb is that a megacity can only achieve escape velocity from pervasive dysfunction if they are a major city in a country that is the world's current rising economic (or historically imperial) power.
Brazil is not that country, and two mega cities will be a drag on growth. Although São Paulo is an important emerging global city – 23rd in the world in a forthcoming report I helped create – I'm told that both São Paulo and Rio are growing more slowly than secondary cities in the country. A previous McKinsey study threw cold water on the idea that megacities are an advantage, noting their under performance by saying:
It is a common misperception that megacities have been driving global growth for the past 15 years. In fact, most have not grown faster than their host economies, and MGI expects this trend to continue. Today's 23 megacities—with populations of 10 million or more—will contribute about 10 percent of global growth to 2025, below their 14 percent share of global GDP.

In contrast, 577 middleweights—cities with populations of between 150,000 and 10 million, are seen contributing more than half of global growth to 2025, gaining share from today's megacities.
So I'm not surprised that it's Curitiba, not one of the megacities, that's where the innovative BRT revolution was begun. If I were looking to invest in Brazil, I'd be looking at this next tier of cities. Nor is it surprising that Santiago, Chile (population 5.4 million) has had great success in modernizing given its more moderate size.
Plain and simple the degree of difficulty is higher in Brazil because of the size.
Brazil is also a very racially diverse country with a number of challenges resulting from its history of oppression. Brazil had more slaves than any other country in the world and was the last New World colony/nation to abolish it. If slave reparations are on the agenda in the United States, how much more so similar issues in Brazil? Again, contrast with Chile, which never had very many slaves and abolished slavery in 1818. With the exception of a relatively few indigenous peoples on reservations, Chileans largely perceive themselves as ethnically homogenous, though with some skin tone based status (moderately sized…historically racially homogenous…Minnesota?)
Which is to say that it's tough to entirely fault Brazil for not living up to the example of Chile. Its degree of difficulty is much higher. And its geography hamstrings its global interaction.
Nevertheless, solving the governance challenges to address the real issues Brazil faces remains the top agenda item. McKinsey has laid out a number of good suggestions, the real question is whether or not Brazil's socio-political system can produce the ability to implement them.
Thursday, June 12th, 2014
My latest post is online over at New Geography and is called "Will the World's Emerging Megacities Turn the Corner?" There's an explosion of megacities happening around the world, often in developing countries. These cities face huge infrastructure issues, social issues, poverty and slums, etc. The question is whether they will ever achieve escape velocity from that. I don't think so. Here's an excerpt:
Most emerging megacities likely will never turn the corner to developed status and achieve a decent standard of living and quality of life for their residents. They may be important national centers of aspiration, but most of them will never become influential global cities. Their huge size and vast problems will leave them with perpetual entrenched poverty, poor infrastructure and public services, and low quality of life by global standards.

The general rule seems to be that a megacity can only escape pervasive dysfunction if they are a major city in a country that is the world's current rising economic (or historically imperial) power.
….
In the second edition of Peter Hall's landmark book The World Cities, he describes a 1970s Tokyo in which the night soil pickup industry was alive and well. Only in an era of national economic hyper growth – culminating in the 1980s – was Japan able to fully modernize its urban infrastructure and clean up the massive environmental problems resulting from its rapid industrialization and urbanization. This was the time when Japan seemed destined to become the world's leading economic power, and America was fretting as Japanese investors bought trophy assets ranging from Columbia Pictures to Rockefeller Center.

We are witnessing the same today in China. It's no accident that cities like Beijing and Shanghai are becoming fully modernized at the same time that China is the world's rising economic power. Even there, serious problems with social integration, pollution, and low quality development remain. China had best hope its economic growth continues until such time as it's rich enough to solve those problems too.
Tuesday, June 10th, 2014
[ After my recent post on people saying they were priced out of downtown Detroit, Daniel Hertz followed up with some thoughts of his own over at this excellent City Notes blog on that and other topics. He graciously allowed me to share them here. Also, I'd like to clarify one thing which is that in my original post I was referring to people in Detroit wanting more construction in their preferred neighborhoods, not Daniel personally. I included that bit from Pete's post to help make Pete's point in context - Aaron. ]
Okay, on to the funner stuff. Attempting to keep this organized:
1. Jim's post: I don't actually really disagree with anything here. My objection to his previous post was mostly about this line:
What a superstar metro doesn't mean is strong population growth and demand for housing outstripping supply.
Maybe I misunderstood, or maybe he changed his emphasis, but whatever the reason, the latest post makes clear that both supply restrictions and increasing demand are playing a role in exacerbating housing prices. I think that's exactly right.
2. Aaron's post: Responding to an article about rising home prices and displacement in downtown Detroit, Aaron basically picks out three dynamics that are important. The first is short-term:
Now, what about supply? Is the city of Detroit telling people they can't build downtown?… What we would appear to have here instead is a lag issue. Real estate development isn't like ramping production up or down in a factory. It takes time to do.
Right. Given that it can take a year or two for projects to be conceived, engineered, financed, and built, it's pretty common for areas where demand increases very quickly to suffer a temporary shortage of supply as a result of this kind of lag. It makes sense that this would be the case in downtown Detroit.
Dan Gilbert imagines all the light-skinned people who will use his new toys.
The second problem is longer-term, but quite specific to places like downtown Detroit where there have been very few residential buildings at all, prior to the increase in demand:
Additionally, with higher income demand in the market, new units are going to be built to serve that market, not lower income people. If you own land and have a market that gives you the choice of either building a higher profit building or a lower profit building, which one will you choose?
I would actually make this even stronger. Given construction costs, very few new homes are built for low-income people without some sort of subsidy: it's just not profitable to do. This is why even people like Ed Glaeser, a free market-oriented economist and champion of increasing housing supply to lower prices, say that housing subsidies will be needed no matter what we do: at the moment, the cost of building new housing requires sales prices that are too high for low-income people to afford.
In established low-income residential neighborhoods that experience gentrification, this can be less of an issue. If building new homes is difficult, then landlords of older buildings can make a lot of money by renovating their apartments and renting them at much higher prices to the wealthy newcomers, displacing the existing residents. But if building is easy, then lots of the newcomers will move to fancier, newly built homes, and the old landlords won't face nearly the incentive to renovate and raise rents. In that case, the older, more affordable housing stock can be preserved.
But if there is no older, more affordable housing stock – as in places like downtown Detroit – then the only housing is the new, expensive stuff, and you'll get a pretty economically homogeneous neighborhood no matter how much you build. (At least, that is, until that new housing stock becomes old enough to lose value.)
The last problem is the peculiar geography of demand.
Which brings us back to the juxtaposition of high demand in Downtown/Midtown Detroit vs. the low or no demand in most of the rest of the city. Why wouldn't the people who can't afford downtown rents just move into one of those areas?

The answer is obvious: they want to live downtown specifically.
This, I think, is the thorniest and most interesting issue: it's obviously the case that in a place like Detroit – to a much greater extent even than Chicago – there is a "supply problem" only in very geographically limited areas. And that geography, as Aaron, Jim, and Pete Saunders have pointed out, is defined by where the people driving demand actually want to live: in this case, downtown, Midtown, and almost nowhere else.
Where I think Aaron and Pete are wrong, though, is in glossing over the reasons that demand is shaped this way. Their focus, as I understand it, is on status and yuppie comfort: where the hip neighborhoods, the hip bars, and so on, are. And, correctly, they argue that no one is entitled to live in the hippest part of a city.
But although status certainly plays a large role in determining where people want to live, you're missing a lot if that's all you're thinking about. I would divide the reasons that people limit their housing searches to downtown and Midtown Detroit – or the North Side in Chicago, or (fill in the blank) in your city – into basically two categories:
1. Economic factors. This is economics broadly construed, and basically covers all of the concrete advantages or disadvantages to a particular place: not just access to jobs, but the quality of the local schools; access to amenities, from essentials like grocery stores to luxuries like cafes; the likelihood that you will be a victim of serious crime; and so on.
2. Social factors. This includes both conscious and semi-conscious concerns about status – I want to live in Lincoln Park, because the kind of person I want to be would live in Lincoln Park – but also the more invisible issues of social networks, or the extent to which you are aware of different neighborhoods. What my professors would call a "choice set" – what is the menu of options you're consciously choosing from?
I guess my argument is that Aaron and Pete are focused on a subset of Category 2, but that in fact there's a lot more going on.
More than that, I would suggest that, to a large extent, social factors are mostly secondary: that is, when you consider where to live, you first narrow down the options with economic factors – where can I get to my job, send my kid to okay schools, and not be afraid to walk home at night – and then you make your final choice using social factors.
In other words, you don't need to use some status argument to explain why middle-class gentrifiers in Detroit refuse to move to most neighborhoods in that city: you just need to know that most of Detroit has terrible public transit (and therefore terrible access to jobs for people who don't want to drive every day), high crime, and few essential amenities like grocery stores. Avoiding those sorts of disadvantages is a pretty obvious move.
Now, that said, I think Pete's important insight is that sometimes, social factors are so powerful that they override economic factors, and neighborhoods that meet the basic economic qualifications are eliminated from consideration anyway. One of the main ways that happens is racist heuristics: black neighborhoods, no matter what their attractions, are just not in the "choice set" for white people (and, depending on the city, for Asian-American or Hispanic people, too). Thus Pete's (and my) frustration that the middle-class black neighborhoods in Detroit, or places like Chatham or South Shore in Chicago, get no attention from the non-black middle class, while it flocks to working-class white or Latino neighborhoods.
Chatham: It's pretty.
There's some evidence that that's partly because of ignorance – white folks in Chicago literally are not aware that Chatham or South Shore exist as relatively pleasant, attractive neighborhoods. There's also a good amount of evidence that white people, and other non-blacks, just aren't very comfortable with the idea of living in a majority-black neighborhood. My suspicion is that the latter factor is pretty powerful, which makes me pretty pessimistic about the prospects for large-scale integration in the next decade or two. But I could be wrong.
Evanston, IL, used to allow apartment buildings like this, which allowed people of moderate incomes to live in an affluent suburb with great access to jobs, other amenities, and good schools. But since the 1970s, that hasn't been the case, and Evanston's population hasn't grown since.
But I also think that this whole conversation, by focusing on the choices of financially comfortable people choosing whether to live in downtown Detroit or some other comfortable neighborhood, is missing what the housing supply argument is really about: people who are currently stuck in neighborhoods that would fail any middle-class household's economic test, and who can't afford to move to one that would pass. Those are the people who suffer the most under our current housing system, and who would stand to gain the most if supply restrictions were lifted.
There's a lot more to say about this; it'll come next week.
This post originally appeared in City Notes on May 31, 2014.
Friday, May 30th, 2014
A recent article called "I've Been Priced Out of Downtown Detroit" shows us an interesting microcosm of the urban housing problem. Per the piece:
Five-year resident Andrew Kopietz moved out of his one-bedroom in the downtown Lafayette Park neighborhood late last year after his rent was hiked to $1,100 from $840 a month.

"I work downtown and have never loved living somewhere as much as I do here," said Kopietz, a design director for D:Hive, which provides information about living in Detroit. But, "it seemed unfair to be forced to pay more."
For those who haven't been following it, there's been a bit of a debate between Jim Russell and Daniel Hertz about the cause of rising urban housing prices the resulting unaffordability.
Hertz, like Matt Yglesias, Ryan Avent, and most other urbanists these days, puts the blame squarely on inelastic supply. Demand has gone up, but building restrictions make it difficult if not impossible to build more units, ergo housing prices go up.
Russell doesn't discount that supply constraints affect price, but he zeros in on demand. He notes that many places have restricted supply but only some of them feature skyrocketing prices because demand is uneven and heavily concentrated in places with a large global workforce. He believes more attention should be paid to the demand side of the equation in explaining housing prices.
Detroit is an interesting lab to show this at work. This is a city that simultaneously has a tight housing market with rising prices in Downtown at Midtown at the same time the city is proposing to spend almost $2 billion dollars to demolish about a quarter of its housing stock. There would appear to be ample housing and land available for almost free in Detroit, even in urban Detroit, but the differences in the markets are stark. Why is this?
In 2009 I wrote a piece called "Migration: Geographies in Conflict" in which I explore this issue. In the age of globalization there are really two types of labor markets, global and local. People who work in global labor markets can command significant wage premiums over those in local ones. The modern globalized economy is been very good to those with top level global skills, while more traditionally local markets have been exposed to new, low-wage from offshore and crushed.
The problem is that those two economic and labor market geographies can exist in the same physical geography. In those cases, the global market workers are able to outbid local market workers for housing and other goods and services, leading to rising prices and displacement. Read the whole piece as I talk about this in much more depth, especially with regards to California.
Now Detroit doesn't really have a large workforce in global labor markets. But what we see is several thousand people who work for Dan Gilbert's business empire and other downtown businesses who are being handed a $20,000 check if they move downtown. This, along with their general status as corporate white collar employees, simulates a global worker wage premium. Per the article:
One program, called Live Downtown, has attracted as many as 15,000 new residents to the downtown area, according to the mayor's office.

Under the program, local companies, including Quicken Loans and Blue Cross Blue Shield, give employees $20,000 loans that will be completely forgiven if they buy and stay in a home downtown for five years. Renters there receive $2,500 their first year and $1,000 the second.
I strongly doubt there are 15,000 new residents in downtown Detroit. Nevertheless, this shows that putting two separate groups with a structural wage differential in a small physical geography can result in rising prices and displacement.
Now, what about supply? Is the city of Detroit telling people they can't build downtown? Is there a governmentally imposed supply constraint in any meaningful sense? Not that I'm aware of. I'm sure Detroit has planning and zoning laws and that they are baroque, but that's true everywhere, including places that are building a lot of new supply.
What we would appear to have here instead is a lag issue. Real estate development isn't like ramping production up or down in a factory. It takes time to do. This creates inevitable lags, and given the history of various overbuilding scenarios, developers will clearly want to make sure downtown Detroit demand is sustainable before committing capital to a project.
Additionally, with higher income demand in the market, new units are going to be built to serve that market, not lower income people. If you own land and have a market that gives you the choice of either building a higher profit building or a lower profit building, which one will you choose? It's obvious what developers are choosing in Detroit:
In February, a couple dozen artists were evicted from their loft spaces in a building on Griswold Street after it had been bought by Bedrock Real Estate Services. The original plan was to keep the tenants in the building, according to Aaron Emerson, a spokesman for Quicken Loans, Bedrock's parent company. But, he said, the building was deemed unsafe by the fire inspector and needed major renovations, necessitating the evictions.
…
A couple of months ago, another building on Griswold was emptied of its mostly low-income senior residents. The residents had received notices a year earlier notifying them that their Section 8 subsidized housing vouchers were going to expire and the building was going to be renovated. Donna Fontana, a spokeswoman for developer Broder & Sachse, said residents were found new places to live, with their relocation costs covered.
Keep in mind that if the existing tenants are retained, either the investments to upgrade the units won't get made, or those tenants will receive a windfall benefit of higher end units they are paying below market prices for. They will have won the lottery, in effect.
But what's more, even if every existing resident got a new, upgraded unit with no rent increase and zero displacement, improvements to downtown Detroit resulting from the newer, higher income residents (for example, nicer retail) will create intrinsic attractiveness that will make it desirable to people who don't currently live there today but who can't afford the rents for new development. Perhaps a recent Millennial college grad who is underemployed and burdened with student loan debt, let's say.
Which brings us back to the juxtaposition of high demand in Downtown/Midtown Detroit vs. the low or no demand in most of the rest of the city. Why wouldn't the people who can't afford downtown rents just move into one of those areas?
The answer is obvious: they want to live downtown specifically. They may in fact choose another location, but they will grouse about it.
Pete Saunders nailed the mentality in his post "The Millennial Housing Shortage Fallacy":
Blogger Daniel Kay Hertz sheds some light on the thought process behind the growing meme: "Why are there no apartment buildings in your standard affluent single-family-home neighborhood, common in metro areas from Chicago to Kansas City to New York to Memphis? Not because people don't want to live in them. Not because you couldn't make money by building them. They don't exist because they're illegal."

The emphasis is added because it highlights the salient point, which can be reduced to this: "why isn't there more housing where I want it?" Because there are plenty of apartment buildings with plenty of vacancies in other parts of the city. Let's fill those up, and then talk.

If young urbanists are serious about moving back to the city, maybe they ought to consider more of the city to live in. For every highly desirable attractive urban neighborhood, even in the most in-demand metro areas, there are just as many languishing neighborhoods that aren't even part of the conversation. For every Lincoln Park or Lakeview in Chicago that lacks affordable housing, there is a Garfield Park or Woodlawn with tons of it.
In other words, the real complaint is that the market isn't producing the type of housing I want, in the place I want it, at the price I can afford to pay. It's special pleading.
I'm all in favor of Daniel Hertz's plan to make it easier to build. Supply restrictions are a serious problem in cities like San Francisco and New York. But this isn't the whole story. My takeaway points:
1. The two tier labor market needs to be examined as a piece of the puzzle. This is not straightahead inequality as generally talked about. The word inequality suggests unfairness because people within the same labor market get vastly different outcomes. Or it makes us think of the uber-rich. But in effect what we have is two separate labor markets. There's a structural problem here that's separate from the insane money accumulated by the 0.01% that is usually the focus.
2. Political and regulatory supply constraints do affect the market and need to be addressed, but there are other supply factors affecting affordability.
3. People are not entitled to a cheap apartment in the exact neighborhood they want with the exact amenities they want.
Thursday, May 29th, 2014
I was in Columbus last week, and while I was there I was able to sit down for an hour long conversation with Mayor Michael Coleman. We talked about Columbus' economic out-performance relative to the rest of Ohio, its secret sauce as a city, how it can gain better brand recognition in the market, Rust Belt self-disparagement, the city's bicentennial, the role of Ohio State, and whether the city needs to develop a signature claim to fame – plus more as well.
If the audio player below doesn't display, click here for the MP3 file. For those who prefer reading to listening, a complete transcript is available.
Mayor Michael Coleman. Image via City of Columbus.
Here are some edited highlights of our discussion. You can also read the complete transcript.
When I asked him what made Columbus different from other places in the state, Mayor Coleman didn't hesitate to tout his city:
I have nothing negative to say about any of the cities in Ohio. But the truth is that they're part of the Rust Belt. And Columbus really isn't. Columbus is an anomaly in the state of Ohio. While all of the other major cities in Ohio are decreasing in size and population, increased poverty, all those things that are representative of a Rust Belt city, Columbus is just the opposite. We have a tremendous amount of young people that have moved into our community. Our average age I think is somewhere around 33 or 34 years old. We have gone from a brain drain city to a brain magnet city. And economic growth has been incredible. We've had 40,000 new jobs in the past three years. And it's a city that really is different from the rest of the state. And I think if you look at the state economy, there's one major pillar in the state economy – and it's the city of Columbus.
I asked Mayor Coleman what Ohio should be doing to bring the rest of the state up to Columbus' level of performance. His take:
Be progressive, a lot more progressive than what it is. The state legislature is a pretty conservative body. To some extent, they're pro-business, but when you're not pro anything else it frankly impacts the business development in a state. We're very pro a lot of things in this city. We're pro-business. I'm a pro-business Democrat. I believe in the creation of jobs and the quality of jobs. It's part of what I do every day. I view myself as the top economic development officer for the city of Columbus. So we're very pro-business, pro-development. But we're also pro other things. I'm pro-gay rights. I'm pro-reasonable, rational gun control. I'm pro-human rights and human dignity. You add that mix together, of good jobs with a good life, it really makes for a vibrant economy.

One of the things that was a difference for the city of Columbus a while back was our income tax increase back in 2009. Now some people might criticize me for encouraging taxes — some have failed and some have passed in the past — but that one tax was the one that made the difference for our community in many ways. The philosophy at that time, back when the country was in the longest and deepest recession it had experienced since the Depression — including the State of Ohio, including the City of Columbus – was, "Are you crazy for wanting to increase income taxes in the city of Columbus?" In fact, I heard some people say, "You're going to drive off business in the city." And we heard from statewide folks, "If the state did that, businesses would leave the state of Ohio – like that [snapping fingers]."

So after some major cuts of $100 million, changing things we'd done, huge budget cuts in the City of Columbus – and the public felt those cuts; they saw it in the streets; they saw it in their homes; they saw it in the community – there was a realization in Columbus that, you know what, no one likes taxes, but we really like our quality of life. And so what happened was, the business community rather than leave the community, helped support and fund the campaign for a voted income tax. Now mind you, at that time, we were in a very deep recession – high unemployment, high level of misery in the state and locally – and for people to vote for an income tax increase at the highest time of distress in the community, was a feat unlike I've ever seen in this community, in any community. And the business community supported it.

We have a very smart population in Columbus, very bright, they're very discerning. And they've not supported some tax increases. So our folks, they were able to discern as to what's right for them and what's wrong for them at that time. We recently lost a couple of tax increases. I'll look back on it and say, "Hey, it makes sense. I get that. I understand why those lost." This is the one that passed, and this is the one that made all the difference.

We were at a point where we were going to have to lay off 500 police and firefighters. At that time we cut all kinds of things, like trash, leaf pickup, we closed recreation centers, we had significant layoffs, we had furloughs – we cut dramatically all over and everywhere. And the community said we want a quality of life. Those things are important to us. And once you cut safety, and crime becomes rampant in a community, you cannot come back for a long time. When the community isn't safe, you can't create jobs, you can't have parks, you can't have bike paths. None of those things can happen if the quality of life in the community is declined dramatically. So the community made a choice at that time to preserve the quality of life. And this made a difference. If we had had those cuts, if that income tax did not pass, you wouldn't be sitting here today talking about the vibrancy of our city. You'd be talking about, what are you going to do about bringing the city back from the depression it's in, the distress it's in? And it would be like a lot of Midwestern cities that frankly are struggling, that are struggling beyond all measure.

You can't be pro-business and not be pro anything else. I'm pro-business – unabashedly. Good jobs, business expansion, it means all the difference in the community where income tax is the driver of services and your budget and the vibrancy of the community. But you have to think two sides of that coin. One side is development of jobs, the other side is development of place – quality. What are the amenities? What are the things that people want to have in their state or their community that enhance its viability and its vibrancy?
While when it comes to population and jobs, Columbus has been growing much faster than the rest of Ohio, in terms of recognition in the marketplace it still lags Cincinnati and Cleveland. I asked the mayor what he thought Columbus should do to change that:
You don't need a slogan. You need experience. You want to relay an experience. And the hard thing about Columbus is there's multiple, solid experiences in our city that are valid and meaningful to the 21st century. Again, fashion, who would have thought? Now a brain magnet city, who would have thought? The largest city in the state of Ohio – by far. The next largest city is less than half our size, Cleveland. Who would have thought? That's why we work really hard on a multiple strategy approach. One of them is really going to hit, and you've got to just keep going.

People are asking, "Why am I working hard to get Democratic or Republican convention in the City of Columbus? That's just nothing but a hassle." The reason is there's this glass ceiling out there, and we've got to break through. We may or may not get a Democratic convention or a Republican convention, but to be considered, and to be viewed differently in the process, is important.
I'll be posting further thoughts on the Columbus brand over the weekend.
I asked the mayor why people in Columbus persist in having a chip on their shoulder about being a "cow town" even though I've never heard anyone from outside Ohio use the term.
Because the truth is, there are some folks in this community that at one point viewed ourselves as a cow town. And for me, that's a dirty word. So I had a strategy that we executed, and it worked great. It was our bicentennial, 2012. In 2007 I pulled the community together. We had the largest town hall meeting in the history of the universe at the convention center. We had a couple thousand people. We brought a couple thousand of our residents into the convention hall and we spent time on what we want to do. I had a mission; my mission was to help change the mentality of how we view ourselves. Because you can't market yourself until you view yourselves a certain way. So what I started talking about then and I still talk about today is, this city needs to continue with a sense of modesty, but not modesty to a fault. Because frankly, we should have a sense of what I call swagger. And I've written articles on it. I've written op-eds on it. We've done all kinds of stuff, speeches all over the city – is that this city needs to have a sense of swagger. Because we have so much to offer, so much we've accomplished, and we need to feel that when we go on that football field we can win. And we got to walk, we got to talk, we got to feel as if we have swagger. And I pushed it hard. And frankly, I think that effort has changed how we view ourselves.
Mayor Coleman was the first black mayor of Columbus and is now the longest serving mayor of any race in the city's history. I asked him about the way black political leadership in American cities has evolved since the days of the civil rights movement:
I think the early mayors' focus was civil rights. The issues have changed over time. While civil rights continues to be important, people have an expectation that mayors deliver, mayors change the city for the better in every aspect of a community, from jobs, to housing, to streets, to police, to safety, human services, across the – water quality, sewers, potholes. Our role has changed from the singular focus of civil rights, which is important, to be an expanded role that includes civil rights but everything else that we have to change.

Mayors, especially African American mayors, need to be change agents – change agents for their city. I think all the mayors you mentioned are change agents for their cities – in every aspect of city life, not just in one or two. Every aspect. My favorite saying in this city, among my staff, is: the city that stays the same falls behind.
Listen to the whole thing above or read the complete transcript for more.
Monday, May 26th, 2014
Fountain in a park, Victorian Village, Columbus, Ohio.
I was in Columbus, Ohio for a couple days last week. I hadn't been there since my late 2010 Columbus Metropolitan Club presentation, and so it was good to get to check in and see how they were doing.
I once called Columbus "the new Midwestern star," noting that they were one of those Midwest cities that's doing far better than the region's reputation would suggest. It's been growing at a reasonably rapid clip in both population and jobs, beating the US average significantly, though not measuring up to the Sunbelt boomtowns. Home to Ohio State, it's educated to significantly above the national average, has a diverse white collar employment base, and is also an emerging logistics center among other good things.
One of their biggest sources of frustration is that they aren't better known in the marketplace. If I were to sum it up, they're sick of people always putting the ", Ohio" after their name. (As I've written extensively about Columbus, Indiana in my own home state, hopefully they'll forgive me if I do so in order to reduce ambiguity). Part of the reason is that while they check all the boxes, they haven't really gone beyond the checklist to create things that would be truly compelling in the external marketplace. Columbus is basically what I mean by the "best practices" city – they are implementing all the best practices in the marketplace, but haven't yet developed a compelling, unique brand positioning. I wrote about this in a post called "Rebranding Columbus" and focused on it at length in that presentation above. I'll soon be back with another round of thoughts.
Short North
But today I just wanted to share some photos of various things going on about town. Like a lot of places, Columbus has seen a sizable amount of housing construction of apartments in its urban core in recent years. According to Walker Evans of Columbus Underground, there are about 5,000 units recently completed, under construction, or soon to break ground. That's not going to reverse suburbanization, but shows that the urban center is showing significant signs of a more healthy market.
New construction on High St. in the Short North, Columbus.
The majority of the construction appears to be happening on the near north side. The first neighborhood north of downtown is called the Short North and is a very nice retail district that sits between downtown and the Ohio State campus. The picture above shows the High St. spine of the Short North with its signature arches.
You'll see buildings under construction on both sides of the street, both showing increased verticality versus the existing building stock. This illustrates the densifying trend in arguably the city's most desirable district, which has been provisionally welcomed though not without controversy. The building on the right is a Le Meridien hotel. The building on the left is for offices. It will also house a two-story Anthropologie store, which is very controversial for this neighborhood that has successfully fended off most major chains, including Starbucks.
Victorian Village and Italian Village
Short North is not exactly a neighborhood per se, but rather a commercial spine that joins (or splits depending on your point of view), residential neighborhoods on either side, Italian Village to the east and Victorian Village to the west.
Street in Victorian Village
As the name might suggest, Italian Village was originally the more working class of the two. For a part of its length its only a few blocks wide because it's pinned in by railroad tracks.
Walker Evans graciously gave me a tour of new development and I took a lot of snaps, but didn't make notes so I'm going from memory as to where these are. Apologies in advance if I make a mistake as to location in these photos. Here's new development in Italian Village:
This neighborhood also has a pretty large industrial brownfield site that a developer tried and failed to tackle some years back, which is now moving forward again with what will be quite a number of units:
Development in Victorian Village:
More:
Grandview Heights Area
Columbus is famous for having annexed a large amount of territory. One result is that there area handful of independent municipalities that ended up entirely surrounded by the city, including Bexley and Grandview Heights. Because these have their own independent school districts, they've retained a lot of housing value and have a pretty high quality residential stock. The closure of some industrial plants led Grandview to try to replace the lost tax base by redeveloping them as mixed use residential/office/retail. Here's a picture under development:
On the Columbus side of the border there's also related development, though out of mercy to the city I won't show it, as it includes a gigantic strip mall. I believe this area is all being developed by Nationwide Realty. Nationwide Insurance is HQ'd in Columbus and employs over 10,000 there. One thing insurance companies do is invest premiums collected in order to earn a return, and real estate is a popular choice. Nationwide just happens to be willing to bet a significant amount on its hometown. That's a huge benefit to Columbus. They previously led the efforts to develop the successful Arena District downtown, and this is their latest foray. As with the Arena District, it appears to be solid, though not in any way distinctive, perhaps in keeping with an insurance company's conservative mindset. This is part of the Columbus "reasonably best practices but not innovative or externally compelling" approach. It all has a vaguely "Sim City" feel, something that is by no means unique to Columbus. This development is far from complete:
Easton Town Center
I'll make a brief diversion to a suburban type location (albeit within Columbus' sprawling city limits). This is the lifestyle center Easton Town Center on the Northeast Side. It's Columbus' most upscale mall and also some to some associated apartments and a bit under three million square feet of office space. This gives the appearance of having been a completely master planned development. While it's nice, it's also sterile – "Stepford" as my one friend might call it – and also exudes the "Sim City" effect.
An interior street of the Easton Mall.
Parking lots only steps from the interior street above.
The extensively landscaped main access road at Easton, with new urbanist style apartments in the background.
Downtown
Columbus has a number of great and thriving urban core neighborhoods like Short North and German Village. Its downtown, by contrast, has been on the dull side, a stereotypical government and finance center. I didn't see that a huge amount had changed since my last visit. Indeed, most of the development in the core seems to be outside downtown.
One exception is the site of the now-demolished City Center Mall. When the city scrapped it, I was not a fan of the idea of replacing it with a park, saying:
There seems to be a reverence for green space in cities bordering on the religious. But green space is only useful to the extent that it functions well in the urban fabric. If you take two blocks and grass them over like this, what you are really doing is just institutionalizing a vacant lot. Now a plaza or square of the European style is quite nice, but it is quite nice because those places are able to draw people. If 1.3 million sq. ft. of shops wouldn't draw people, why will this park? That's the great unanswered question. Plazas work in Europe because of the density of offices, retail, residential, and tourists. The activity on the plazas draws more people to be part of it, which forms a virtuous circle, but unless there is critical mass of activity to begin with, the spark will never strike. The intensity of development here is just not going to make it. In effect, this is another build it and they will come plan. What's more, the city is permanently taking the land off the tax rolls and since, unlike a mall, it's a non-revenue producing asset, there is a significant operating tail to fund as well.

City officials are correct that cities have to get their public spaces right. But the key part of a public space is the public. If you don't have people, you haven't built a true public space. I suspect that they will be forced to program events there near continuously to fill up this space.
My prediction appears to have been entirely vindicated. Here's the park they built:
Looking the opposite direction:
This was an overcast but not especially gloomy weekday afternoon. I expect this to be close to the normal state of the park when programming is not in progress.
On the other hand, this is one area that has seen development. Only part of the site was reserved as a park. Various other sections were penciled in for development, which has been occurring. Here are some apartments that have attracted quite a bit of urban design criticism locally, but I find notable as being erected by an out of town developer, showing the increasing attractiveness of the local market for national investors:
The adjacent intersection of High and Rich also has significant development going in on all corners. All told, there will be about 1,000 units just in the area of this intersection. Fill up every intersection with that kind of density, and perhaps the park will be more regularly used sans programming.
Sadly, some of this involves demolishing historic buildings. I believe the site above was demolished and the buildings below will be as well. This is disappointing, but I do think there are value conflicts that can't always been resolved neatly. Destroy and replace has been part of what it means to be a city forever. The judgement of history is whether the balance of preservation and redevelopment is right.
I was told the building at the corner has serious problems that this photo doesn't do justice to.
Riverbank Restoration
One other interesting thing going on downtown involves changes to the Scioto River. Previously the city had redone the existing banks of the river with parkland and trails called the Scioto Mile that is quite nice. We had drinks at a tavern that overlooked the river in a way that was both urban and scenic.
However, sometime in the past the river had been dammed. Nobody is quite sure way, but the best guess is that it was to widen the smallish, non-navigable Scioto to make it more impressive. The result is that the river ran through a channel within retaining wall through downtown. Trails and such were built along the top of that wall.
The city recently blew up the dam in order to restore a more natural riverbank and greenery to the Scioto. Although in this case "natural" clearly involves a lot of restoration work to help.
You can easily see the retaining wall in that pic and the resulting expansion of green space that is going to result from this.
Franklinton
Visiting Columbus you might be tempted to ask, "Where's the urban blighted part?" Candidly, I've seen remarkably little of it compared to many cities I've visited, and I tend to go looking for it.
One exception is a neighborhood just west of the Scioto River called Franklinton that is the thing that has almost everybody I talked to most excited.
Franklinton has a classic Midwest post-industrial wasteland look, but this includes plenty of high quality older buildings. One of them has already been converted into something like 100 artist studios – all full as artists are getting priced out of their traditional home in the Short North. Another has been turned into a large "maker space." I saw a brewery under construction. Apparently the majority of the land in the area is under "friendly" control, and The Powers That Be have christened this the next It Place. Results already appears to be happening, and the historic building fabric that exists suggests this will be different in style than the Sim City developments I highlighted earlier.
Bike and Care Share
Columbus now has a downtown bike share up and running, though I didn't actually see anyone using it. It appears to be industry standard type stuff. They also have a car share system, this one from an outfit called "car2go" that I wasn't familiar with. It's apparently owned by Daimler Benz, so naturally features Smart Cars:
This has some neat features. Cars don't have to be picked up and dropped off at fixed points. You find one with your smart phone based on GPS, and drop it off anywhere in the service area you can find a spot – even at a meter. These cars aren't required to feed the meter so you get free on street parking while using them. I was told this system was put in place on a market basis without subsidies – and that the vendor actually pays the city for the use of the meters.
Bicentennial Brand
One new thing since my last visit was a new city logo:
I've got to confess this threw me for a loop when I saw it. The different color of the "US" was clearly intended to convey something. My first thought was it meant United States. My mind went directly to the "Cincinnati, USA" brand and I thought maybe this was the city's way of trying to get that ", Ohio" monkey off their back. The star over the U made me smile, thinking of the umlaut over the N in Spinal Tap, but obviously as a state capital, it made sense, and the forward positioning doubly highlights the "US" as well as suggesting forward progress.
Or so I was congratulating myself for having figured out. Apparently this logo was created for the city's bicentennial, which had a theme of self-celebration called "The Story of Us." There was even a book with that name issued (along with a commemorative coin, CD, and other celebratory things). The highlighted "US" is actually the pronoun "us."
While I think this works great as a bicentennial theme (and also explains the red white and blue, even though those aren't the city flag colors), it renders the logo unparseable to anyone on not on the inside, i.e., everyone not from Columbus. Especially foreigners are unlikely to make the connection. Unfortunately, basically every major civic group has adopted variations of this for their own materials. The graphic uniformity is admirable, but it's a confusing graphic.
Conclusion
I hope this gives a bit of a feel for what's going on in Columbus, though it's by no means complete. The city continues to grow at fairly robust levels. Construction in the urban core looks healthy. But there hasn't been any upward inflection point in the trajectory that I see. Nor have they cracked the code on brand, marketplace recognition, and transcending the best practices city model. I'll share some thoughts in coming posts that will hopefully help with the latter items.
Thursday, May 22nd, 2014
I've long argued that the real reason sprawl, or suburban development as we've been practicing it, is a problem isn't because it's ugly, environmentally damaging, racist, or some other form of evil. The more fundamental problem is that it's a long term financial loser. The numbers just don't add up over the long term when you take a lifecycle view of it.
As I outlined in "The Power of Greenfield Economics" and elsewhere, new suburbs look attractive for a number of transitory reasons: everything is new, state of the art, and exactly in line with current market tastes; no legacy costs; no legacy institutions, deals, political dynasties, etc; few low income residents and thus low social service costs; deferred infrastructure development; the efficiency of large lot development; and scale economics in public service provision in a growth environment.
Eventually though, your shiny new suburb fills up and so growth comes to a halt, then often about the same time it gets old. This send all of those positive factors into reverse, triggering a cycle of decline that will ultimately cause major problems in vast tracts of suburban America that aren't either a) wealthy communities or b) in markets that have tight restrictions on new building (which preserves these communities at the expense of rendering them unaffordable).
The perfect display of this is happening before our eyes in Indianapolis as the Indianapolis Business Journal reported this week in a major story called, "Aging suburbs face long road back" which sadly is likely behind a paywall at this point.
Like many places, the old city of Indianapolis found itself losing population to suburban areas further out in Marion County due to a variety of factors. Their solution to this problem was city-county merger, a system called Unigov. In a sense, it was regional government in which the city annexed its suburbs.
Problem solved, right?
No so fast. The problem is that growth at a rate of 200,000+ people per decade plus further expansion of the urban footprint sent growth out past the boundaries of the merged city and into the surrounding counties. As this happened, the old suburbs of Marion County themselves got old and fell out of favor, and are increasingly zones of suburban blight. The city is now close to being right back where it started. Unigov bought Indianapolis 40 years, but other than using that captured suburban tax base to build up downtown – a legitimately important and impressive accomplishment – it otherwise continued with business as usual. The result is that vast tracts of the city are now behind the 8-ball, with no plan or prospect for near term change. Per the IBJ:
Poverty is encroaching on the outer townships of Marion County, adding to their handicap in the competition with doughnut counties, where houses are newer, and sidewalks, sewer connections and bike paths come standard. Now, Marion County's suburban neighborhoods also face the flight of national retailers and poverty-driven challenges for their school districts. Spreading poverty makes it even more difficult to market a four-bedroom, two-bath house on a suburban lot in, say, Warren Township on the east side against a similar product over the county line. "That's a tough nut to crack," said John Marron, an analyst at the Indiana University Public Policy Institute. "To me, it's easier to sell the authentic urban experience."….. For decades after Unigov merged city and county government in 1970, Marion County's suburban townships propped up the city's tax base. Now they could become a drag.
….
Wayne Township has the largest low-income area outside of Center Township, with 20 square miles and 62,327 residents. Many of those neighborhoods are inside the I-465 belt. One encompasses a cluster of apartment complexes just south of Ben Davis High School. Marron thinks the changes in Wayne Township stem from its concentration of homes built in the 1970s or earlier—a less desirable housing stock than is available farther west in fast-growing Hendricks County….The median Wayne Township sales price in 2013 was $66,505…"We have not seen any significant economic development here on the west side for some time" [says Wayne Township schools Superintendent Jeffrey Butts].
This was entirely predictable. Given that Wayne Township's officials, no matter what they might say in this article, are dead set against change (such as merging their independent fire department with IFD), don't expect much change in the results.
One thing the IBJ didn't highlight but represents a big overhang in these aging suburbs is the aging in place population. A lot of these places skew older as there are baby boomers and up who bought and have simply stayed put. On the one hand, this is great. On the other, that long term population masks the fact that there's no next generation moving in, so as the older generations start to die, the situation is going to continue to degrade. We already saw this happen in a lot of the inner city.
But the most telling quote in the entire article was from West Side Chamber of Commerce President Rick Proctor when he said, "There's probably never going to be enough money to retrofit all of Indianapolis with the amenities all of us would like in our neighborhoods."
Ladies and gentlemen, we have a winner!
The bottom line is that the type of development that's been ongoing in Indy and most American communities can't ever generate enough tax revenue to pay to provide the infrastructure, amenities, and services necessary to support it. To show you what I mean, I'll show you a picture from the old city, the supposed "urban core". This is my block:
As you can see, the infrastructure here is minimal. Not even curbs much less sidewalks. Spend any time in Indy as you'll immediately get it that this place has always been cheap. Even the old city was never built right to begin with.
What would it cost to retrofit this street with real infrastructure? What would it cost to perform routine maintenance and basic services like street lighting (currently provided at minimalistic levels), street sweeping (not performed) or snow plowing/salting (not performed either, unless there's over six inches of snow)? Let's just say it would be a huge amount of money. Now ask yourself how much in property and income taxes these mostly 2-3 bedroom, one bath worker cottages are likely to produce in taxes. It's clear the math will never work. And this is in a neighborhood that still has a lot of pull to younger families thanks to its proximity to the urban commercial districts in the area.
I wrote an entire series on building suburbs that last, but one thing is clear. You have to at least build the infrastructure up front if you wait to have any hope. Because if you want to provide basic streets and arterials, etc. until later, then you're not going to be able to afford it. If your development can't support the cost of full infrastructure, that's a powerful market signal that it's not viable. This is a government concern because it's the government that's forced to come in after the collapse and pick up the pieces – or try to anyway. Of course, that would be the same government that got us into this mess in the first place.
The most tragic thing about all this? Despite the ample evidence of the catastrophe that awaits, Indianapolis is still doing more of the same. Right now in Franklin Township, one of the few places inside the city limits that is still a greenfield from a development perspective, the city is approving and permitting out vast tracts of low-grade sprawl there. We are building tomorrow's addition to our pile of problems right now. And nowhere in any city initiative that's currently ongoing is there any hint of changing that. The same is true all over America. I might suggest the old adage applies: if you're in a hole, first stop digging.
Friday, May 16th, 2014
A couple of interesting reports came out recently that I haven't been able to fully write up, but I at least want to highlight them for you.
The first is an eight-page report by the Brookings Institution called "Declining Business Dynamism in the United States." They looked at firm entry and exit rates over time, and the trend shows a clear fall in firm entry, and thus entrepreneurship: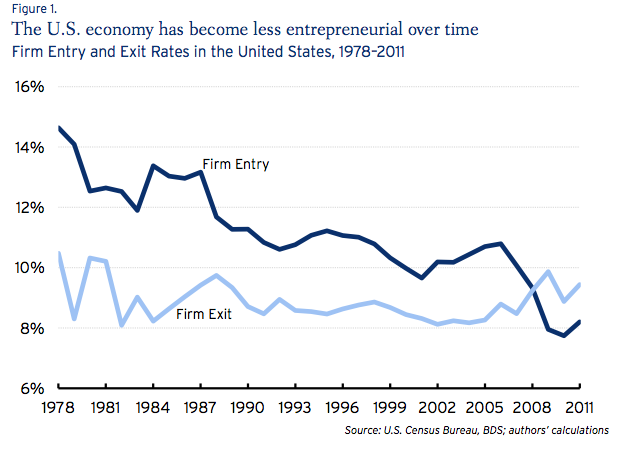 They also looked at this by metro area, and found that basically every single metro and state is less dynamic (above and to the left of the line in the chart below) than it used to be.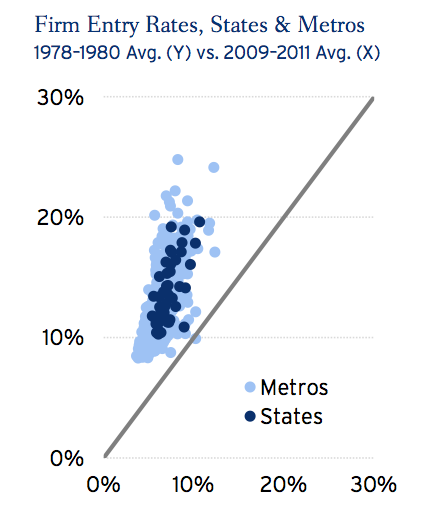 And they showed metros and states trending almost identically, showing that there's still a tighter linkage of metro areas to the overall economy as a whole than a metro-centric view might suggest.
It's pretty depressing stuff. Blogger "Noahopinion" suggests there's nothing to see here, saying:
One big thing that has happened in America over the last 35 years is the coming of large chain stores and restaurants. Mom-and-pop businesses have vanished as big-box retail, and later Amazon and other e-commerce sites, have taken over. That would tend to increase firm exit and decrease firm entry. Ryan Decker confirms that employment at large firms has been increasing since the early 80s.

Should we be worried about that? Many people over the years have bemoaned the death of the mom-and-pop store or the local restaurant, but I'm not sure we should be too concerned. Go visit a poor country, and you'll see that every other family has a food stand or little clothing stall, etc. That kind of "entrepreneurship" takes guts and ingenuity, but it's born out of hardship, not opportunity. The birth and death of small family businesses is one kind of "economic dynamism", but not really the kind that leads to increasing living standards or technological progress. In the U.S., it's not clear from Brookings' data how much high-growth entrepreneurship has changed.
That may be the case. But it's easy to see the trend of large, dominant corporations, much like the trusts of old, having a negative effects from an aggregate economic standpoint. We've seen a huge increase in business regulation since the 1970s, etc. Businesses ostensible oppose this, but large businesses actually like regulation. They are able to use "regulatory capture" to take over the regulatory apparatus through the revolving door, lobbying, and campaign contributions to secure regulations that are favorable to them and hostile to new entrants. Look at the difference in how big Wall Streets banks were treated during the crash versus Main Street businesses and homeowners. Major corporate CEOs get to meet with President Obama to bend his year. New and small businesses don't. Despite our complex tax code, major corporations often pay little to no tax because of the flotilla of lawyers and accountants they employ. The local plumbing contractor has no such luck. So even if there's some grounds in efficiency to favor bigger enterprises – a point I'm not necessarily conceding – there may be off-setting externalaties that more than. We've become radically pro-big business in America at the expense of being pro-market.
The major national rollups that reduced many industries to two major towers (e.g., Home Depot and Lowes, Walgreens and CVS, AT&T and Verizon, Wal-Mart and Target), major financial consolidation, and the winner takes all nature of many internet businesses is something that really needs to be studied as to any long term negative effects on the economy and consumer, and what we can do to create a level playing field for upstarts.
The second study is on urban poverty by economist Joe Cortright and Portland State's Dillon Mahmoudi. It's called "Neighborhood Change, 1970 to 2010: Transition and Growth in Urban High Poverty Neighborhoods." As the title implies, it looks at the dynamics of urban poverty in census tracts within 10 miles of the CBD in metro areas of more than one million people. The findings aren't pretty, as these excerpts suggest:
The data presented here suggest an "up or out" dynamic for high poverty areas. A few places have gentrified, experienced a reduction in poverty, and generated net population growth. But those areas that don't rebound don't remain stable: they deteriorate, losing population, and overwhelmingly remaining high poverty.
…
The number of high poverty neighborhoods within 10 miles of the central business district increased from about 1,100 in 1970, to more than 3,100 in 2010. The population in these neighborhoods more than doubled, from 5 million to 10.7 million, and the poverty population also doubled, from about 2 million to slightly more than 4 million.

Much attention gets directed to instances of dramatic neighborhood changes in the form of gentrification: once high poverty neighborhoods experience a large reduction in poverty rates. But the reverse is also true: some urban neighborhoods that once had low levels of poverty have experienced a large increase in poverty.
….
The incidence of neighborhood rebounding—here defined as a previously high poverty neighborhood that sees its poverty rate decline to less than 15 percent in 2010—is surprisingly small. Only about 100 census tracts saw this kind of change over a forty-year period in these 51 large metropolitan areas….the number of high poverty neighborhoods in the core of metropolitan areas has tripled and their population has doubled in the past four decades….It is rare for an urban, high poverty neighborhood to experience a major decline in poverty.
This study is short and non-technical, so is definitely worth a read.