Monday, August 12th, 2013
[ Daniel Hertz writes over at his City Notes blog. He was gracious enough to give me to permission to repost the results of his research into changes in crime patterns in Chicago over time - Aaron. ]
Here are two maps:
HOMICIDE RATE BY POLICE DISTRICT
Like the captions say, the one on the left shows homicide rates by police district in the early 90s, when crime was at its peak in Chicago, and the one on the right shows the same thing, but about two decades later.* The areas in dark green are the safest; the ones in dark pink are the most dangerous. The colors are calibrated so that green areas are safer than average for the early 90s, and pink ones are more dangerous than average for the early 90s. The 2008-2011 map keeps the same calibration: green is safe compared to the early 90s, so that you can see change in the levels of violence over time.
And, indeed, the first thing that jumps out from these maps is that there's way more green nowadays, and it tends to be darker. The city is way safer! Some areas we might consider a bit dicey today – like, say, the Lawndale/Little Village area – actually register as light green, meaning that by early 90s standards, they would be considered relatively safe.

[For those of you craving numbers, the murder rate averaged 30 per 100k during the first period, and 17 per 100k during the second, a decline of nearly 50%.]
Of course, the other thing we notice is that there are some very distinct patterns to safety. These maps are breaking exactly no news by indicating that the more dangerous parts of the city are on the West and South Sides, but it is striking, I think, to see that nowadays, basically the entire North Side is the darkest green, which translates to a homicide rate of less than 6 per 100k. In fact, the dark-green part of the city has a murder rate of 3.3 per 100k.
Three point three. In New York City, which is constantly (and mostly correctly) being held up as proof that urban safety miracles can happen in America, it's 6.3. Toronto, which as far as North American big cities go occupies a fairy tale land where no one hurts anybody, had a homicide rate of 3.3 per 100k as recently as 2007. The North Side is unbelievably safe, at least as far as murder goes.
But there are none of the darkest green on the West or South Sides. There's actually a fair amount of pink, meaning places that are relatively dangerous even by the terrifying standards of the early 90s.
This raises a question: Has the great Crime Decline benefited the whole city equally? Are the South and West Sides still relatively dangerous because they started from such a bad place, or because they haven't seen nearly as much of a decline as the North Side has?
Here is the answer in another map:
CHANGE IN HOMICIDE RATE, EARLY 90s – LATE 2000s
The areas in darkest green saw the greatest decline; red means the murder rate actually increased.
So: Yes, the great Crime Decline is a fickle thing. The North Side saw huge decreases (in Rogers Park, it was over 80%) pretty much everywhere; the few areas that are lighter green were the safest in the city to begin with. The parts of the South and West Sides closest to downtown – Bronzeville, the West Loop, Pilsen, etc. – got a lot safer. But most of the rest actually got worse, including some neighborhoods that were already among the most dangerous in the city, like Englewood and Garfield Park.
This is a complicated state of affairs, and probably goes at least part of the way to explaining why, in the face of a 50% decrease in homicides citywide over the last two decades, many people persist in believing that the opposite is true: because in their neighborhoods, it is. It's a dynamic that defies an easy narrative, and makes me slightly less angry (though only slightly) at all those journalists who have written in the last year or two about murder in Chicago without mentioning that the city is, in fact, safer on the whole than it has been in fifty years.
Here is one final pair of maps:
RATIO OF POLICE DISTRICT HOMICIDE RATE TO CITY AVERAGE
This is slightly less intuitive. These maps show the how the homicide rate in any given police district compares to the citywide average, using ratios; for example, if the homicide rate in West Town is 10 per 100k, and citywide it's 5 per 100k, West Town's ratio is 2 to 1. If West Town were 2.5 per 100k, its ratio would be 0.5 to 1. (Obviously the numbers in these examples are made up.) Blue areas have ratios below 1, and so are relatively safe; red ones above 1, and are relatively dangerous.
With the help of these maps, I'm going to ignore what I said about all this defying an easy narrative, and try to supply one: Over the last twenty years, at the same time as overall crime has declined, the inequality of violence in Chicago has skyrocketed. The pattern of what's blue and what's red in each map is mostly the same; I count only three out of twenty-five districts that switched from one color to another. But the colors are much darker in the 2000s than they were in the 1990s. There have always been safer and more dangerous areas here, as there are everywhere; but the gap between them is way, way bigger now than it used to be.
Numbers will help this case. Imagine that for each of these two time periods, we cut the city into equal thirds: one contains the most dangerous neighborhoods; another, the safest; and the last, everything else. In the early 90s, the most dangerous third of the city had about six times as many murders as the safest third. By the late 2000s, the most dangerous part of the city had nearly fifteen times more homicides than the safest third.
In addition, here are two charts (click to enlarge):
The divergence is self-evident. The early 90s look very roughly like a normal curve: most neighborhoods are in the middle, and there's a clear, if slightly bumpy, slope down towards the extremes.
Today, any semblance of a normal curve has been annihilated. Or, actually, that's not quite right. Now it looks like there might be two completely separate normal curves, one with a peak at 0.2-0.4, and the other peaking at 3.1-4. Plus a few guys who got lost in the middle.
I suppose there are many, many things that one might say about what this means, but here's the bottom line: The disadvantages and tragedies that people in "dangerous" neighborhoods experience are both absolute and relative. The death of an innocent person** is an indescribable loss no matter what. And, on that count, things are somewhat better for Chicago's most violent areas: the homicide rate for the most dangerous third of the city declined from 51 to 39 per 100k in the time period we've looked at here. That is a real accomplishment, and hundreds, if not thousands, of people are still with their families and friends because of it.
But in other ways, it does matter if other parts of the city are getting safer much, much faster. When people weigh safety in their decisions about where to live, they do so by comparing: How much safety am I gaining by living in one neighborhood versus another? The same is true of entrepreneurs considering where to open their next business. The same is true of tourists looking to explore the city. The same is true of locals looking to travel to another neighborhood to eat out or go shopping.
On every one of those counts, the disadvantages that are accruing to already-disadvantaged neighborhoods in terms of lost population, investment, and connections to the rest of the city are now much more severe. The hurdles are that much higher.
That's bad for those physical neighborhoods. It's also terrible for the people who have good reasons to live there, like social networks, nearby family, or the affordability of real estate.
Because I don't have the data in front of me, but who would doubt that over these same twenty years, there has also been a growing gap between how much it costs to live on the safe North Side compared to the more dangerous parts of the South and West Sides? Who would doubt that, as the North Side reaches Toronto-level peacefulness, the cost of rent has greatly diminished the number of apartments there affordable to the poor and working class?
In other words, just as the stakes have been tripled as to whether you live in Relatively Safe Chicago or Relatively Dangerous Chicago, it has become much, much harder to establish yourself on the winning side.
So: Next time you hear someone talking about "record violence" in the city, tell them that actually, murders are down almost 50% from twenty years ago. And then tell them that what's really alarming is murder inequality.
* Why does this data end in 2011? Because I made these maps using data from the Chicago Police Department annual reports, which are available online, and which only broke down crimes by police district in the 1990s. In 2012, the police district boundaries changed, making it not quite an apples-to-apples comparison to prior years. Maybe somewhere data exists by Community Area for the early 90s, and then I could redo all of this.
** And I think reporting like that done by This American Life at Harper High in Englewood ought to challenge conventional middle-class ideas about "innocence" in the ghetto. It is very easy for those who don't live in the neighborhood to talk about "thugs" and "gangsters" getting what they deserve. It is also very cruel, and very naive about what exactly "gangs" are, and what kind of people join one, and how, and why.
This post originally appeared in City Notes on August 5, 2013.
Friday, July 26th, 2013
My latest post is online at New Geography and is called "Will Europe Hit a Demographic Tipping Point?." It's always risky to get into the doom business, as I noted earlier in the week regarding Detroit, so this should be seen more as a possibility than a prediction. But there are a number of factors converging on European demographics: low birth rates and resulting aging populations, debt, the poor economy, austerity, and a general lack of opportunity for many of the young. Crazy at it seems, we are starting to see the start of a flow back from European countries towards former colonies perceived to have more opportunity. We will see how this plays out. Here's an excerpt:
Not only are Europe's young facing short term pain from economic crisis, they also face the long term prospect of being a small population cohort that has to spend their entire working lives (when they eventually find jobs) paying for previous generations' lavish retirement benefits never properly funded. Along with this, they are the ones who will likely bear the brunt of reduced pension payouts for themselves while the current and nearly retired are fully protected from cuts. This is on top of the massive official public sector debts that have been accrued, along with many years of pain from IMF and EU mandated austerity in a number of countries. Contracting demographics is like a "force multiplier" for unfunded liabilities, and this generation may never achieve the affluence – and buying power – of their parents.

Immigration has been heralded as a solution to demographic issues, but this seems unlikely to bail Europe out. Unlike the US or Canada, European nation-states are built primarily on ethnic identities that make integration difficult no matter how progressive the policies. Sclerotic economies and regulations that reward incumbents and large "national champion" firms while punishing entrepreneurs – immigrants are disproportionately entrepreneurial – don't help. With Europe having a large percentage of unassimilated and unemployed immigrants along with high native born unemployment rates, there has been social unrest all around. Immigrants have rioted, even in unlikely locales like Stockholm, while there has been an alarming rise in far right extremist groups among the native born. Unlike immigrant-friendly North America, immigration has been as much problem as solution in Europe.
Saturday, July 20th, 2013
[ In this post, Detroit native Pete Saunders pulls no punches in assigning the ultimate blame for Detroit's demise. You can read more of his work at his web site Corner Side Yard - Aaron. ]
Thou wouldst fain destroy the temple! If thou be Jesus, Son of the Father, now from the Cross descend thou, that we behold it and believe on thee when we behold it. If thou art King over Israel, save thyself then!

God, My Father, why has thou forsaken me? All those who were my friends, all have now forsaken me. And he that hate me do now prevail against me, and he whom I cherished, he hath betrayed me.
Lyric excerpts from the Fifth and Fourth and Words, respectively, of the Seven Last Words of Christ orchestral work by Joseph Haydn.
I'm pissed.
Ever since the announcement late Thursday that the City of Detroit was indeed going to file for Chapter 9 municipal bankruptcy protection, the Internet has been overflowing with commentary on the matter. The commentary has come from all places and taken on by all comers – from the political left and right; from hard news and general interest sources. And all usually with the same scripted and lazy tripe about how Detroit reached its nadir:
Single-minded dependence on a collapsing auto industry doomed Detroit.
An inability to diversify economically doomed Detroit.
Public mismanagement and political corruption doomed Detroit.
An inability to effectively deal with its racial matters doomed Detroit.
The dramatic and total loss of its tax base doomed Detroit.
That's it, people, they seem to reason. The Motor City's fall from grace is as simple as that. You do the things Detroit did, and you get what Detroit got. You defer decisions just as Detroit did, and you too will suffer the consequences. The speed with which the various articles on Detroit came out proved to me that many writers anticipated the announcement with at least a twinge of glee.
As I've written before, Detroit's narrative serves everyone else as the nation's whipping boy, and that came through in the last couple of days:
You can find Detroit in Cleveland, St. Louis, Buffalo, Milwaukee, Baltimore and Philadelphia. You can find it in Indianapolis, Minneapolis, Cincinnati, Columbus and Louisville. You can find it in Atlanta, Miami, Houston, Dallas and Phoenix. You can even find it in Las Vegas, Seattle, San Francisco and Portland. And yes, you can definitely find it in New York, Chicago, Los Angeles and Washington, DC. You can find elements of the Detroit Dystopia Meme™ in every major city in the country. Yet Detroit is the only one that owns it and shoulders the burden for all of them.
But let's leave that aside. I'm pissed because no one seems to acknowledge the central reason Detroit is filing for bankruptcy now. It has endured abandonment – white flight abandonment – on an absolutely epic scale. Before there was auto industry collapse, before there was a lack of economic diversity, before there was mismanagement and corruption, there was abandonment. People skirt and dance around the issue when they talk about the loss of Detroit's tax base. What Detroit lost was its white people. The chart above illustrates how Detroit's unique experience when compared to similar cities.
Detroit is what happens when the city is abandoned. And frankly, there is a part of me that views those that abandoned Detroit with the same anger reserved for hit-and-run drivers – they were the cause of the accident, they left the scene of the crime, and they left behind others to clean up the mess and deal with the pain. What's worse, so many observers seem to want to implicate those left behind – in Detroit's case a large African-American majority community – for not cleaning up the mess or easing the pain. Their inflicted pain which they've made ours.
White abandonment of Detroit did not start with the 1973 election of Coleman Young as mayor, or even the 1967 riots, yet those two events accelerated the process. And indeed, Detroit had a very unique set of circumstances that caused it to veer down a troubled path. The very first piece featured in this blog was about the land use and governing decisions that were made more than one hundred years ago in Detroit that literally set the city's decline in stone. I identified eight key factors:
Poor neighborhood identification, or more broadly a poorly developed civic consciousness.
A housing stock of poor quality, cheap and disposable, particularly outside of the city's traditional core.
A poorly developed and maintained public realm.
A downtown that was allowed to become weak.
Freeway expansion.
Lack of or loss of a viable transit network.
A local government organization type that lacked accountability at the resident/customer level.
An industrial landscape that was allowed to constrain the city's core.
Conor Friedersdorf of the Atlantic wrote perhaps one of the best recent articles I saw on Detroit when he acknowledged that even a half-century ago, journalists were predicting a dire future for the D. Take this quote Conor found from The Reporter, published October 31, 1957:
The auto industry created modern Detroit simply as its dormitory and workshop, attracted polyglot millions to it, used it, and now threatens to abandon it. Civic consciousness played little part in the lives of the masses of Irish, German, Poles and Italians who flocked to Detroit in search of a Ford or Dodge or Packard pay check, and who settled there in islands of their own – any more than it played a part in the managements of Ford or Dodge or Packard themselves, or in the crowd of Negroes who also descended upon the city during the boom years of the Second World War… Indeed, it is remarkable that any sense of civic responsibility at all should have been generated in so rootless and transient a community.

What can a city do when it finds its patron industry and its middle class moving out, leaving it a relic of extremes?… But urban deterioration offers at least one advantage. Once a city core has become as run-down as Detroit's you can start to rebuild fairly cheaply.
Yes, that is from 1957.
The chart at the top of this article was done for an article I did more than a year ago, looking at U.S. Census data for several peer cities over the last seven decennial censuses. In it, I concluded that Detroit's experience of abandonment was entirely unique:
Between 1950 and 1970, the decline in Detroit's white population was on the low end of the spectrum of cities on this list, but it was in the ballpark. Prior to 1970, Detroit and St. Louis were the white flight laggards. After 1970, the bottom fell out and Detroit stood alone. While there certainly are economic reasons white residents may have had for moving, this graph may lend credence to the twin theories of Motor City white flight – the 1967 riots and the 1973 election of Mayor Coleman Young.

I'm not trying to persuade anyone of the invalidity of their decision to move from Detroit. There were good reasons and not so good reasons. I'm only trying to describe its impact relative to other cities. And where exactly are those white residents who left over the last 60 years? Certainly many have passed on. Some are currently in the Detroit suburbs or elsewhere in Michigan. Some are part of that great Detroit Diaspora that took them to New York, Washington, Charlotte, Atlanta, Houston, Phoenix, Los Angeles, Seattle and Portland. There are clearly at least 1.5 million reasons why white residents left Detroit.

But the fact is, had Detroit experienced white flight at the same combined rate as the other cities on this list, and not experienced any other changes, there would be nearly 350,000 more white residents today. Maybe 140,000 more households. Maybe more stable neighborhoods.
Can you imagine that? An additional 350,000 residents means Detroit would still be a city with more than one million people. It would likely be viewed in the same way that a Philadelphia or Baltimore is now – challenged but recovering – instead of the urban dystopia it's widely seen as today. What impact would that have had on the city's economy? On the metro area's economy? On the state's economy? Or simply the city's national perception?
I've mentioned here on several occasions that the reason I chose the planning profession is because I grew up in Detroit during the 1970's. I looked around and saw a city with an inferiority complex and saw people leaving in droves. My naïve and childish thinking was, "instead of leaving the city, why don't people stay and work to make it better?"
Silly of me. Abandonment is the American way.
Nonetheless, I view Detroit's bankruptcy announcement positively. It acknowledges that its troubles are far deeper than most realize. It can be the springboard for fiscal recovery, a re-imagining of the city and an actual and complete revitalization. Detroit indeed is in uncharted waters, and its abandonment means that in many respects it could be viewed as a frontier city once again. I would not be surprised if, after restructuring and reorganization, after recapturing its innovative spirit, the city could see growth almost like it did at the beginning of the twentieth century, mimicking what, say, Las Vegas has done for the last 40 years. Even at this dark moment, Detroit has assets that are the envy of other cities.
But let no one forget that it is abandonment that brought Detroit to this point.
This post originally appeared in Corner Side Yard on July 20, 2013.
Wednesday, June 26th, 2013
I'm sure many will not like or agree with Wendell Cox's latest New Geography piece on transit and density. But if you'll put aside preconceived notions for a moment, he has some very interesting charts about density in the United States. He measured density at 10,000 people per sq mi and 25,000 per sq mi at the zip code level and mapped to metropolitan areas. Here's the breakdown at 10,000:
I'm sure someone will take this opportunity to ding pie charts, but you can easily convert that to a bar chart if you want. Speaking of bar charts, here's one of total population at both 10K and 25K: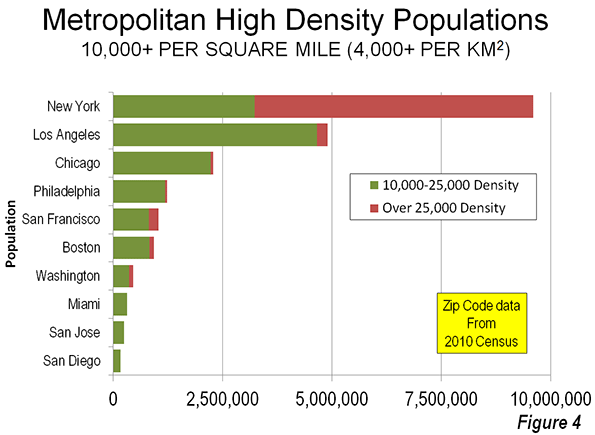 New York has 88% of America's total population living at 25K/sq. mi. or higher.
And here's a bonus infographic series. Nathan Yau over at FlowingData posted this graphic of grocery story geography in America. Click to enlarge.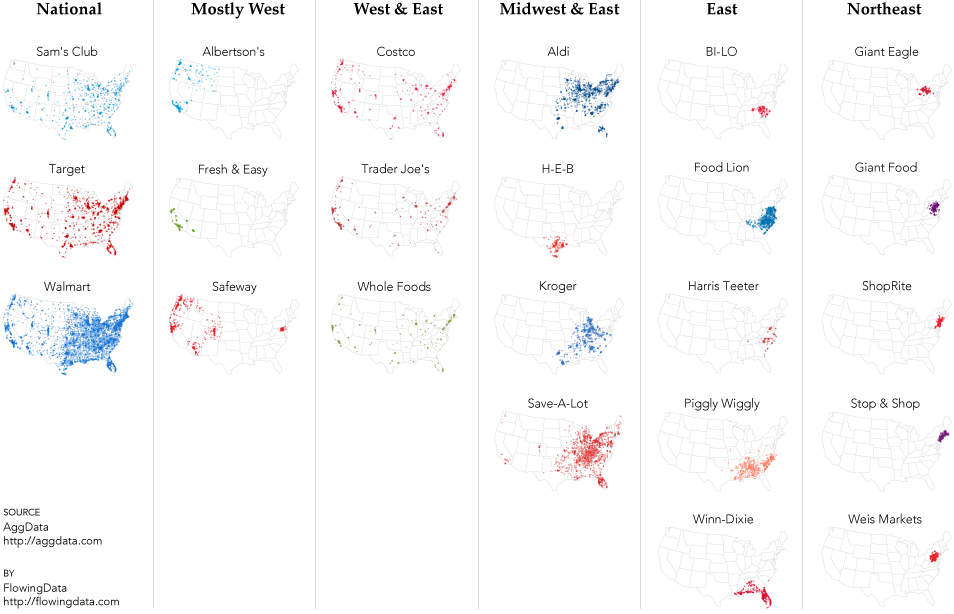 Friday, June 21st, 2013
My latest post is online at GoLocalProv and is called "What Makes a Great Community?" This one goes beyond the Providence specific to take a look generally at what makes a great place to live. I discuss the debates over what metrics to look at, as well as the emotional and cultural appeal of place. Here's an excerpt:
There appear to be two fundamentally different views of what makes a successful community, the "horizontal" model and the "vertical" model. The horizontal model focuses on quantitative metrics like population and job growth. The vertical model emphasizes qualitative ones like per capita income or GDP.

Unsurprisingly, cities tend to fall into one or the other of these categories. And the partisans of the different models tend to be very vocal about their "team." Vertical success cities include Boston, New York, and San Francisco. Horizontal success cities include Dallas, Charlotte, and Nashville.
….
The people, culture, and lifestyle, things that are difficult to quantify and capture in ranking systems, are what distinguish most of New England. But exactly what it is about these can be frustratingly difficult to articulate. I have found this to be the case almost everywhere. For example, I am from the Midwest. Most of the Midwest has a rather plain vanilla reputation and most cities there find it almost impossible to describe themselves other than with platitudes like "a great place to raise a family" or "big city amenities without the price tag and hassles." But go to say Ohio and visit Cincinnati, Columbus, and Cleveland and you will experience three radically different places. Yet is hard to really describe the uniqueness of each one. I know it when I experience it, but it's hard to articulate.

I have found this similarly to be the case in much of New England. Where I live in Rhode Island, I hear people describe its best assets as the coast, the food, the fact that everything is close, and the historic architecture. The coast is very nice, I agree. But to be blunt I don't find the other three items very compelling. They are nice things, but not overwhelming distinctives.
….
This is a difficult problem. Not because of anything unique to the community or New England, but because it's a hard problem generally for places that are not used to being introspective. Lots of places struggle with it. Almost everyplace struggles with it to be honest. It requires digging deep into the local soil. It's like going on an anthropology or archeology expedition.
Wednesday, June 19th, 2013
I was recently invited to give a short talk on why cities, and especially global cities, are so important to the world today and in the future. My case for an urban future generally is more quantitatively oriented, but my global city section focuses more on the unique role they play in our world. I also issue a challenge to understand and contextualize solutions to the things that make every global city (and every city period, actually) so unique and different from any other in the world.
This was at an event that was making a pitch for the importance of cities to religious mission, but my talk is secular. Other than a short mathematical analysis of the implications of urban growth for spiritual infrastructure investment, there's no religious content in this talk and my case is applicable to any endeavor.
If the video doesn't display, click here.
Thursday, May 23rd, 2013
My latest post is up over at GoLocalProv and is called "How White Providence Really Is." I contrast the strong diversity of the city and some other urban core type places versus the extreme whiteness of the rest of the region. New England generally is lacking in diversity. Boston, for example, is by far the whitest tier one type city in America. I've got a chart on that as well. Here's an excerpt:
The city of Providence is a very diverse place. In fact, it's over 62% minority, making it a so-called "minority majority" city. However, the city of Providence is only a very small part of the overall state and region.

Metropolitan Providence is one of the whitest major regions in America. Looking at metro areas with more than one million people, Providence ranks third in the country for the total non-minority population. The percentage of the population that is "white only, non-hispanic" – Hispanic people can be of any race – is nearly 80%. Only Pittsburgh and Cincinnati are higher.
….
Minority population growth actually bailed out the entire region. During that 11 year period metro Providence actually lost over 81,000 non-hispanic white residents. Without minority population growth, the region would have actually shrunk in population.
Tuesday, May 21st, 2013
[ Here's another nice entry from Pete Saunders, a Chicago urban planner. If you haven't checked his stuff out before, be sure to pay a visit to his blog Corner Side Yard - Aaron. ]
Most Americans take it as an article of faith that there's a strong connection and relationship between the major cities of the East and West coasts. Indeed, there may be 3,000 miles separating New York from Los Angeles, or San Francisco from Washington, but psychologically the cities each seem to be more connected to each other than, say, Dallas to New York or Atlanta to San Francisco. Of course, in the minds of the coastal crowd, the rest of the nation has become "flyover" country. That wasn't always the case. How exactly did that happen?
Lots of factors helped to develop America's west coast. Certainly the pioneer spirit that initially brought settlers west led to a strong sense of individualism and entrepreneurism that pushed development forward. The allure of the weather brought many transplants west. But I think the West Coast benefitted much more from the kinds of connections identified by Jim Russell at Burgh Diaspora (and now at Pacific Standard) – the West Coast had an effective talent attraction strategy, created strong bonds with the East Coast, and never let them go. It's a lesson that the shrinking cities of the Rust Belt should heed and practice.
I'm no historian, nor am I the ultimate authority on the development of cities. But it's clear West Coast cities did some things that Rust Belt cities did not. As we all know, the settlement of California was kicked off with the Gold Rush of 1849. Prior to that California was a sparsely-settled former Mexican territory with no physical or institutional infrastructure. The Gold Rush propelled Eastern financiers to provide the money to develop San Francisco as the financial center that would open up the west, and give it the physical and institutional resources to deliver its goods to the rest of the nation. San Francisco never relinquished those ties.
Further south, Los Angeles used its fabulous and consistent weather as a means to attract parts of a budding film industry previously based on the East Coast. The growth of the film industry ultimately led to the growth of the media industry in Southern California, and voila – the economic underpinnings of a major metropolis are established. Like San Francisco, LA never relinquished those ties. (Side note: I don't think you can understate the importance of the Rose Bowl in luring Midwesterners in particular to Southern California. The "Granddaddy of Them All", started in 1902, annually brought the Big Ten's best and brightest for a few weeks of sun and fun in winter. The strategy paid off.)
The lesson here for the Rust Belt is talent attraction, and maintaining the connections over time. San Francisco was able to parlay its Eastern financial connections into the development of a strong financial center, which later served as the financial apparatus for the tech industry. Los Angeles was able to do the same with the film industry and media, and it could be argued that the city's ties to Midwestern interests led to the growth of the defense industry there.
As for the Rust Belt? It seems that what sets it apart from the West Coast is that it remained content to be the industrial hearth of the nation, instead of seeking other avenues to leverage its advantages for even more growth. That, and the fact that West Coast cities understood the importance of maintaining strong connections with East Coast partners, and East Coast cities understood the financial upside – for their own cities – of staying close to those on the West Coast. Can the Rust Belt do the same?
This post originally appeared in Corner Side Yard on May 3, 2013.
Thursday, May 9th, 2013
My latest blog post is up over at GoLocalProv and is called " Who's Coming + Going—Surprising RI Migration Data". In it I take a look at migration to and from Rhode Island based on my IRS data sets. Here's a sample:
If it's true that Rhode Island is a basket case but Massachusetts is so great, why are more people moving from Mass to RI than vice versa?…Massachusetts is actually the #2 source of net imports to Rhode Island. In a sense it is unsurprising. Contrary to popular belief, sprawl is alive and well in America, and people continue to move out further from the centers of metro regions.
…
What I find most curious is that Rhode Island's migration problems have been all over the map. Looking back as far as 1995, Rhode Island was losing people and income, but it was recovering, even becoming a net gainer of people in the early 2000s, then the bottom fell out in 2003.
Here's the image showing the net income flow to/from Rhode Island over time.
Understanding migration flows is critical for any metro area or state, but few people take the time to do any analysis of it.
Sunday, May 5th, 2013
This post originally ran on November 11, 2009.
Until recently I had an apartment in the Fountain Square neighborhood of Indianapolis. Fountain Square is a small commercial node surrounded by houses on the near southeast side of the city that has long been my favorite 'hood in the city. I've been hanging out in the area for over 15 years.
Fountain Square was a sort of lower working class neighborhood. The South Side of Indianapolis is notably more Southern in character than the north. In fact, some have said that Washington St. (or I-70) is the real Mason-Dixon Line. In the case of Fountain Square, it is literally Southern. A good chunk of the population is from Appalachia. This has been true a long time. Back in the 1960′s, then Mayor (now Senator) Richard Lugar commissioned a study called "The Appalachian in Indianapolis" to study the question of whether or not the city's Appalachian community needed special help like other minority populations. The epicenter of Appalachian Indianapolis is Fountain Square. Even today, many people are new arrivals from places like West Virginia. There's a lot of circulation back and forth. Sometimes kids who get in trouble in Indy get sent back home to West Virginia to stay with relatives there, for example. In effect, Fountain Square is an ethnic immigrant neighborhood, but instead of traditional immigrants from places like Poland, Italy, or Mexico, it is made up of domestic migrants from a particular region and with a distinct culture. New arrivals are, in effect, straight off the boat. As with waves of immigrants from elsewhere, they are seeking better opportunities. Fountain Square is the traditional port of entry for people from West Virginia and similar places to Indianapolis.
The area is about a mile and a half from the center of downtown, and is one of the few intact commercial nodes left in the city. So it was long targeted for development. A few enterprising people bought and refurbished the Fountain Square Theater Building, which now houses restaurants, a duckpin bowling alley, and a boutique hotel. A former department store was converted into cutting edge art galleries and studios. An indie rock club has opened. Many restaurants dot the area and it is really a destination dining district in some ways. (Santorini on Prospect is the best Greek restaurant I've ever eaten at). A lot of artists and culturally inclined types have moved in. My apartment was previously occupied by an assistant curator of contemporary art the Indianapolis Museum of Art, for example.
When the artists started moving in I was originally very worried about gentrification and the area becoming unaffordable to anyone without lots of money, like Lockerbie Square or Chatham-Arch, displacing all the original residents. But that didn't happen. Housing remains extremely affordable and despite the influx of newcomers, they are still a minority.
What's notable about Fountain Square, and similar areas in other Midwest cities, is that a lot of these artists are able to buy homes. This means they are likely here to stay even if prices go up. That's in contrast to NYC, SF, or Chicago, where the artists rent.
In any case, while Fountain Square may go upscale, wholesale remaking of large chunks of the city a la Chicago is not likely to happen. Despite the increase in demand for urban living, there is not enough demand to materially increase prices outside of selected district because of the vast acreage of land that has fallen to nearly zero in value. It is a huge overhang. Also, the type of wage inflation and resulting salary gap that you see in bigger cities, which I'll argue in a future piece is a big driver of their two-tier societies, didn't happen in Indianapolis. For example, a partner in a major local law firm told me that a few years ago the salary difference for new associates between Indianapolis and Chicago was 30%. Now it is 100%.
So unlike in so many other cities, in Indianapolis yuppies and artists can live side by side with traditional neighborhood residents for a long time. When I lived in West Town in Chicago, my area was probably 30% Mexican, 30% Puerto Rican, 30% yuppie, and 10% other white ethnic. But that was only a transitional period presaging a yuppie takeover. In Fountain Square though, I expect the Appalachians aren't going anywhere for quite some time, even if the core area around the commercial district does gentrify. (Perhaps the arrival of a spur of the Indy Cultural Trail may by a catalyst for that – we'll see). I often describe the demographic of the neighborhood as "Artists and Appalachians", though that doesn't do it justice since artists are a minority of the new arrivals, who are often professionals, especially those who merely patronize businesses in the area, and there is by my eyeball estimate a 10% or so African American population.
But just because two groups of people live side by side doesn't mean they interact socially. With some exceptions, I rarely observed much in the way of interaction between them. The upscale restaurants and art galleries are not affordable or perhaps even of interest to West Virginia refugees. Similarly the rent to own stores for yuppies or arts crowd.
There are some older institutions that are, however, used by everyone. One of them is a greasy diner called Peppy's Grill. If ever a place deserved an exemption from the smoking ban, this is it. The place just hasn't been the same. Good burgers, great atmosphere. But not a lot of conversation between the two sets of customers.
Another is the Liquor Cabinet, the neighborhood package liquor store. They carry a large inventory of 40′s along with a cooler of top end microbrews from the likes of Three Floyds – all behind a bulletproof glass shield. There's a drink for every taste and budget.
As an aside, is there any better example to show why, despite what one may think, Indianapolis is not an overgrown small town? I mean, physically, it basically is one. I've long noted that a residential street in Indianapolis is not that different from one in the first state capital of Corydon, population 3,000. Heck, Fountain Square is like a literal small town, with its fading Main St. shops along Virginia Ave., the Theater Building and its surrounding streets the courthouse square, and the tidy rows of small, single family homes that have seen better days around it.
But appearances can be deceiving. Function does not always follow form. How many Indiana small towns have a liquor store like that? Or a piece of contemporary architecture like the Craig McCormick designed Ragsdale House on Pleasant St.? Or several edgy contemporary art studios? Or an indie rock club?
Need more proof? Just look at the city's blogosphere. One of America's leading LGBT blogs is based in Indy. The leading Republican blogger in the city is gay. A hardcore libertarian anti-tax activist is a former professional dominatrix. And a prominent political pundit is a cigar smoking, whiskey sipping Black Muslim stand-up comedian – and Republican.
No, my friends, this is no small town. And it has a lot more character – and characters – than you might think.
Back at the Liquor Cabinet, a variety of people come together to buy their nightly libations – but I don't see any real conversation or interaction. Only occasional light banter of the type one might make with strangers – because that's what we are. There's no connection or bond that has been built between the different groups, with some limited exceptions such as at the Community Development Corporation.
Long time readers know I care a lot about the notion of a "commonwealth". That is, a city and region where people feel that their fates are linked together, where they rise an fall together, where they feel like they have a stake in the system and in a shared prosperity for everyone.
I think it is harder to view ourselves as sharing a common destiny with people who are very different from ourselves. But if we get to know them personally at some level, there is generally some base commonality there. How do we foster that type of connection, not just of the "Isn't this weather nice?" variety but some type of real relationship?
I've thought about this a bit and it often seems to require some type of pivot point or area of mutual concern people can connect around. I think about, for example, how back in the early 90′s a lot of heavy metal bands and gangster rappers started hanging out together and promoting each other's stuff. They saw the marketing possibilities yes, but also a way to tap into the common alienation and marginalization their respective audiences felt from the mainstream.
Because each pivot point is likely to involve a subset of people, it is best to have multiple of them. Then you start creating all sorts of cross-network pathways. I thought about this with regards to Fountain Square and came up with a few ideas.
The obvious neighborhood institutions: neighborhood associations, local schools (such as the area charter school), the library branch, the CDC, etc.
Back to our musical example, a shared sense of being marginalized in a community felt by both artists and Appalachians. Certainly both of those groups have a shared interest in not seeing runaway real estate prices. The artists already had a scare recently when the Murphy Building which houses many of their studios and such was put up for sale.
Bicycling. Fountain Square is the heart of Indy's bike culture. One of the people behind the Indy Cog blog lives there and is brave enough to live in Indy with only his feet and bike for transportation. Joe's Cycles on Virginia is a local gathering place. But in Fountain Square, lots of people ride. It's not just hipsters or people making an alternative transportation statement, it's kids and regular neighbors, people black and white, a true neighborhood cross-section. Seems like an opportunity.
These are a few examples in only one neighborhood. The bigger point is that a big part of what makes a city is its social infrastructure. It's not just bike lanes and buildings. It's people and relationships and networks. Especially where there is so much traditional distrust between groups who have often had big differences in interests, finding ways to bring people together across those boundaries, at least at some level, is a way to help strengthen civic social capital. A mixed neighborhood is of limited benefit if people do not, in fact, mix. We should be looking for ways to break down barriers that too often create parallel societies.