Wednesday, August 27th, 2014
Last week's episode of Monocle 24 radio's show The Urbanist was about independent cities. If you've listened before, you'll know that their episode themes are applied loosely, but there are a couple of specific segments on "city-state" type of constructs, one is the very first segment, which is a hypothetical discussion about London, and the second a short commentary about Singapore starting around 30:00. If the embed doesn't display, click over to Monocle's site to listen.
Other segments include a piece about a Liverpool discount program for independent businesses, a segment about Istanbul that immediately follows the Singapore one, and a look at New York's Bed-Stuy neighborhood starting at around 43:00.
Tuesday, August 26th, 2014
[ I'm delighted to be able to present another great piece on Rust Belt culture and Cleveland by Richey Piiparinen - Aaron. ]
"Shame is fear of humiliation at one's inferior status in the estimation of others." — Lao Tzu
Sitting with fellow Clevelanders at a since-demolished bar, July 8th, 2010, LeBron James, local boy, uttered the words that hurt: "I am taking my talents to South Beach." It was a shot heard around the world, but felt sharply inside the Rust Belt city's heart.
"He had before invoked all the connotations of home, only to leave it," wrote Cleveland sports columnist Bill Livingston the next day, in a piece entitled "By rejecting his hometown team, LeBron James earns his slot on the [Art] Modell list of shame." Livingston upbraided LeBron for scheduling a cable event to "exploit this city's suffering." His words were intent on shaming LeBron for leaving, yet in doing so reared Cleveland's collective shame for having again been left.
Collective shame is an underappreciated subject. But it, like other collective emotions — think fear and pride — run our societies more than we care to look. "What holds a society together — the "glue" of solidarity — and what mobilizes conflict — the energy of mobilized groups — are emotions," acknowledged the great sociologist Emile Durkheim.
For decades, Cleveland has been held together by a solidarity in loss, especially the collective shame that came with it. Unlike guilt, which is about what one did, shame is an affront on the self, or what one is. And what was blue-collar Cleveland without a wealth of blue-collar jobs? It was a city of losses — be it of income, population, and a way of life.
Walk down many Cleveland streets and you can see how this loss has played out in disinvestment. Often, the effect on the viewer is the same: status was here, but no longer. The constant reminders of loss give shame currency. Cleveland is not alone here. Cities the world over are afflicted with the hangovers of history. From the "Geography of Melancholy" in the American Reader, the author writes:
Nearly every historic city has its brand of melancholy indelibly associated with it — each variety linked to the scars the city bears. Lisbon has its saudade: a feeling of aimless loss tied to the city's legacy of vanishing seafarers, explorers shipwrecked in search of Western horizons. Istanbul has huzun: a religiously-tinged brand of melancholy rooted in the city's nostalgia for its glorious past.
Instead of seafarers, Cleveland had steelworkers, and others who've had their working-class status stripped. Yet while the loss was personal, it was the result of macro forces, leaving many feeling powerless and alone. This aloneness was tied up in the feeling of shared suffering.
"The very fact that shame is an isolating experience," notes the author of Shame and the Social Bond, "also means that if one can find ways of sharing and communicating it this communication can bring about particular closeness with other persons."
There are many ways collective emotions are shared. Much of the vessels are informal. Think oral tradition and rumors. Fashion is another channel, like a city's t-shirts. In fact perhaps nothing says implicit understanding between natives like city mottos emblazoned chest level. Cleveland's most famous t-shirt said simply: "Cleveland — you've got to be tough". It was made in 1977, in the heyday of the city's decline. So the symbolism wasn't. You had to be tough in the face of a post-industrial headwind. Today, iterations remain on this "the world is against us" mentality. "Defend Cleveland" and "Cleveland VS Everybody" t-shirts are worn liberally. Another favorite that tips more toward shame than to a defensiveness against judgment says: "Cleveland Low Life" — a play on "Miller High Life."
Is all this productive? No doubt, collective shame, according to scholars, can strengthen the bonds between members of a group which, in turn, can lead to a process of self-exploration and restoration of a social identity. Or it can be chronic. Here, you get a city with a persistent inferiority complex — or a city going from seeking esteem in the face of perceived shame to finding esteem in self-shame. Cleveland is well-known for its self-flagellation. It's especially obvious to folks who aren't native Clevelanders.
"I have, in fact, never lived in a place whose proud residents so consistently and gleefully disrespect their hometown as Cleveland," notes legendary Jeopardy champ Arthur Cho in his recent Daily Beast piece "Cleveland Comes Crawling Back to LeBron: The Masochism of Rust Belt Chic." Cho, a Cleveland newcomer, goes on to write that though he hates to "engage in victim-blaming," the reason "everyone dogs on Cleveland is that we ask for it." Why? Cho concludes: "If we weren't suffering, we wouldn't be Cleveland anymore."
But this Cleveland mindset does little for opening the region up to new ideas. Just as the messages become defensive, so do the policies and politics. Nativist culture reigns. Nepotism and patronage become the grease that runs the status quo. And so the communal shrouding effectively disables the possibility of possibility. Hence, the region's struggles in its economic restructuring in the era of global connectivity.
In that sense, Cleveland's collective shame can be a source of bad policies which ensure the collective shame. But why would a city want to do that, albeit implicitly, subconsciously?
"Economic struggle can be a cultural unifier in a community that people tacitly want to hold onto in order to preserve civic cohesion," writes urban theorist Aaron Renn in Governing. Beyond that, those with power can lose it with community change. Continues Renn:
…[I]t isn't hard to figure out that even in cities and states with serious problems, many people inside the system are benefiting from the status quo.

They have political power, an inside track on government contracts, a nice gig at a civic organization or nonprofit, and so on. All of these people, who are disproportionately in the power broker class of most places, potentially stand to lose if economic decline is reversed. That's not to say they are evil, but they all have an interest to protect.
Does this mean Cleveland is doomed? Hardly. The region is experiencing a brain gain. The city has incredible assets — namely, its educational, hospital, and cultural institutions — that have been dragging it along toward a point of turning the page. But more is needed. Specifically, more perspective — a perspective that the city's inferiority complex isn't about what others think of Cleveland, but about what Clevelanders are compelled to think about themselves.
Which brings us back to LeBron. Soon after his announcement that he was leaving, The Onion wrote a satirical piece called "Despite Repeated Attempts To Tear It Down, Massive LeBron James Mural Keeps Reappearing." In it, the iconic "We are All Witnesses" banner keeps hauntingly resurfacing. At one point in the piece, city workers removed it panel by panel, "only to find an identical mural hanging directly behind it." The article ends, "As of press time, nobody outside the Cleveland area had seen the mural once since it was originally taken down…"
The takeaway, then: When suffering has become your identity, you have clearly suffered long enough.
The beauty of cities and societies is that they are constantly evolving. Some get stuck in their identity, like Cleveland. Cleveland's path to progress, then, means letting go of that which has stubbornly remained. There's hope that the change is coming, largely due to the presence of the new generation.
In many ways LeBron is an embodiment of the next generation of Cleveland and the Rust Belt. His return epitomizes possibility. No, I am not talking about championships, nor the collective Prozac-effects that a parade down E. 9th St. would have on the region's psyche. Nor the game day economics. I am talking about perspective.
The day LeBron announced his decision he was leaving Cleveland, he was in Akron. According to an ESPN piece, he knew the decision would hurt people, and that nothing would ever be the same for him. "Somehow he got through the final day of his annual basketball camp in Akron without confessing," the authors write. "By the time [former teammate] Damon Jones drove him to the airport, where he would fly to Connecticut and reveal his infamous decision to the world, there was a lump in his throat."
LeBron, like all sons and daughters of the Rust Belt, are a product of collective shame, and so his self-battle with leaving is no surprise. But sometimes leaving is the answer. No person should ever self-sacrifice out of a loyalty to place. And sometimes coming home is the next answer. If only because intermittent personal aspiration will often take a backseat to that evolutionary and endearingly human value of needing to belong.
The secret sauce, here, is the perspective gained in the journey. And then bringing it back to a community that could use more than its fair share.
This post originally appeared in The Huffington Post on July 29, 2014. Reprinted by permission of the author.
Sunday, August 24th, 2014
This is the second installment in my series on corruption. You can also see last week's post on the city as a decline machine.
This week I'm taking a look at a book Richard Layman turned me onto. It's called "Corrupt Cities: A Practical Guide to Cure and Prevention." Written by Robert Klitgaard with assistance from former La Paz Mayor Rondal Maclean-Abaroa and H. Lindsey Parris, and published under the auspices of the World Bank, this book is a must-read on the topic of corruption even if, sadly, many of the recommendations are not directly applicable to the type of corruption many US cities experience today. It's only 150 pages and highly readable.
The book talks about the nature of corruption and how and why it is often so resistant to efforts at reform. We can easily see this in the US, where, for example, despite former federal prosecutor Patrick Fitzgerald sending Illinois politicians in prison at a fearsome rate (including the previous two governors), the drumbeat of scandals in the state continues unabated.
The authors' basic formula for corruption is simple: C = M + D – A. That is Corruption = Monopoly power + Discretion by officials – Accountability. Resultingly, as they put it:
A strategy against corruption, therefore, should not begin or end with fulmination about ethics or the need for a new set of attitudes. Instead, it should look cold-bloodedly at ways to reduce monopoly power, limit and clarify discretion, and increase transparency, all the while taking account of the costs, both direct and indirect, of these ways.

There is another crucial point in designing an anti-corruption strategy: Corruption is a crime of calculation, not of passion. People will tend to engage in corruption when the risks are low, the penalties mild, and the rewards great. This insight overlaps the formula just mentioned because the rewards will be greater as monopoly power increases. But it adds the idea that incentives at the margin are what determine the calculations of corrupt and potentially corrupt official and citizens. Change information and incentives, and you change corruption.
Much of the book consists of practical steps cities can take in this direction, using two principal case studies: La Paz, Bolivia, and Hong Kong. They also briefly discuss New York City's successful efforts to root corruption out of a school construction program. Some of this gets quite detailed, such as their description of anti-corruption workshops the authors have run.
The book is also notable for being against what would appear to be one of the most popular responses to incidents of corruption, namely adding more rules. This often just makes it easier for corruption to flourish. As they put it, "Corruption loves multiple and complex regulations." We also see in the US that more regulation increase the rent seeking returns to corruption and leads to regulatory capture, either by regulated industries or activists (or some combination of both).
They also say that corruption shouldn't be looked at in isolation or as the sole aim, but rather that anti-corruption efforts should be seen as a tool for reinventing and improving the delivery of public services:
We do not recommend an approach to corruption that emphasizes more controls, more rules, and more bureaucracy. These can simply paralyze administration, and in some cases they can foster new and more deeply embedded varieties of corruption. Instead, especially in cases of systematic corruption, we advocate both restructuring city services and making institutional reforms that improve information and create new and more power incentives and disincentives. A major theme of this book is that fighting corruption in the right ways can become a lever to achieve much broader ends, not only financial survival but also remaking the relationship between the citizen and local government….Fighting corruption should not be considered an end in itself but an orienting principle for reforming urban administration. [emphasis in original]
Among their recommended approaches in the fight against corruption are having a point person with a high profile and public accountability for delivering results, creating an independent anti-corruption office (such as an inspector general type organization), starting by picking low-hanging fruit, eliminating the perception of impunity by "frying big fish" via prosecuting senior officials , working with and not against the bureaucracy, and many other things. They also spend time talking about the downsides of potential reforms.
As one example, they talk about how in some cases a single bidder taking over a contract can obtain so much proprietary information as a result of running a service that they de facto have a lock on future rebids since no one else has enough information to effective compete. Dual source contracting is one possible approach to maintaining long term competition, but has its own limitations such as potential added costs as well as incentives to collusion.
I'd be remiss if I didn't highlight a few weaknesses. One is that because they used largely foreign examples, some of the solutions aren't applicable to the US. For example, some countries have so-called "unjust enrichment" statutes by which public officials who appear to have wealth far beyond what their salary would enable them to have obtained legitimately have to prove that they obtained it legally. This doesn't appear to be a big problem in the US, and that sort of "prove you are innocent" approach wouldn't fly here in any case.
In another case, La Paz actually implemented a property tax reform with a lot of superficial appeal: self-assessment. My old boss in Indy has long been an advocate for this. The idea is that you declare the value of your own property for tax purposes, but that value constitutes a binding offer to sell at a premium of 10-15%. I get the appeal of this, but it's easy to see the problems it introduces. La Paz used the soft threat of the state acquiring the property, but never actually followed through, and the courts declared the scheme illegal in any case.
The more important problem is that the book focuses on traditional type corruption of the bureaucracy. It assumes that in fighting corruption there's a senior leader such as a mayor or governor who is motivated to eliminate it, and their recommendations are pitched at that person. For example, the mayor of La Paz obviously had a passion for ending corruption in his city. The governor of Hong Kong was motivated to clean up corruption in the police department by unfavorable press causing embarrassment back in the UK.
In America today I'd argue that situation is inverted. Local level government employees are by and large honest – you can't easily bribe your way out of a speeding ticket these days, for example – but the political leadership is corrupt. And the corruption is right out in the open and takes the form of transactions that aren't illegal.
For example, a transaction to shove millions of dollars into the pockets of a crony is often done completely in the open. It's championed by the political leadership and often the press as well. (Molotch showed how local newspapers and such were part of the growth machine, and in general these days daily papers often continue to give off the impression of being corrupt institutions themselves who are in cahoots with the politicians). It's duly voted on by the city council. There was no quid pro quo transaction involved, only campaign contributions, hope for future employment, or various personal connections, thus nothing illegal was done. It's the same with some (though certainly not all) privatization contracts, various laws and ordinances prompted by lobbyists, etc.
Francis Fukuyama describes this very phenomenon at the federal level in an article in the current issue of Foreign Affairs called "America In Decay:"
The trading of political influence for money has come in through the backdoor, in a form that is perfectly legal and much harder to eradicate. Criminalized bribery is narrowly defined in U.S. law as a transaction in which a politician and a private party explicitly agree on a specific quid pro quo. What is not covered by the law is what biologists call reciprocal altruism, or what an anthropologist might label a gift exchange. In a relationship of reciprocal altruism, one person confers a benefit on another with no explicit expectation that it will buy a return favor. Indeed, if one gives someone a gift and then immediately demands a gift in return, the recipient is likely to feel offended and refuse what is offered. In a gift exchange, the receiver incurs not a legal obligation to provide some specific good or service but rather a moral obligation to return the favor in some way later on. It is this sort of transaction that the U.S. lobbying industry is built around.
…
Reciprocal altruism, meanwhile, is rampant in Washington and is the primary channel through which interest groups have succeeded in corrupting government. As the legal scholar Lawrence Lessig points out, interest groups are able to influence members of Congress legally simply by making donations and waiting for unspecified return favors. And sometimes, the legislator is the one initiating the gift exchange, favoring an interest group in the expectation that he will get some sort of benefit from it after leaving office.
…
Rules blocking nepotism are still strong enough to prevent overt favoritism from being a common political feature in contemporary U.S. politics (although it is interesting to note how strong the urge to form political dynasties is, with all of the Kennedys, Bushes, Clintons, and the like). Politicians do not typically reward family members with jobs; what they do is engage in bad behavior on behalf of their families, taking money from interest groups and favors from lobbyists in order to make sure that their children are able to attend elite schools and colleges, for example.
We see the same at the local level. In fact, today you almost have to be an idiot to engage in old school bribery. (It's a mystery to me why it seems to remain so popular in places like Illinois and Rhode Island). You simply write campaign checks and at the appropriate time taxpayer money will come your way. Or you're a journalist carrying water for the power brokers (or a candidate) who expects to be taken care of later. Or you're on the government side of a privatization deal and later on take a job with the contractor via the revolving door. Or you run a non-profit that collects bigtime government grants with the unstated expectation that you won't cause trouble. (I know multiple personal examples of non-profits who had grants revoked or threatened to be revoked by governments in retaliation for having the temerity to tell the truth about some boondoggle). None of these are illegal. They are generally done right out in the open. And the top power brokers and politicians are generally involved and hence have zero interest in reform.
This produces a much more challenging environment for change to say the least. I won't pretend I've cracked the code on it, but will post further thoughts next week on how I might approach the problem.
Sunday, August 17th, 2014
Today I'm kicking off what's probably a three part mini-series on corruption. In my view, whatever the structural problems resulting from suburbanization or globalization or whatnot, an overwhelming and under-examined barrier to success in our cities, and especially to reviving the fortunes of the urban cores of post-industrial cities, is corruption.
When we think of corruption we tend to think of a shady character passing an envelope full of cash under the table to a crooked politician in exchange for a a zoning variance or something. But that's just one form of corruption, and arguably one of the least important. Much more important is systemic corruption, including many practices that are actually legal.
The book Corrupt Cities, which I'll look at in depth in a future installment, defines corruption this way:
Corruption means the misuse of office for personal gain…Corruption means charging an illicit price for a service or using the power of office to further illicit aims. Corruption can entail acts of omission or commission. It can involve legal activities or illegal ones. It can be internal to the organization (for example, embezzlement) or external to it (for example, extortion). The effects of various kinds of corruption vary widely. Although corrupt acts may sometimes result in net social benefit, corruption usually leads to inefficiency, injustice, and inequity.
And regarding systemic corruption, the authors say:
Systematic corruption generates economic costs by distorting incentives, political costs by undermining institutions, and social costs by redistributing wealth and power towards the undeserving. When corruption undermines property rights, the rule of law, and incentives to invest, economic and political development are crippled. Corruption exists in all countries. But corruption tends to be more damaging to poor countries.
And, one might add, poor or struggling cities.
America has been experiencing problems with corruption at all levels of government. I want to focus on the local level, however.
Cities have long been known as hotbeds of corruption and political machines. They were certainly much more corrupt in the past than they are now. However, because the scope and control of government was so much less in those days – for example, there was no zoning in Gilded Age America – the impact was arguably less than now where the impact of government is pervasive. The Progressive Era brought reforms that cleaned up government to a certain extent, but we've seen in the contemporary era an uptick in government corruption. This is not necessarily in the form of petty corruption, but rather the corruption of the instrumentality and aims of government itself.
Even in my own lifetime I've seen a tremendous increase in corrupt activities. Sure, cities were always "growth machines" and had "urban regimes". Some level of corruption may even be necessary for political life to function. It's generally necessary to build coalitions to get things done, and the types of horsetrading that enables this is often distasteful. I don't want to pretend that we can ever have squeaky clean politics. And of course cronies of the party in power have long benefited from patronage.
But there's a big difference between logrolling, or even some crony getting his beak wet through a somewhat inflated price tag for something that more or less needed to be done anyway, and the types of things we see today, in which the levers of powers are used in ways that are often obviously manifestly contrary to the public interest.
I won't fully support it in this post, but my belief is that increasingly the urban power structures have exchanged traditional growth machine policies for a system of extraction in which crooks, cronies, and criminals are enriched under the guise of the "revitalization" of a community in decline. The principal vehicles for this are a) publicly subsidized real estate boondoggles, b) corrupt privatization and professional services contracts, and c) public employee union featherbedding.*
This looting of our cities in the name of revitalization has been made possible by a severing of the historic link between the economic fortunes of a community's elite and broader community prosperity. I'm going to show today how that link got severed, and why that has led to subsidized real estate boondoggles as the preferred form of civic "revitalization", by revisiting and updating a post I originally ran in 2009.
Ed Morrison once wrote that "Cleveland's leadership has no apparent theory of change. Overwhelmingly, the strategy is now driven by individual projects. These projects, pushed by the real estate interests that dominate the board of the Greater Cleveland Partnership, confuse real estate development with economic development. This leads to the 'Big Thing Theory' of economic development: Prosperity results from building one more big thing."
Morrison could have been describing any number of other cities here. Why is it that so many cities have turned to large subsidized real estate projects to attempt to restart growth, , turning away from strategies that previously made them successful?
The answer lies in structural economic changes resulting from the nationalization and globalization of industry. Up until the 1990′s, many businesses, such as retailing, utilities, some manufacturing, and especially banking operated on a regional or local basis. The meant that the civic leadership of a community was heavily dominated by businessmen, again, especially bankers, whose success was dependent on the overall macroeconomic health of the particular city or region they were located in.
For example, up until the 1980s or so, most states severely restricted banking such that every city pretty much had its three major locally owned banks whose CEOs were the major power players in town.
Because these banks were limited to their own region, often only their home county, they could only increase their profits by seeing their hometown grow with more people and businesses, and thus more depositors and borrowers. If the CEOs of those banks decided to loot the city at the expense of overall civic prosperity – or let anyone else get away with so looting it – it would undermine their own businesses. Hence they had an alignment between corporate (and thus personal interest) and the civic interest. They could only prosper to the extent that the community prospered.
It was the same in many industries. The Public Utility Holding Company Act more or less led to every major city having its own electric utility. That utility could only make more money to the extent that more people and businesses moved to town and thus generated new demand for power. The interests of the company and its CEO were aligned with that of the city as a whole. If the city sickened, the company's business would sicken with it. Many if not most cities also had their own department stores, drugstores and other retail establishments.
This created what Harvey Molotch called a "land based elite" and underpinned a model he called "The City As a Growth Machine." He saw the "land" in question as physical land and thus also talked to the primacy of real restate development, but I see "land" as much more representing the constrained operating geography of a wide variety of industries that are not necessarily related to land per se. While growth as a strategy has its problems, you can certainly be stuck with worse.
With banking and utility deregulation, we saw large numbers of hometown banks merged out of existence. Industry after industry has been subjected to national or international level roll-ups as changes in the economy and regulatory environment gave increasing returns to scale. So today we have a handful of major national banks like JP Morgan Chase, major utility conglomerates like Duke Energy, and dominant national retailers like Macy's, Walgreens, Wal-Mart, and Home Depot, often part of a "two towers" type rollup.
Why is it that "real estate interests" dominate in a local economy like Cleveland? Because, to a great extent, they are among the only ones left. Consider the local industries that have not been as subject to roll-ups. Principal among these are real estate development, construction, and law (though we are starting to see rollups in these industries too).
This means the local leadership of a community is now made up of executives in those industries, and they bring a very different world view versus the previous generation. There are two major differences between these types of firms and the previous types of firms that generated community leaders: the nature of the businesses themselves, and the fact that their profits are not dependent on the success of the community.
Consider the difference between a banker and a lawyer. Banks make money on the spread between what they pay for deposits or wholesale funding, and what they charge for loans. This means the CEO of a bank is making money while he plays golf at 3. He's got a cash register back at the office that never stops ringing.
By contrast, lawyers get paid by the hour for work on specific matters and transactions. The law partner is only making money on the golf course if he is closing a deal. It's similar between many other "operational" businesses that were previously prominent in communities, and the "transactional" businesses that are now often dominant.
Not only has the drying up of local and regional operating businesses led to a business leadership community unbalanced in favor of transactionally oriented firms, the loss of those local and regional operating businesses robbed many of the transactional companies such as law and architecture firms of their principal local client base. Large national businesses employ national firms for advertising, law, architecture, etc. If they use local firms, it is in a subsidiary role. (Or, if a smaller firm is fortunate enough to land a contract, it is servicing a client on a national, not local basis).
Richard Florida described this in his Atlantic Monthly article on the financial crash:
As the manufacturing industry has shrunk, the local high-end services—finance, law, consulting—that it once supported have diminished as well, absorbed by bigger regional hubs and globally connected cities. In Chicago, for instance, the country's 50 biggest law firms grew by 2,130 lawyers from 1984 to 2006, according to William Henderson and Arthur Alderson of Indiana University. Throughout the rest of the Midwest, these firms added a total of just 169 attorneys. Jones Day, founded in 1893 and today one of the country's largest law firms, no longer considers its Cleveland office 'headquarters'—that's in Washington, D.C.—but rather its 'founding office.'
Where then is the source of transactions these firms can turn to in order to sustain their business? The public sector, of course.
I would hypothesize that many local transactionally oriented services companies have seen the public sector take on a greater share of billings than in the past. With the old school bankers and industrialists mostly out of the picture, the leadership in our communities consists increasingly of the political class and a business community dominated by transactional interests.
When you look at the composition of this group, it should come as no surprise that the publicly subsidized real estate development is the preferred civic strategy. Politicians get to cut ribbons. Cranes always look good on the skyline. Local architects, engineers, developers, and construction companies love it. And there is plenty of legal work to go around.
This is not to say these people are necessarily acting nefariously. And nor were old school bankers and industrialists always acting purely altruistically. But there's a very different world view between people steeped in operational businesses and those in transactionally oriented one.
On the other hand, that's not to say that they aren't acting nefariously, either. Which brings us to the second difference. These newly dominant firms and their leaders no longer have fortunes tied to the overall health of the community. Unlike an old-school banker or utility executive, these transactional companies like law firms can exist on a narrow client base. Thus they can continue to thrive if the community is struggling or even impoverished. If the driving force of the business is government, which can extract significant tax revenues during both good times and bad, this can go on indefinitely, so we see that even in bankrupt Detroit the state stepped in to pump $400 million in subsidies into a new hockey arena for a development backed by a local billionaire.
In fact, what we see is that these firms and their hangers on can even profit from community decline. Why is this? Well, when the community is struggling, that means Something Must Be Done. And it just so happens that this group of people has Something in mind – namely shoving taxpayer cash into their pockets so that they can "invest" in "saving" the city. Somewhat perversely, to the extent that a community is thriving and doing well, the justifications for all those subsidies become harder to make. Thus The Powers That Be actually have a stake in civic failure.
Call this the "City As a Decline Machine" model, as our once-proud urban cores have been strip-mined for subsidies by cronies as population and job levels have collapsed in the greater urban core.
This helps explain why, despite the endless talk about "talent, talent, talent" not many places actually do much that suggests they are serious about attracting it. Why might that be? Because, as I've noted before, outsiders are the natural constituency for the new and an inherently disruptive force. That's the last thing cronies want. Instead what they actually want is to use the pretense of talent as a Christmas tree ornament to decorate arguments in favor of their latest subsidized boondoggle.
But regardless of intent, the personal interest and long term community health of the community elite are no longer strongly linked. Which is why where once local business/civic leaders put money into the community – such as when Melvin and Herb Simon bought the failing and money-losing Indiana Pacers back in the 1983 – today they are more likely to be taking it out via these types of projects.
You might object that some cities kept their banks or have other large companies that are still present. Perhaps. But even where the hometown bank or company did not get bought out, it likely escaped that fate by getting big itself and making large numbers of acquisitions or otherwise expanding. This means those institutions are less dependent on the health of the particular local market they happen to be headquartered in than they are overall macroeconomic conditions. While no doubt they want the headquarters town to be successful, they can afford to take a portfolio view of local markets.
It's similar for many other companies, such as the tech startups every city seems to be focusing on. These are attractive to a great extent because they can thrive in downtowns of cities where the majority of the urban fabric is struggling because they don't consume much in the way of services, have a live and let live ethos that has historically been disconnected from and indifferent to government (and so won't upset the cronies' apple cart), and sell to a national or global marketplace in most cases.
Interestingly, one place where it seems like the structure of local real estate helps the city is New York City. My understanding is that there are still quite a few local power players whose personal fortunes are deeply tied to the value of Manhattan real estate. Certainly local developers sometimes receive eminent domain assists and such, but the volume of activity necessary to support the real estate industry that is still very key to the city's viability can only come from genuine market demand. When you combine this with the fact that there aren't good substitutes for New York, this suggests at least a significant segment of its elite will be highly motivated to see it navigate the formidable fiscal and other challenges it faces.
Most other places aren't so lucky. Once this type of system gets established it is difficult to uproot, and it acts like kryptonite to outside investors who know they will be operating at a severe disadvantage versus the cronies. That's why out of town bidders have been taking a pass on bidding on the I-195 land in Providence, for example.
Commercial real-estate developer Richard Miller, of The Pegasus Group, visited Rhode Island in 2011 and again this spring; he liked what he saw enough to pick a potential parcel on the western side of the river near Chestnut Street. But in the end, his team chose not to submit a proposal to the Route 195 Redevelopment District Commission, which controls about 40 acres in the heart of the city, 20 of which are available for development … "I don't want to get snookered in here where all of a sudden they start hitting you up with fees and you put a bid in and you start meeting with politicians, and the more you invest in the town, the more you're in the game, and I didn't get the sense that they want you to make a fair return in the town." … In other cities, such as New York, he says that there "is a very clear policy about new development. And it's not subject to a political process in order for you to make a project work. Either you abide by the rules and make a buck or you don't."
I'm sure you could tell a similar tale in many cities. As someone once told me, "Political risk is the only risk in real estate development, if you know what you are doing." Many cities today are nothing but political risk for anybody but cronies, which is one why there's so little market interest in developing there. But don't worry. Your friendly local campaign donors and insiders will be there to help "prime the pump" – with a little assist from the taxpayer of course.
Pete Saunders once recounted his family's prescient observation about Detroit that it "would not rebound until all value was extracted out of it." This is the process we sadly see unfolding in many post-industrial cities.
* If you require evidence just ask how many urban core real estate projects in your city have been done without subsidies to political donors.
Thursday, August 14th, 2014
New Life Church Worship Center, Colorado Springs, Colorado. Photo: myamericanodyssey.com
Visit a city in Europe or even an older American town and see that the church building is often one of the most prominent and architecturally distinguished buildings there. Yet today your typical new Protestant church building, say a suburban mega-church, is dreadful. Why is that?
When speaking at the conference where I talked about suburban sacred space, I ran into architect Duncan Stroik, a professor of architecture of Notre Dame and someone you turn to when you want to build a church that looks like a church. His book on the subject of church architecture is "The Church Building as a Sacred Place: Beauty, Transcendence, and the Eternal," which you can learn more about in the review of it in City Journal.
Stroik is also the editor of a semi-annual magazine called Sacred Architecture. Unsurprisingly, its emphasis is on Roman Catholic architecture, but other traditions are included as well. After an invigorating discussion on the topic, I agreed to write an article about the Protestant church architecture question, which is now online in the most recent issue. Called "Erasing Distinctions," it looks at eight theological trends in contemporary Evangelical Protestantism that tend towards placing a low value on architecture. Here is an excerpt:
1. Low view of the church and place. The Roman Catholic tradition emphasizes the big-C Church—the one, holy, catholic, and apostolic Church of the creeds—with the local church as a mostly standardized operating subsidiary. By contrast, most Protestants emphasize the small-c church, their local congregation. This is truer than ever, as demonstrated by the rise of non-denominational churches.

This produces a system with no theology of place. Protestants feel a sense of duty to the place and community where they personally live. But if the majority of church members move, say, from the city to the suburbs, then a new church building can be constructed, the old building sold, and the duty transferred to the new place where the members now reside. The original building only served a pragmatic purpose as meetinghouse for the members.

The Roman Catholic Church views its remit as covering the entire globe. So when there is population change in a locale, the church is not relieved of responsibility for it. The church building is an outpost of Christianity in a particular place (the parish concept), not just to a group of people. In short, Protestants see place as ephemeral, while Roman Catholics see it as permanent.
You can click through to read the whole thing.
Tuesday, August 12th, 2014
[ Today architect Julien Meyrat looks at why modern architecture, even when excellent and profound, so often fails to engage with Catholics when used for their churches - Aaron. ]
La Tourette Monastery by Le Corbusier in Eveux, France
Inspired by a recent visit to a Le Corbusier-designed Dominican monastery near the French city of Lyon, I've been thinking a lot about the interaction between Catholicism and modernist aesthetics. It has little to do with whether the Church affects what designers create beyond filling the program. Instead, I've tried to examine how the architect's religion influences the Church's own self-image. I've concluded that the Church, an institution that has been the guardian tradition and the patron artistic and architectural development in the West for almost two millennia, never could reconcile itself comfortably with Modernism.
I was reminded of this when I shared with my brother news on the opening of a new convent and Visitor Center buried into the hill on which sits Le Corbusier's famous Notre Dame-du-Haut Chapel at Ronchamp. The convent was but the latest creation of the contemporary master Renzo Piano, featuring architect's trademark manipulation of natural light, spatial simplicity, open views of nature and elegant detailing. My brother seemed to shrug at these qualities, writing:
Seems more like a fish tank with Ikea finishes than a cloister. I know natural light, rectangles, and windows are nice, but its openness and simplicity feel like some vapid unbearable lightness than a place of spiritual reflection. Zen monks might appreciate it more.
I replied that he seemed to have a very narrow idea of what constitutes a proper place for spiritual reflection, and that lightness and simplicity had a place Catholic doctrine. I referred to him to a series of pictures I had taken of Le Corbusier's monastery, wondering what he thought of his more 'Brutal' approach. My brother elaborated:
Ugh, these architects have no god. That thing (by Corbu) is hideous. Look, meditation takes place in the mind, but more in the soul. Christianity places the priority on man's soul transcending his surroundings, not blending with it (a la Zen). Man is large, not small. Churches should be ornamented and highly symbolic, teeming with life, not stark and barren. It all has to do with Being not Nonbeing. The church is a foundation, it's heavy, it imitates the eternal. It's not some flimsy plates of glass and concrete garnished with random primary colors here and there.
Bedroom of Convent by Renzo Piano Workshop at Ronchamp, France
Though there are indeed gaps in his argument that can be exploited, I think his overall opinion is respectable and shared by many of the Catholic faithful who possess a sophisticated understanding of their beliefs and how to translate them into sacred art. Often such views completely contrast from many members of the clergy, who have more of an interest in revitalizing the church by embracing contemporary artistic trends than by responding to wishes of their flock. The Dominican monastic order prizes scholasticism above all else, and finds it fully consistent to hire a leader at the forefront of architectural progress like Le Corbusier. The nuns were probably thinking along the same lines, wondering less about how sacred life can transform architecture, but rather how architecture can transform sacred life.
Outside a few rare examples such as Ronchamp, I sense that Modernism has failed to deliver an architecture that connects with most Catholics and other traditional Christians. Much of this has to do with fact that Modernism as a cultural movement is inherently atheistic as it is based on a secular materialist philosophy. Even Renzo Piano admits as much, describing his client from the convent: "She has a profound love of architecture, of landscape, of sacred space – and even of people without religion, like me. She wanted a place of silence and prayer. I said: 'I can't help you with prayer, but perhaps I can help with silence and a little joy."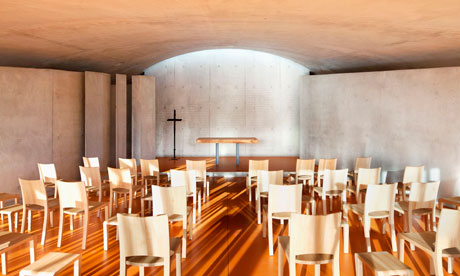 Chapel at Convent by Renzo Piano Workshop, Ronchamp, France
And therein lies the crux of the problem: When one has done away with symbols, theology, and the act of worship, there's little else to inspire a credible work of sacred art or architecture. Piano, like any committed Modernist, is left with little more than a preference for abstraction, technology and some vague nostrums about nature and space. For a Modernist, the point of architecture is to convey an image of maximum clarity, in which all elements are related by function and little else. As long as a space is adequately sheltered and functions for the use of its occupants, there is no need for decorative flourish. Piano is reduced to checking off boxes for the client's wish list, from the number of rooms, to furnishings, and to achieving a quality of 'silence'. There's nothing all that particular about an architecture of silence–maybe a dark room secluded from more socially active spaces. Given the right palette of materials and details, any space can be turned into something contemplative. But can this generic approach to design evoke much meaning beyond mere emotional states such as peace?
Sacred spaces achieve much of its effect by emphasizing mystery. This is at the core of any religion, in which divine truth is revealed beyond any logical or rational framework. As is often said, God is revealed in mysterious ways, and the purpose of any sacred space is to embody this reality. It is inherent that a secular space is completely counter to this and thus adopts an architectural language devoid of mystery or even ambiguity. Secular spaces instead embrace the language of the engineer, someone who works outside the world of art, poetry, and indeed of mystery, by solving problems with the most rational tools of math and science. There is a lot of work that goes into making successful settings for secular activities, much of it having to do with the science of building, such as lighting, acoustics, and visibility. There is also a tendency for generating phenomenological effect through technology, such as making walls highly transparent or reflective, surfaces either smooth or deliberately rough. To the Modernist who puts its faith in technological progress, the more an effect can exceed what can be done by the human hand, the better.
La Tourette Monastery by Le Corbusier, Eveux, France
Such attention to a material's effects point to Modernism's essentially materialist philosophy on architecture. In sacred architecture, the building and the spaces within serve to connect users to a deeper reality that transcends its walls. They function as a gateway from the material world to a spiritual realm–the focus is on the eternal, not the object that portends to represent it. In a secular context like Modernism, the object is the thing itself, and all meaning is tied directly to that object. Walking into a exemplary Modernist space, one is supposed to marvel at its lightness, smoothness and simplicity, attributes that are commonly summarized as 'machine-like'. If one desires a more 'humanist' look and feel, the designer can instill a quality of 'roughness' by texturizing concrete, oxidizing steel, and inserting warmth by using natural materials such as wood and stone. Industrialization gives us that much more control to generate a precise effect, and empowers the designers unlimited opportunities in experimenting. At the same time, it diminishes the role of the craftsman, who throughout most of human history was the guardian in generating material effects, and in many ways assumed the role of architectural detailing. Machines take the human factor out of the art of making, thus producing something devoid of passion, feeling that imbues every man-made object.
Piano singles himself better than most of his contemporaries by his ability to reinsert the human touch in his design process. His architectural details are truly works of art and are usually the result of a distinct craftsman-like approach in generating them. The name of his firm, The Renzo Piano Workshop, harkens back to the time when architecture was realized by stone masons, who would accumulate specialized design knowledge in the development of style details and templates. Where Piano departs is the end result of his craftsman-like approach: highly refined, ultra-precise, machine-polished building systems and parts. The structural connections in his projects are beautiful and poetic pieces of engineering, much like Apple products, but like most industrial artifacts, they cannot express the ancient, primordial aspects of our humanity. Is that necessary to fully immerse oneself the Catholic experience?
I believe so. A fundamental assumption in Catholicism is that history is linear and that God was incarnated in the human form of Jesus Christ at a precise point in history to the point that the period before and after this event are neatly divided (BC vs. AD). Its doctrines and liturgy are part of an evolutionary process that have taken place in the world for two thousand years, and followers actively partake in this history by participating in the mass. For most Catholics, weekly mass is the only time that they are reminded that they are tied to humanity in throughout the ages, both in the past and the future. This goes against 'modernity', or the idea that the times are so new and different that prior truths or solutions are irrelevant. In Christianity, Truth is eternal, and the problems that afflict humanity are no different during the time of Christ than they do now. There is no 'new and improved'. Rather, the ideal was was established two-thousand years ago (the life of Christ) and no amount of social or technological advance (or regression) can change this.
View of Crypt inside the La Tourette Monastery by Le Corbusier
In addition, Christianity relies on communicating its ideas through allegories conveyed verbally in the Bible, musically in its music and visually illustrated in its art and architecture. These are designed to make the message accessible to all people, as opposed to keeping revelations close to a self-selected elite. The message has to be clear, the context must be provided and the characters believable. Visually, this requires the use of lines and recognizable figures placed in a narrative relationship. These demands don't lend themselves well to abstraction, the modus operandi of the Modernist. Abstraction is by nature open to individual interpretation; Christian revelation is not. Abstraction is deliberately exercised by an individual, driven by their own desire to create original content; Christian subjects and themes are the content, with the artist sharing his visceral imaginings of truths he does not question (like most European art before the 19th Century).
This probably explains why many Catholics feel a certain frustration with the role played by modern music, art and design in today's church. The music uses irregular folk beats, vulgar melodies and harmonies, and seem composed to bring attention to the songs themselves rather than acquainting singers to a more transcendent reality. In contemporary Christian art, Christ is portrayed as a non-descript figure, and often times and rendered in an abstracted archaic style that is flat and lacks feeling. The cross is abstracted to emphasize its iconic nature as a symbol, detached from any literal representation of what actually happened on the cross. In most modern churches, seating is arranged as a theater in the round, focusing the parishioners' attention to the the priest, or the choir, rather than to God as manifested in an elaborately decorated apse wall or a ceiling pointed to heaven. This was vividly brought to my attention when watching the broadcast of Christmas mass from the Vatican–most of the camera shots showed details of the sanctuary's glorious interior and symbolic art, with the occasional view of the Pope. Catholic worship is not about the mere men (priests) who help conduct its rituals but is instead is about how God is revealed in them by means of humanity's most outward expression of what lies within its soul: Art. When there is nothing meaningful or moving to look at, one is resigned to paying attention to a charismatic individual standing on a stage, transcendent beauty is loss, and the Christian message takes on a banal delivery.
Chapelle Notre Dame du Haut by Le Corbusier, Ronchamp, France
Architects, a growing number of whom fall into agnosticism and atheism, often seem to forget this when visiting sacred yet Modern masterpieces. Just because Le Corbusier's Ronchamp chapel makes some of my colleagues cry doesn't mean it fulfills its ecclesiastical responsibilities particularly well. They are likely overwhelmed by the chapel's poetic mastery of form and light and how it provokes a profound yet undefinable emotional response. I succumbed to this response myself when I went to Ronchamp as well when I toured Le Corbusier's monastery of La Tourette. I was taken aback by his buildings' abstract forms, its play with light, its vivid use of color, its sophisticated relationship to its site. In the end, I didn't develop a more profound appreciation of Christian revelation, but a greater respect for mathematical proportion, abstract formal metaphors, primary colors and geometries–transcendent things nonetheless, but a bit too esoteric for most people. La Tourette was clearly a more regulated composition compared to Ronchamp, which is probably why is probably why the latter provokes a more emotional response. In a sense, the chapel is Le Corbusier at his least 'modern' and more archaic, while his monastery is likely intended to feel more academicized due to that typology's tradition of being repositories for knowledge. Ronchamp's form sweeps up to heaven, its dark sanctuary enclosed in thick walls reminds one of a cave evocative of early Christianity, while its rounded towers mimick Mary in her veil, sheltering the church below. Though these moves aren't literal, there is just enough reference to the symbols and ideas of Catholic church that make this more approachable to average followers.
Church on the Water by Tadao Ando, Tomamu, Japan
This isn't to suggest that modern architecture can't achieve successful spaces for spriritual contemplation. Tadao Ando's Church by the Water is especially powerful, manipulating natural light and framing views that heightens the senses and fuses nature into the act of worship. The church is stripped of traditional Christian decoration, illustrations of bibical stories or saints, or any other reference to the history of the church. It works for those who wish to understand God through nature's primal elements and how they change through the passage of time. There is a sense of ignoring the human presence altogether, as it invites one to blend into the natural surrounding (as my brother's comment on zen indicates), which may work in more minimalist strains of Christianity and even Catholicism, but will leave many believers hungering for a place rich in narrative objects and a more fully enclosed communal response among people. There is no altar to focus on, only a highly abstracted cross standing in a reflecting pond, which could have all sorts of meanings, but not one that concentrates the mind of the believer on Christ and his passion.
A truly inspiring space that uses a modern architectural language for catholic worship is extremely difficult to find. While many architects simply choose to employ a historicist style for even newest churches, it is possible to address the particular characteristics of a catholic church while maintaining a modernist sensibility. I submit a Cistercian chapel located not far from where I live in Irving outside of Dallas designed by Gary Cunningham. Long an admired designer in the area, Cunningham's work can be characterized as simple, straight-forward, and sensitive to materials. His award-winning residences follow a rather conventional contemporary style but he also is very accomplished in the art of adaptive reuse, in which he repurposes an existing building by carefully juxtaposing old and new elements. This consciousness of how time plays a role in the way a building expresses itself is strongly manifested in the Cistercian chapel. The space is enclosed in rough quaried limestone, cut in massive blocks and stacked in traditional running bond, which instantly strikes any visitor as reminiscent of the Catholic church's earliest Romanesque sanctuaries with their thick walls and small windows. Its wood roof floating above the nave takes the shape of a traditional ceilings found in these churches, while also resembling the underside of a ship (which is where the word 'nave' comes from). Spans are short, further emphasizing the weight of the stone, even as they maintain familiar rhythm suggestive of the old ambulatory aisles with the repetitive row of vertical windows. It follows more of a classic basilica typology than the popular theatre-in-the round, which indicates a desire to focus on the liturgy as opposed to the priest. But more than merely echoing the churches of the past, this chapel appears as a direct architectural metaphor for the creation of the church itself: "And I say also unto thee, That thou art Peter, and upon this rock I will build my church…(Matthew 16:18)" While obviously an abstract design, Cunningham manages to endow the chapel with an important phrase from the Gospel and thus Christian revelation. Sleek details and delicate connections between the roof and walls betray its contemporary origins, but the way it highlights the split-faced texture of the rock wed the chapel to the church's long institutional history, and the countless number of people who dedicated their lives in building structures fitting to God's glory.
Cistercian Chapel by Gary Cunningham, Irving, Texas
And that, to me, is what is necessary for a compelling Catholic worship space–a connection not only with the divine, but just as importantly with an institution comprised of people throughout the ages. Its walls should reveal human intent, either through a man-made texture or through an ornament that is the work of genuine human input. Machine-smooth de-personalizes this experience. As any human institution that is an essential part of catholic identity, it carries a rich artistic and architectural heritage that brings with it a kind of unassailable authority not found in Protestantism, which devalues the human institution in favor of interpreting directly from the Bible. The result of of relying on scripture, however justifiable from a theological standpoint, seems to lead towards a breaking down of a rich visual language and an embrace for abstraction. A small cultural vacuum subsequently takes root, which grows to consume what's left of symbols, music, and eventually the walls. The ultimate result is either a television studio black-box with no windows preferred by evangelicals or a zen-like meditation space with no walls and a subtle symbolic indication that it's even Christian (such as Ando's church).
I'm sure that Piano's and Le Corbusier's clerical clients were pleased with the result, and fans of high-design with no opinion on proper Catholic aesthetics are moved by their examples, too. But I wonder if these exercises in abstraction, lightness, and trying to stay relevant in fast-changing contemporary culture win much in the way of converts. People who seek the church want their souls nourished by the church's message in as many forms as possible. When many of these forms are abstracted or simplified to an incomprehensible level, it leaves such people feeling unfulfilled, and causes many of them to leave the church for a place that offer a richer, more visually arresting environment of the older historic sanctuaries. At least these modern ecclesiastical masterpieces continue to open their arms to the perennial pilgrimage of people most interested in them: architecture students.
Sunday, August 10th, 2014
[ I'm doing a three part mini-series this week on sacred space and architecture. I start off today with one I wrote last year based on remarks I have at a conference in Anaheim - Aaron. ]
This post originally appeared in New Geography on June 7, 2013.
Suburbs are often unfairly maligned as lacking the qualities that make cities great. But one place that criticism can be fair is in the area of sacred space. There most certainly is sacred space in the suburbs, but usually less of it than in the city both quantitatively and qualitatively. In fact, the comparative lack of sacred space is one of the distinguishing characteristics of the suburb that makes it "sub" urban, that is, in a sense lesser than the city.
Lewis Mumford put it this way:
Behind the wall of the city life rested on a common foundation, set as deep as the universe itself: the city was nothing less than the home of a powerful god. The architectural and sculptural symbols that made this fact visible lifted the city far above the village or country town….To be a resident of the city was to have a place in man's true home, the great cosmos itself.
Mumford was onto something here in positing how great temples and such distinguished the city as unique.
What Is Sacred Space?
Mumford also hints at what makes something truly sacred space. We should clearly distinguish between what is merely public space and truly sacred space. The key to sacred space is the linkage to the transcendent. That is, sacred space connects us to something beyond or bigger than our surroundings, our present existence, and even ourselves.
Here are three ways sacred space can do that. It can:
Connect us to a larger spiritual or religious reality, as in our Mumford example. This is the most obvious case.
Serve as a locus or repository of the culture and traditions of a people.
Be a temporal connection between the present and the past and/or the future.
As one example, consider the Indiana World War Memorial in downtown Indianapolis.
This building is of course a symbol of the bedrock American values of that community and the willingness of its people to die to defend them yesterday, today, and tomorrow. Thus it is both a cultural repository and a temporal linkage.
Also note the use of neoclassicism. The use of neoclassical architecture anchors Indianapolis and Indiana firmly within the 2,500 year history of Western Civilization, as a link in a chain of peoples connected by shared, timeless values and extending backwards and forward throughout time, thus achieving a sort of immortality. This building is a statement of the permanence of this community, its people, and their values.
We can also think of a radically different space such as Times Square, and how it has played host to so many civic celebrations and traditions over the years such that it has become not just a local but a national repository of our culture. The ball dropping on New Year's Eve is an obvious example. But consider also this iconic photo.
This is one of the most famous pictures from the war era and I don't think it's any surprise it was taken Times Square.
How Suburbs Are Comparatively Lacking in Sacred Space
Let's apply the definition of sacred space to the suburbs. Yes, suburbs do have war memorials and culture and traditions and churches, but in general these are qualitatively different from what is found in the city core. Here are three reasons why.
1. Suburban traditions and spaces are often ephemeral and generational. When I was in high school, everybody liked to go to a place called Down Home Pizza in Corydon on the weekends. And that was something kids from every high school in the area did, not just those from mine. Today that place is long gone. And the kids are doing something else, whatever that may be. In fact, it's amazing how many of the places and traditions from my high school days are already gone after only 25 years because of physical and economic changes in the community such as restaurants and stores going out of business.
This happens in the city too, like when the department stores went under, taking their white-gloved tea rituals and the like with them. But to a much greater extent than the city, suburbs rely on commercial establishments as focal points of shared experience, and by their very nature those tend to come and go. And suburbs have not to nearly as a great a degree established truly trans-generation rituals and spaces.
2. Lack of transcendent scale. This is also something Mumford hints at. The "human scale" is a big buzzword in urbanism today. Contrary to what many say, the suburbs actually do a pretty good job of the human scale, especially from an automobile era perspective. But a unique essence of urbanity and often of transcendent experience itself is what we might call the "anti-human scale." British writer Will Wiles put it this way:
The "human scale" only tells part of the story of the city – after all, this can be found in villages and small towns. All cities need sublimity, a touch of holy terror, a defiance of human scale that asserts connection to the greater urban whole.
The sheer scale of something like the Indiana War Memorial, which is a very imposing structure inside and out, renders it qualitatively different that your average small scale suburban memorial. This is true not just physically but also in terms of the humanity represented. That memorial stands for an entire state, not just a single town. Which is the same reason there may be more suburban school kids who have visited their state capital or the US Capitol than their local village hall. There's a reason the US Capitol and Lincoln Memorial and such have such powerful resonance. They represent an entire nation and a vast sea of humanity. Cities also participate in this scale effect.
3. Low quality religious architecture. When it comes to the most obvious category of sacred space, the religious building, the suburbs also fall flat. That's because Protestant Christianity, the largest suburban religious strain, has itself become unmoored from the transcendent. This is clear, for example, from the rise of what has been dubbed "Moralistic Therapeutic Deism" as a dominant worldview, especially among the young.
The average suburban megachurch is an architectural horror show. The best of them generally rise to the level of an upscale corporate conference center. The worst are like "That 70's High School".
Someone once said that all sin results from failing to believe one of the "4 G's" about God, namely, God is great, God is good, God is gracious, and God is glorious. Applying that to religious life generally, in modern Evangelical churches, God may be very good and gracious, but He's doesn't seem all that great, and He's certainly not very glorious. This is religion that can inspire good works, but not great ones. There's no trace of the overwhelming glory of God in nearly any of these structures. There's no longer a faith like the Lutheranism of Johann Sebastian Bach that can inspire the greatest works of human artistic achievement. Because modern suburban church architecture is so poor and so disposable, it diminishes the impact of sacredness in the space.
The recent stories about the sale of Orange County's Crystal Cathedral, designed by Philip Johnson, brings to mind an exception that proves the rule.
Unsurprisingly it was the Catholic Church that bought it. Unlike Protestantism, Catholicism has always had a theology of place. And they've always used architecture and art as a way of telling the story of the gospel. Though obviously not in this case, they've also used Gothic sort of like neoclassical architecture as a way creating a sense of permanence and linkage to an everlasting, eternal church.
So sacred space is one area where the suburbs really are deficient versus the city. But how important is this? Metropolitan areas today are mosaics. In an ever more complex and competitive global economy, every part of a region, city and suburb, needs to know its role on the team and bring it's A-game. Just as there's no need for every job to be located downtown, there's no need for every major piece of sacred space in a region to be replicated in every suburb. Downtown does just nicely. However, this is one reason that while economically the core may no longer dominate a region, a healthy center still plays a key role in overall regional vitality. That's because it remains home to things like the major pieces of sacred space such as war memorials and cathedrals that bind a region together and give it civilizational permanence, meaning, and purpose beyond the mundane.
This article was adapted from remarks at the No Place Like Home conference on June 3, 2013 in Anaheim, CA.
Thursday, July 24th, 2014
I'm always amazed at the low degree of self-awareness many of those who complain about gentrification have about their own role as gentrifiers. Back in 2013 John Joe Schlichtman and Jason Patch took this on with an paper that appeared in the International Journal of Urban and Regional Research called "Gentrifier? Who, Me? Interrogating the Gentrifier in the Mirror." The full piece is available for download at Schlichtman's site.
As they put it:
At the 2009 RC-21 conference in São Paulo, a young scholar began her presentation with the premise 'we all know that gentrification is bad'. Urban scholars rail against the process of gentrification and its destruction of working-class communities. We read about the waves of gentrifiers and the kinds of cafes, boutiques and new amenities that they bring. We express worry to our peers that the city is going to become a bastion of elitism or a generic suburb stripped of diversity. Often, we treat gentrification as a contemporary form of urban class and racial warfare (Smith, 1996). As urbanists, however, we increasingly notice an elephant sitting in the academic corner: many (dare we say most — 'mainstream' and critical) urbanists are gentrifiers themselves. As Brown-Saracino (2010: 356) suggests, 'many of us have firsthand experience with gentrification'. But what difference has this made on our research? Very little. We have created an artificial distance in our analysis because we do not examine our own relationship to the data. The last few years have witnessed lively debates among urbanists on the topic of gentrification. Some of these debates have seemed quite personal. The truth is that those of us situated in the phenomenon of gentrification carry suppositions on the issue that are deeply rooted in our personal biographies.
Their approach to this is to start with themselves, and provide an overview of their "journey lines" and how their own lives and academic careers interact with gentrification. Included is an overview of some of the forces that they see driving decisions that ultimately produce gentrification. It's worth a read. Here's a brief excerpt from Schlichtman's story:
Over the last 15 years, I have lived in three clearly-gentrifying neighborhoods. In all three gentrifying neighborhoods, as with four other residences that I will not discuss, an economic pull has been a key impetus in my residential decision. In Fort Greene, Brooklyn, in 1998, I rented a $500/month room in a subdivided brownstone of single rooms with kitchenettes where residents on each floor shared a bathroom. In Bedford-Stuyvesant, Brooklyn, from 2006 to 2007, my wife (who grew up in the neighborhood) and I rented an $800/month apartment on the top floor of my in-laws' brownstone. In 2009, my wife and I purchased a home in Golden Hill, San Diego. At this writing, we are in the process of a move to Chicago.

In Fort Greene and Bedford-Stuyvesant, I feel that I was an unwitting gentrifier. I use the term 'unwitting gentrifier' to express the fact that I chose to live in these two neighborhoods for economic and practical reasons alone, two considerations that play into every voluntary re-location choice made by any consumer. I moved to New York for graduate school in the late 1990s and lived at Long Island University in downtown Brooklyn (although I attended New York University) because it was the most inexpensive housing arrangement available.
Unlike a lot of academic papers, this one is written in plain English, so don't be afraid to read the whole thing.
Tuesday, July 22nd, 2014
[ Kokomo, Indiana is a small industrial city about an hour north of Indianapolis. It is one of the rare ones whose industry remains largely intact, with two large auto-related plants. This makes them different from the type of community that really has deindustrialized. Yet they fret that those who earn decent incomes in their town too often decide to live in the Indianapolis suburbs. Hence a program to upgrade quality of life in the city. It should be noted that while they've managed to do this without incurring debt, Kokomo arguably benefited more than any city in America outside Detroit from the massive federal auto bailout. Their civic improvements have in a sense been financed by a unique external windfall unavailable to others. Nevertheless, lots of places have received windfalls and spent them poorly. Cities may not be able to control our circumstances, good and bad, but they at least have some control over how they respond to them. This piece from American Dirt takes a look at Kokomo's response. Keep in mind it ran in 2012 and there are likely some anachronisms by now - Aaron. ]
Across the country—but particularly in the heavily industrialized Northeast and Midwest—smaller cities have confronted the grim realities of the unflattering "Rust Belt" moniker, and all of its associated characteristics, with varying degrees of success. With an aging work force, difficulty in retaining college graduates, and a frequently decaying building stock, the challenges they face are formidable. Cites from between 30,000 and 80,000 inhabitants typically boomed due to the exponential growth of a single industry, and, in many cases, the bulwark of that industry left the municipality nearly a half century ago, for a location (possibly international) where the cost of doing business is much cheaper. Essentially, everything the smaller Rust Belt cities had to offer is completely tradable in a globalized market; the resources that provided the town's life blood are either depleted or are simply to expensive to cultivate further.
Reinvention is the only condition likely to save many of these cities from persistent economic contraction, but, with an overabundance of retirees and older workers, these towns lack the collective civic will that could be expected in larger communities with more diversified economies. An absence of young people intensifies (and, to a certain extent, justifies) the low level of civic investment in one's own community; after all, if a resident is six months from retirement, how likely is it that he or she would support public investments intended to improve quality of life for twenty or thirty years into the future? For that matter, how likely will a population of retirees remain engaged to encourage or challenge major private sector investments as well?
By no means am I intending to denigrate needs and ambitions of the senior population; I'm merely observing that a stagnant Rust Belt city with this demographic profile will demonstrate vastly different priorities from a city rife with young families. While every Rust Belt city large and small must avoid obsolescence that results from the spoils of globalization, the smaller cities—which have tended to be dominated in the past by a single thriving industry—are less likely to claim alternative sectors and labor pools if their primary manufacturing lifeblood fails. A dying city of 80,000 may not exert the same impact within a region (particularly in the densely populated Midwest and Northeast) that a city of 500,000 would, but it is far more of black eye for the state than a town of 2,000 that has lost its raison d'être. This conclusion is obvious. Many of these small cities must reordering of their economies comprehensively; while the state, the county, or private foundations may offer some outside help, the constituents of these cities themselves are typically the best equipped to understand how their city should evolve. Unfortunately, many of these communities aren't yet even aware of the need for this reinvention, let alone which avenue to pursue in order to achieve it.
It is with no small amount of reassurance that I can assert that Kokomo, Indiana is not one of these latter cities.
No Rust Belt complacency on display here in the City of Firsts. Though as recently as 2008 it was on Forbes' list of America's Fastest Dying Towns, a recent visit shows much more evidence than I've seen of some comparably sized cities in the region that the civic culture is neither resting on its laurels nor wringing its hands about how much better things used to be. In fact, one of the Indianapolis Star's leading editorialists, Erika Smith, recently visited the city, and, after receiving a tour from the Mayor, was pleasantly surprised by how proactive it has been in implementing precisely the type of quality-of-life initiatives largely perceived as necessary to help a historically blue-collar city stave off a brain drain or descend into irrelevancy.
I, too, recently received the Kokomo tour, followed by a meeting with Mayor Greg Goodnight, and I can also recognize some of the city's most impressive achievements at shaking off the post-industrial malaise that saddled the city with double-digit unemployment rates as recently as a few years ago. Since then, the city has introduced a trolley system at no charge to users; prior to this initiative, the city had had no mass transit for decades. The Mayor pushed successfully to annex 11 square miles in the town's periphery, therefore elevating the population by about 10,000 people. The Mayor's team worked to convert all one-way streets in Kokomo's downtown to two-ways, recognizing that accommodating high-speed automobile traffic in a pedestrian-oriented environment only detracts from the appeal. The team has restriped several miles of urban streets to incorporate bike lanes, and it has converted a segment of an abandoned rail line into a rail-with-trail path, branding it by linking it to the city's industrial heritage. They have deflected graffiti from several bridges and buildings through an expansive and growing mural project. They have upgraded the riverfront park with an amphitheatre and recreational path. They have introduced several sculptural installations, the most prominent of which is the KokoMantis, a giant praying mantis made entirely of repurposed metal and funded privately. And my personal favorite: with the support of the City, the school superintendent has integrated a prestigious International Baccalaureate (IB) program to the public school system, including an international exchange program for young men from several foreign countries (a girls' program should arrive in the next year or two) who live in a recently restored historic structure in Kokomo's walkable downtown, attending demanding courses that bolster their chances of admittance in a coveted American university. Most impressively, the City of Kokomo has achieved all of this without incurring any public debt in the past year.
Obviously the individuals offering me this tour are going to make sure their Cinderella is fully dressed for the ball, and I recognize that not a small amount of the securing of certain infrastructural projects and transportation enhancement grants requires a political savvy that the current civic leadership has in abundance. And I don't want to rehash Ms. Smith's article, which more than effectively chronicles this approach at a macro level. In addition, Erika Smith recognizes, as do I, that very few of these initiatives (the IB foreign exchange program notwithstanding) are really particularly earth-shattering. But when most other similarly sized cities in the Midwest seem to be engaged in a race to the bottom, luring new industry through generous tax breaks (often initiated at the state level), Kokomo seems to recognize that a town lacking any amenities outside of low cost of living has to compete with dozens of other cities in Ohio and Michigan and Pennsylvania, and elsewhere in Indiana, that offer the exact same brand. Whether this investment yields a long-term return remains to be seen, but it certainly demonstrates the right gestures necessary to instill civic stewardship in a place whose decades of job loss have seriously scratched its mirror of self-examination.
What ultimately struck me about Kokomo—which Erika Smith only touched upon—was the level of design sophistication evident in some of these civic projects. I need only focus on a single location in the city, in which two particularly laudatory techniques are on display. At the intersection of Markland Avenue and Main Street, just south of downtown, the Industrial Heritage Trail begins its journey southward. Here's a view as the trail terminates at its junction with those two streets, looking northwestward:
Here is a view in the other direction:
Continuing a bit further in this direction, one encounters this painted wall:
And, pivoting slightly to the left, another mural that is still in progress:
This photo series identifies two amenities that stand out for the astute decision-making that apparently took place during the implementation. The Industrial Heritage Trail clearly operates in a railway corridor, but it is not a rail-trail. Unlike the more common rail-trail conversion, this Kokomo trail did not incorporate the removal of the original rail infrastructure. The Rails to Trails Conservancy would label this approach a rail-with-trail, indicating that the trail shares the railway easement, typically separated by fencing. Rail-trails such as the Monon Trail in metro Indianapolis are still the more common practice. However, a growing number of communities are embracing rail-with-trails, not only because they obviate the need for costly removal of rails, ties, and ballast, but they reserve the rail infrastructure for the possibility that a railroad company may reactivate the line in the future. If the sponsors of Kokomo's Industrial Heritage Trail had removed the infrastructure, the possibility of ever reintroducing rail along the corridor would be virtually nil. As it stands, the only conceivable disadvantage to rail-with-trails is that, in the event a rail company reintroduces train service, its close proximity to the path may prove hazardous to bicyclists or pedestrians. Otherwise, the decision to retain the railway not only helped to diversify options, it most likely saved a considerable amount of money.
The other smart decision was the site selection for those murals. The ones featured in the photos above are part of a growing mural campaign that the City of Kokomo introduced, and every one that I recall shows real foresight in the locational decisions. What makes them so good? The murals in the photos above front a public right-of-way, minimizing if not completely precluding the chance that later development will conceal them. I blogged a few years ago about an excellent mural in Indianapolis that showed wonderful care and craft in the entire implementation process…except where the conceivers chose to locate it. Not only did they paint on a cheap, cinder-block building that will likely tumble down if market pressures encourage new development in the neighborhood, but the mural also faces a vacant lot which is large enough to host a new structure that would block it completely, no doubt frustrating the community and pitting them against a developer.
Compare this to Kokomo's murals. Here's one a little further south on the Industrial Heritage Trail:
Again, it fronts the trail itself—not a chance that a developer will try to block it. And here's another along a bridge underpass for the recently completed trail along the Wildcat Creek:
The original intention of the mural was to repel vandals at spot that previously suffered from it frequently; this approach has proven successful in locations across the country. But it also sits in a park along a new greenway, so it should remain in perpetuity. Granted, Indianapolis has plenty of murals along retaining walls and buildings that front the aforementioned Monon Trail. Those, too, should survive far into the future. But in recent years, the City of Indianapolis has encouraged countless murals on the side walls of commercial buildings—sites where a blank wall faces a parking lot, where a building once stood. While these bare walls often scream for some ornamentation to help distract from what used to be there (another adjoining building), in many instances the parking lots will likely fall under increasing development pressure in upcoming years. Will the locals thwart development in order to save the mural? This remains to be seen, and I don't want to base too much of an analysis on speculation. But it's hard to deny that these public art investments seem less astute than the once I witnessed in Kokomo.
One could argue that Kokomo is merely taking advantage of the fact that it is jumping into the game relatively late; it benefits by learning from the mistakes of others. But decisions that stand the test of time also contribute their fair share to foster civic goodwill. Taxpayers are rarely too forgiving of poorly conceived projects, and several successive blunders, no matter how small they may be, demonstrate poor accountability. Only time will determine the return on investment, but Kokomo certainly has a leg up on many of its competing small cities. My suspicion is, if these projects stimulate the discussion and enthusiasm for proactive leadership that they suggest (Mayor Goodnight was re-elected last year by a landslide), the citizens of Kokomo are only beginning to stoke the fire.
This post originally ran in American Dirt on November 16, 2012.
Monday, July 21st, 2014
I was briefly back on the homefront earlier this month to check out the now fully opened Big Four Bridge pedestrian path across the Ohio River in Louisville. While there I spent some time in NuLu, a retail and restaurant district centered on Market St. just east of downtown, and had dinner at a French bistro type place called La Coop. This place focuses on what I'd call the basics – it's not trying to be a super high end kind of place. But I'm not going to lie, the undistinguished frites aside, the meal was spectacular front to back, and my date agreed.
Louisville is known for its many high quality restaurants. I doubt La Coop is tops on many people's list, nor does it aspire to be. Yet preparing to drive back to Indy I was struck that La Coop is better than any restaurant in Indianapolis. My meal at La Coop was probably better than any one I'd had in Indy since L'Explorateur closed in 2009. And that's a not uncommon occurrence when dining in Louisville. What's more, La Coop was bustling by 8pm on a Tuesday night. While tables were certainly available, you can't assume you can just walk in to a top restaurant there without a reservation, even on a weeknight.
Louisville clearly values fine dining in a way that Indianapolis doesn't. Metro Indy is larger, better educated, richer, and much less provincial. Given that amenities generally fall along a size-wealth slope, by default you'd think Indy would do better on the restaurant front. But it doesn't. Why is this?
Louisville clearly punches above its weight on restaurants. Part of this is due to the presence of a major culinary school. But that doesn't explain the demand side of the equation. What does?
I see this as resulting at least in part from a cultural divide between the Midwest and the South, which seems to fall somewhere between these two cities. I argue the stronger aristocratic heritage of the South creates the conditions in which excellence is encouraged (or at least respected), versus the leveling democratic social state of the Midwest that anathematizes any distinctions between high and low and thus creates a climate in which excellence is disparaged (or distrusted at best).
Tocqueville is of course the best writer on the differences between aristocracy and democracy. Of aristocratic heritage himself, he recognized the overall superiority of the democratic state in uplifting the common man. The average condition in a democratic social state he would note, is higher than that of an aristocracy. He also saw clearly the many flaws of the aristocratic state. Yet he also realized that with the passing of aristocracy, things would be lost, especially in the realm of fine arts and refinement more broadly construed.
Tocqueville (among others) noted that the South was the most aristocratic region of the United States. That doesn't mean he approved. In fact, he was not a fan of the US South, and wrote of its many manifest flaws, including the injustice of slavery and the many pernicious effects it had on the character of whites as well.
One of traits of aristocracy that seems to remain present in the South is the existence and embrace of an aristocratic class or caste. In many cases this is family based, such that, for example, you could never become fully part of the elite of Charleston as an outsider no matter how much money, talent, or class you have. But carpetbaggers and the nouveau riche are able to assimilate to some degree.
As with a feudal landholding, this aristocratic class exists as part of an integrated system with the lower classes. Thus the lower classes not only recognize the rights of aristocratic class to homage and such, the elites can even be a source of pride to ordinary residents of the community.
In this system, the upper class can cultivate high end tastes without incurring the opprobrium of the community. They are literally a class apart and are expected to depart from the average resident in terms of tastes and manners.
We see this clearly in the case of the so-called "Millionaire's Row" at the Kentucky Derby. Actually, many Louisville locals never even attend the Kentucky Derby, instead attending the Kentucky Oaks, which is held the day before and is known as the race for the locals. (The Oaks itself attracts over 100,000 attendees). Most of them will certainly never visit the Derby's more elite precincts. Yet, seeing the presence of celebrities and local elites in their finery on TV doesn't produce resentment, but rather pride. The conspicuous consumption and lavish traditions of elite Louisville are something the average resident sees as reflecting well on their community as a whole, and hence to some extent even on themselves.
In terms of how this affects restaurants, Louisville's elite can patronize high quality, high status establishments without shame. There is nothing seen as wrong in the community with them pursuing aristocratic tastes. Again, the high quality of Louisville's restaurants can be a source of pride even to those who don't patronize them. There are, of course, class tensions in Louisville such as the East End-South End divide. But class conflict itself implies multiple classes of people.
The situation is totally different in Indianapolis. In Indiana, the idea of an aristocratic type class would be viewed with hostility. There's a democratic social state norm in which anyone who is viewed as too uppity is seen as having a moral defect. There's only supposed to be one class of people. This has its virtues, but has debilitating effects as well. Take for example the classic line "He might have book learning but he doesn't have any common sense." You literally hear this in Indiana. Admittedly, in my case it may have been true. But the moral system underpinning it clearly explains why education is held in such low regard in the Midwest. It's not just that education as such is viewed as not worth it; the pursuit of education indicates a type of moral deficiency.
So take a look at the traditions of the Indianapolis 500. Obviously US auto racing has a different culture than horse racing. But it still aligns with the social state. The 500 is a classic everyman's type event, with a blue collar ethos, in which actual attendance by locals plays a major role. There are some celebrities of course, but celebrity/elite culture plays a very limited role there in contrast to the Kentucky Derby and certainly than international auto racing such as Formula 1. (The biggest personalities at the 500 are those with a particularly local traditional appeal – like Jim Nabors and Florence Henderson – versus contemporary celebrity star power).
This bleeds through into nearly every aspect of the civic culture in the state. I've long noted that there's no culture of connoisseurship in Indianapolis. This is true for pretty much everything. Restaurants are but one example. While much better on average than they used to be, and certainly not bad by any means, Indy's restaurants don't measure up to Louisville's with the notable exception of breakfast places. As the case with the aforementioned L'Exporateur shows, when Indy chefs do decide to put out a world class product, it isn't patronized because it isn't valued. It's not about culinary talent, it's about the customer base or lack thereof. The chef behind L'Ex opened a pizza place next. It should be no surprise that Indianapolis Monthly once had a cover story dubbing the city "Chain City, USA."
My understanding is that there is a group of hardcore food and wine folks in Indy, but they do most of their consumption at private dinners and out of their private cellars. Public displays of refinement or luxurious consumption in Indianapolis are simply not acceptable.
This is but one example of how the pursuit of excellence in all varieties is disparaged and subject to active suppression in the state. This is hardly limited to Indiana and is a near universal Midwestern trait from what I've seen. Chicago offers the major exception, and I'll exclude Minnesota as well for now since I don't fully grok the culture there.
It's been said pejoratively that "Indiana is the 'middle finger of the South' sticking into the Midwest." And while it's true that parts of Southern Indiana such as my hometown, being in Louisville's orbit, have a heavy Southern influence, the state is not Southern in my view. It's very different culturally and here we have one example. I easily see the same dynamic that exists in Indiana to various degrees in Illinois, Ohio, Wisconsin, and Michigan.
That this is a cultural value is most clearly seen in the exceptions that prove the rule, like Columbus, Indiana. Columbus is by far the most successful small industrial city in the state, and home to a world-renowned collection of modern architecture among other distinctives. In a major essay on that city, I noted that "in Columbus, excellence is not a byword." This was perhaps imposed externally by local business magnate J. Irwin Miller, but appears to have been stamped to some degree on the character of the community. As local business owner Tony Moravec put it, "We do things first class here." Whether the value will be retained or dissipate now that Miller is dead remains to be seen, but it's still there for now.
But in a state replete with struggling communities, has anyplace ever looked to imitate Columbus? Has it been held up as a model? No. Why not? It's because Indiana as a whole rejects the values that made Columbus successful. J. Irwin Miller famously said that "a mediocrity is expensive." True, but that misses the point re:Indiana. Mediocrity isn't an economic value in the state. It's a moral value. People aren't choosing mediocrity in the mistaken belief that it's cheap. They think aspiring to better is a character defect. That sacralization of average is why many of its communities are willing to martyr themselves in its honor. And if a place tries to aspire to better, don't worry. The General Assembly will soon be introducing legislation to make sure that doesn't spread.
This produces an enormous cultural headwind that is an impediment to even the cultural elite in their attempts to create high quality things, from good architecture to good restaurants. The attempts are compromised both via the internalization of this value, and external forces expressing it. As Paul Graham put it:
How much does it matter what message a city sends? Empirically, the answer seems to be: a lot. You might think that if you had enough strength of mind to do great things, you'd be able to transcend your environment. Where you live should make at most a couple percent difference. But if you look at the historical evidence, it seems to matter more than that.
The restaurants of Indianapolis are well beyond mediocre, but they have clearly been affected by this characteristic of the social state in which they are operating.
One exception to this rule about the pursuit of excellence is in sports, and it's a telling one. Hoosiers and Midwesterners want to see their teams win, but they want to see them win the right way and with the right kind of people that reflect the character of the state's residents. In the South they just want wins and they don't care how they get them.
Do you think anybody in Kentucky cares about the Calipari Way as long as UK is racking up wins and championships? Is it any surprise that it's North Carolina where athletes get A's in fake classes? Nobody cares in the South as long the wins come and behavior doesn't get so bad it brings national publicity.
By contrast, Big Ten schools by and large expect their players to get an education and graduate, to demonstrate good character, and there's a lifelong commitment and bond between coaches, fans, and players. When IU tried to import a UK style into its program with the Kelvin Sampson hire, the fanbase rejected it almost immediately. (By the way, I'll never consider Penn State a Big Ten school, and Pennsylvania is not the Midwest). It's similar in the way that the brawl era Pacers saw their fan support vaporize.
In Indiana particularly, from Milan High School to Steve Alford's Indiana Hoosiers, the self-effacing, fundamentally sound, clean cut, small town type of player and team had big success. (Oscar Robertson was a player in the same mold. Though he never got his due at the time thanks to racism, he shows that even black Indiana players exhibited the same character traits). This perhaps convinced Hoosiers that their preferred style of doing things would bring success as well.
Unfortunately that hasn't played out much recently, either in sports or economically. This produces cognitive dissonance and a sense of bitterness about a world that seems to have gone wrong. As I wrote re:Columbus and about how that city's embrace of excellence paid economic rewards in a world where cheap places to do business are a dime a dozen:
It isn't just something that affects architecture….This is a place with high standards for itself. This pays huge dividends in the economic development sphere. In a competitive world, only firms that deliver excellence can survive the brutal global competition. Which workers are more likely to produce excellent products, ones that demand excellence in their own communities, or ones who disparage it? How can any investor believe that residents who tolerate a run down, mediocre community for their own family to live in will suddenly start taking pride in the products coming off their employers' production lines? It makes no sense at all.
I'm not sure the Midwest understands this lesson, or would take heed of it if it did. Rather there is, I detect, a martyrdom complex. People in the Midwest believe they are entitled to success the way they used to enjoy it because they live the right way. But if they don't get it, at least their communities can die with their values intact. If this is in fact the case, it's impossible to gainsay the decision. It's even admirable in a sense. I myself would never adopt the values of UK basketball no matter how many championships it would bring. But then again I'm a Hoosier so of course I feel that way.
In any case, as Richard Longworth put it in his book about the failures of the Midwest in the age of globalization, "The first task is to tell the truth." Simply stating the obvious truth that Louisville has better restaurants than Indy may generate blowback. But the larger and more painful truth is that Indiana and the Midwest have embraced mediocrity as a value in a way that hobbles the pursuit of excellence there, and has terrible economic and other consequences that go far beyond restaurants. Unless and until that truth is faced and things change, which may require something like an influx of outsiders not wedded to the status quo, the enormous potential of this region and its people will continue to be squandered.