Brookings has a new study out called "Digitization and the American Workforce" looking at the growth of the digitization of the American economy. They track the dramatically increasing levels of digitization of all jobs, not just specifically high tech ones, and various implications of that. The study is definitely worth checking out.
They also segregate out what they call "high digital jobs" that involve the greatest degrees of digitization. These are disproportionately in usual suspects metro areas: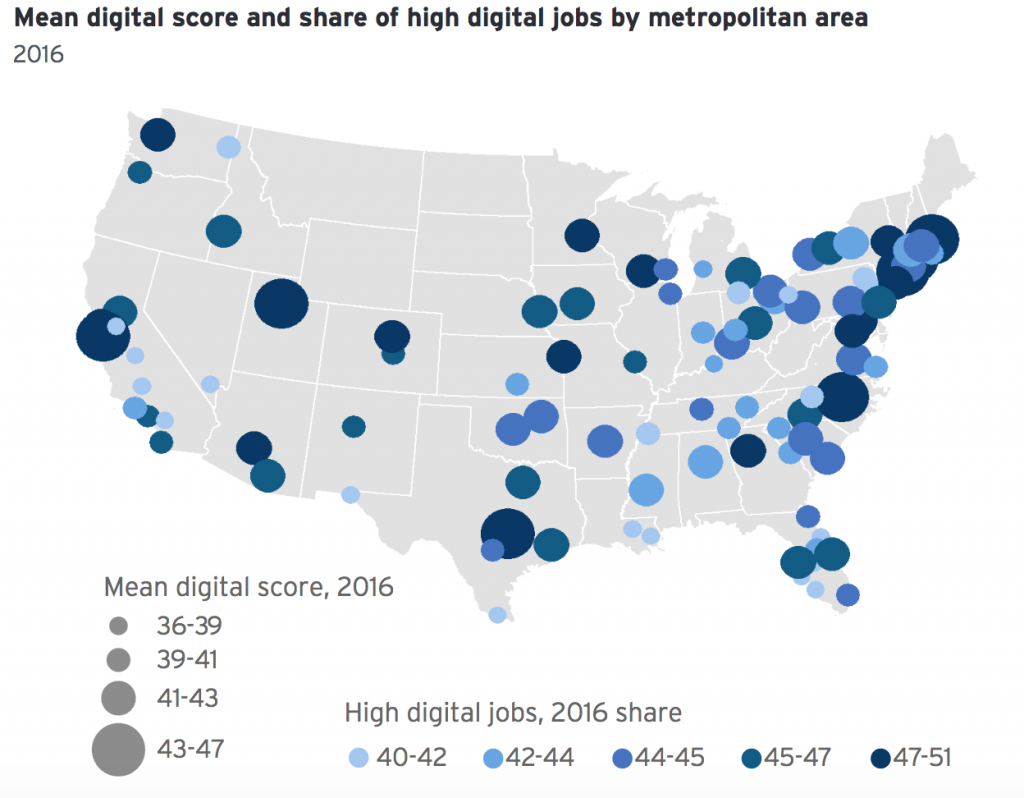 Not only is there variation in high digital jobs share, there is divergence as well. As they note:
This more high tech-favoring measure exposes a much wider range of 2016 metro digitalization scores, ranging from nearly 38 percent of local employment in highly digital occupations in San Jose to just 14.6 percent in Stockton-Lodi, Calif. The list of the most digitalized metros reads like a gazetteer of the largest, best-established tech hubs in the nation—ranging from Washington, Seattle, San Francisco, and Boston to fast- followers like Austin and Denver and to university towns such as Madison and Raleigh.

Not only do metros' high-skill digitalization ratings vary sharply; they are also diverging. In this regard, the digital rich are getting richer, a trend that can be seen in the 100-metro scatterplot in Figure 13. The higher a metro area's 2002 share of highly digital occupations the greater the growth of its share of jobs in such occupations in the years 2002 to 2016. For example, San Jose, Washington, and Austin—with highly digital employment shares in excess of 10 percent in 2002—have all increased their shares by more than 20 percentage points since then. By contrast, metros with low starting presence in highly digital occupations (such as as Stockton; Youngstown, Ohio; and McAllen, Texas), all with high-digital job shares of less than 2 percent in 2002, have seen much slower employment growth in highly digital occupations—more along the lines of 10 percentage points. In short, a high initial digital score predicts faster future digitalization.
This finding is probably more a look at divergence rather than a true superstar effect, but is still very interesting.
Click through to read the whole study.