A new online study by BuildZoom chief economist Issi Romem takes a look at the characteristics of people moving in and out of metro areas and draws some striking if unsurprising conclusions.
Per Romem, coastal elite cities are trending towards becoming more elite because of their migration patterns. In these cities in migrants are more educated, have higher incomes, and more workers per household than out-migrants. The opposite is true in low cost interior cities where in-migrants tend to have less education, lower incomes, and fewer workers per household than out-migrants.  Here's his chart on income and migration.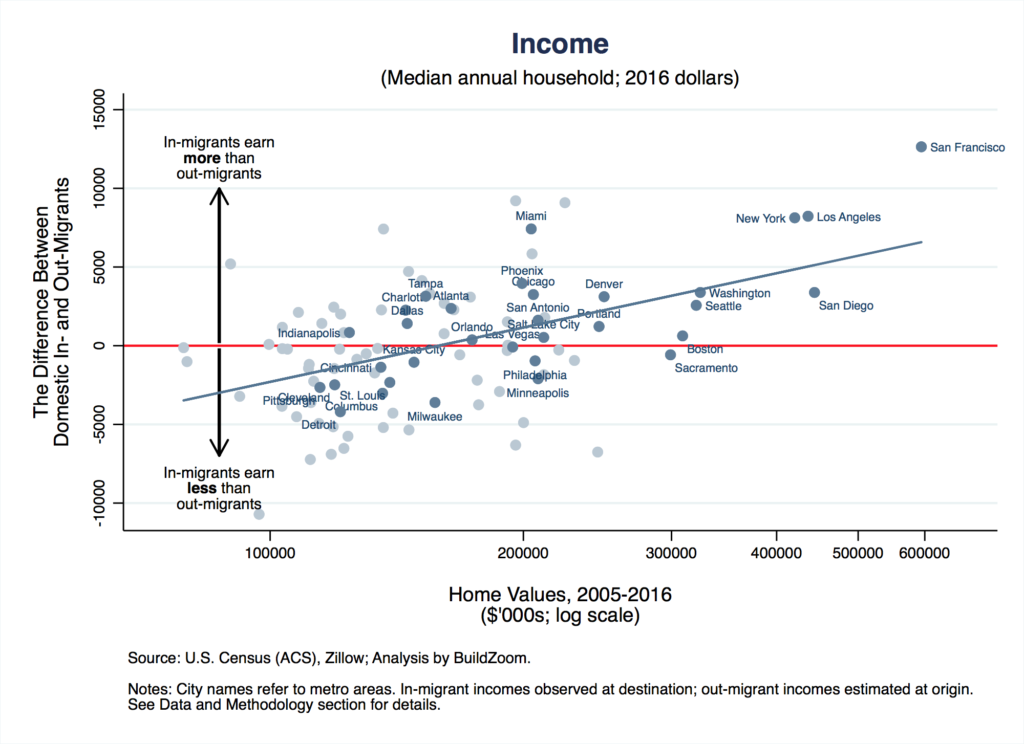 Another interesting finding is that the coastal city in-migrants are less likely to be homeowners, suggesting in his view that they are feasting on transients.
Here are some excerpts:
In addition to the San Francisco metro area, other expensive coastal metros such as Los Angeles and New York also exhibit positive income sorting. In- and out-migrants in lower-priced metros like Atlanta and Dallas appear to have similar incomes. Rust Belt metros like Cleveland and Detroit exhibit negative income sorting, whereby the median household moving in earns less than the one moving out.

Why do the expensive coastal metros exhibit positive income sorting? These metros are expensive because they have restricted their supply of new housing even as they continue to generate strong demand for it. As a result, homebuyers and renters in these metros compete with each other over a smaller housing stock, bidding up prices, and pushing out those who are the least financially able. The high cost of housing also deters potential in-migrants, especially if their incomes are low, which drives up the income levels of those who are ultimately observed moving in. Of course, homeowners and certain fortunate renters can stay put in their homes for a long time, even when they can no longer afford them at current prices, so positive income sorting can be a slow process.

…

The pattern observed with respect to migrants' age is consistent with the notion of a transient class, whereby individuals arrive in young adulthood to experience the life and career opportunities that expensive metros have to offer, and leave once they confront the realities of raising children in this environment. The notion of a transient class is also consistent with the pattern observed earlier with respect to the number of earners per household, especially inasmuch as it is driven by expensive metro in-migrants boarding with roommates, and families with children seeking cheaper housing elsewhere.
…
Positive income sorting in the nation's most expensive metros helps sustain housing price appreciation. Of course, if current residents' income rises that helps sustain price appreciation, but sustained appreciation does not require a proportional increase in current residents' income. Instead, positive income sorting helps the population afford housing at higher prices by substituting out-migrants with more financially-able in-migrants. If those leaving would have stayed had housing prices not risen as much, then the process of positive income sorting can rightfully be called displacement.
…
Sustained housing price appreciation could also exert increasingly selective pressure on the kinds of jobs that are feasible to maintain in the expensive metros. Employers who wish to stay in business cannot afford to pay workers a wage that exceeds their contribution to revenue. As a result, employers in the expensive coastal metros would be compelled to maintain only the most productive roles–those which justify wages high enough to compensate for local housing costs–and other types of work would either be foregone, automated, or relocated.
Click through to read the whole thing.
A spreadsheet with details for every metro area can also be downloaded.