The Wall Street Journal recently ran an article talking about how growth in Medicaid and pensions are crowding out spending on everything else in state and local budgets.
Medicaid costs, said then-Secretary Michael Leavitt, were projected to grow so fast that within 10 years they would "crowd out virtually every other category of spending." State spending on higher education, infrastructure and safety, he predicted, would all get squeezed. Nearly 10 years after that October 2008 speech, Mr. Leavitt's prediction—part of HHS's first-ever annual projection of Medicaid's costs—is looking prescient.
Here's their chart: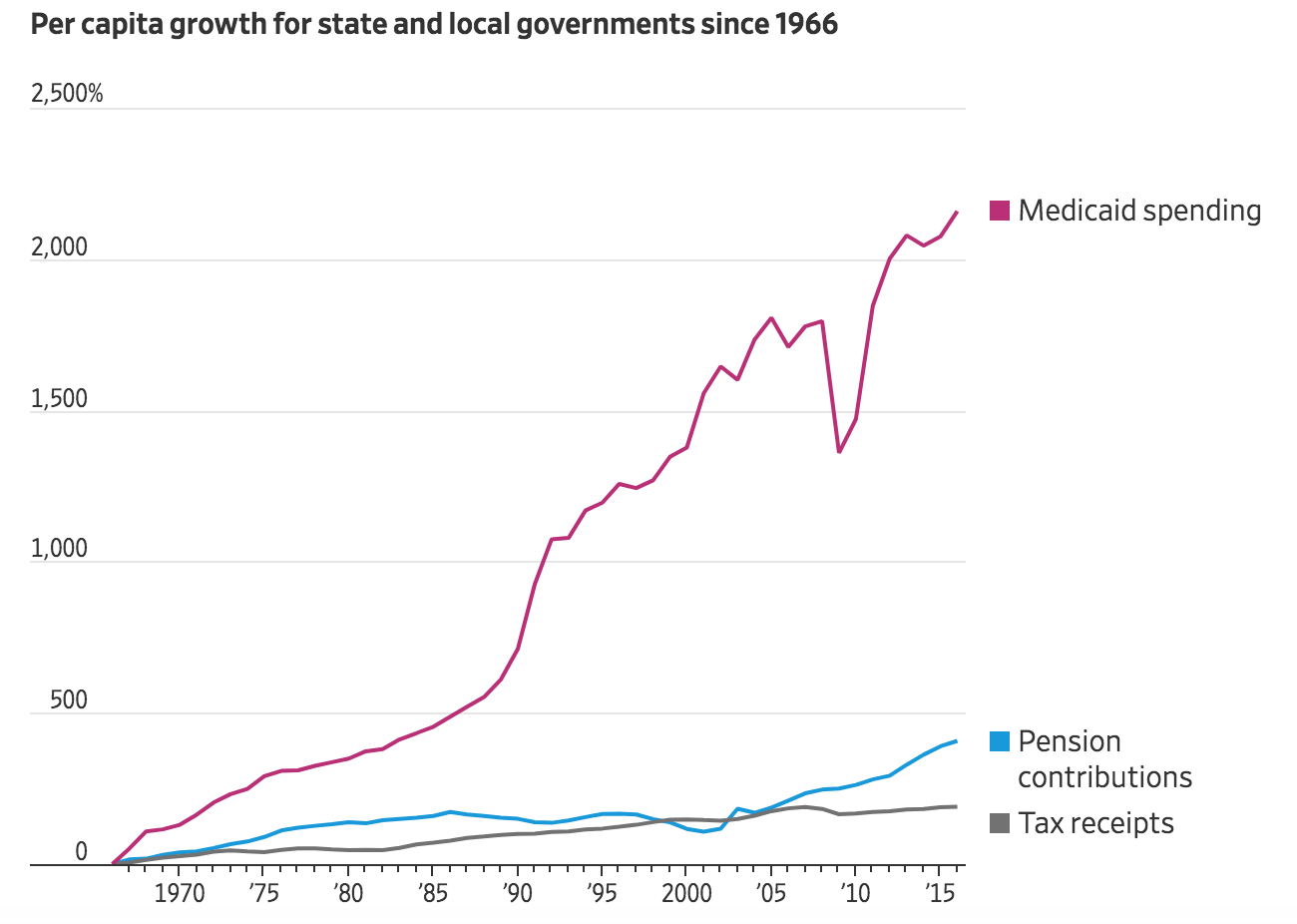 Obviously Medicaid is the big hitter here. Pensions have creeped up in recent years I suspect are a big item in select states with large deficits.
Growth in these items has led to cutbacks in state aid for cities, etc. I want to focus on higher education:
Nationwide, state spending on higher education and local tax revenue sharing, adjusting for inflation, have both declined since 2008, according to the Journal's analysis. So has state and local spending for infrastructure.

For college students, shrinking state higher-education budgets mean paying more to attend public universities. In 1980, 48 of 50 states funded their college budgets mostly through annual appropriations of tax revenues, not from tuition. By 2017, that was true in just 20 states, as tuition had become the larger funding source in 28 states, according to data from the State Higher Education Executive Officers' Association.

"For the first time in our nation's history, we are at the cusp of college students and their families paying the majority of college costs," Robert Anderson, the group's president, testified at congressional hearing in February.
States have taken a beating for reducing their commitments to higher ed, but this didn't happen in a vacuum.
Consider New York City. Spending on pensions increased from around $2 billion per year around 2000 to over $9 billion per year today. This increase would easily have paid to fund NYCHA's entire maintenance deficit, among many other important public service priorities.
I don't have a set of specific changes to recommend at this time, but it is important to evaluate spending on any particular item in the context of everything else and others choices that are going on fiscally.