I'm going to be writing a bit about institutions, but before doing so want to introduce a concept that's widely applicable and underlies a lot of our discussions about cities and many other things. This is the maturity curve, shown here in the form of a product life cycle diagram.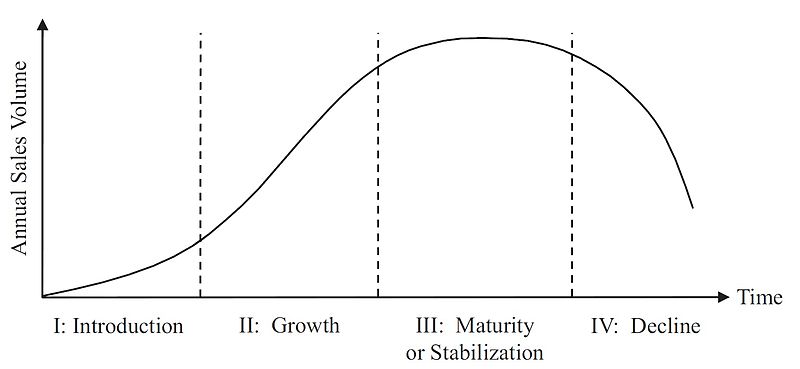 This curve starts off with a slow growing incubation phase, followed an accelerating growth phase (sometimes labeled hyper-growth), followed by a flattening at maturity and finally decline.
This is true of products (think the iPod). It's also true of companies. Think about a retailer that gets hot and becomes a juggernaut as it opens tons of stores. Then it either saturates its market or loses its shine and falls by the wayside. It also applies to the growth of physical organisms, like us.
And it applies to social constructs like institutions and cities. Right now cities like Dallas and Nashville are hot. Detroit and Cleveland has struggled. The former are in their growth phase while the latter in maturity (or even decline). The real measure of a city is how it responds at maturity. Great cities like London, Paris, and New York have reinvented themselves across cycles, finding a way to re-create another growth phase. Detroit and Cleveland haven't yet done that, though are trying. The real question about places like Dallas or Houston is what will happen when their growth phase ends and they have to face maturity. Will they be able to restart the cycle or successfully manage at a mature entity? Time will tell.
For people, we all die eventually. That's the human condition. So while there are challenges from an aging population, older people don't stay around forever as zombies. So humanity is constantly refreshing itself. With cities and institutions, however, old ones don't necessarily go away as we create new ones. They linger for a long time and face many challenges. How then should we respond to this situation? This is something we need to ponder.