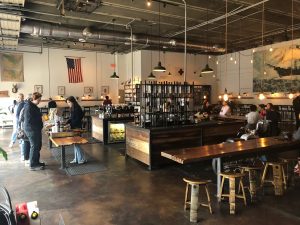 I was in Nashville for a couple days for meetings and managed to take a tour of the city. One of my college friends lives there and I generally impose upon him to drive me around town whenever I'm there so that I'm able to see how the city is evolving. It continues to impress.
This time I did not, sadly, get a chance to take many pictures. That's a shame because there's a lot to see. Every time I visit Nashville the city is more booming than the last time I visited it. This was no exception. Apartment building were going up everywhere, on every side of town I visited. I would to have been able to do a picture post so you can see.
It's not just apartments. There have been some downtown office buildings constructed, with more in the pipeline. And a number of hotels are being built. They appear to be needed as hotel rates are sky high there and I was told that's pretty common.
There's a lot of building happening in Nashville, but architecturally it's pure schlock or at best a clone of the exact types of apartment buildings going up in every city.
A couple of people did indicate that the growth boom is showing some signs of a slowdown. It's not that growth is going to stop but they are seeing indications that the future pace may not be as torrid as the recent past.
Nashville has widened many of its freeway to fivish lanes each way. Yet there is still growing traffic congestion. Traffic is worse in Nashville than in comparable sized Midwest regions. In part presumably that's because infrastructure hasn't kept up with growth. Other Sunbelt growth cities like Charlotte and Raleigh added beltways, but Nashville doesn't really have one. It has a sort of inner beltway around the greater downtown area that is a bunch of branching and diverging of freeways that meet there. There's also a partial circumferential route built far out in rural areas that was, last I drove it, lightly traveled and too far out to be useful. There also don't appear to be a lot of high quality crosstown arterials routes. I suspect something about the architecture of the roadway system contributes to the traffic problems.
I also continue to be unimpressed with the street designs there. Major corridors lack sidewalks, and even where I would see that sidewalks had been added, it was usually only on one side. I didn't see a single person on a bicycle the entire time I was there. The transit referendum is May 1. It's hard to imagine that, if it passes, transit will be very useful there.
From a cultural perspective, the city is still hot. One of my friends says that his East Coast friends who age out of that high cost environment heavily favor places like Nashville and Austin. Apparently recruiting people to come to Nashville is super-easy. In fact, I heard one person talk about how they have to be careful to filter for people who actually want the job in question, not just a vehicle to get them to Nashville.
In general, things seem to be going very well in town, so we'll see if it keeps up in the future.