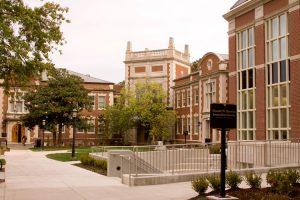 Samuel Cohen, an English professor affiliated with a university press, wrote an interesting article about their decline in the Chronicle of Higher Education.
Cohen recounts the storied history of university presses, and excoriates modern university administrators who don't see their value and expect them to operate according to traditional business principles. Here are some excerpts:
University publishing is nearly as old as printing: Within 23 years of Gutenberg finishing his Bible in Mainz in 1455, Oxford published a commentary on The Apostles' Creed. Four decades later, Cambridge set up its own press. In North America, Harvard began printing a few years after its 1636 founding, beginning with religious texts, as they all did, but quickly moving on to publishing secular works. So the publishing of scholarship by university presses has long had something of the sacred about it.
…
The University of Missouri Press, established four decades after President Hill blocked Veblen's book, has managed to survive on its backlists and local-interest lists, books on flora, fauna, and folklore, but its ability to freely publish scholarly monographs that may or may not recover their costs is seriously challenged when it is not directly threatened. When it is, it is by business men whose expertise does not include matters concerning higher education — men who are chosen to run our universities because, as Veblen puts it, of the "high esteem currently accorded to men of wealth at large, and especially to wealthy men who have succeeded in business, quite apart from any special capacity shown by such success for the guardianship of any institution of learning."

Such was the case in 2012, when Timothy M. Wolfe, late of IBM and Novell and then president of the University of Missouri system, announced that its academic press would be shut down. He had never been to the press or talked to its leaders. After a national outcry, the resignation of series editors, and threats by authors to sue to get back their rights to titles on the press backlist (a backlist whose profits, as is the case at many presses, helped support the publication of new titles), Wolfe reversed course.

The increased pressure to commercialize causes presses to be treated more like businesses, expected to turn a profit, more than even big-time college-sports programs are. This treatment results in editors being required to sign books that each bring in a minimum in projected sales or risk losing their jobs.
…
As we learn the fates of presses like Kentucky's, we might try to think about the connections to what is happening to the public universities in which they live and, in turn, to a culture that starves and poisons these homes.
This is a pretty standard critique, only applied to the university press. There's undoubtedly a lot of truth to it, though of course much of the argument is based on the author's values.
But what I find most notable is that Cohen nowhere in this piece suggests that university presses themselves might need to change or adapt to the 21st century. The impression I get is that he believes state governments (or university administrators) should simply stump up cash and get out of the way.
That's not realistic. The world is in a time of rapid change. Virtually every industry is experiencing massive change and disruption. Higher education is not immune to this. Higher ed, and its government financiers, are under a lot of pressure. I've noted before the many forces bearing down on the university.
Higher education, including university presses, are going to go through the same process the rest of us are being put through. Important thought it may be, universities are not exempt from the dynamics of our society.