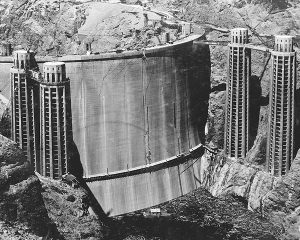 Bechtel, America's largest construction company that worked on such famed projects as the Hoover Dam and Bay Bridge, just announced it was relocating its headquarters from San Francisco to Washington.
International construction firm Bechtel Corporation plans to move its corporate headquarters from San Francisco to Reston, Virginia, by the end of 2018, executives said Thursday, moving the company's headquarters out of California for the first time in more than a century.

The firm's Reston office has functioned as a de facto "operational headquarters" since 2011, with chairman and chief executive Brendan Bechtel based there alongside about 1,300 employees.

Bechtel has been headquartered in San Francisco since the early years of the 20th century. But in recent decades the company's business units in Houston and the D.C. area have grown to greater prominence as the firm's work has grown with oil and gas construction services, management of nuclear facilities and government contracting.
As technology related firms – or more broadly, firms that operate according to Silicon Valley style principles – continue to prosper, the Bay Area's high costs make traditional business less attractive. Bechtel is similar to what I've seen elsewhere with say Chevron. The HQ remained in the Bay Area, but the jobs gradually shifted elsewhere. Now Bechtel is officially relocating the HQ, but at this point few workers will be affected. It will be interesting to see how long Chevron sticks around there, especially given the region's hostility to fossil fuels.
But this also says something about Washington. As I noted in my 2013 City Journal article on Washington:
All this intrusion emanates from the legislative and especially the regulatory machinery in Washington. The city has become, in effect, the Brussels of America. So a wider and wider variety of businesses and organizations must be located there to lobby the government that decides their fate. (According to the Center for Responsive Politics, total spending on lobbying rose from $1.6 billion in 2000 to $3.3 billion in 2011.) These firms pay local taxes. So do their workers, who also buy houses, patronize stores, pay tuition at private schools, employ local doctors and lawyers, and so on. The regulatory superstate is turbocharging Washington's local economy.

This new basis for prosperity could pay huge dividends to the region. The model here might be the defense industry, which has already centralized many operations in the area. Northrop Grumman, for example, recently moved its headquarters from Los Angeles to Washington. Boeing shifted its headquarters from Seattle to Chicago to be closer to defense operations and customers in Washington. Other industries, such as health insurance, may follow suit.
As the article on Bechtel notes, its business is now heavily driven by government contracting, so Washington is the logical place to be. But the fact is almost every business has more to do with the federal government than it used to, voluntarily or not. This creates a gravitational pull for businesses into the Washington area.
Right now San Francisco and Washington are duking it out to see which one can be America's #2 city behind New York in terms of national/international power and influence. It will be interesting to watch to see how things develop.