The company redeveloping the headhouse of Chicago Union Station just unveiled renderings of the project that are not exactly earning rave reviews from the critics. The proposal involves plopping a modernist box addition top of the existing station. Here's the rendering.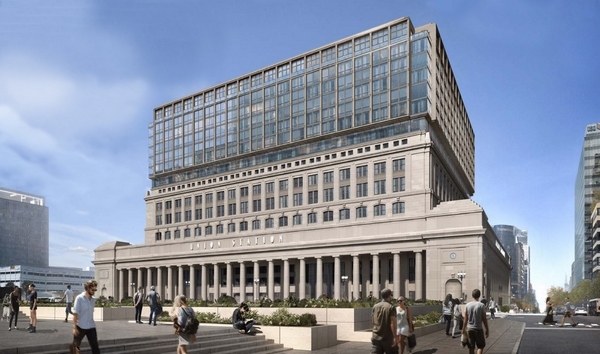 To give you a sense of this, here's a photo of the existing station.
This sort of combination is reminiscent of the much-maligned renovation of Soldier Field, in which a contemporary "space saucer" bowl of seating was added on top of the neoclassical colonnades.
Chicago Tribune architecture critic Blair Kamin isn't willing to go that far, but he panned the design, saying:
There's nothing wrong with the idea of putting a 330-room hotel in the upper floors of the station's historic main building, especially if you're a railroad buff in search of an atmospheric spot to stay overnight. The trouble is a planned apartment addition that would plunk a squat modernist box atop the existing structure's neo-classical pedestal. They go together as well as Rauner and Pritzker, the City Council and ethics reform.

The seven-story addition and its 404 rental apartments would bring to the forlorn but grand train station all the grandeur of a Holiday Inn.
…
Worse, its exterior, a skeletal metal and glass grid is at odds with the station's carefully-composed classical aesthetic. Despite the architects' best efforts, it's as though one era of architecture had been piled, willy-nilly, atop another.

The juxtaposition of past and present isn't as violent as the spaceship-like seating bowl that's plopped atop the classical colonnades of Soldier Field. It's just banal, which Burnham buildings never are.
And local architectural writer Lynn Becker called it "Plop Architecture Revival," saying:
The Elbphilharmonie it's not. It's what you'd see in a dying, middle-tier rustbelt city desperate for development.

Are we that desperate?

If the Landmarks Commission doesn't reject this design, they should fold up shop and put a big "Just Kidding" sign next to their mission statement.
With Union Station being such an important building in the city, it will be interesting to see if this design goes forward (or even if the developer seriously wants to build it, or is just using it to set the stage for what it really wants).