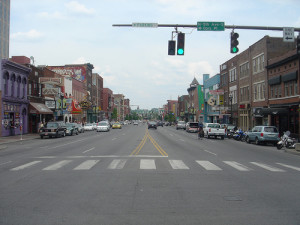 One of the things I've always noticed about Southern cities is their ambition to scale up. For example, a few years ago I quoted the head of the Charlotte Chamber of Commerce saying something to the effect that, "To understand Charlotte you have to understand the scale of our ambitions. We don't want to be number two to anybody." The implicit context is probably Atlanta. Tell a Midwest city they could be the next Atlanta and they'd look at you in horror. Tell a Southern city that and they tell you how they are going to be bigger and better than Atlanta.
I would have put Nashville in that category. They want to be more than just a state or regional business center. But interestingly there were a couple of articles recently questioning the future of Nashville. One was in the Wall Street Journal:
The Nashville region population grew 45% from 2000 to 2017, reaching about 1.9 million, according to the U.S. Census Bureau. Ms. Ervin represents both sides of the city's extraordinary growth: a transplant who was attracted to a booming urban hub, and a resident increasingly concerned that unbridled development may threaten the Tennessee capital's charm.

"There is very little opposition in our town to growth," said David Briley, newly elected mayor of the Metropolitan Government of Nashville and Davidson County, in an interview. "I would say there is a high level of anxiety about the pace of growth."
…
From 2008 to 2018, housing values, based on a weighted measure of all transactions in the housing market, rose 75% in Nashville, compared with 33% in Charlotte and 26% in Atlanta, according to the Brookings Institution.

With urbanization comes pressure on local government to improve housing affordability, workforce education and public transit, Mr. Briley said.

This spring, the Metro Nashville government and civic groups pushed for a multibillion-dollar bond plan to dramatically expand public transit in the region. Voters rejected it, and the city will have to find other ways to develop public transit.
The second piece was from Governing Magazine:
Nashville is booming. Some 5,000 hotel rooms are currently under construction, with new high-rise hotels by Marriott and Westin soaring over the 2.1 million-square-foot, guitar-shaped Music City Convention Center downtown. Visitors to the city have swelled from 2 million a year in 1998 to more than 14 million today. On weekends, pedal taverns clog the streets of downtown while bachelorette parties crowd the honky-tonks of Lower Broadway, where free music plays 24/7. Not long ago, the city's Department of Public Works commissioned a study to measure the foot traffic along Lower Broadway and on First Avenue on a typical Thursday and Saturday. Planners were shocked to discover that the number of pedestrians using those streets was comparable to foot traffic in Times Square.

People aren't just visiting. Every day, roughly 100 people move to the region. Whole new neighborhoods have risen to accommodate the growth, most notably The Gulch, a lively high-rise district near downtown that, not too long ago, was nothing but an open rail yard. East Nashville has emerged as a kind of Brooklyn South, a mix of farm-to-table restaurants, backyard recording studios and historic bungalows. To the west of downtown, Germantown is growing into one of the city's densest neighborhoods, with a mixture of restaurants, corner stores, restored brick Victorians and new low-rise apartment buildings. In the process, Nashville has become something it never was before — hip. Affluent Nashvillians once flew to New Orleans for fine food. Now Nashville chefs regularly appear as James Beard Award nominees, and trendy eateries in New York feature such Nashville specialties as "hot chicken." On screen, the hillbillies of older shows such as "Hee Haw" have given way to the heartthrobs of "Nashville," the musical network drama that premiered in 2012 and ran for six seasons. Nashville's hockey team, the Predators, is an NHL powerhouse, with home games that effortlessly blend country music glamor with on-the-ice excitement.
…
Meanwhile, Nashville's needs are becoming urgent. Violent crime rates remain stubbornly high. Housing affordability has become a major problem. Debt payments are consuming an ever larger part of the city's budget, and transit is still an unmet challenge. Addressing these needs will require money. Yet despite a boom that is everywhere evident, Nashville's government is facing a $34 million budget shortfall and dwindling reserves.

All of this raises some very big questions about where the city is and where it's going. How, in the middle of unprecedented growth, did Nashville's government run short of funds? If Nashville isn't willing to raise taxes to build a transit system like Seattle, then how can it hope to harness growth in the way those cities have?
Nashville is having growing pains. As it scales up it is hitting the limits of its current infrastructure and institutions. Thus it faces the challenges that all bigger places faced in dealing with rapid growth, and transforming itself to operate up at the next scale rung. This is what NYC did when it put in place the Manhattan grid, built the Croton aqueduct system, built the els and subways, consolidated the five boroughs, created Central Park, etc.
The South holds some lessons. Dallas and Houston both built out major freeway networks with multiple rings and connectors. Atlanta stuck with a simple hub and spoke plus beltway system typical of smaller metros and has paid a big price for it. I mentioned in a previous piece that Nashville's highway infrastructure has a poor architecture. If the city doesn't want to drown in traffic, it has to find a way to fix this architecture, not just widen the existing roads. (Transit is not a realistic option to deal with Nashville growth).
Charlotte did something of this. It didn't built a beltway with its original freeway network, but the state came back later and added a standard type beltway. This probably isn't the last thing they will have to do, but it's an example of fixing an architectural problem in the freeway system.
Nashville is going to need to find the key areas when fundamental change is needed and do what places like Chicago and the Bay Area did before in order to keep scaling. Otherwise these problems its encountering will only get worse.