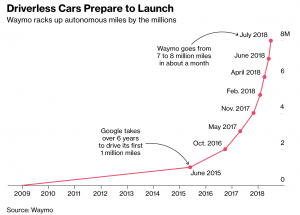 An article in Bloomberg details how Google's Waymo driverless car unit is about to launch commercial ride sharing services in the Phoenix area:
The Jackson family, along with some 400 neighbors in their Phoenix suburb, are volunteers in an ongoing test of Waymo's autonomous ride-hailing business, which is expected to launch for paying passengers in the area by the end of the year. The Jacksons, who Waymo made available for this story, have largely ditched their own cars and now use self-driving vehicles to go almost everywhere within the 100 square-mile operating area: track practice, grocery shopping, movies, the train station.

Kyla acts like a diva with a private chauffeur, laughs her mom, Samantha Jackson, in an interview in Chandler last week. Access to robotaxis has even managed to convince this 17-year-old to put off an American rite of passage: getting her driver's license. As Kyla puts it, "What's the point?"
….
Waymo's Early Rider program in the Phoenix area is the furthest along among the company's 25 test cities. The Google offshoot has logged more than 8 million miles in fully autonomous mode and is now starting to test cars in Phoenix with no backup safety driver behind the wheel, something the Jacksons have experienced just once. If the public launch is successful, Waymo would be the first autonomous ride-hailing business.

"We're just getting started," says Waymo Chief Executive Officer John Krafcik, who spoke with Bloomberg last week at Alphabet's X lab in Mountain View, California. It's the semi-secret facility where delivery drones land on the rooftop and engineers in the garage below tinker with Waymo's next vehicle, an autonomous Jaguar I-Pace.
How will this play out in the real world? Nobody knows, either in the short or long term. Imagine trying to predict the impact of the traditional automobile in 1913. But the downstream effects could be pervasive. In particular, driverless cars can affect public transit, especially in places like Phoenix
If self-driving cars make ride-hailing cheaper and more convenient, the research suggests, it could take a wrecking ball to public transportation. Strangely, the head of Phoenix's public transportation agency agrees with that assessment.

"It will absolutely happen," says Scott Smith, Valley Metro's CEO. "But I'm not scared, I'm excited. There will be a reduction in bus use, in subway use in some areas, but expanded use in others. This is real. We've got to be a part of it."

Some local bus routes are inefficient, Smith says, carrying just a few passengers in a vehicle built for 40. The partnership with Waymo could instead provide cheap connections to Phoenix's high-capacity corridors of express buses and light rail. An autonomous car could drop you at one station, and another could arrive just in time to pick you up on the other side of the city. The problem with impact studies that have been conducted so far, Smith says, is that the data available today only captures the negative effects of ride hailing—not the benefits that could come from integrating self-driving cars combined with streamlined public transit.
Again, we'll have to see what happens. But driverless cars are another potential fundamental disruptive technology, heading our way soon.