Hamilton County, Ohio is the core county of the Cincinnati region. It had been shrinking in population since its 1970 peak of 924,018. By 2010 it was down to 802,374, a total decline of 13.2%.
That's not as high as some of more famous cases in the Midwest, but losing over 120,000 people is a big deal. The comparison with Indianapolis and Marion County, Indiana is similar. Marion County declined in the 70s but then recovered in the 80s and continued growing. Its 2010 population was up 68,155, or 8.6% from 1970.
Here's the kicker. The 190,000 performance gap between Hamilton County and Marion County accounts for 61%, nearly two-thirds, of the gap in total population growth between the two regions during that time.
However, according to the Census Bureau's annual population estimates, Hamilton County's population bottomed out in 2011 and has started growing again, now being up over 11,000 since 2010. Here's a chart of percentage population change by year since 2000.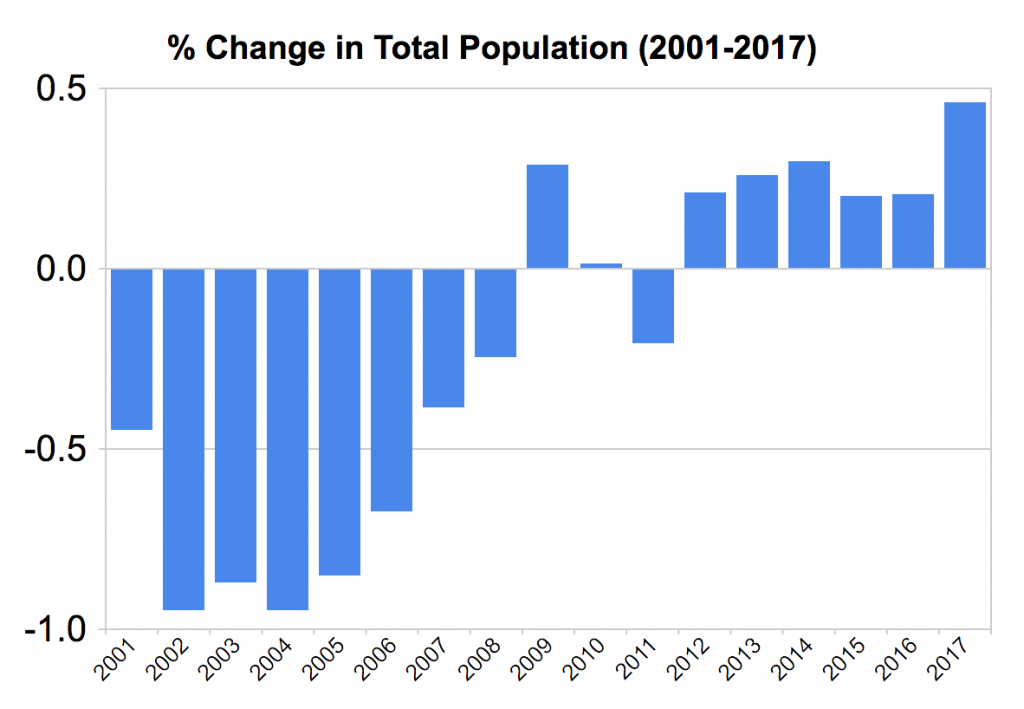 I would not declare victory on this until confirmed by the 2020 census. But if true this would mark an interesting inflection point for a county long in decline. The Census would also tell us more specifically where in the county this population growth has been coming from.