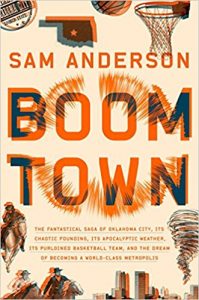 My latest piece over at City Journal is a review of Sam Anderson's new book Boom Town: The Fantastical Saga of Oklahoma City, Its Chaotic Founding, Its Apocalyptic Weather . . . Its Purloined Basketball Team, and the Dream of Becoming a World-Class Metropolis, which is about pretty much what it says it is about. Here's an excerpt from my review:
Traditionally a backwater Great Plains capital, Oklahoma City has started to emerge as one of America's up-and-coming places. Anderson was drawn to this story through an assignment to write a Times Magazine feature about the "fairy tale" season of the NBA's Oklahoma City Thunder in 2012. Sensing a bigger story to be told about the city and its basketball team—formerly the Seattle SuperSonics, having relocated in 2008—he stuck around and wrote Boom Town. The book is two stories in one: a conventional history, recounted through major events, and a portrait of a present-day city on the make, told through the story of the Thunder; of Wayne Coyne, front man for alternative-rock band The Flaming Lips; and of Gary England, the dean of local weathermen.
…
It's one of the great founding stories of any city, but understanding the Land Run gives insight into the challenges Oklahoma City faces in maintaining a positive mythos. Nowadays, the displacement of the Indians is seen as such an injustice that the city's founding is often portrayed with ambivalence. Much of the city's history consists of such mixed events, whether ambivalent or tragic, like the 1995 bombing of the federal building by Timothy McVeigh, which first brought Oklahoma City to contemporary American consciousness. Oklahoma City residents were unambiguously the victims in this attack, and the city justly takes pride in how it came together in response to the carnage. Yet the somber nature of such an event also requires restraint, not celebration. Even the city's main industry, oil and gas, though an economic juggernaut, is disreputable in the precincts of elite America.
Click through to read the whole thing.
Featured image credit: "Automobile Alley in Oklahoma City" by katsrcool/Flickr. Licensed under CC BY 2.0