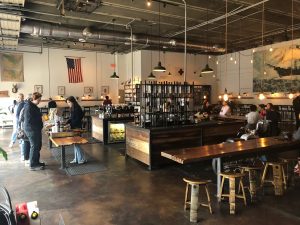 The commentary I posted on NY Mag's "unbearable sameness of cities" article got lit up with traffic and comments.
Some of it was defensive. A number of people claimed that if you want uniformity, look to the suburbs. That's a red herring. Whether or not the suburbs suffer from sameness has nothing to do with the city's doing so.
It's also the case that there's been some convergence between urban and suburban. Today many suburbs have the same sorts of mixed-use type developments going into town centers or nodes, and many of the same kinds of coffee shops, restaurants, and breweries.
Another was a discussion of various civic identities. Some suggested a sort of regional sameness for cities.
I'm sure there's some of this, but in my experience, even in the same region cities, especially the bigger ones, have radically different cultures. My favorite example is Ohio. Cincinnati, Columbus, and Cleveland are three radically different cities, which is instantly apparent to anyone who sets foot in them. Indianapolis and Columbus on paper look like very similar cities, yet they are culturally distinct.
The issue is not that every city has the same style of coffee shop, which is find so far as it goes. The problem is that these places market these "new urban ante" type establishments to the exclusion of talking about their uniqueness.
How do you convey the character of a place? How do you tell an aspirational story about what it's like to live in a city that doesn't sound like the same one everybody else is telling? How can you find and play up the things that are unique and usual about your town?
Cities are not, in fact, actually the same. They need to have the self-confidence to be comfortable in their own uniqueness. This means highlighting both how they are developing in a standard way, but also the truly local aspects.