The Lincoln Institute of Land Policy has a new study out taking a look at the use of Tax Increment Financing (TIF) around the country.
Today, TIF is legal and employed widely in every state except Arizona, with heavy use in the Midwest. Yet, many states do little to track or evaluate the use of TIF. Academic research suggests that local governments enact TIF in part to capture growth that was already occurring and in part to stimulate further economic development. Studies also indicate that TIF's impact on economic activity is mixed: Many recent findings show that TIF does little to deliver economic growth and sometimes simply relocates economic activity that would have occurred elsewhere without TIF. Empirical studies of other TIF-related effects, including its impact on school nance, land uses, and budgeting, suggest that communities should use it cautiously to avoid unintended consequences, such as diverting increased property tax revenues from counties, school districts, and other overlying governments; obscuring government financial records; and facilitating unproductive fiscal competition between neighboring jurisdictions.
One thing I was not aware of is how disproportionate the use of TIF in the Midwest.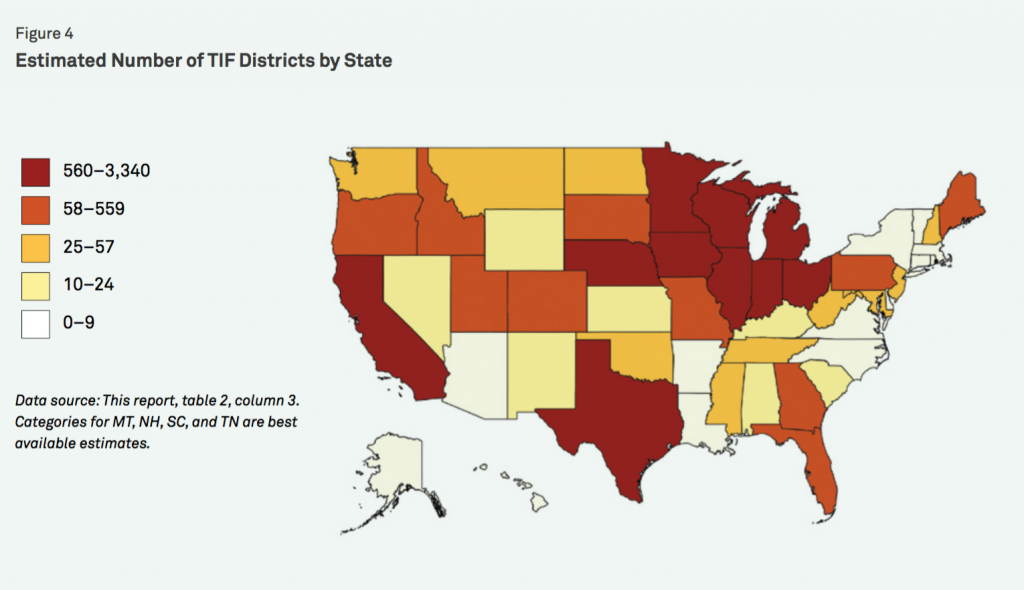 Among their recommendations is to give other local units of government the ability to opt out of the TIF in order to reduce the incentive of cities to use TIFs in order to simply grab all the tax revenue for themselves instead of sharing with schools, etc.
States should revise statutes to allow counties, school districts, and other overlying local governments to opt out of contributing resources to TIF districts. This measure would diminish or eliminate the incentive for local governments to use TIF as a device to capture revenues that otherwise would have gone to overlying governments.
Click over to check it out.