The crew over the the NYT's Upshot has a fascinating look at the geography of Facebook friendships. They note that geography explains far more about our friendship patterns than factors like politics.
One thing I found interesting is that, similar to the migration and other data I've posted, in state lines can be very real in more than just a legal sense. They note:
State lines are powerful boundaries in binding nearby places. For many counties, as the maps illustrate, the likelihood of friendship drops off sharply at state borders. And counties within a given state tend to be strongly connected to one another. This is particularly striking in Michigan, where counties near the Indiana and Ohio state line are more closely tied to Michigan's Upper Peninsula than to out-of-state counties closer by.
Here are some maps I show that illustrate that. Here's a map of friendships of people in Franklin County (Columbus), Ohio.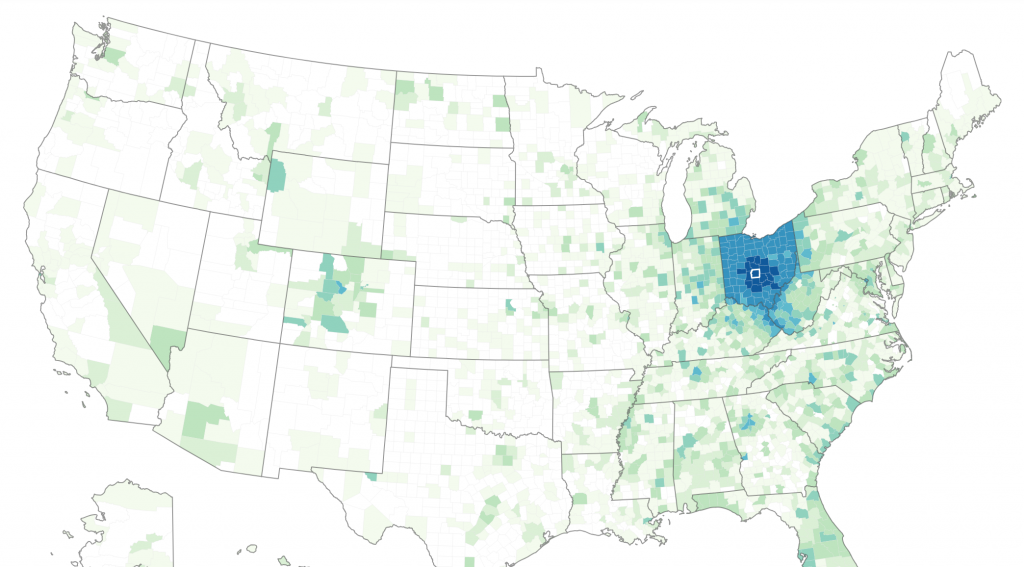 That's incredibly stark. It's a similar tale in Indiana. Here's Marion County (Indianapolis).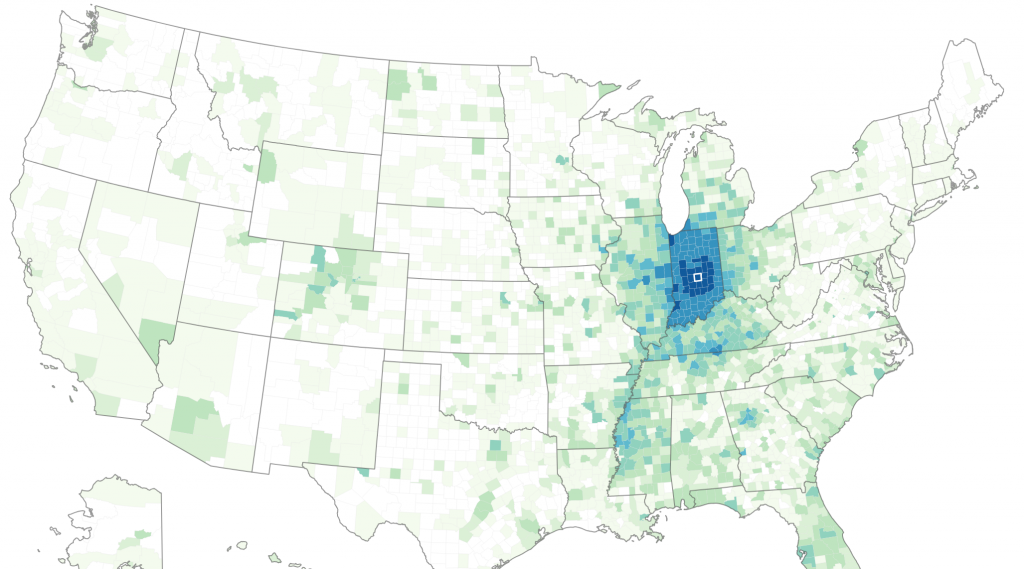 It's very similar. I see a few differences. It looks to me like Indy has a slightly larger regional footprint of connections. Columbus is more strongly connected to Appalachia, Indianapolis to the Mississippi River corridor. The latter leads me to intuit, which I believe is actually correct, that Indianapolis had more black inflow during the Great Migration, and historically had a smaller black population than Columbus. Columbus' black population has grown recently, but I believe is coming mostly from Somalia.
It's a similar story in Detroit (Wayne County):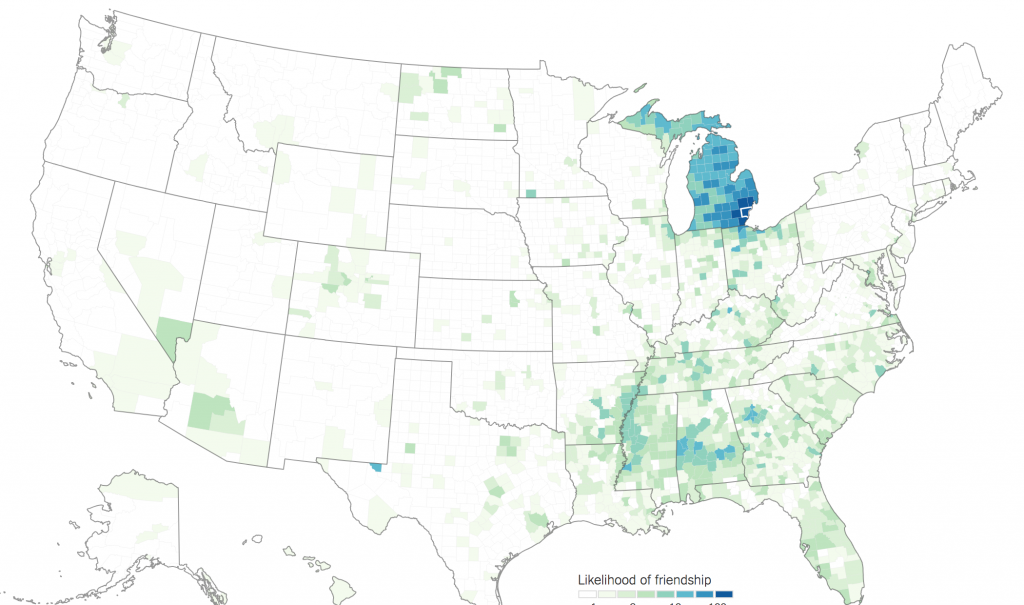 Even the UP is strongly connected to Detroit. We see here even stronger connections to the south. It's interesting to see that inter-regional social ties remain long after the end of the Great Migration.
Not all Midwest places are like this. Here's Hennepin County (Minneapolis), Minnesota: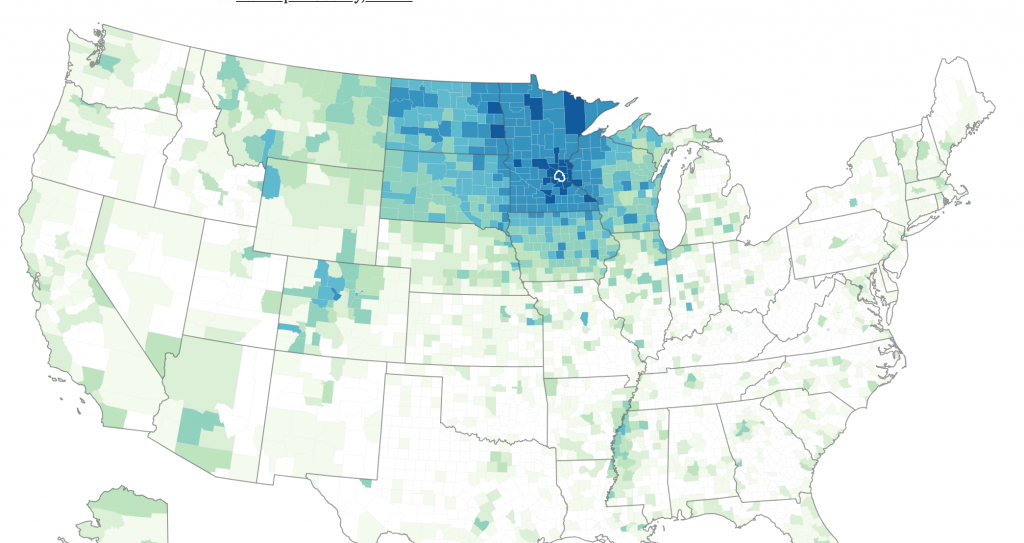 Minneapolis has powerful connectivity to Minnesota, but also to the surrounding states. This foots to other data that we've seen showing the Twin Cities have a large catchment area, in part because there are no major cities surrounding it to compete with.
It also has some connectivity to Denver. I see a bit of something a Denver connection with Indianapolis too. My wife tells me a bunch of Indy people she knows moved to Denver in the 1990s. (That makes sense, because Denver is basically an overgrown Indianapolis in the mountains). I wonder if similar migrations happened from MSP?
Chicago (Cook County) is an interesting case.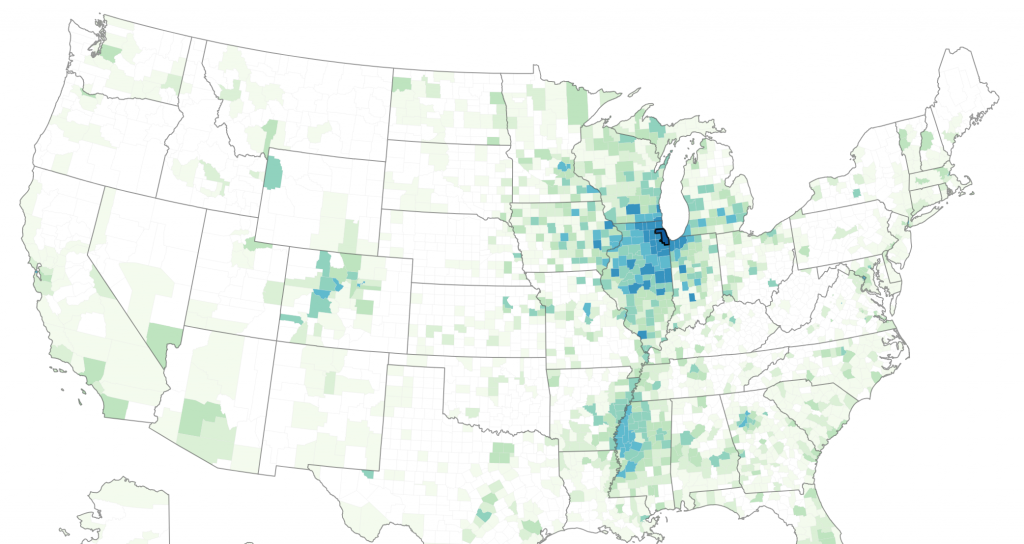 A few things jump out. First, you don't see the state pattern here. Chicago is not really defining a state map. Perhaps this is because it's not the state capital. But it might also show the highly disjointed nature of Illinois that fits in with its problems. A second is that Chicago retains very strong Great Migration ties even relative to Detroit.
The third is how weak Chicago's national footprint is. Typical maps of Chicago connectivity some coastal connections. But in this study the researchers scaled all the data for population. Cook County is the second largest county in the United State, which gives it advantages in showing connectivity simply by virtue of sheer numbers. By normalizing for population, this advantage is neutralized and we see that it has a very narrow draw.
Let's look at some other cities. Here's Nashville (Davidson County).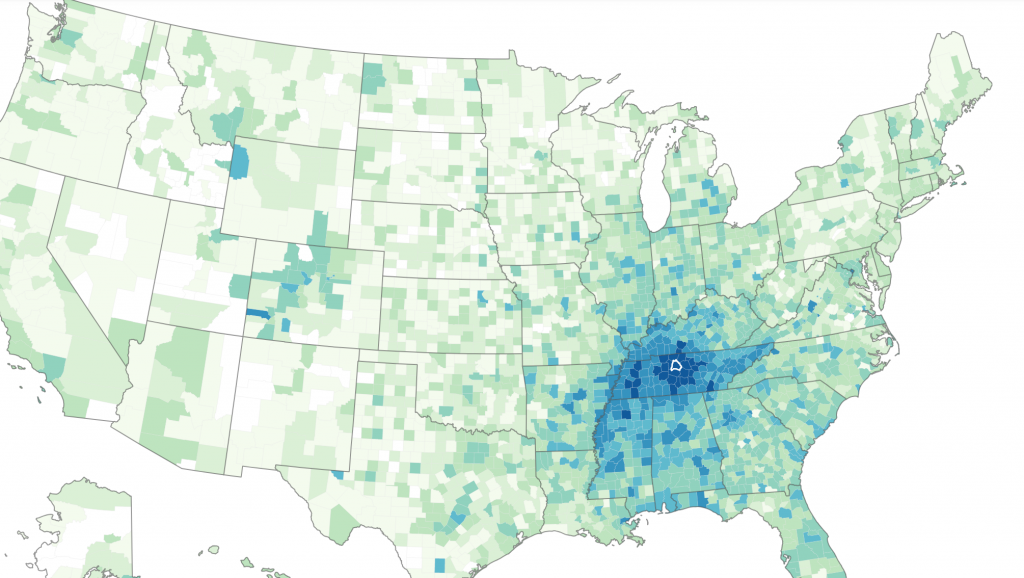 We see right away a vast more substantial national footprint, though the regional area is a still a draw. The state boundary is shown there, but it's not as stark a line as elsewhere.
Here's San Francisco County: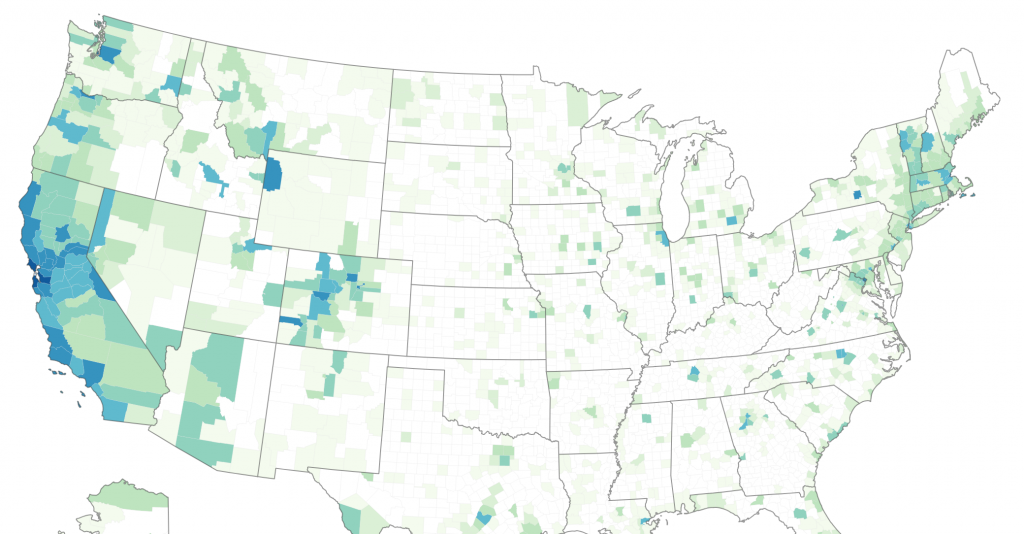 We see here a strong bi-coastal pattern. SF is strongly connected to the West coast, but also the Acela corridor, particularly Boston, perhaps reflecting the Boston and the Bay Area as the traditional poles of the tech world. Other Western cities are in the mix.
I don't know if the colors on these maps are bidirectionally the same. I see that SF County is connected to Cook County. Because SF County and NY County (Manhattan) are so geographically small, it's possible Chicago showed as well connected to them, but it was invisible on the map.
Speaking of Manhattan (which is how it is listed in their database by the way), here's that map: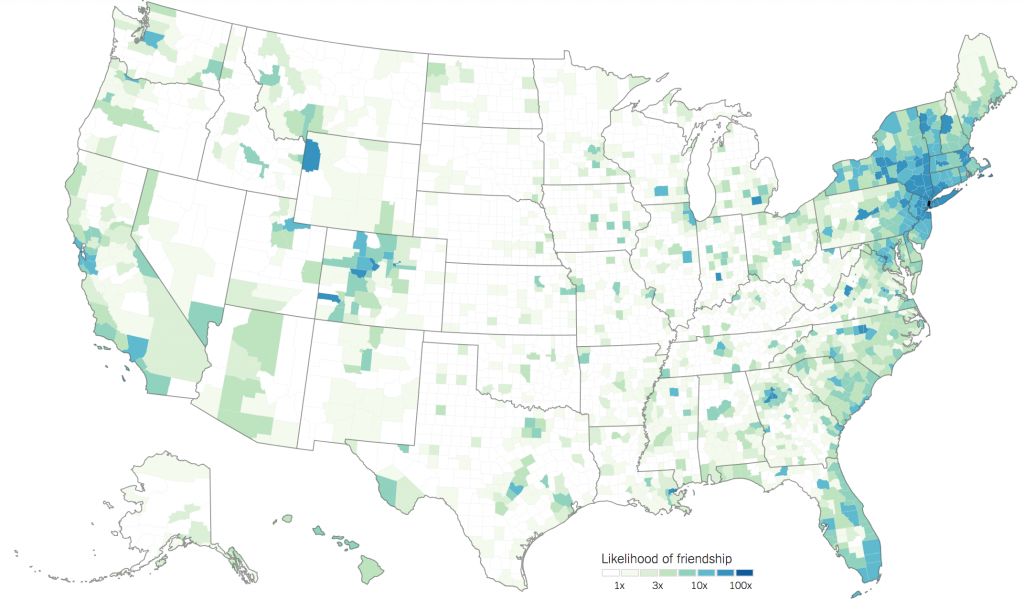 Manhattan is the epicenter of the Northeast Corridor, but also plugged into Miami, LA, SF, and Seattle. It has some connections along the eastern seaboard where New Yorkers moved south. And I note Big Ten college towns lighting up (Bloomington, Champaign, Lafayette, Ann Arbor, Madison). Presumably some of that is New Yorkers heading west for school. IU in particular is well known for having a New York draw.
It's interesting to see the sprawlvilles like Nashville with national footprints, whereas the coastal elites are talking to each other, as it were.
According to the NYT:
These networks are important in part because of other patterns that are correlated with them. Counties with more dispersed networks — where a smaller share of Facebook friends are located nearby, or among the nearest 50 million people — are on average richer, more educated and have longer life expectancies. Places that are more closely connected to one another also have more migration, trade and patent citations between them.
Counties that are more geographically isolated in the index are more likely to have lower labor force participation and economic mobility, and they have higher rates of teenage births. Some of the most economically distressed parts of the country appear to be the most disconnected: Among the 10 U.S. counties with the highest share of friends within 50 miles, six are in Kentucky.
Here is their map of the share of friend within 50 miles, which is close by friends, blue far away friends. Keep in mind that the vast distances of the West explain some of this map.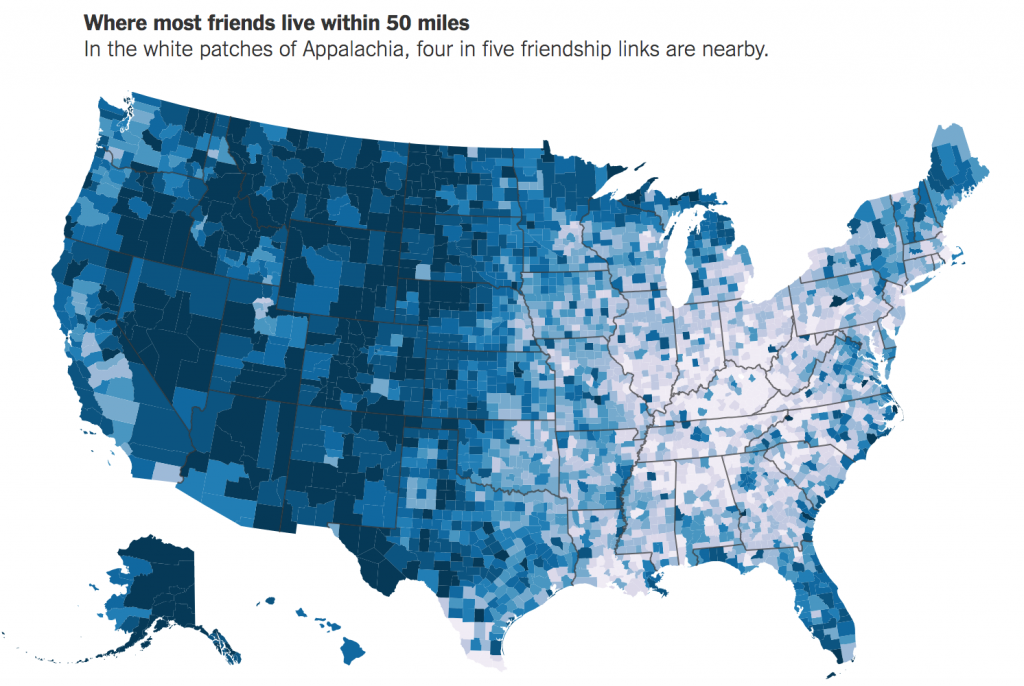 Click through to read the whole thing as it's super-fascinating. There's more to take away from this but I will probably write about it tomorrow.