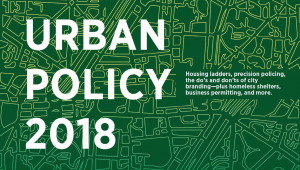 Every year the Manhattan Institute does a series of papers on various urban policy topics. A book with a compilation of our papers from this year is now out and available for free online. Here's a sample of some of what you'll find inside:
Howard Husock of the Manhattan Institute points to a pre–World War II approach to housing development that could unlock more affordable housing in America's most prosperous cities. He argues for a greater variety (and supply) in housing that fills the "missing middle" between single-family homes and large apartment developments. Importantly, Husock shows how to make this new construction politically feasible by "invisibly" densifying often overlooked land.

Peter Salins, an urban planning scholar and longtime Manhattan Institute senior fellow, argues that cities are still in competition with their suburbs for residents. He calls for planners to focus on what they can do well, such as helping cities remain attractive and functional, while giving the marketplace the freedom to flourish in response to what residents actually want in their communities. Restoring cities like Detroit to the levels of greatness they once enjoyed is of primary significance to Salins, as it should be to every planner who calls these places home.

Stephen Eide, a senior fellow at the Manhattan Institute, reveals New York City's growing homelessness problem and the burden it places on shelters. Despite immense sums spent on caring for those without a roof over their head, shelter performance is slipping, and, in turn, people are suffering. For this reason, Eide calls for restoring the incentives and benchmarking programs instituted under former Mayor Michael Bloomberg, pushing shelter operators to be evaluated and ranked against their peers.

Last but not least, Stephen Goldsmith returns with a sweeping vision for improving the "user experience" of government. Digital platforms and tools make government more responsive to its citizens, which in turn builds their trust and confidence in city hall. The technology and capacity exist today to craft a user-friendly, data-driven public square, argues Goldsmith. So, what we are waiting for?
Click over to check it out.