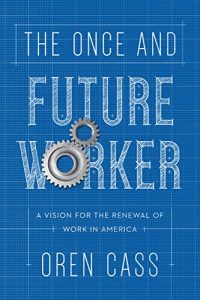 My colleague Oren Cass, Senior Fellow at the Manhattan Institute, has a new book out soon called The Once and Future American Worker looking at the well-publicized challenges facing the American economy. Some of his analysis and prescriptions, such as those around regulation, may be familiar, but he also has a lot of counter-intuitive findings. For example, he convincingly argues that automation is not a primary culprit for our jobs malaise.
His central argument is that we need to stop focusing on "economic piety" – that is, growing the total size GDP pie. Rather, the central focus of policy makers should be on ensuring labor market health. He calls this the "working hypothesis" and you can read about it in an excerpt from the book available online at the American Interest. Here's a sample:
In making GDP growth and rising consumption the central objectives of public policy, economic piety represents a truncated and ultimately self-undermining concept of prosperity. Workers have no standing in this view of the economy; neither do their families or communities. Households that see their economic prospects plummet or their livelihoods vanish should ask for a government check and be placated when they get one. Towns that can no longer sustain themselves become places that people should just leave. Politicians will pay lip service to the importance of education and retraining, but they will not hold themselves accountable for such programs actually working. The economic pie's expansion, regardless of what or who gets left behind, is the goal; maintaining a healthy, inclusive society is a hoped-for by-product, not an end in itself.

Economic piety acknowledges the existence of economic losers but holds that any losses are exceeded by gains to winners, which means that with careful redistribution, everyone can emerge ahead. But what if people's ability to produce matters more than how much they can consume? That ability cannot be redistributed. And what if smaller losses for those at the bottom of the economic ladder are much more consequential to them than the larger gains for those already on top? Under those conditions, rising GDP will not necessarily translate into rising prosperity.

Such considerations have deep implications for society's longer-term trajectory. Even if gains exceed the costs initially, what happens if the losses undermine stable families, decimate entire communities, foster government dependence, and contribute to skyrocketing substance abuse and suicide rates? What if the next generation, raised in this environment, suffers as well—perhaps reaching adulthood with even lower productive capacity? What if, in the meantime, cheap capital from foreign savings has fueled enormous increases in government and consumer debt, while the industrial policies of foreign governments have left the American economy with fewer opportunities to create well-paying jobs for less-skilled workers? Such costs show up nowhere in GDP—at least initially. Sadly, they appear to have been much more than hypothetical, and have proved much costlier than anyone imagined.

The explanation for why economic piety steered the nation off course, and the roadmap to recovery, are encapsulated in what I call the Working Hypothesis: that a labor market in which workers can support strong families and communities is the central determinant of long-term prosperity and should be the central focus of public policy.

Alongside stable political institutions that protect basic freedoms, family and community provide the social structures necessary to a thriving society and a growing economy. Those institutions in turn rely on a foundation of productive work through which people find purpose and satisfaction in providing for themselves and helping others. The durable growth that produces long-term prosperity is the emergent property of a virtuous cycle in which people who are able to support their families and communities improve their own productivity and raise a subsequent generation able to accomplish even more. Conversely, without access to work that can support them, families struggle to remain intact or to form in the first place, and communities cannot help but dissolve; without stable families and communities, economic opportunity vanishes.
Click through to read the whole thing. You can also pre-order the book on Amazon.
Cover image credit: David McSpadden, CC BY 2.0