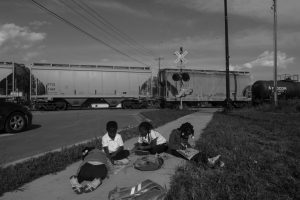 Last year I published a Manhattan Institute study suggesting that struggling inner ring suburban communities should consider merging with the next door central city.
One of the suburbs I highlighted in my report was Dolton, Illinois. The Better Government Association in Chicago has a big, detailed piece on Dolton that gives you a sense of its challenges. It's important to understand that this is happening all over the south suburbs of Chicago, and in many other places around the country.
Here's an excerpt:
This is the story of how one small town became trapped in a downward spiral that poverty experts say follows a well-worn pattern of deindustrialization that leads to a disenfranchised economic class. Communities of color inherit a legacy of decline and then lack the resources, both financial and political, needed to turn things around.
…
It was no one single thing, but a cascade of events that changed the fortunes of Dolton and its neighbors. The decline of manufacturing led to a loss of job and pay opportunities, which in turn fed a wave of white flight as longtime residents left and were replaced by African-American city dwellers lured by better, yet not too expensive, housing.

But luring new investment to now majority black communities proved a challenge and housing values began to fall, taking down with them the tax revenues needed to keep up public services. Next came widespread foreclosures and an invasion of real estate scavengers who bought houses on the cheap, transforming a community of homeowners with a deep financial stake in their town into one of renters with looser bonds.

All the while, the political fabric vital to turning things around continued to fray. Government stumbled amid patronage and gridlock, rendering even more challenging the task of drawing needed new investment.
…
The composite property tax rates faced by Dolton homeowners are now more than triple those in Chicago. In 2017, Dolton taxpayers paid nearly $25 for every $100 of assessed valuation of their property, about double what the rate had been prior to the recession. In Chicago, which starts just north of the Dolton village limits, the most recent rate is a little more than $7 for every $100 in assessed valuation.

All of which contributes to an ever steeper downward spiral, with businesses finding it a more expensive place to operate and homeowners a more expensive place to live. Vacant and abandoned homes multiply, real estate values sink and vital services are rocked by attrition and layoffs.

Dolton Police Chief Robert Collins said staffing shortages have become so chronic that his department has been reduced to sometimes running "ridiculously unsafe" skeleton crew shifts of three officers and a supervisor.
Click over to read the whole thing.