Sunday, March 4th, 2012
I've written on a number of occasions on why cities should look to strengthen their visual identity and distinctive character using civic icons or images that can provide a powerful graphical or design representation of the city. For example, I wrote about I wrote about how London's use of its civic icons – it's red buses, black cabs, bobby uniforms, phone booths, and tube logo – had assumed an almost totemistic stature there.
In the United States, I'd have to rate Chicago far and away #1 in the use of official civic symbols (maybe the best in the world for all I know), and also note the overall high level of design quality of these objects. Today I want to focus on one particular aspect of this, the city flag and its uses.
The city flag is pictured at the top. I included a border on the image because of the white field. This was rated as the #2 city flag in America by the North American Vexillological Association after Washington, DC. I actually like Chicago's better, because the aggressive asymmetry of DC's flag is a bit off-putting to me.
The Chicago flag is also highly symbolic. The two blue stripes symbolize the cities waterways – the top Lake Michigan and the North Branch of the Chicago River, the bottom the South Branch and the I&M Canal – while the three resulting white stripes represent the North, West, and South Sides of the city. The stars also symbolize various things. There were originally only two stars, with the others added later, and there are periodic calls to add a fifth star, though four seems about right to me.
If you come to Chicago you'll notice that the city flag is ubiquitous. In fact, the first place you notice it is when you arrive at O'Hare, where you see a large row of huge alternating US and Chicago flags at the roadway leading into the terminal. You'll notice that the Illinois flag is missing. Illinois has, like most states, a lousy flag. While you see it at government buildings and around downtown, it is much more rare than Chicago's own flag, giving what I think is a powerful sense of how the city likes to think of itself as a standalone entity in its state and region. (The contrast with Indianapolis is an interesting one. Indy also has a fabulous city flag, but one much more rarely used. And despite Indiana also having a somewhat dubious state flag, it is much more common to see in Indy than the city's own flag. Of course, it is the state capital as well, but I don't think that is the full explanation).
Here's a picture of the bridge over Michigan Ave, featuring bold use of flags:
One thing that sets Chicago apart is not just the city's own use of the flag, but its widespread adoption by others. Here's one flying over the entrance to Marshall Fields on State St.
An office building Michigan Ave. This will mark our last appearance of the Illinois state flag, so let's wave goodbye to it.
This extends far beyond downtown, however. Here's a bank in West Lakeview:
Even this Irish bar on Southport couldn't resist getting into the act:
But what really puts Chicago into a class by itself is the way that the city and its citizens have embraced the flag imagery to infuse into the design of other objects, and even sometimes themselves.
First the city. Here's Chicago's police car livery, which is based on the city flag. It's also one of the finest police car liveries in the world. I'm not sure how far back this dates, but it's as least as far the Blues Brothers movie. I don't recognize the font (though I'm sure someone will post it about 5 seconds), but I love its aggressive blockiness that is perfect for the City of Big Shoulders:
There's an actual city flag in gold trim near the rear of the blue stripe if you look. When you contrast more current designs with this classic, you can see that in Chicago, as in any number of cities, quality of public design has actually declined in some regards.
Here's someone who did their bicycle up in city flag style:
Both the Sun-Times and the Red Eye (a free daily distributed by the Tribune) used the city flag for their election day issues:
Local bookmark sharing site the Windy Citizen uses the city flag as the basis for its site design:
If you'll note the social media sharing icons at the bottom of this post, the one that enables submitting to Windy Citizen is a star from the city flag.
You can even buy Chicago flag soap:
Sorry, I don't have a link to where you can buy this, but again, I'm sure one will be forthcoming from a commenter.
Here's one even I think it a little crazy. People are starting to tattoo themselves with the city flag. Here's a picture of local mixologist Charles Joly I found via the 312 Dining Diva.
I've personally seen multiple people in my neighborhood with city flag tattoos on their arms. Talk about pride and loyalty. But I guess that level of fanaticism is what Chicago has managed to inspire.
This post originally ran on March 13, 2011.
Telestrian Data Terminal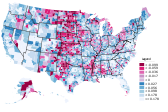 A production of the Urbanophile, Telestrian is the fastest, easiest, and best way to access public data about cities and regions, with totally unique features like the ability to create thematic maps with no technical knowledge and easy to use place to place migration data. It's a great way to support the Urbanophile, but more importantly it can save you tons of time and deliver huge value and capabilities to you and your organization.
About the Urbanophile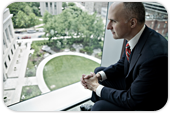 Aaron M. Renn is an opinion-leading urban analyst, consultant, speaker, and writer on a mission to help America's cities thrive and find sustainable success in the 21st century.
Contact
Please email before connecting with me on LinkedIn if we don't already know each other.
Twitter Feed
World Blogroll
Non-English Blogroll