Tuesday, September 17th, 2013
[ Urbanophile reader Andrew Zimmermann sends us this tale of change in Somerville, a suburban town near Boston – Aaron. ]
Urban planners have long cast the artist and gay/lesbian communities as urban pioneers and harbingers of gentrification. We've heard the stories of North Halsted in Chicago, the Pearl District in Portland, the South End in Boston and Soho/Chelsea in Manhattan. But, ever since hipsters became part of the sub-culture lexicon, urban experts have blamed gentrification on them. From Williamsburg, Brooklyn to the Mission in San Francisco hipster havens have continued to demonstrate that gentrification isn't limited to the artists or gays (although I'm not sure there is much of difference). The latest installment, not to anyone's surprise in the Boston area, is Somerville, which was the subject of a recent piece by Beth Teitell in the Boston Globe.
Somerville's back story is what you would expect of a turn-around tale in urban terms. Inner Ring suburb – check. Architecturally rich yet deteriorated housing stock – check. Mass transit connectivity – check. Cheap rents – check (well not anymore). Walkable, dense urban neighborhoods – check. Enter artists, gays but more overwhelmingly, hipsters, or so portends the title of the Globe article "Somerville worries it's growing too hip". Somerville is noteworthy however in a couple ways. First, it is the densest city in all of New England, almost exclusively achieved through low-rise residential housing types – think triple deckers, condos and townhomes. Second, local government has proved not to be a hindrance, instead turning it from a crime ridden place known as "Slummerville" to among the state's best run municipalities. The schools however have a long way to go (we'll discuss later).
As the story points out if gays, artists and hipsters are the first adopters, it won't take long for the effects of gentrification to show themselves through drastic changes to the retail sector and the good ol' barometer of choice, housing prices. Let's take a look at both, since the retail and real estate sectors approach gentrifying neighborhoods much more systematically than do our hipster friends.
Retail
If you've visited Davis Square recently, you know that the retail landscape has changed drastically in the last decade. Walgreens and Starbucks are among your anchor tenants. The food and beverage offerings have gone from cheap working-class linoleum floor eateries to upscale bistros and kitchens and cantinas. Alfresco's, a modest Italian restaurant got rebranded as M3, a "concept in southern dining" replete with catfish, chalkboard paint tables straight from a Pinterest board and plenty of canned beer you've never heard of. Likewise, the Painted Burro, which calls itself a "Mexican Kitchen and Tequila Bar", expanded in less than a year into the space occupied by Spike's Junkyard Dogs – a blue collar, fluorescent lit hole in the wall. It won't be missed – and no you still can't get a table midweek at the "burro" without a reservation. That doesn't even begin to describe the explosion of fro-yo shops in Davis which saw its count jump from zero to three in the last year. Even if the new smell wears off, as Teitell's article depicts, top local chefs are elbowing their way into Somerville to be part of the action.
Elsewhere in town, the loveable loser Johnny Foodmaster grocery chain has been supplanted by Stop & Shop and Whole Foods. You don't need to be from Boston to know that when Whole Foods takes over for any grocer, things they are a changing. The fact that national behemoths like Starbucks, Chipotle, Pinkberry and Whole Foods are betting on Somerville is telling of what stage of gentrification the city is now experiencing. If retail is said to follow rooftops, then clearly retailers are paying attention to who is underneath those rooftops. Somerville's population has largely remained static while its demographics have changed considerably. It's now home to the second largest concentration of 24-35 year olds in the country – a Neilsen analyst's version of shooting fish in a barrel.

Population hasn't changed since 1980 – but WHO composes that population has.
Real Estate
It wasn't long ago that "Slummerville" was a moniker real estate agents had to overcome when selling homes in Somerville. The days of getting bargains in town have largely disappeared as developers have chopped up large three story homes into condos and townhomes that routinely sell for $500/sf or more. Hipster populations in Somerville's Davis Square have migrated within city lines to places like Union Square, Magoun Square and East Somerville. Even with a red-hot real estate market in greater Boston, Somerville remains white hot.
Red Fin reports a 103% sale to list ratio with a median home price of $470,000 and an average of 28% down in the second quarter of 2013. Clearly its not 24-35 year old hipsters putting down an average of $131,000 to claim of piece of Somerville as their own. White Collar professionals and families are among the early late majority that are betting on Somerville just as much as Starbucks and Whole Foods are. The loss of affordable housing and diversity would be lamentable if it weren't so inevitably predictable. It's not as if riders of fixed gear bikes wearing skinny jeans have disappeared, they just have to dodge baby strollers on the sidewalks and VWs, Mini Coppers and Audis in the streets.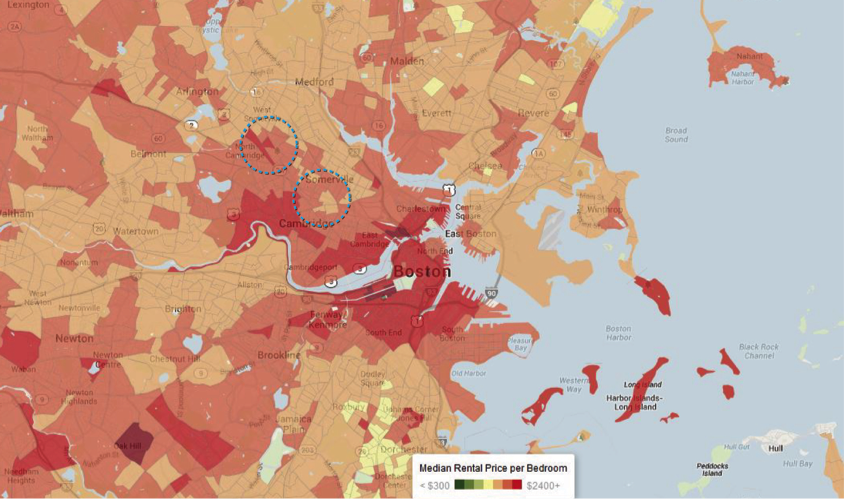 Davis Square and Inman Square are no bargain any more.
Schools
Lastly, all the kids in strollers will need a place to attend school someday. If only Somerville were that place. SchoolDigger.com recently rated the city 299th out 325 school systems state wide. For all the progress Mayor Joe Curtatone has made, he's clearly focused on the early adopters and the hipness of the city, with the schools as a longer term project. It might be sensible, but he and the city are running out of time. The Wellesleys, Newtons and Miltons might lack hipsters or artists or gays but they have a leg up on schools, an advantage suburbia has always had over the urban core. Undoubtedly its schools will have to do better and they will as gentrification will lead to higher standards, be they in the retail, real estate or city services sectors.

Somerville finds itself (by definition a suburb, yet still a city) in an interesting position as the effects of hipness and gentrification point to seemingly distinct paths. One is like other hipster havens in Brooklyn or Wicker Park – places that have retained a shade of the counterculture tendencies that define hipster identity. Two is like mature urban inner ring suburbs, Brookline and Cambridge being two local examples. The latter can claim to be cool but lack the authenticity of Somerville's creative culture. The former over deliver on cool and trendiness and priceyness but because they are neighborhoods within New York and Chicago (or any large city) respectively, under deliver on the city services that suburbs provide. Whatever happens, the hipsters likely won't be a permanent part of Somerville history as it's usually the politicians or the wealthy elite of any given place that decide its fate. For now the trendy capital of Metro Boston can pat itself on its plaid-clad back, and keep its beanie cap-covered-head high. See you at Chipotle.

Andrew Zimmermann is an architect and urban designer with NBBJ, a global architecture firm with a presence in Boston. He lives in Somerville's Davis Square with his wife and occasionally writes about design, real estate or anything that he finds interesting on www.zimmswhim.com.

-->