Bloomberg's Justin Fox tweeted out a link to this piece from a professor in Peoria, Illinois who left a coveted tenure-track position because he couldn't bear the thought of living there.  Here's an excerpt:
What this all boiled down to is that it was massively detrimental to my health and well-being to live in a dying Rust Belt city by myself. And my "solution" to that problem – moving to Chicago and driving seven hours round-trip to work – was never anything but a stopgap that negatively affected me in different ways.
…
People have attempted to debate me on this – usually people living in Chapel Hill, Athens GA, Portland, Boston, California, Atlanta, and the like – and I have no desire to debate it any further, but I knew the second I visited for the interview that Peoria was going to be bad. Anyone who lectured me that it's "not that bad" or whatever, all I can say is: knock yourself out. Move there. Move there by yourself at age 33, no kids and no spouse. Let me know how your mental health is after two or three years, and what your social life is like. There is nothing to do and nobody to do nothing with. Faculty who move there with a spouse or kids do alright. Faculty who do not tend to have a pretty rough time.
…
There are dozens of medium-sized cities just like it and they are all the same. Everyone with the ability and wherewithal to leave leaves. You are left with people who can't get out, are too old to leave, or both. The economy is dying and gets worse every year. Again, if you choose not to believe me on this point there's nothing more I can say except, go give it a try. In the summer of 2012, that's what I did.
Obviously this is just one very unhappy person. I've been to Peoria and thought it was a fine city. (Though, as this ex-prof would no doubt riposte, I never actually moved there). Justin tweeted some pictures of some of the city's amenities, such as a cool looking bar and a coffee shop.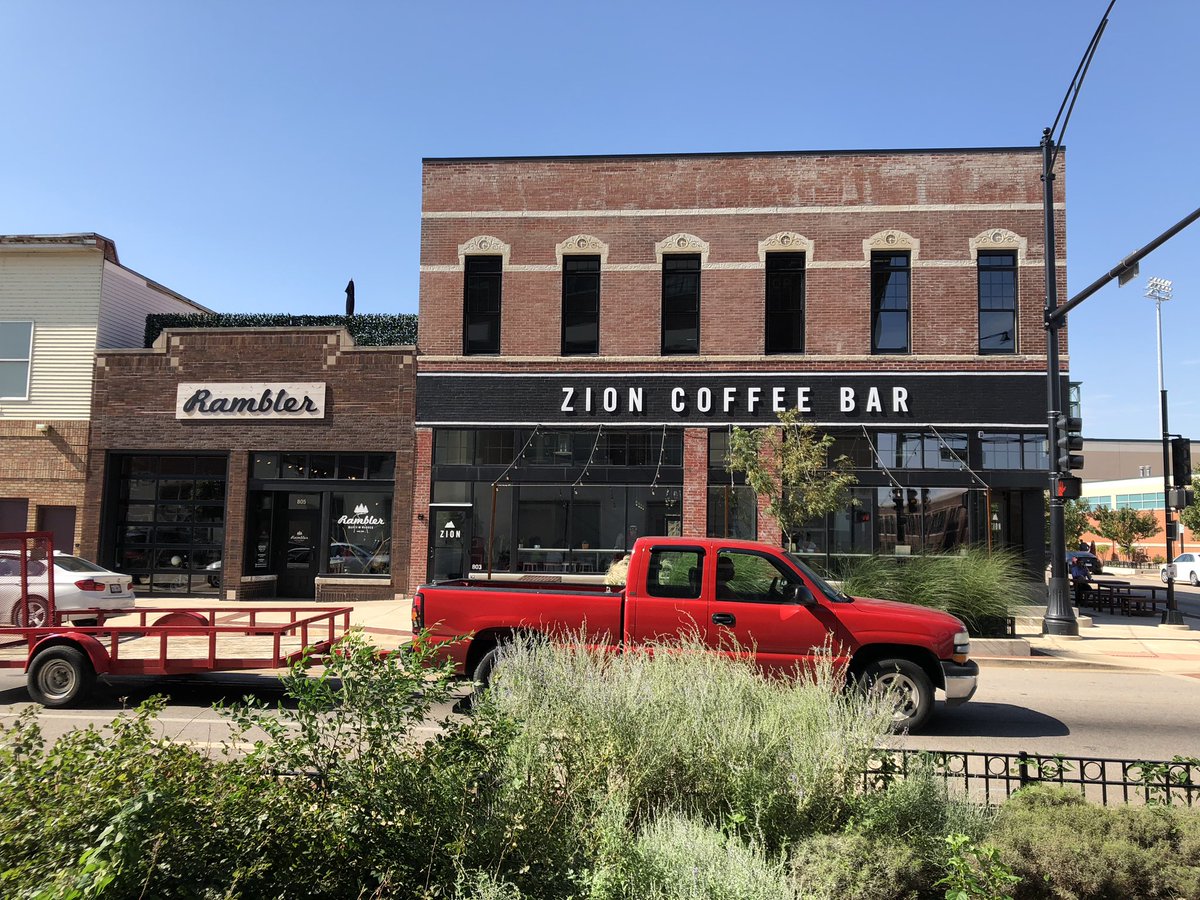 But nevertheless the anecdote about Peoria is backed up by some bleak data. The metro area's population fell by 2.8% since 2010, and the rate of decline is accelerating. It's lost 1.4% of its jobs since 2010. Even more worrisome is that it's real per capita GDP has fallen by 9.3% since 2010.
There's nothing uniquely bad about Peoria driving this. In fact, it has some major advantages, including being, until a recent move of its executive HQ to Chicago, home to Caterpillar. It also has Bradley University, the likely employer of the professor who left. And it's relatively educated, at 30% college degree attainment.
So this city has a lot more going on than many other places. In fact, in my recent Manhattan Institute report on stagnant cities, Peoria didn't meet the criteria for inclusion. Nevertheless, it is bears that "family resemblance" I alluded to that leaves it in a very challenging situation for the future. This is especially true because it is located in the state of Illinois, whose relatively high taxes vs. its neighbors, terrible finances, and dysfunctional governance are dragging down much of already challenged Downstate.
But even if the fiscal cloud lifted, places like Peoria just aren't major talent draws in the 21st century. That badly hurts not just their ability to lure or create new business, but the ability of their existing businesses and institutions to attract the talent needed to compete in an ever more competitive world.
As Fox put it:
I think [the essay] says at least as much about the struggles of mid-sized metro areas as about the difficulties of academic life. Mid-sized metros (generally defined as 250K-999K population, but let's not be sticklers) do seem to be making a little bit of a comeback. But especially in the Midwest, there are huge differences between the ones on the rise (Sioux Falls, Des Moines, Lincoln, Madison) and the ones that aren't (Peoria, Toledo, Topeka, the Quad Cities). Peoria does have nice coffeehouses and restaurants with impressive liquor collections. But its economy is oriented around a big manufacturing company (Caterpillar) that is doing fine but is less moored to Peoria with each passing year, and there's not a lot to attract young, educated people from elsewhere to town.
I'll add some color commentary to what he said. Sioux Falls and Des Moines are the largest cities in their state. Des Moines is also the capital. Lincoln and Madison are home to their state's flagship universities. These things make all the difference.
As I noted in my MI report, one of the big attributes of these stagnant and struggling areas is that they are asset light. Pretty much every city with its state's flagship school is doing well. But even a single Fortune 500 HQ, as is de facto the case in Peoria, is often not enough to drive prosperity.
This isn't about Peoria per se. It's about changes in the macrostructure of the economy and society that have significantly disadvantaged a slew of places in America's industrial heartland. These disadvantaged areas need specific focus and attention from policy makers.
Cover image by Robert Lawson, CC BY-SA 2.5